Speech data collection services are a cornerstone of modern AI development. Speech or voice data is particularly necessary for natural language processing (NLP) and automatic speech recognition (ASR) systems. As AI continues to advance, the demand for high-quality speech datasets has surged, prompting many companies to seek services that can provide diverse and multilingual audio data.
This article compares the top speech data collection services and platforms to help businesses and AI developers with their speech data needs.
Speech data collection services comparison
Selecting a service provider for collecting speech data is a significant decision for any AI project. The tables below offer the top companies in the market offering speech data collection and generation services:
Table 1. Comparison based on the market presence & experience criterion
Platforms
User Ratings
Out of 5 (Avg)*
Number of
Reviews*
Founded
Data Collection
Focus**
Clickworker
4.1
68
2005
✅
Appen
4.2
54
1996
✅
Prolific
4.7
48
2014
✅
Amazon Mechanical Turk
4
28
2005
✅
Telus International
4.3
10
2005
✖
TaskUs
4.3
6
2008
✖
Summa Linguae Technologies
N/A
N/A
2011
✅
LXT
N/A
N/A
2014
✅
Toloka AI
N/A
N/A
2014
✅
Innodata Inc
N/A
N/A
1988
✅
DataForce by Transperfect
N/A
N/A
1992
✅
* The data was gathered from B2B review platforms such as G2, Trustradius, and Capterra.
** If the company mentions data collection as the first offering on its website, we consider it to be data collection-focused.
*** Based on vendor claims from the corporate website.
Table 2. Comparison based on the platform capabilities criterion
Platforms
Audio
Transcription
Audio
Annotation
Languages***
Mobile application
API availability
ISO 27001 Certification
Code of Conduct
Clickworker
✅
✅
30+
✅
✅
✅
✅
Appen
✅
✅
235+
✅
✅
✅
✅
Prolific
✖
✖
N/A
✖
✅
✖
✅
Amazon Mechanical Turk
✅
N/A
N/A
✖
✅
N/A
✖
Telus International
✅
✅
500+
✖
✅
✖
✖
TaskUs
✅
✅
65+
✖
✅
✅
✅
Summa Linguae Technologies
✅
✅
35+
✅
✅
✅
✖
LXT
✅
✅
1000+
✖
✖
✅
✖
Toloka AI
✅
✅
40+
✅
✅
✅
✅
Innodata Inc
✅
✅
40+
✖
✅
✅
✖
DataForce by Transperfect
✅
✅
250+
✅
✖
✅
✖
Notes:
The comparison table is created through publicly available and verifiable data.
The tables are ranked based on the number of reviews
The vendors were selected based on the relevance of their services. This means that all vendors that offered speech or voice data collection or generation were included.
Apart from speech data, all companies cover a wide array of data types for their data collection & annotation services (image, video, text, etc.).
Another filter used to narrow down the vendors was 50+ employees.
This table will not be updated regularly therefore, you can check out our data-driven list of data collection services to find the right option for your speech data needs.
In table 2, a company is assumed to follow a code of conduct if it has a code of conduct page on its website.
Criteria for selecting a speech data collection service
This section covers the criteria you can use to narrow down speech data collection services to fit your data needs.
Market presence & experience
User ratings: High average ratings on B2B platforms suggest strong customer satisfaction.
Number of reviews: More reviews indicate a broad user base and offer insight into customer experiences.
Founded: Consider the company's founding year since older companies typically have more refined services due to their experience. However, this is not always the case, so combine this criterion with customer reviews.
Data collection focused: If the company offers data collection and generation as its primary offering, it will have more expertise in it.
Platform capabilities
Audio transcription: Having audio transcription as a side service can facilitate the process of preparing speech datasets.
Audio annotation: Essential for preparing speech datasets that are ready for AI model training.
Languages: It is necessary to check which languages are covered by the service provider and if the language(s) you require is available.
Mobile application: Facilitates on-the-go project management and unique voice data collection scenarios.
API integration: Enables efficient data transfer and processing.
ISO certification: Indicates adherence to global standards for data security and quality.
Code of conduct: Reflects commitment to ethical practices towards the workforce.
Crowd size: A large, diverse global workforce enhances scalability and solution diversity. A bigger crowd can offer speech datasets in more languages and dialects:
Figure 1. Comparison of the crowd size of all the companies compared in this article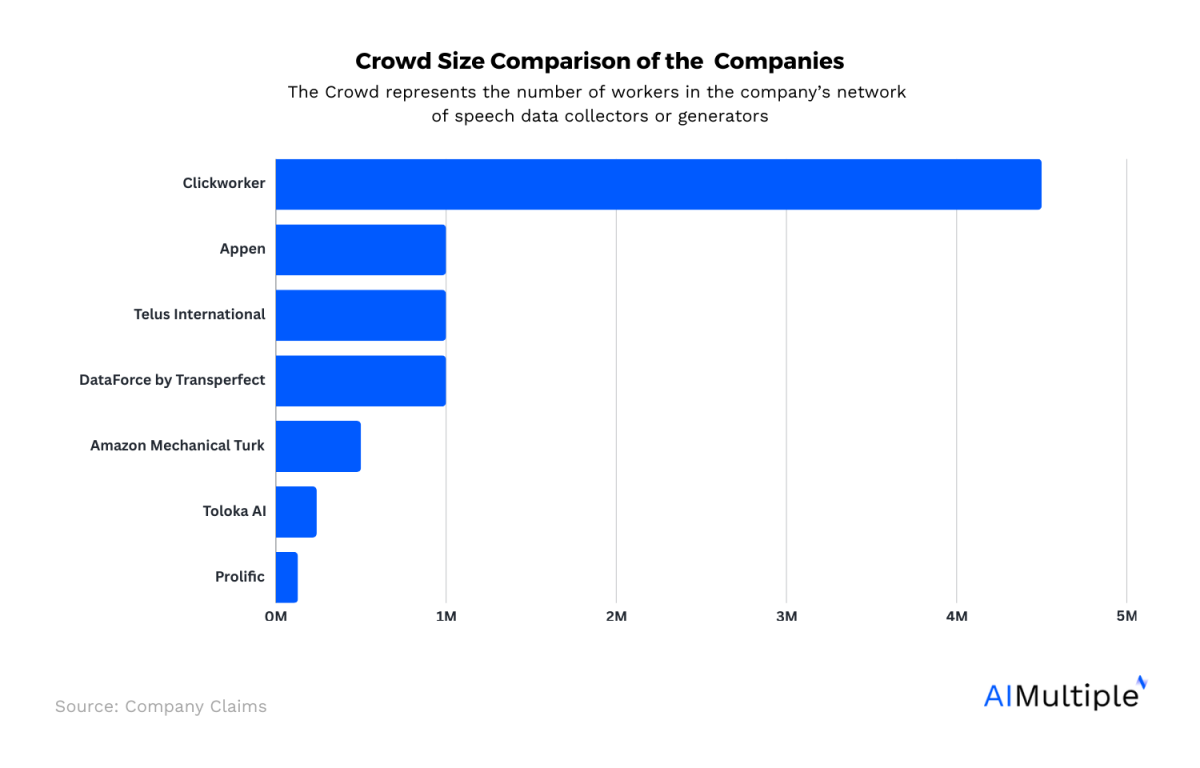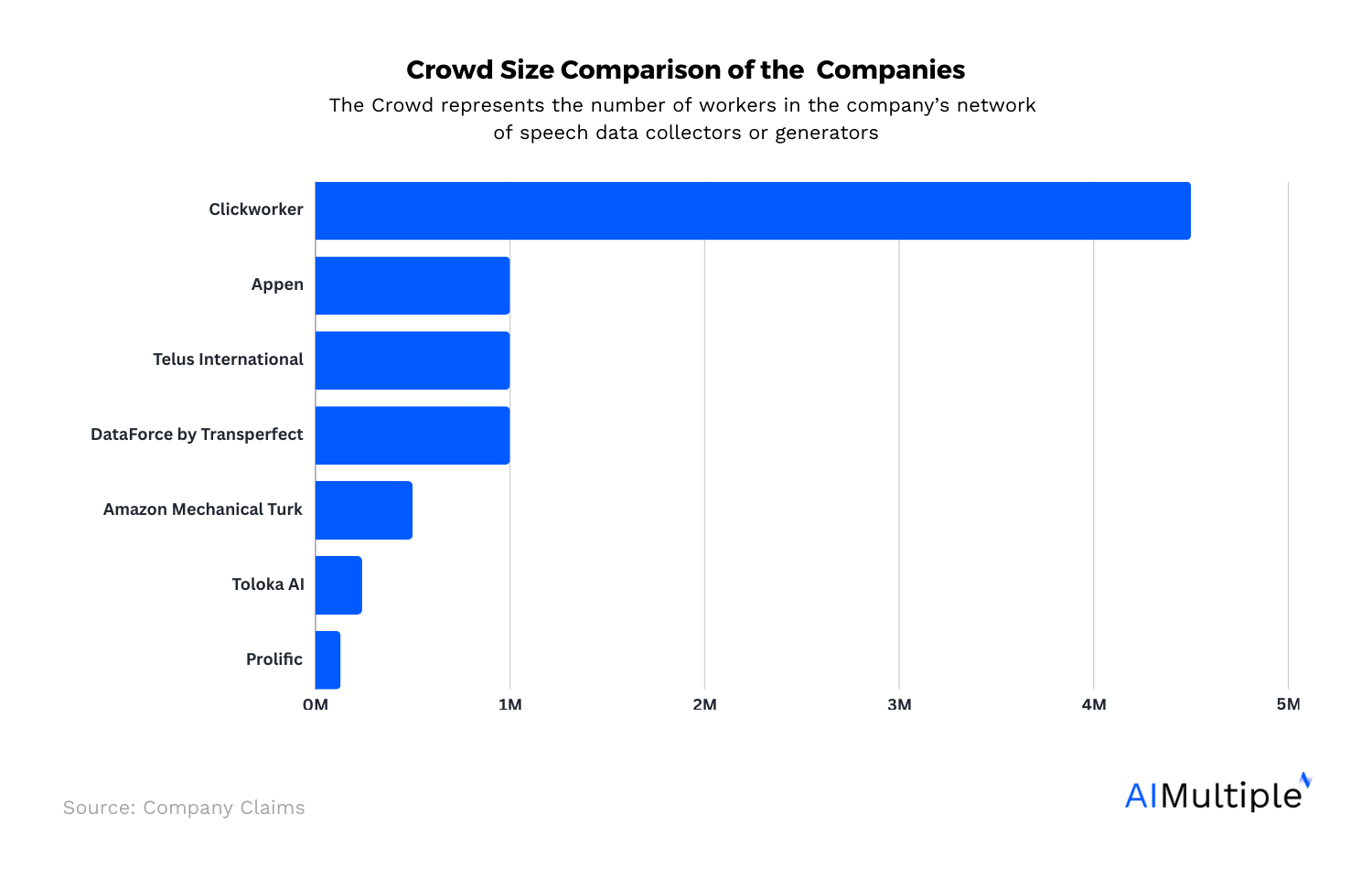 Notes:
In Figure 1, Innodata Inc. and TaskUS were not included since their crowd size was less than 100K.
For Figure 1, some vendors were also not included since their crowd size data was not found.
Company evaluation
Here's a brief overview of the companies listed earlier in the tables
1. Clickworker
Clickworker specializes in AI data collection and generation through a crowdsourcing platform, covering multiple data types, including speech, audio, image, video, text, etc.
Offerings:
Human-generated speech datasets in multiple languages
Image and Video data collection services
Human-generated and collected datasets
Data annotation services
Audio transcription and translation services
Clickworker's pros and cons
Customers consider the company's crowd reliable and the platform to be user-friendly.1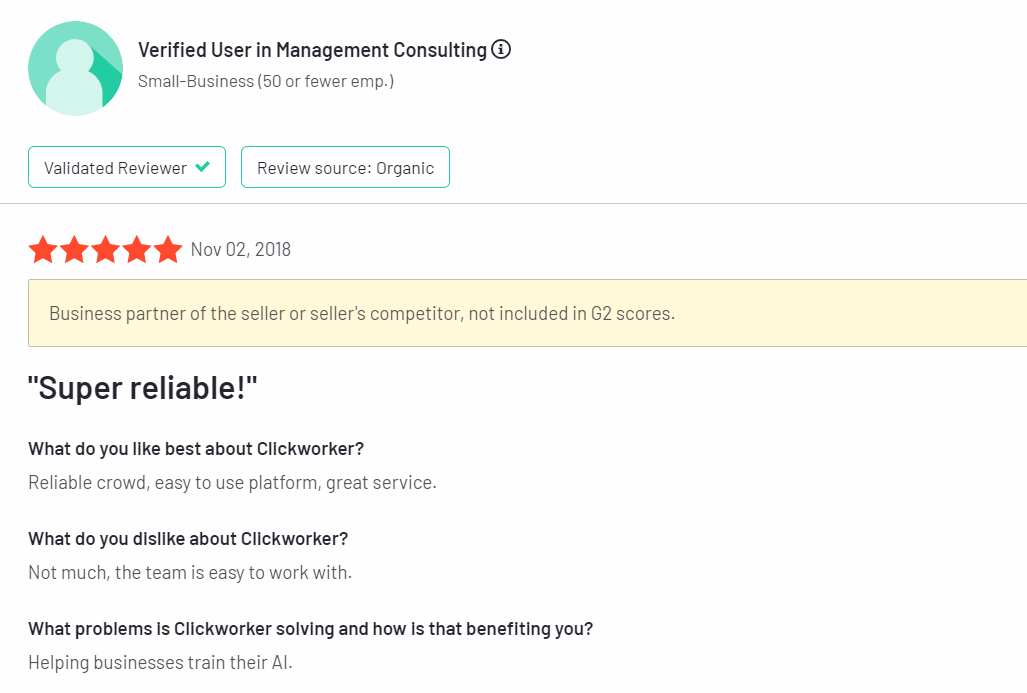 Customers find its annotation services useful and effective.2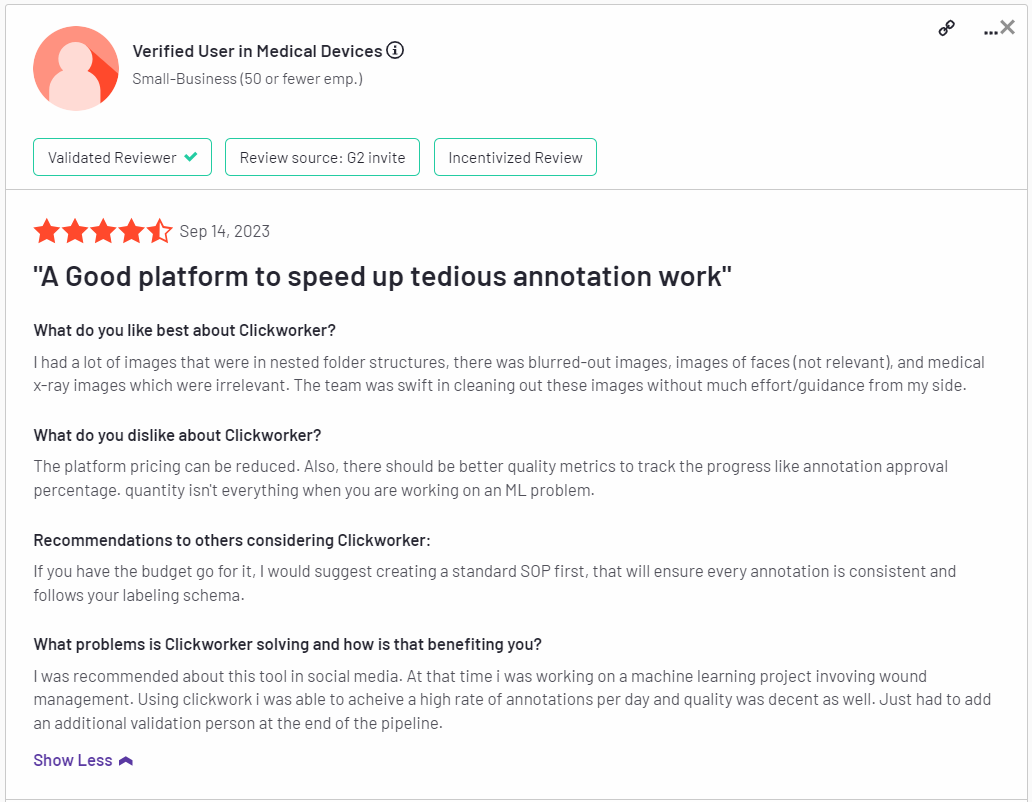 2. Appen
Appen works with a crowdsourcing platform focusing on deep learning, image data, and machine-learning models.
Offerings:
Image and video datasets
Audio and text data collection services
Annotation services for visual and audio data
Scalable solutions for diverse AI needs
Appen's pros and cons:
Appen's performance is declining, according to news of it losing clients and going through financial losses.3
Customers also identified server crashes on Appen's platform.4

3. Prolific
Prolific also offers human-generated datasets through a crowdsourcing platform.
Offerings:
Data collection
Image annotation
Handwriting analysis
Research data for academia
Prolific's pros and cons:
One of the drawbacks identified by analyzing the review is that most of the reviews are regarding its research-related services, which indicates that Prolific's AI services may not be that popular.5
Even though some research customers found Prolific's customer support to be good, they had issues with the platform's inability to set customized quotas based on geographic and demographic parameters.6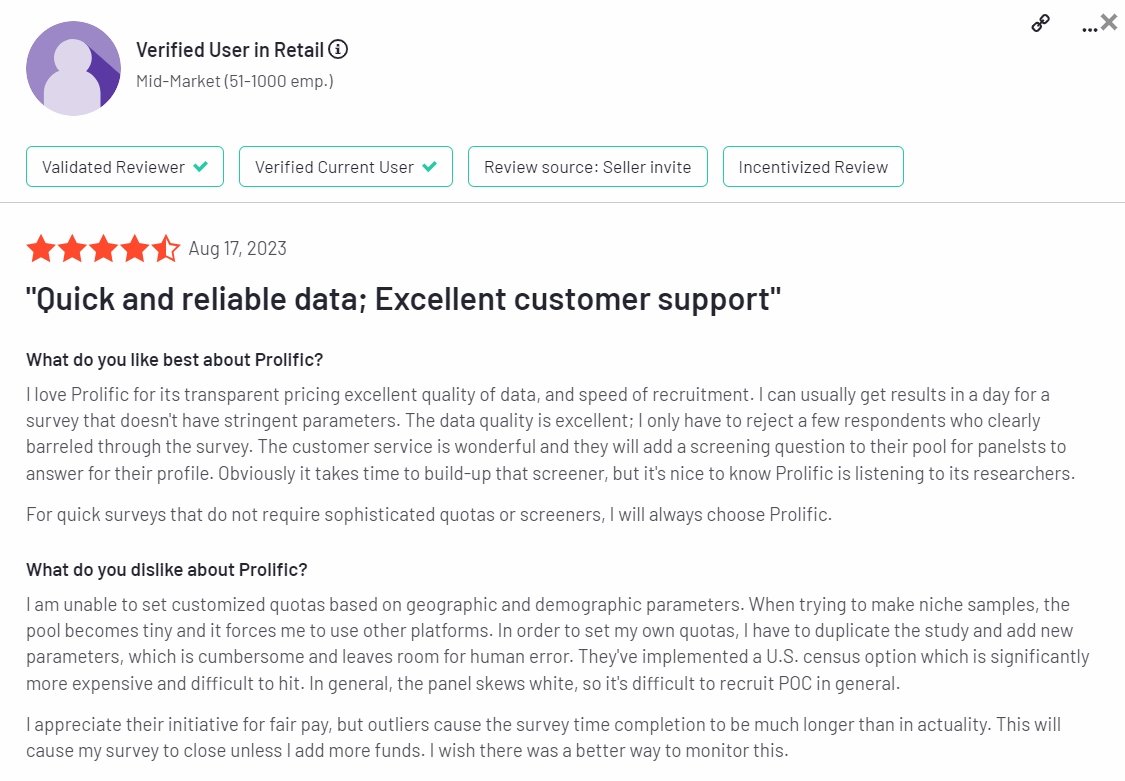 4. Innodata Inc
Specializing in creating AI training data, Innodata Inc. offers speech, image, text, and audio data solutions to train machine learning models.
Offerings:
Scalable audio collection service
Machine learning project consultancy
Data security solutions
5. Telus International
Telus International offers AI solutions that span across machine learning, computer vision, and natural language processing.
Offerings:
Scalable speech and audio datasets
Object recognition solutions
Other data services for AI development
6. DataForce by Transperfect
DataForce caters to specific AI development needs, offering a blend of speech, image, video, and audio data.
Offerings:
Audio and voice datasets
Image and video data collection services
Experienced project managers for AI needs
7. Amazon Mechanical Turk
Amazon Mechanical Turk, or MTurk, offers crowd-sourced data collection and diverse data solutions ranging from images to text.
Offerings:
Large-volume data collection
Annotation services for various data types
Integration with the vast Amazon ecosystem
MTurk's pros and cons:
Customers found its service quick, but the quality of the data provided by the workers was low.7.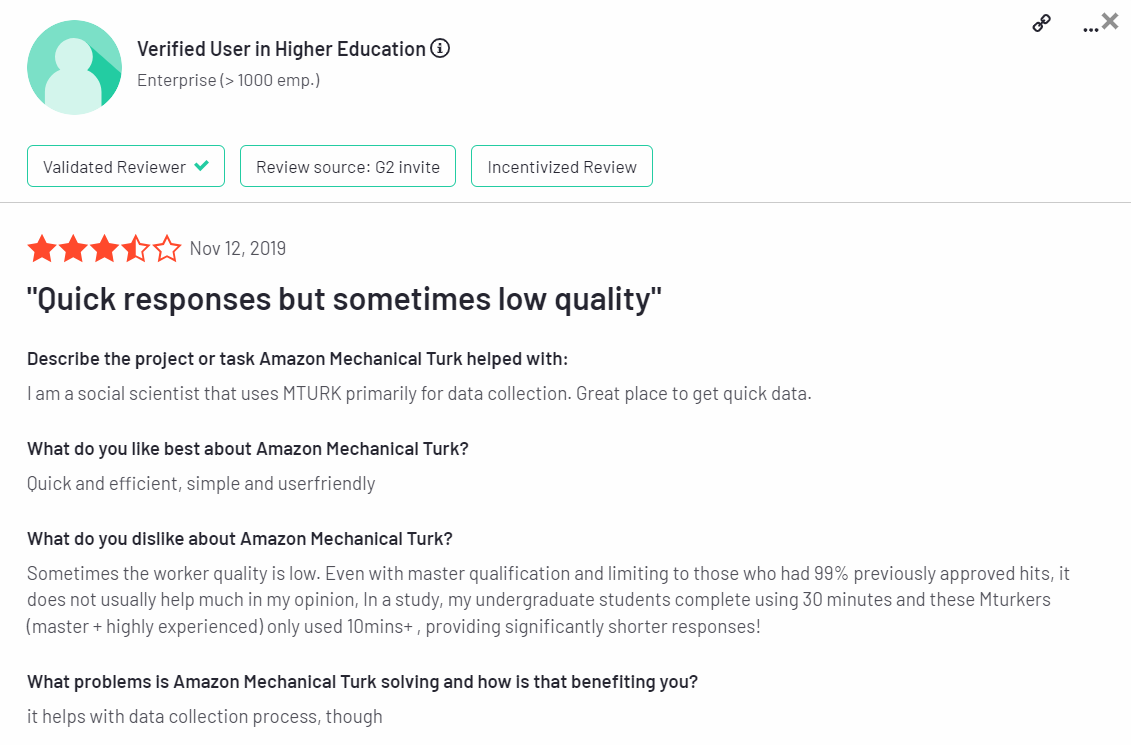 8. Summa Linguae Technologies
With a focus on providing custom solutions, Summa Linguae offers tools and services that cater to unique AI project requirements.
Offerings:
Custom and segmented data collection
Machine learning model training data
Data security and quality assurance
9. Toloka AI
Working with a crowdsourcing platform, Toloka AI specializes in collecting data for AI models, especially natural language processing (NLP).
Offerings:
Scalable speech and voice data solutions
Image and video data collection
Annotation services for various data types
Tools for specific AI program needs
10. LXT
LXT is an emerging player in the data collection domain, specializing in curating datasets tailored for AI and machine learning models.
Offerings:
Speech and voice data collection for NLP
Image and video data collection for machine learning models
Annotation services with an emphasis on accuracy
Custom dataset creation for unique AI project
11. TaskUS
TaskUS offers data types, including speech, audio, image, and video, for AI and machine learning models. However, their key offering is in the customer experience domain.
Offerings:
Speech datasets in multiple languages
Scalable image and video data solutions
Annotation services for various data types
Tools for specific AI program needs
Final recommendations
As artificial intelligence, machine learning algorithms, and speech recognition systems become more integral to our daily lives, the demand for comprehensive speech data collection services is only expected to grow. 
These services are essential for creating audio datasets that train AI to understand and process human language effectively. By choosing a speech data collection service that meets the criteria outlined above, companies can ensure they receive high-quality data that is ethically sourced and accurately annotated, laying a strong foundation for the
Pay attention to these aspects while choosing your data partner:
Level of diversity: It is important to work with a partner that offers large and diverse and diverse workforce
Customer satisfaction: You can analyze reviews and customer references and assess whether the customer can meet deadlines. 
Clear description and understanding: Clarify edge cases so the workforce can work efficiently without needing to pause and ask for clarification during edge cases that they might encounter.
Further reading
If you need help finding a vendor or have any questions, feel free to contact us:
External Resources