On-chain data shows that the percentage of the Bitcoin supply inactive since at least one year ago has hit the 69% mark.
Bitcoin HODLing Grows As Supply Continues To Become Dormant
As pointed out by analyst Root in a new post on X, an all-time high (ATH) amount of the BTC supply hasn't moved in over a year. The 1-year+ supply that's of interest here is just a segment of a larger group called the "long-term holders" (LTHs).
The LTHs comprise one of the two main divisions of the Bitcoin investor base, with the other group being the "short-term holders" (STHs). Depending on the analytics platform, the cutoff between these cohorts is defined differently, but generally, five to six months is chosen as the boundary.
The investors carrying coins younger than this amount are put inside the STHs, while those holding for longer than the period are referred to as the LTHs.
Statistically, the longer a holder keeps their coins dormant, the less likely they become to move them at any point. Another way to put this could be that the more the supply ages, the less probable it becomes to be sold.
Because of this reason, the LTHs are the more committed part of the market, as they don't tend to easily sell even while the cryptocurrency is going through a rally or a crash.
Those who have crossed the 1-year threshold would naturally be stalwart diamonds even among the LTHs. Currently, most of the asset's supply falls under this category, and it has only continued to grow recently, as the chart below displays.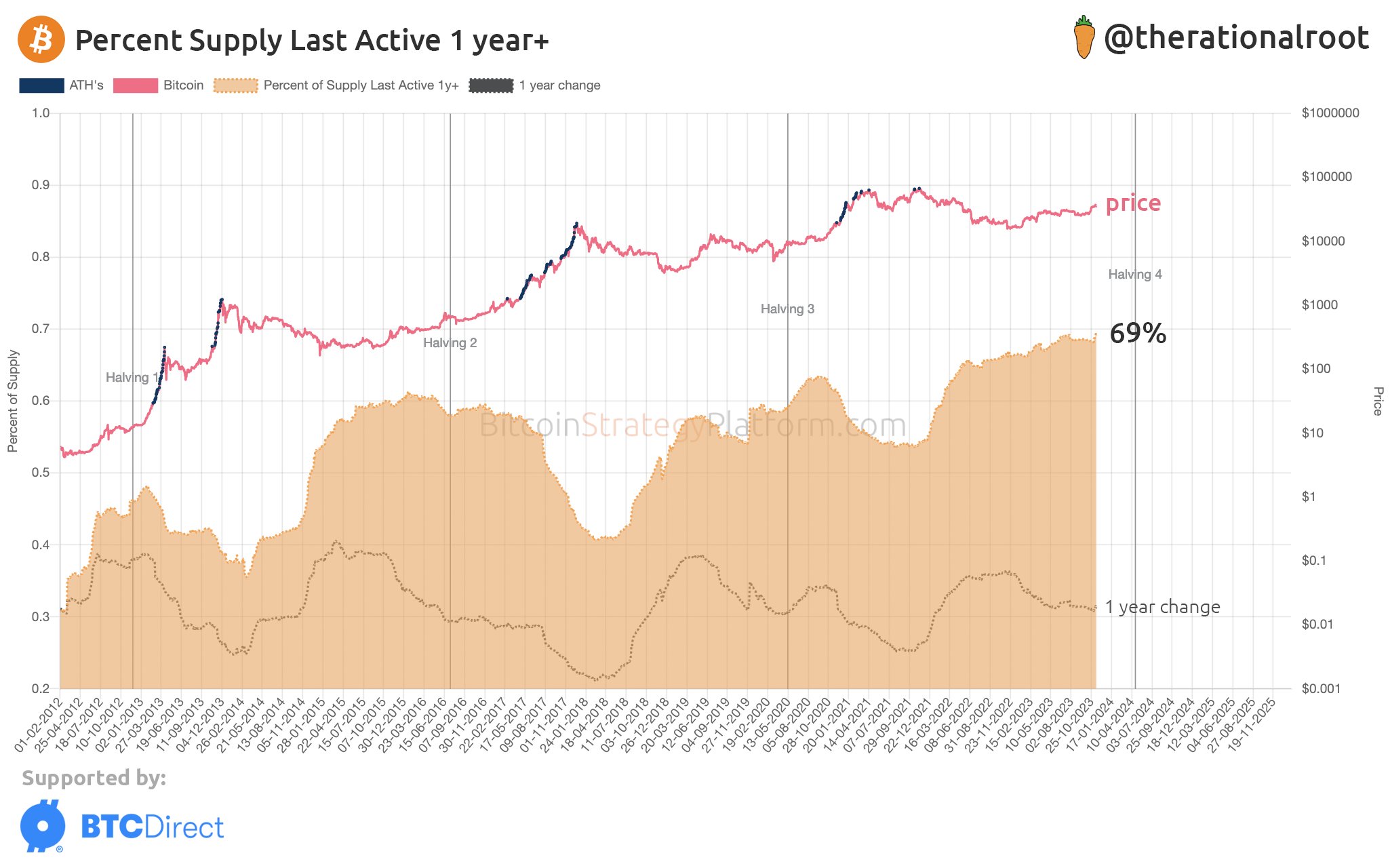 The value of the metric seems to have been going up recently | Source: @therationalroot on X
As shown in the graph, the percentage of the total Bitcoin supply in circulation that's been dormant since more than a year ago has recently seen some fresh rise and has now reached the 69% mark, a new ATH.
One year ago, BTC was still trading around the lows it had attained after the collapse of the FTX exchange. Thus, the supply that had just recently matured into the range would have been bought in the first week after this crash.
Since these lows, Bitcoin has more than doubled in value, so it's remarkable that these investors are still not giving into the allure of profit-taking and are rather choosing to HODL the asset further. Perhaps these investors have even higher hopes for the asset, so they are holding out until further price uplift.
With coins being effectively locked out of the selling supply to an ATH degree, it would be interesting to see how the ongoing Bitcoin rally plays out from here.
BTC Price
At the time of writing, Bitcoin is trading at around $36,800, down 2% in the past week.
Looks like the asset has gone through a bit of a rollercoaster in the last few days | Source: BTCUSD on TradingView
Featured image from Kanchanara on Unsplash.com, charts from TradingView.com, BitcoinStrategyPlatform.com