Procure to Pay (P2P) process is crucial for any businesses' success. There are monolithic solutions such as P2P suites. Where these solutions fall short, companies can look for more specialized ones. Integration of AI in procure-to-pay (P2P) cycles offers an alternative solution, and businesses are recognizing this trend. Gartner's prediction on the rise in the spend on the APAI and supplier e-invoicing from approximately $925 million in 2021 to nearly $1.75 billion through 2026 supports this.1 To give businesses concrete ideas on the integration of AI, we will examine 7 use cases here.
1. Sourcing automation & analytics: 
P2P is a comprehensive process. It can be hard to handle each process manually from the beginning. AI can be used to automate several processes including need identification, creation of requisitions and supplier identification.
Sourcing bots, that can be configured without coding, can:
enable progress visualization
trigger and configure events
identify optimal award scenarios for user review
Case studies show that examples such as sourcing transportation bots can2:
create validation rules for mandatory field controls
analyze carrier bids
benchmark cost performance
optimize scenario analysis
2. Finding suppliers
AI can help in identifying potential suppliers. With use of various criteria like cost, quality, delivery time, ESG compliance and reliability, it can review a significant amount of data to find the best match. 3 It can:
compare supplier performance against contracts and enable you to identify differences immediately, eliminating the need for lengthy research
message category managers and invite suppliers
3. Real-time auction
After detection of potential suppliers, sourcing bots can:
open and close bidding rounds
analyze bids
record bids and negotiations for traceability and policy compliance
4. Accounts payable invoice automation (APAI):
APAI captures invoices and automates the invoice process. APAI solutions match invoices against POs or, in the absence of a PO, support coding and approval processes. The suites can handle exceptions that might arise from transport and labor costs or additional charges not mentioned in the POs, and also involve electronic invoicing.
Sponsored
With the rise of deep learning and transformer architecture in the mid 2010s, startups including Hypatos, launched solutions bringing deep learning to invoice processing significantly increasing the automation rate.
Hypatos' products, with their continual learning abilities offer end-to-end AP automation for enterprises. The company leverages transformer architecture to classify, capture, validate and process invoices. This provides a level of automation that P2P suites typically can not match. (Figure 1)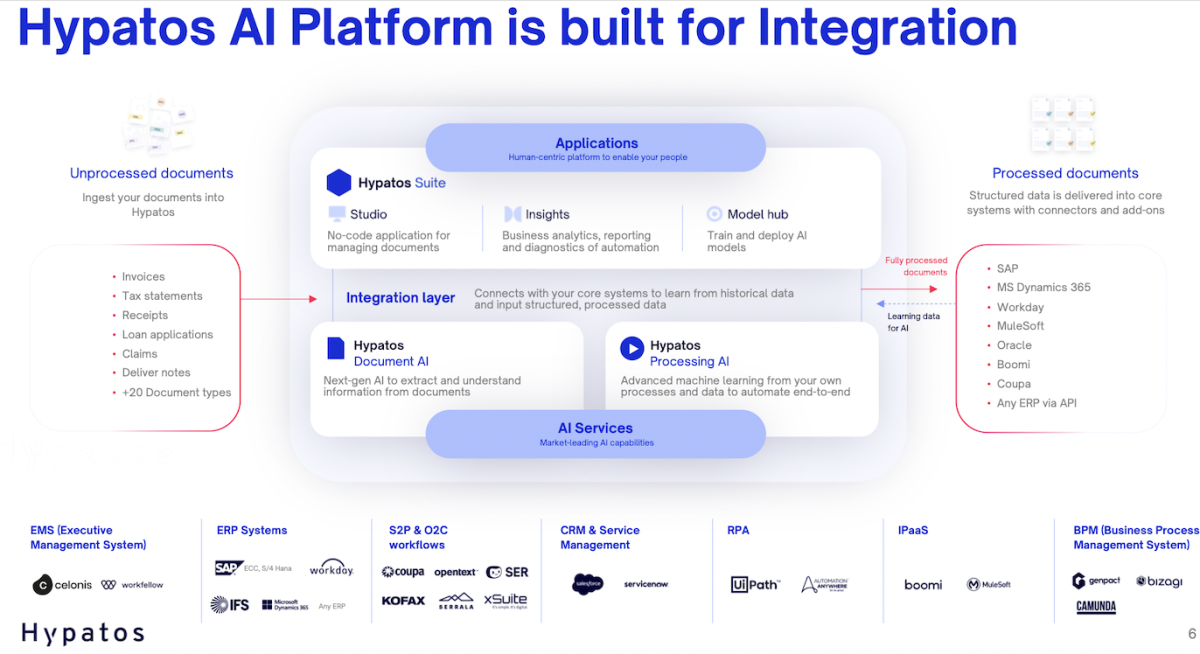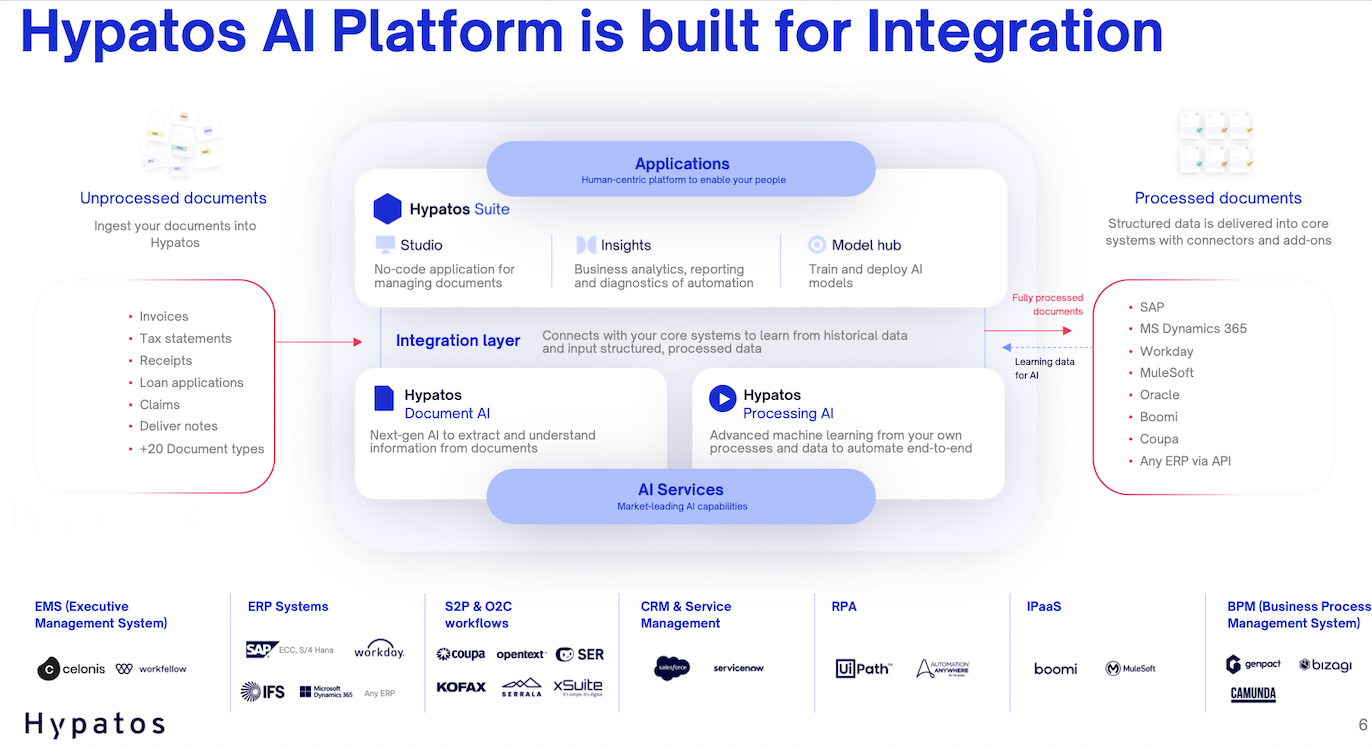 5. AP compliance:
AI can be utilized in monitoring, analyzing and mitigating enterprise spend risks in procurement. (Figure 2) AI can monitor data across:
travel and expense
purchase and fleet cards
payables, procurement and general ledger
The algorithms can: detect fraud, misuse, errors, and risk patterns, to manage SOX, FCPA, improper pay and do-not-pay audits and sign-offs. They can also detect duplicates and improper POs along with the procurement process and stop the payment.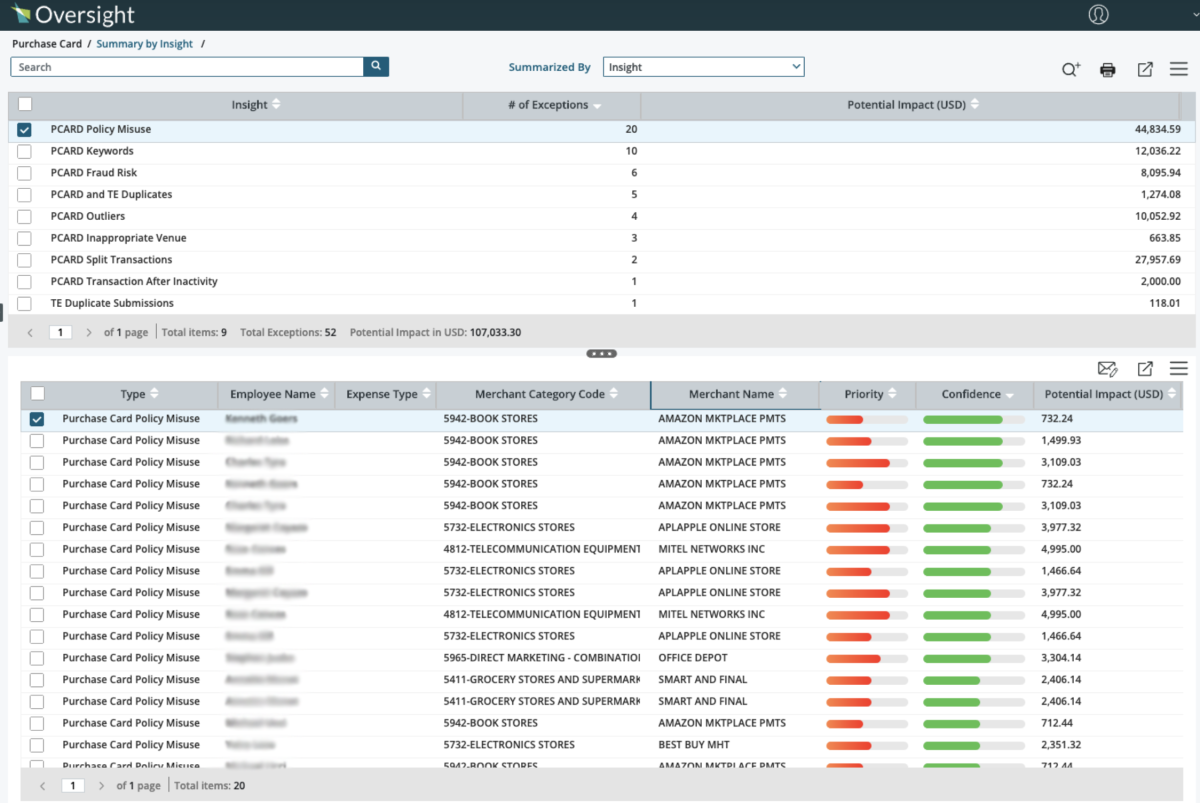 6. Analytics: 
In procurement, AI powered analytics platforms can:
clean, normalize, and categorize spend data and supplier activity from ERPs, contract repositories, travel and expenses, and corporate P-card transactions.
automate analysis of current data and historical patterns within an organization
Case studies indicate that these platforms can be used in 5 :
connecting, cleaning, and unifying spend data across several countries' legacy systems including Concur.
creating dashboards for analyzing spend, contract, and purchase processes, understanding P-card spend, and PO compliance violations.
enabling real-time access to spend reports to check inefficiencies and opportunities.
7. Cloud cost management & optimization
A specific analytics application is cloud optimization in procurement. Cloud spending is growing, and cloud vendors are extracting high margins. 6 In 2022, Amazon Web Services (AWS) generated revenues of 80 billion U.S. dollars- for their services. 7 Therefore, there is significant potential to optimize cloud costs through:
Evaluating resources
Identifying reserved instances
Optimizing the framework
Optimizing storage and subscriptions
Assigning monitoring tasks to specific employees
Benefiting from offers
Case studies show that AI can can 8 :
provide real-time data about cloud performance, anomalies
collect and analyze the usage data of infrastructure
include EC2 schedulers that allows engineers to automate turn on/off cycles of idle EC2 instances
include Resource Cleaners that identifies and disposes of idle cloud resources such as EBS, EIP and ELB
FAQ
Are there P2P solutions that already integrate AI?
APAI solutions are mostly independent solutions. Yet, they can be also included in procure-to-pay suites, or are extensions of financial solutions. Some P2P solutions such as Basware and Medius also offer APAI integration. 
What are the possible benefits of implementing AI in procurement solutions?
better cash flow
possible reduction in invoice costs
more efficient PO management
scalable vendor relations
secured compliance process
What are the types of AI solutions in procurement?
What challenges might organizations face when adopting AI in their procurement cycle?
Resistance from employees who are used to manual processes and may lack the skills needed for this digital transformation.
The effective use of P2P AI might require significant amount of historical data; insufficient or poor-quality data can weaken the system's effectiveness.
Integrating AI to other systems trouble-free is not always easy. Technical issues or compatibility problems can occur and hinder the potential of AI to reduce costs and improve efficiency.
While AI can significantly helps in decision-making by analyzing data, it should complement human intelligence. Employees should be trained to work alongside AI tools.
For further questions regarding the topic, reach out to us:
External Links: