The Avalanche price has experienced a surge of 37% in the past week, reaching $17.81 at 6:50 am EST.
This significant increase is part of a broader upward trend observed over the past month, during which the token price has increased 96%.
A significant breakout from a large weekly falling wedge pattern has occurred with #AVAX. Anticipate a potentially remarkable 2x gain, similar to what happened with $SOL. Keep in mind, this observation is based on the weekly chart. What are your thoughts on this? #AVAX… pic.twitter.com/kPb8v7BTNW

— Brukhman 🔥 ETH (@GeralynGiesen) November 12, 2023
The recent surge in the value of AVAX can be largely accredited to its unique deflationary mechanism. Avalanche employs a distinctive policy whereby 100% of transaction fees are burned, removing them from circulation.
This approach has led to the elimination over 36,500 AVAX from the market in just the past month alone, significantly reducing the available supply.
This trend of reducing the available supply of AVAX is set to accelerate as more than 1700 testnet subnets begin operations and consume fees. 
Avalanche Price: Bulls Break Over Falling Wedge, Nearing April High
The price of AVAX has reached a support level of $8.6, forming a falling wedge pattern. This pattern suggests a possible bullish reversal as the price bounces between two downward-sloping and converging trendlines.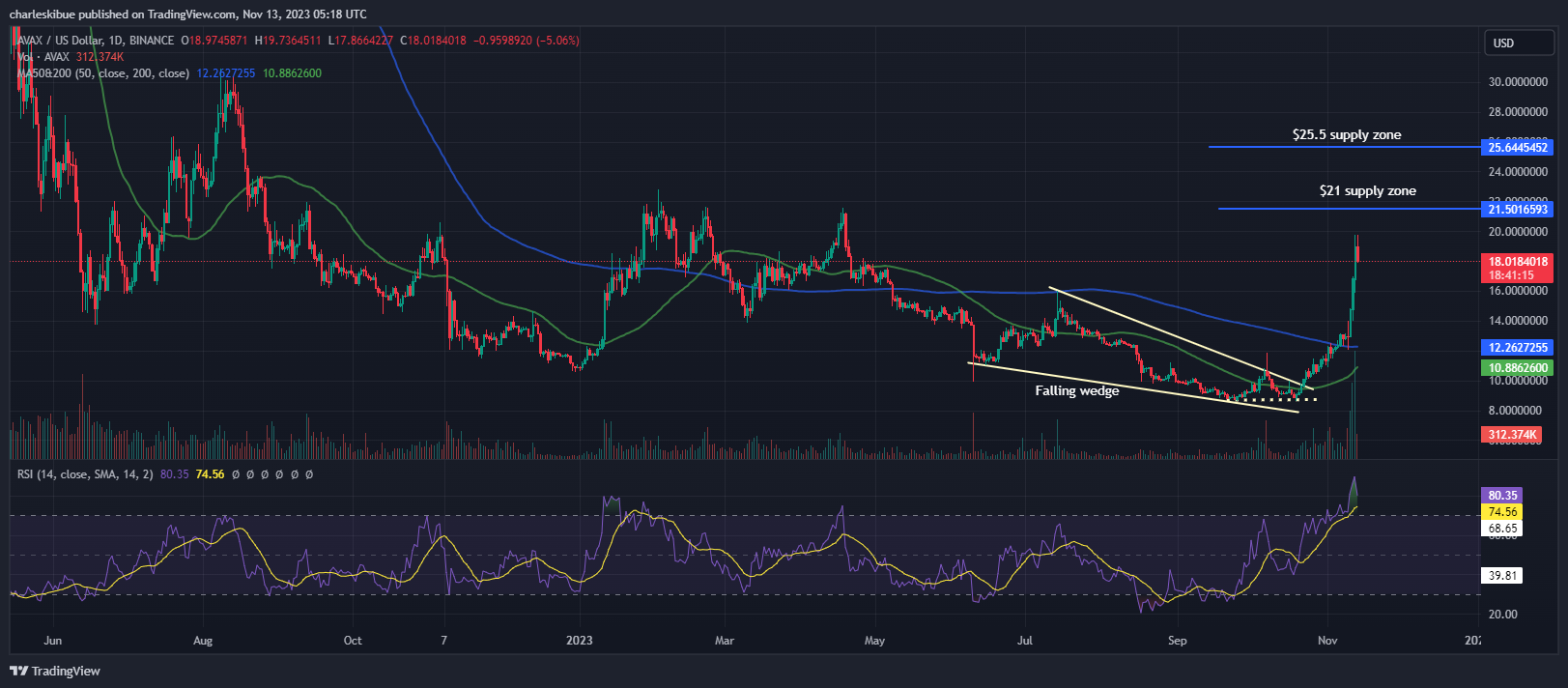 The support zone acts as a strong point for buyers, who have pushed the price higher, resulting in bullish candlesticks breaking above the upper boundary of the falling wedge pattern.
The buying pressure is also evident as the price surpassed the $15.84 resistance level. As a result, the price has continued to rise, approaching the supply zone ranging from $21 to $25. To confirm a sustained uptrend towards a conservative target of $30, it would be necessary for the price to break and close above the midpoint of the supply barrier at $28.55.
Avalanche Price: Bullish Momentum Aims For $30.45 Level
The bullish momentum in AVAX targets the $30.45 mark. In a highly bullish scenario, the price of Avalanche could not only reach but also surpass the $30.45 resistance level, establishing it as a support level. This breakout could sustain upward movement toward the next supply barrier at $52.
However, if the price of AVAX faces rejection at the $21 level supply zone, it could result in a downward move. The price may break below the 200-day Simple Moving Average (SMA), invalidating the bullish scenario. AVAX could decline toward the $13.2 support level in such a case.
Meanwhile, TGC.Casino (TGC) is generating significant investor interest with its innovative approach to the crypto casino industry during its presale phase.
TG Casino has passed $1.9 million raised in presale!

We are so close to the $2 million mark. Let's push! pic.twitter.com/wUn7s3PgNW

— TG Casino (@TGCasino_) November 12, 2023
TG.Casino (TGC): Presale Secures $1.9 Million in Investment Funds
TG.Casino has achieved a remarkable feat by securing almost $2 million in investment funds, 78% of its $2.5 million target. This achievement demonstrates significant investor confidence in the project, leading to a growing number of participants.
Investors are rapidly jumping on this project to secure tokens at the current discounted rate of $0.155 per token before the price increases. However, this attractive pricing is time-sensitive and expected to increase within the next four days as the presale advances toward its target.
The price of $TGC has now increased to $0.155🤠

Congratulations to those who got it at the low prices before!
See you in another 5 days players🎰 pic.twitter.com/0hSjrSMTYl

— TG Casino (@TGCasino_) November 12, 2023
TG.Casino has a seamless user experience that integrates its operations within the Telegram app. Furthermore, it has taken a significant step towards ensuring investor security and transparency by obtaining approval from the Verification Gold Standard for its KYC procedures. 
This approval signifies the commitment of TG.Casino to adhere to rigorous standards and provide users with a secure and transparent environment.
Exciting News!!!

We are proud & excited to announce that our KYC has been APPROVED by The Verification Gold Standard, @AssureDefi ✨✅

Taking a step towards solid investor security and transparency.

View our KYC #Certificate:https://t.co/N940WZJsE3 pic.twitter.com/UNCJyHPUSn

— TG Casino (@TGCasino_) November 10, 2023
TG.Casino: 100x Growth Potential and Impressive APY
TG Casino has the potential to experience a significant 100x increase in value once it is launched, which makes it an attractive investment opportunity. Additionally, TG.Casino offers a passive income opportunity through staking, with an impressive Annual Percentage Yield (APY) of 270%. 
Staking TGC tokens contributes to token stability, fosters community loyalty, and enables participants to earn passive income. This feature enhances the overall appeal of participating in the TG.Casino ecosystem. 
Big clash between Chelsea and Man City tonight⚽

Does the very mediocre Chelsea even stand a chance against the champs? #CHEMCI pic.twitter.com/blQ8IaVAm9

— TG Casino (@TGCasino_) November 12, 2023
Staking TGC tokens contributes to token stability, fosters community loyalty, and unlocks the potential for earning passive income. This feature enhances the overall attractiveness of participating in the TG.Casino ecosystem.
Alessandro De Crypto, a prominent cryptocurrency trader and popular YouTuber with over 11.5k subscribers highlights hype's role in driving the project's success. He has also participated in the presale.
To acquire TGC, visit the official TG.Casino website, link your preferred Web3 wallet, and swap either ETH, USDT, or BNB for TGC tokens.
Related News
New Crypto Mining Platform – Bitcoin Minetrix
Audited By Coinsult
Decentralized, Secure Cloud Mining
Earn Free Bitcoin Daily
Native Token On Presale Now – BTCMTX
Staking Rewards – Over 100% APY