'What is the best crypto to buy right now?' is a common question asked by investors – in this article, we explore a range of tokens to watch.
The cryptocurrency market has shown moderate growth in the past 24 hours, with a total market capitalization reaching $1.44 trillion, marking a 3.45% increase. Likewise, the overall trading volume surged to $366.68 billion, representing a notable uptick of 16.10% within the same period.
Best Crypto to Buy Now
Bitcoin, the leading cryptocurrency, is currently priced at $37,328, indicating a 4.21% increase in value over the last day. Additionally, Bitcoin's dominance rose by 0.32%, reaching 50.72% in total market share.
1. Near Protocol (NEAR)
NEAR Protocol is gearing up for its NEARCON developer conference amidst a notable surge in various metrics. The network activity and daily trading volume have spiked, aligning with a substantial 54% surge in Total Value Locked (TVL). Simultaneously, the native token, NEAR, has seen a significant 50.4% price increase.
Furthermore, expectations are high for the upcoming NEARCON conference, which promises substantial updates likely to enhance NEAR Protocol's appeal to investors. Analysts predict a potential 34.7% increase in NEAR's value, possibly reaching $2.135 by the year's end.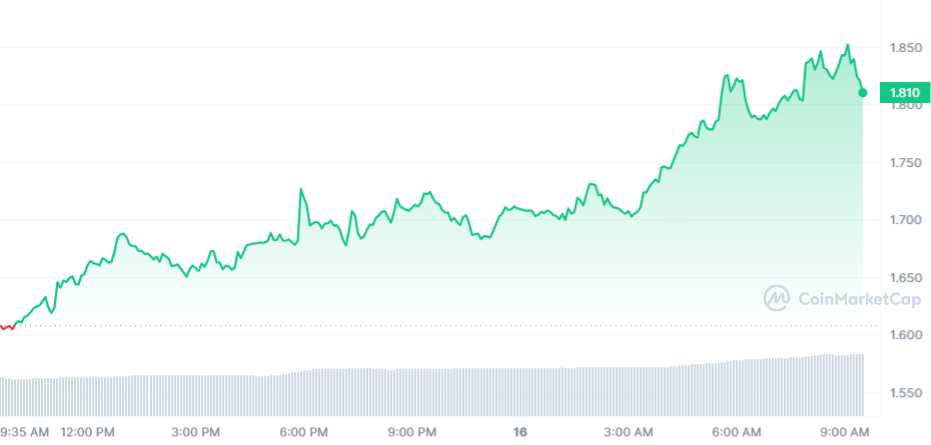 NEAR's recent performance highlights include consistent trading above the 200-day simple moving average. It has 20 positive trading days out of the last 30 (a 67% positive ratio). NEAR is trading close to its cycle high, showcasing robust liquidity relative to its market cap.
NEAR Protocol's price is $1.827177, with a 24-hour trading volume of $534.27M, a market cap of $1.82B, and a market dominance of 0.13%. Notably, the token observed a 13.74% increase in the last 24 hours.
Ethereum rollups are about to move into hyperdrive with the fast finality layer from NEAR and @EigenLayer ⚡

Get ready for cross-rollup transactions that are not just faster, but 4000x cheaper! 🌐

What's a fast finality layer?

A first-of-its-kind solution that processes… pic.twitter.com/vFWmgDyKJt

— NEAR Protocol (@NEARProtocol) November 10, 2023
Current sentiments suggest a bullish outlook for NEAR Protocol's price prediction, with the Fear & Greed Index registering 70 (Greed). The circulating supply stands at 998.76M NEAR out of a maximum supply of 1.00B, with an annual inflation rate of 20.72%. This resulted in 171.42M NEAR being created in the past year.
Presently ranked #23 in the Layer 1 sector by market capitalization, NEAR Protocol is undergoing a notable growth phase. Similarly, it offers potential that investors and enthusiasts are closely monitoring.
2. Cosmos (ATOM)
The Eden release represents a significant step forward for the Cosmos_SDK, promising enhanced modularity and performance gains. This version aims to improve the operational efficiency of Cosmos SDK chains significantly.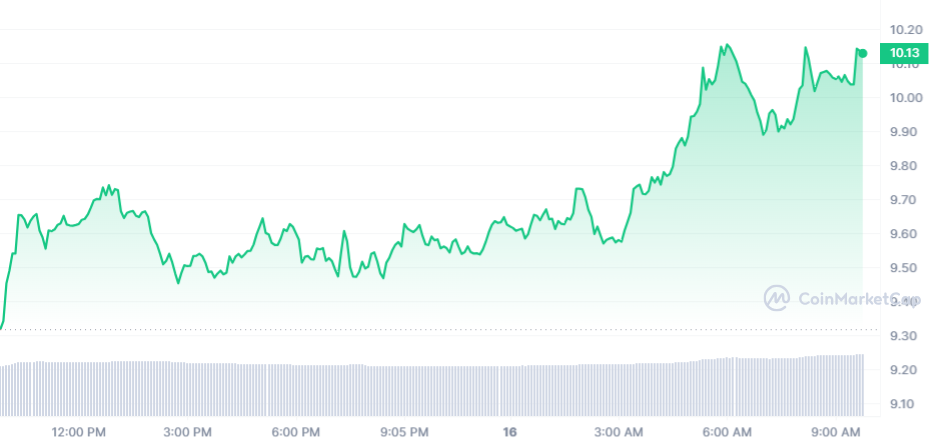 Several noteworthy features define the Eden release. First of all, the completion of ABCI++ introduces a notable shift in consensus flexibility. At the same time, AutoCLI simplifies module creation, streamlining development processes for greater efficiency.
The introduction of Sign Mode Textual aims to refine the transaction signing experience. Thus aligning with the project's dedication to technological innovation. Furthermore, the primary goal of the Cosmos project is to address blockchain industry fragmentation by enabling inter-blockchain communication. Future innovations or collaborations could expand the platform's use cases and adoption rates.
Introducing Eden ⚛️

Eden is the v0.50 release of the @Cosmos_SDK – ushering in an era of enhanced modularity and performance.

This release is set to boost tremendously the performance of Cosmos SDK chains!

In the following post, you will discover Eden's features and witness… pic.twitter.com/DdpKm9xE3Y

— Cosmos – The Interchain ⚛️ (@cosmos) November 9, 2023
Regarding ATOM Coin price predictions, projections suggest a potential high of $14.76 by the end of 2023. Moreover, it is estimated to have an average trading price of $12.04 in a stable market with sustained investor interest. However, if unforeseen circumstances lead to a major market downturn, ATOM Coin could drop to $9.21. A bullish market trend, especially in the latter half of the year, could significantly drive up the value of the Cosmos Coin.
3. Woo Network (WOO)
WOO Network has exhibited notable intraday growth, valued at $0.269966 with a market cap of $475.44 million. Over this period, its price surged by 104%, outperforming 78% of the top 100 crypto assets. This positive trajectory has been consistent, with the token trading above its 200-day simple moving average.
WOO has shown promise in the last 30 days, with 18 green days accounting for 60% of this timeframe. This trend reflects a favorable performance compared to its token sale price, indicating stability and growth potential.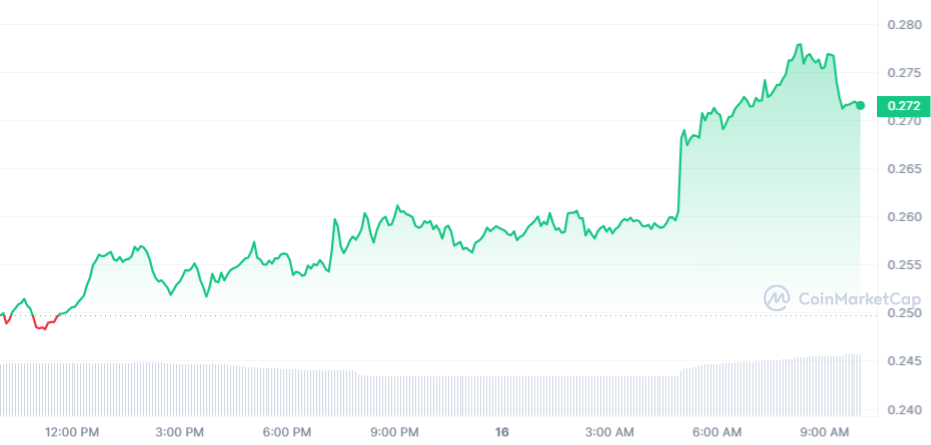 Despite a market dominance of 0.03%, WOO Network boasts high liquidity. This is evident from its $52.68 million 24-hour trading volume and substantial market capitalization.
Presently ranked #12 in the Exchange Tokens sector, WOO Network aligns with a bullish price prediction sentiment and a Greed Index 70. The token's availability is controlled with a circulating supply of 1.76 billion out of a maximum supply of 3.00 billion.
$KAS is now available on WOO X perps market!

Trade with up to 20x leverage now✨https://t.co/LfIdQti65d

⚡️Stake to enjoy lower trading fees. pic.twitter.com/I03m8OKluc

— WOO X (@_WOO_X) November 16, 2023
However, the token's annual supply inflation rate of 47.47%, resulting in the creation of 566.86 million WOO in the last year, raises concerns. This inflation rate may impact market dynamics and investor sentiment, requiring careful monitoring.
4. Sui (SUI)
Sui traded on Binance, has seen an upward trend compared to its initial token sale price. It showed gains in 18 out of 30 days in the last month, marking a 60% positive trend. It's notable for its strong liquidity, evident from its market capitalization.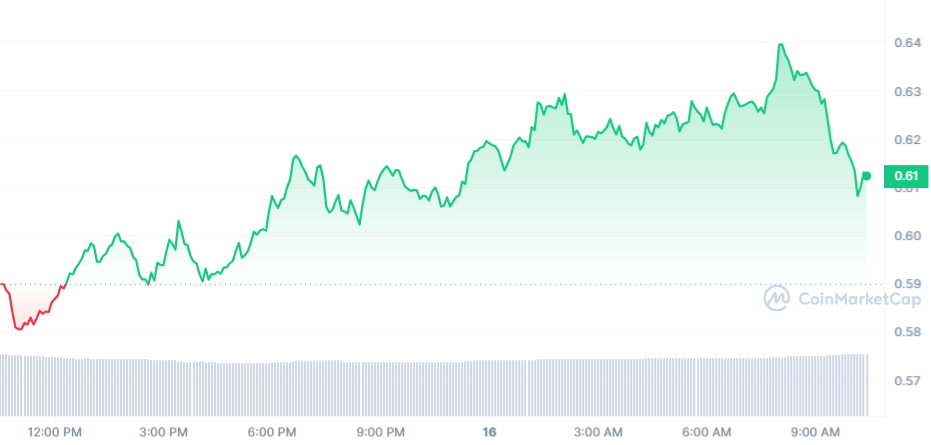 Furthermore, Sui is priced at $0.607123, with a 24-hour trading volume of $356.48 million. The coin has a market cap of $586.22 million, witnessing a 2.81% intraday increase.
Its peak price of $1.839970 was recorded on May 3, 2023, while the lowest price isn't specified, but the lowest since its peak hit $0.363263 (cycle low). Following this low, it rose to a high of $0.657703 (cycle high). Currently, market sentiment is bullish, with a Fear & Greed Index of 70, indicating a phase of trader greed.
Regarding its supply, 965.58 million SUI tokens are circulating out of a maximum supply of 10 billion. Based on the market cap, Sui Crypto holds the #40 spot in the Layer 1 sector.
$KAS is now available on WOO X perps market!

Trade with up to 20x leverage now✨https://t.co/LfIdQti65d

⚡️Stake to enjoy lower trading fees. pic.twitter.com/I03m8OKluc

— WOO X (@_WOO_X) November 16, 2023
To summarize, Sui Crypto has shown consistent positive performance, especially compared to its initial sale price. Moreover, it maintains strong liquidity based on its market capitalization. The current market sentiment is bullish, positioning it respectably in the Layer 1 sector.
5. Launchpad XYZ (LPX)
Launchpad XYZ is a versatile platform in the Web 3.0 investment realm, presenting a range of offerings, including utility tokens, NFTs, and ICOs. Their mission is to simplify the Web 3.0 experience for all investors, achieved through a comprehensive ecosystem, whether they're just starting or are seasoned players in this field.
🕹️ Change the game with play-to-earn

Let #LaunchpadXYZ be your arena for innovation 🙏#GameChangers #PlayToEarn pic.twitter.com/wUeWO5uk31

— Launchpad.xyz (@launchpadlpx) November 15, 2023
At the heart of Launchpad XYZ's ecosystem lies the LPX token, offering various benefits, especially for users staking a minimum of 10,000 LPX tokens. These users gain access to premium features, including reduced trading commissions on the platform's decentralized exchange.
Moreover, LPX token holders receive privileges like guaranteed access to new NFT releases at competitive prices, early entry to exclusive presales, and discounts on products and services from Launchpad XYZ partners. Those holding 10,000 or more LPX tokens also get early access to beta-mode play-to-earn games, allowing them to track game development and assess in-game crypto tokens.
Launchpad XYZ is developing a decentralized exchange (DEX) to facilitate basic exchanges and specific perpetual contracts. Consequently, LPX token holders benefit from reduced trading fees on the Launchpad XYZ exchange. Thereby enhancing the value and practicality of the LPX tokens.
As for market performance, the LPX token has shown promising traction and success, potentially appealing to crypto investors. Currently priced at $0.0445 per token, the ongoing 10% bonus might catch the eye of those considering entry into the platform.
Read More
New Crypto Mining Platform – Bitcoin Minetrix
Audited By Coinsult
Decentralized, Secure Cloud Mining
Earn Free Bitcoin Daily
Native Token On Presale Now – BTCMTX
Staking Rewards – Over 100% APY