We cover some contenders for the best cryptocurrency to buy right now, potentially worth adding to your watchlist over the coming days.
The current state of the cryptocurrency market reflects stability, with a total market capitalization of $1.39 trillion, marking a slight decrease of 0.84% over the last 24 hours. Concurrently, the 24-hour trading volume is $231.44 billion, showing a 34.66% decrease within the same timeframe.
Best Crypto to Buy Now
Bitcoin price is $36,390, experiencing an intraday decline of 0.19%. Additionally, Bitcoin dominance now stands at 51.29%, signaling a 0.21% intraday increase.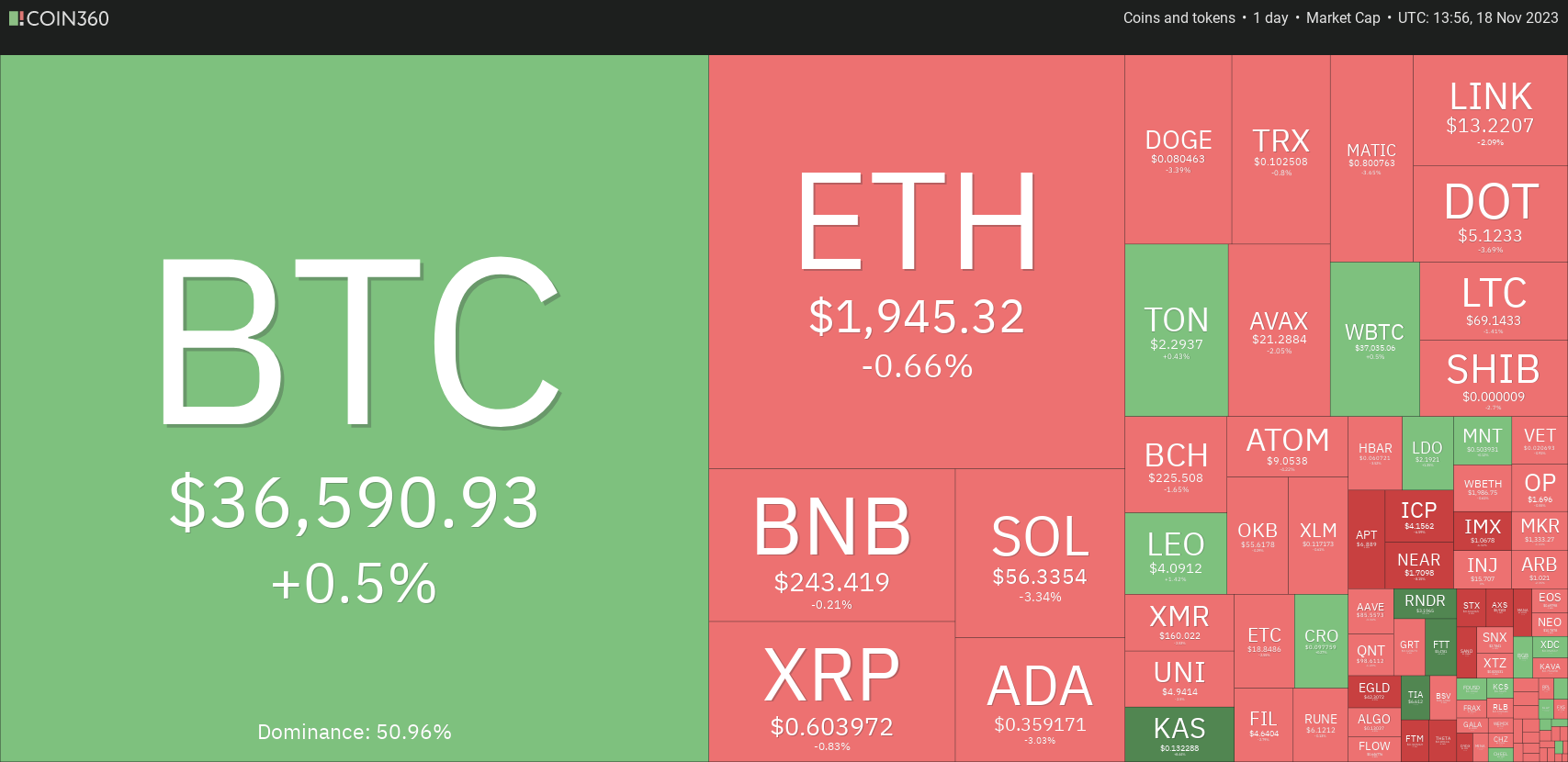 This data underscores a relatively steady market condition, portraying modest market cap and trading volume fluctuations. At the same time, Bitcoin, as the dominant player, retains its position amidst a dynamic landscape.
1. BitTorrent(New) (BTT)
BitTorrent has grown significantly in the cryptocurrency market since its inception, attracting early investors through various projects and ongoing initiatives. It operates as a decentralized peer-to-peer platform, aiming to enhance download speeds, lower storage costs, and reinforce data security.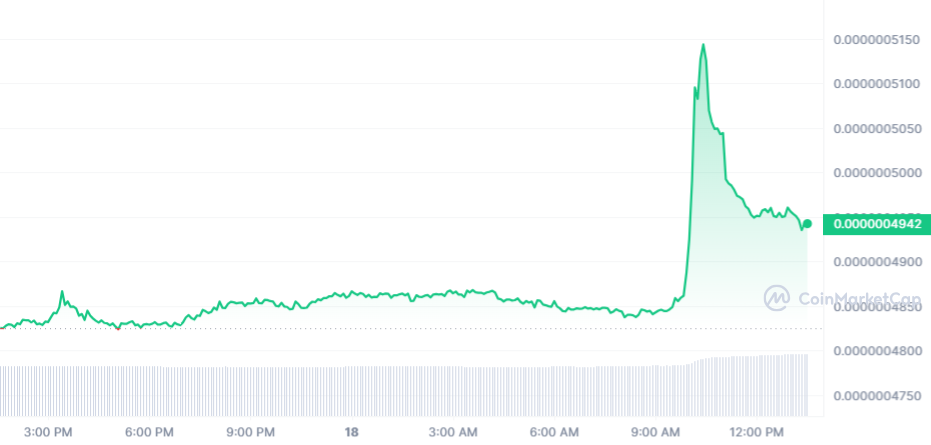 With innovative features and strong community support, BTT Coin holds the potential for long-term success. Technical analysis suggests a forthcoming price growth for BitTorrent Coin. Projections indicate a potential maximum price of around $0.00000249 and an average price estimated at approximately $0.00000137 by the end of 2023. However, these projections are dependent on the broader cryptocurrency market's positivity.
However, the minimum price for BTT Coin could dip to $0.000000936 if the crypto market experiences a downturn. Nonetheless, an anticipated bullish rally might lead to substantial price increases later in the year.
👻We are glad to announce #BTTC is supported by @SpookySwap!🥰

🧑‍🌾Farm on #BTTC is also live now: https://t.co/jS82T0QwOq

— BitTorrent (@BitTorrent) November 15, 2023
BitTorrent(New) is priced at $0.0000005146, with a 24-hour trading volume of $28,263,997. It holds the #87 ranking on CoinMarketCap, with a live market cap of $489,596,536. The circulating supply of BTT coins stands at 951,421,714,286,000, making it the best crypto to buy now.
2. WAX (WAXP)
WAX (WAXP), available on Binance, has shown significant growth, with a 34% price surge in the last year. It's currently trading at $ 0.071289, with a market cap of $ 240.67M. WAX also boasts a 24-hour trading volume of $ 71.89M, dominating 0.02% of the market.
The coin has recently gained 9.32% in 24 hours and hit an all-time high of $ 0.983981 on Nov 17, 2021. Its lowest recorded price was $ 0.015123 on Mar 13, 2020. Since its peak, the lowest price observed was $ 0.036238, while the highest post-peak price reached $ 0.074481.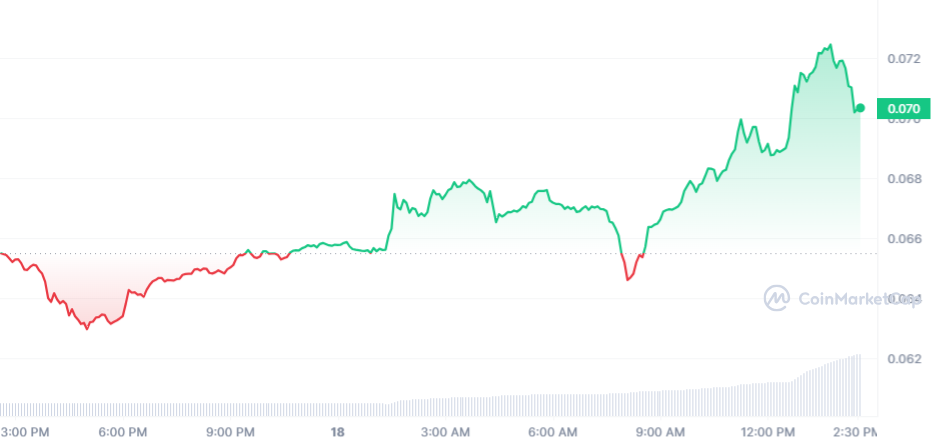 Moreover, WAXP's technical analysis shows it's trading above the 200-day moving average and near its cycle high. Thus hinting at a positive trend likely nearing its peak.
The coin is ranked #13 in NFT Tokens, #9 in Gaming, and #8 in the Metaverse. Furthermore, it is placed #62 in Layer 1 sectors based on market cap. WAXP has a circulating supply of 3.38B and an annual supply inflation rate of 48.64%, creating 1.10B WAXP in the past year.
With high liquidity and a Fear & Greed Index at 69 (Greed), WAXP's performance against various sectors places it as the best crypto to buy now. Furthermore, its inflation rate is crucial for potential investors or applications within the crypto landscape.
3. Helium (HNT)
The Helium Wallet v2.4.0 brings three significant updates to enhance user experience. One such update, Automatic Fee Management, allows users to choose HNT, IOT, or MOBILE to cover Solana fees if they lack SOL. Secondly, Improved Swaps on the Solana Network integrate with JupiterExchange for easy token conversions and quotes. In addition, the Enhanced helium_mobile Hotspot Onboarding fixes previous bugs for smoother setup of WiFi-capable hotspots.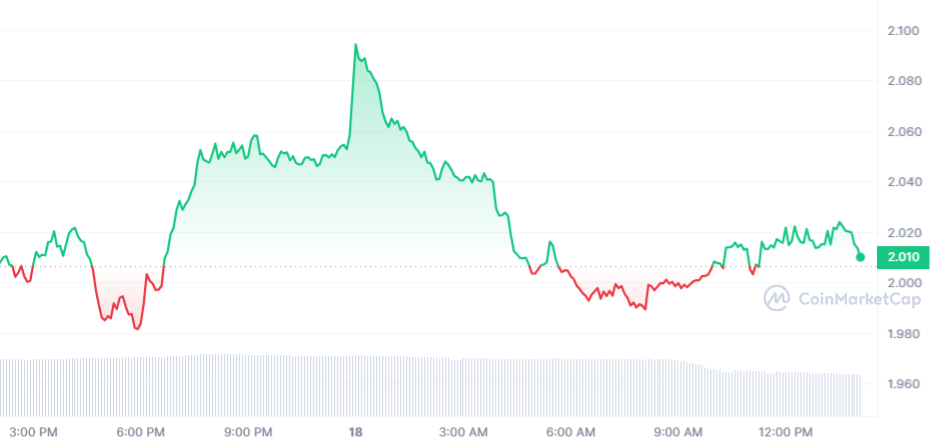 Helium's current price is $2.02, with a $1.48M 24-hour trading volume and a market cap of $290.43M. Moreover, it trades above the 200-day simple moving average, with 18 positive days in the last 30 (60%). These positive price movements make the coin the best crypto to buy now.
Historical data showcased an all-time high of $55.17 on Nov 12, 2021, and a low of $0.200066 on May 29, 2020. Post all-time high, the lowest price reached was $1.164490 (cycle low), while the highest hit $2.58 (cycle high). Predictions and sentiments for Helium's price currently stand neutral, accompanied by a Fear & Greed Index reporting a value of 69 (Greed).
Regarding supply metrics, Helium's circulating supply sits at 143.93M HNT out of a max supply of 223.00M HNT. It has a 10.11% yearly supply inflation rate, resulting in 13.22M HNT in the past year. Regarding market cap, Helium ranks #44 in the Ethereum (ERC20) Tokens sector and #52 in the Layer 1 sector.
#DePINg Pong, Only possible on @solana! 🏓 This was the best event at @SolanaConf, though we may be biased. 😉🎈

Hosted by @multicoincap & @helium, alongside partners @WifiDabba, @rendernetwork , @Hivemapper, @Filecoin, & https://t.co/fzO9d0KSDM. pic.twitter.com/lLqQu4Bwls

— Helium🎈 (@helium) November 16, 2023
Projections suggest a maximum price of $5.04 for Helium as the crypto market recovers, with an average anticipated price of $4.45 by 2023. However, the possibility of a major bearish trend could see a minimum price of $3.86 by 2023. Experts note Helium's potential within the crypto landscape. However, these predictions remain subject to market fluctuations and trends.
4. Gnosis (GNO)
Gnosis has displayed remarkable performance metrics over the past year. Its price surged by 97%, outperforming 76% of the top 100 crypto assets. It trades above the 200-day simple moving average, with 63% of the last 30 days marked as positive (19 green days).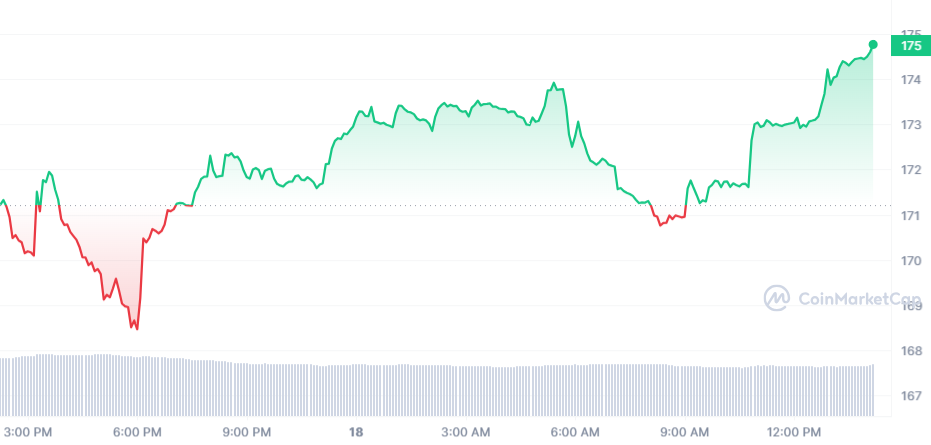 Gnosis trades on Binance at $175.60, boasting a 24-hour trading volume of $9.64M and a market cap of $454.72M, capturing 0.03% market dominance. Notably, the coin's yearly inflation rate stands at 0.39%.
Throughout its price history, Gnosis experienced fluctuations, hitting an all-time high of $644.58 on Nov 8, 2021. Conversely, it attained a record low of $7.22 on Mar 13, 2020. Since its peak, it reached a low of $77.08 (cycle low) and a high of $187.42 (cycle high). Currently, sentiment leans bullish for Gnosis' price prediction, aligned with a Fear & Greed Index 69, indicating 'Greed' sentiment.
That's a wrap!

Thank you for coming to #DSS! We will be at @ETHGlobal Istanbul 🇹🇷 this week!

Make sure to stop by our booth!🖐️

See you there! https://t.co/DmSJI4uHpL pic.twitter.com/uHu8rPUQmF

— GnosisDAO (@GnosisDAO) November 16, 2023
Regarding its supply, Gnosis has a circulating supply of 2.59M GNO out of a maximum of 3.00M GNO. Moreover, it has a yearly supply inflation rate of 0.39%, creating 10,001 GNO in the last year. Within its sector, Gnosis holds the #15 rank in the DeFi Coins category and #31 in the Ethereum (ERC20) Tokens sector.
5. Meme Kombat (MK)
Meme Kombat, a platform integrating gaming and cryptocurrency, has gained attention for its unique features tailored to gaming enthusiasts. The platform enables users to participate in active betting and passive staking, potentially offering avenues for earning rewards.
We hit $1.8 million raised in the $MK presale memers!

Kombat awaits⚔️ pic.twitter.com/j42q51jBip

— Meme Kombat (@Meme_Kombat) November 17, 2023
The presale event, a central point of interest, introduces a staking feature with an Annual Percentage Yield (APY) of 112%. This yield aims to reward participants before the battles feature's official release, potentially enhancing the investment appeal.
Central to Meme Kombat are meme-based battles. The inaugural season includes 11 memes competing for the top spot. It promises future seasons, bringing more innovations and earning opportunities to maintain user engagement.
Moreover, the substantial participation in the presale indicates a growing interest in the platform. This indicates a potential for further growth as Meme Kombat's unique features gain traction.
Meme Kombat's integration of gaming and cryptocurrency is unique, drawing interest from niche enthusiasts. The MK token, essential to the ecosystem, hints at potential growth in the cryptocurrency realm.
In summary, the innovative approach of Meme Kombat in merging gaming and cryptocurrency has garnered attention. Likewise, the success of its presale and enticing features position it as the best crypto to buy now.
Read More
New Crypto Mining Platform – Bitcoin Minetrix
Audited By Coinsult
Decentralized, Secure Cloud Mining
Earn Free Bitcoin Daily
Native Token On Presale Now – BTCMTX
Staking Rewards – Over 100% APY