'Best crypto to buy now' is one of the most searched cryptocurrency-related terms in Google, and each day InsideBitcoins lists some options.
The global cryptocurrency market cap currently stands at $1.39 trillion, reflecting a minor increase of 0.20% within the last day. Over the same period, the total trading volume across the crypto market amounted to $35.84 billion, indicating a notable decrease of 23.87%.
Best Crypto to Buy Now
This data suggests a relatively stable market cap with a considerable shift in trading volumes, particularly with a notable contribution from stable coins and a smaller yet significant involvement of DeFi. Additionally, Bitcoin's dominance has shown a marginal decline, hinting at potential diversification within the cryptocurrency landscape.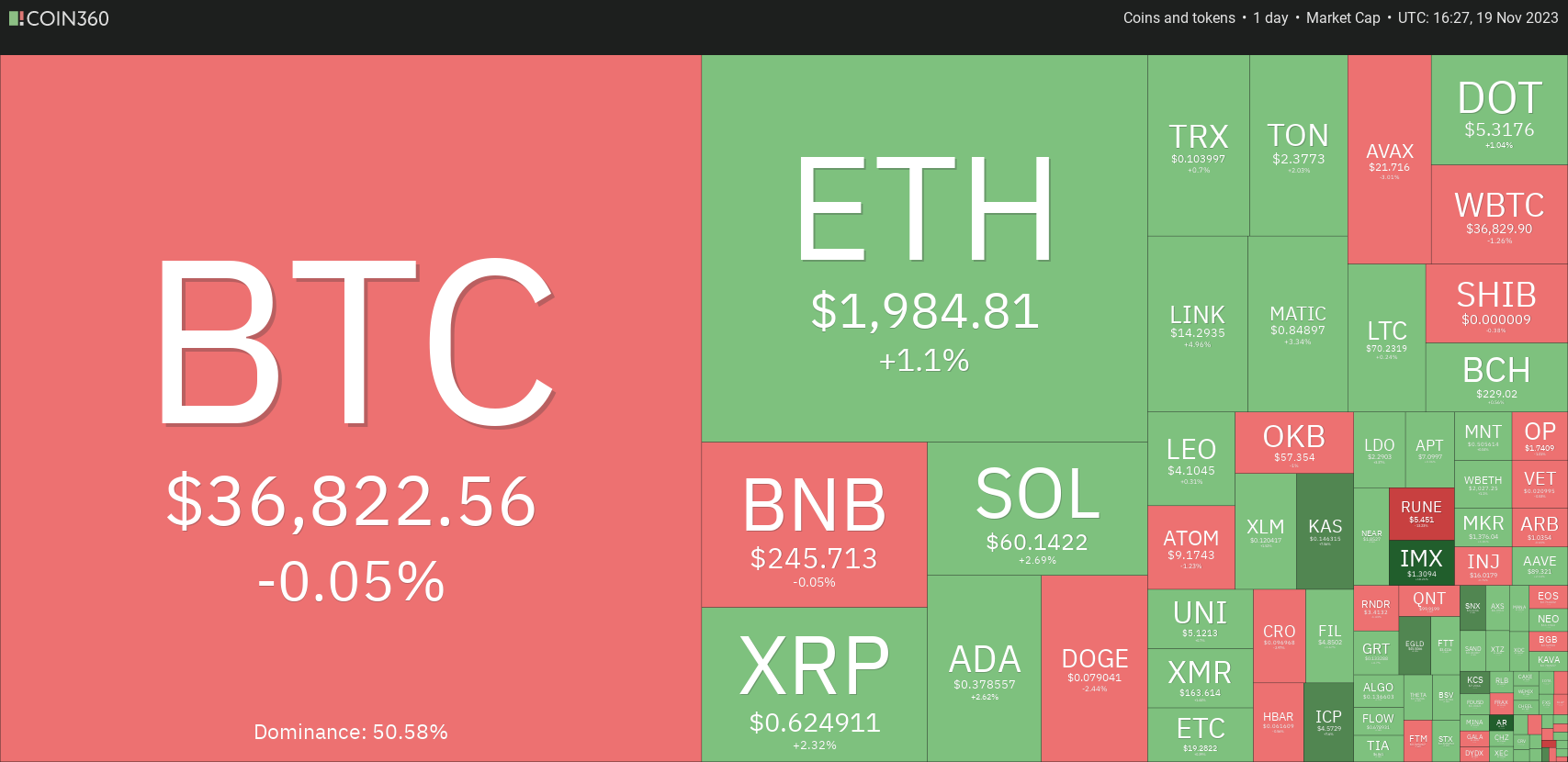 1. MultiversX (EGLD)
MultiversX has established a collaborative venture with Google Cloud, integrating its BigQuery data warehouse into the Web3 ecosystem. This partnership aims to bolster data analytics for Web3 projects. Thus providing insights into crucial elements like addresses, transaction amounts, smart contract interactions, and on-chain analytics.
Furthermore, integrating Google Cloud's BigQuery is poised to streamline the execution of large-scale blockchain projects, specifically those focused on data analysis. It grants developers convenient access to pivotal data related to blockchain projects. Therefore easing their work on addresses, transaction amounts, and smart contract interactions.
Moreover, MultiversX has unveiled the xWorlds Developer Kit, a comprehensive suite of tools enabling creators to craft augmented reality experiences. This innovative kit leverages a wallet and distribution hub portal complemented by lifelike 3D avatars powered by artificial intelligence.
The next Web3-enabled unicorn startups need a robust infrastructure to thrive.

Scalability beyond the buzzword, fastest VM, redefined standards and the easiest path to onboard users.

Happening on #MultiversX. pic.twitter.com/CP2LlQEKOk

— MultiversX (@MultiversX) November 17, 2023
Furthermore, the current circulating supply is 23.74M EGLD out of a maximum supply of 31.42M EGLD. Over the past year, 44,459 EGLDs were created, constituting a yearly supply inflation rate of 0.19%. Within the Layer 1 sector, MultiversX (Elrond) holds the #27 rank based on market cap. This has placed the token among the best crypto to buy now.
In summary, MultiversX's recent collaboration and introduction of xWorlds Developer Kit signify substantial progress in enhancing data accessibility. Likewise, it indicates the integration of augmented reality within the Web3 domain. Moreover, market sentiment around MultiversX (Elrond) remains bullish, underscored by a Fear & Greed Index of 66 (Greed).
2. Conflux (CFX)
Conflux Network has shown substantial growth, marking a remarkable 424% increase in its price over the past year. This places it among the top 4% of the top 100 crypto assets, outperforming Bitcoin and Ethereum in growth. Recent trends indicate positivity, with 18 out of the last 30 days seeing an increase in value. Thus accounting for 60% of the trading days.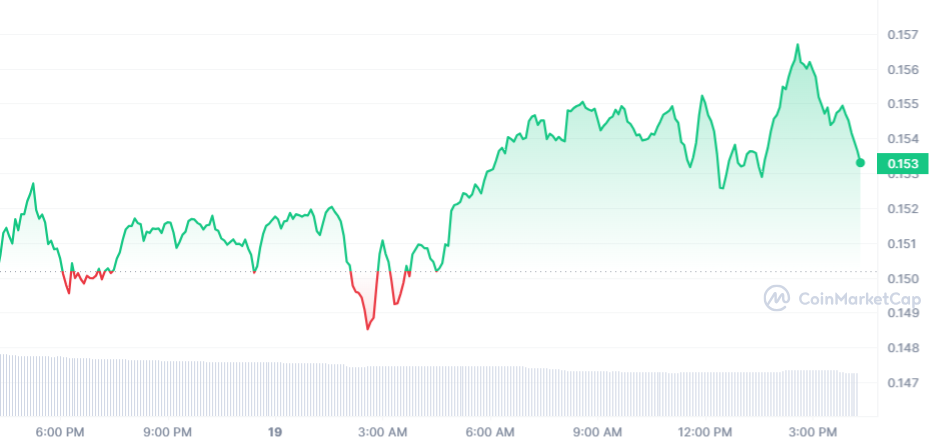 Furthermore, Conflux Network's price currently stands at $0.154626, with a 24-hour trading volume of $22.46 million and a market cap of $534.50 million. This valuation suggests high liquidity, backed by its market capitalization. The coin's market dominance is currently at 0.04%.
Moreover, the all-time high for Conflux Network was recorded on Mar 27, 2021, at $1.720000. In contrast, its lowest point was on Dec 30, 2022, at $0.021852. Since its last all-time high, the lowest price observed was $0.021852 (cycle low). Conversely, the highest price reached was $0.485454 (cycle high).
Together with @GenifyHQ we're having our first official AMA on November 20th. Join us to learn about Genify's original intention of introducing generative art into our Conflux ecosystem and its future development opportunities. https://t.co/FeBGZj2XAQ

— Conflux Network Official (@Conflux_Network) November 18, 2023
Moreover, the current Conflux Network price prediction leans bearish despite the Fear & Greed Index showing a sentiment level of 66. Thus signifying a certain degree of greed in the market sentiment. This places CFX as the best crypto to buy now.
In terms of token supply, the current circulating supply is 3.46 billion CFX out of a maximum supply of 5.28 billion CFX. Notably, there has been a 65.33% yearly supply inflation rate, creating 1.37 billion CFX in the past year.
3. The Graph (GRT)
The Graph (GRT) has demonstrated significant price movements over the past year, showing a remarkable 123% increase in value. Notably, it has outperformed 84% of the top 100 crypto assets within this period. 
As such, it surpassed the growth of leading cryptocurrencies like Bitcoin and Ethereum. Currently priced at $0.130964, with a market cap of $1.22 billion. Moreover, it has a trading volume of $93.23 million, commanding market dominance of 0.09%.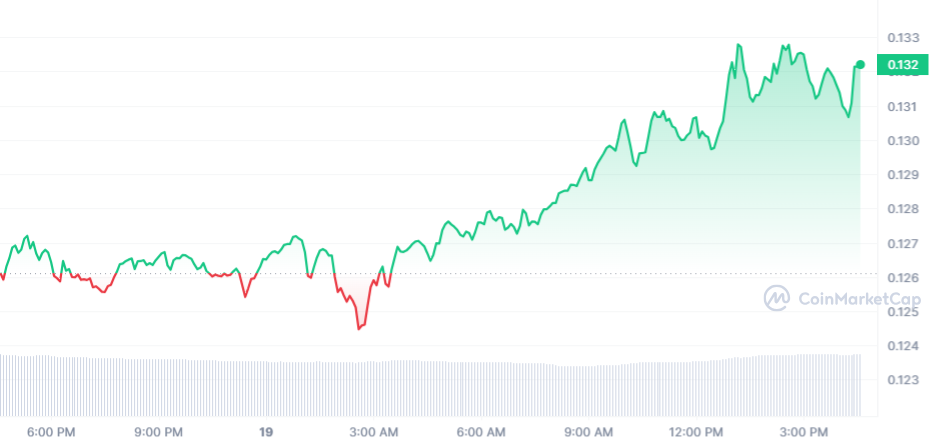 Furthermore, technical analysis indicates that The Graph trades above its 200-day simple moving average, signaling a positive trend. Moreover, the asset has experienced 20 positive trading days out of the last 30, accounting for a 67% positive performance in the recent month. Its liquidity remains high based on its market cap, and it is actively traded on Binance, a major exchange platform.
The asset's price trajectory reflects an ascending channel pattern, suggesting a prevailing bullish trend. The GRT/USD pair has encountered resistance at the $0.134 level after achieving a higher high, potentially aiming for an upward move toward the $0.1221 mark. Buyers must defend the current support at $0.1155 to sustain a bullish outlook.
The Graph's all-time high of $2.87 was recorded on Feb 12, 2021, while its lowest price of $0.051894 was noted on Nov 22, 2022, after its ATH. Since the cycle low, the highest price reached was $0.228464. The current sentiment surrounding price prediction remains bullish, with a Fear & Greed Index rating of 66 (Greed).
The Graph's New Era Roadmap empowers devs to build dapps with ease, focusing on improving UX & Developer Experience 🏗️

These improvements include the Sunrise of Decentralized Data, a 3-phase plan to seamlessly upgrade all hosted service subgraphs to The Graph's robust &…

— The Graph (@graphprotocol) November 17, 2023
Regarding supply dynamics, The Graph currently has a circulating supply of 9.31 billion GRT out of a maximum supply of 10.06 billion. The yearly supply inflation rate is 34.97%, creating 2.41 billion GRT over the past year.
Within the Ethereum (ERC20) Tokens sector, The Graph holds the #17 ranking by market cap. It is positioned at #3 in the AI Crypto sector. This positioning indicates its relative standing within these sectors.
4. Chainlink (LINK)
Chainlink, a key player in the cryptocurrency market, has undergone significant price fluctuations in the past year. Over this period, its price surged by an impressive 133%, surpassing 86% of the top 100 crypto assets. This includes leading names like Bitcoin and Ethereum. The surge demonstrates its competitive edge against major cryptocurrencies, making it the best crypto to buy now.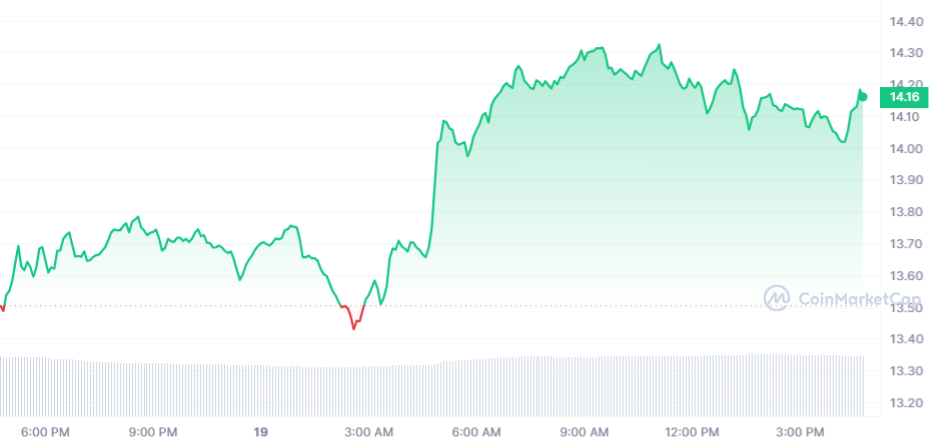 Currently, Chainlink is trading at $14.20, with a substantial 24-hour trading volume of $1.20 billion and a market capitalization of $7.91 billion. This high trading volume highlights its liquidity, a critical factor for potential investors.
Moreover, LINK has consistently maintained a position above the 200-day simple moving average, indicating a stable trading trend. Additionally, 67% of the last 30 days showed positive market movements, marking 20 days as bullish.
Tokenized assets are superior to traditional asset formats.

"In their token form, securities can be transferred near instantly, significantly shortening the traditional clearing and settlement cycles, and settled atomically […] reducing counterparty risk, bankruptcy risk, and… pic.twitter.com/Auqz6llvOa

— Chainlink (@chainlink) November 18, 2023
Furthermore, the sentiment surrounding Chainlink's price prediction leans towards a bullish outlook. This is indicated by a Fear & Greed Index 66, reflecting a moderate level of greed in market sentiment. Within the decentralized finance (DeFi) sector, Chainlink holds a top-ranking position (#1). It secures the second position (#2) among Ethereum-based ERC20 tokens.
5. Bitcoin ETF Token (BTCETF)
The Bitcoin ETF Token has emerged with a focus on the potential approval of a Bitcoin Exchange-Traded Fund (ETF). This project aims to provide investors with a simplified means to capitalize on the anticipated ETF approval by consolidating it into a single token.
With $939,526 raised from its $1,310,400 funding goal, BTCETF has garnered substantial interest from potential buyers. This increased investor attention positions the coin as a notable option in the cryptocurrency market. However, interested investors need to note a limited window of 4 days until a potential price adjustment.
The imminent arrival of #Bitcoin ETFs signals a transformation in the #Crypto and #StockMarket realms, offering easier entry to digital assets for traders worldwide. 🔄

Championed by industry giants such as @BlackRock, the prospects for #BitcoinETF appear incredibly bright! pic.twitter.com/aIdBamyXrA

— BTCETF_Token (@BTCETF_Token) November 19, 2023
The Bitcoin ETF Token project revolves around the impending Bitcoin ETF approval, offering a distinctive investment opportunity. Moreover, the early investor interest positions it as the best crypto to buy now.
Read More
New Crypto Mining Platform – Bitcoin Minetrix
Audited By Coinsult
Decentralized, Secure Cloud Mining
Earn Free Bitcoin Daily
Native Token On Presale Now – BTCMTX
Staking Rewards – Over 100% APY