We cover some contenders for the best meme coins to buy right now, potentially worth adding to your watchlist over the coming days.
Following a challenging period, Shiba Inu experienced a resurgence in value after its listing on the Robinhood crypto platform. The US-based trading app, known for stocks and cryptocurrencies, added SHIB to its offerings alongside Compound (COMP), Polygon (MATIC), and Solana (SOL).
Best Meme Coins Now and New Meme Tokens ICO Calendar
The incorporation of SHIB led to a rapid surge of up to 35% on various crypto exchanges within hours. This surge marked a two-month high for Shiba Inu before experiencing a slight pullback attributed to broader market dynamics.
Like Shiba Inu, Meme coins have also been listed on platforms like CMC, Uniswap and PancakeSwap and have also experienced an uptrend after being listed on these platforms.
The likes of Husky Avax, HowInu, PAWSWAP, etc, which command massive following and a significant number of holders, are some of the best meme coins we will analyze in this article, including SpongeBob tokens. This presale meme token has taken the crypto space by storm.
1. Husky Avax (HUSKY)
Husky Avax, a community-driven token native to the Avalanche blockchain, distinguishes itself with its stealth launch, locked liquidity, hard-capped supply, and absence of team allocation or mint function since May 12, 2021.
Positioned on Avalanche for its secure, fast, and environmentally friendly transactions, Husky Avax aims to contribute to the Avalanche ecosystem's growth. The project's multifaceted objectives include real-world merchandise paired with NFTs, a musical NFT marketplace, and serving as a launchpad for creators on the Avalanche blockchain.
Notably, the team developed the Husky BSC Bridge to facilitate the secure transfer of Husky Avax tokens from the Binance Smart Chain to the Avalanche network, enhancing user accessibility.
With a team comprising business developers, marketers, blockchain developers, artists, and musicians, Husky Avax endeavors to organically foster its community and establish a meaningful presence in the Avalanche DeFi landscape. Investors may find appeal in its commitment to real-world utility and ecosystem development.
We invite you to kick your feet up, butter up a croissant and relax as we take you on a trip down memory lane to
explore our updated Timeline and Roadmap @ https://t.co/hZTSgflUmI 🐺#AVAX needs a dogcoin with soul and 2 years on we still strive towards that wholeheartedly! 🔺 pic.twitter.com/VNQKCyFS1B

— Husky AVAX🔺 (@AvaxHusky) November 13, 2023
Today's live Husky Avax price is $0.0000000153, with a 24-hour trading volume of $33,555.29. We update our HUSKY to USD price in real time. Husky Avax is up 20.29% in the last 24 hours. The current CoinMarketCap ranking is #3730, with a live market cap of unavailable. The circulating supply is unavailable, and a maximum supply of 100,000,000,000,000 HUSKY coins.
2. PAWSWAP (PAW)
$PAW, an ERC-20 token born on the Ethereum blockchain, represents more than just a token; it's a vital component of the dynamic PawChain community. With a total supply of 1 quadrillion, $PAW is the backbone of PawChain's ecosystem, facilitating transactions and community governance.
The ambitious roadmap involves:
Transforming $PAW into a cross-chain asset at the heart of the Layer-2 solution.
PawChain.
Connecting utilities like the decentralized exchange PawSwap and the planned DeFi eCommerce marketplace.
As the project evolves with a Layer-3 solution aiming for cross-chain connectivity, $PAW emerges as a token and a pivotal element in the decentralized future puzzle.
PawChain's vision revolves around revolutionizing cryptocurrency interactions, fostering community-driven governance through a DAO, and offering a secure DEX that promotes community engagement and NFT marketplaces.
$PAW Staking update in our new colors! 🥳

The amount of tokens locked continues to rise with holders taking advantage of the generous APR the PAW ecosystem has to offer!🚀

Put your PAW to work and start accumulating rewards today!👇https://t.co/eGP5F6Hn19 🖱️ #PAWCHAIN… pic.twitter.com/U9AFSw0T2w

— PAWChain (@PawChain) November 13, 2023
Investors might find promise in $PAW's role within a comprehensive social ecosystem, emphasizing security, transparency, collaboration, and innovation in the cryptocurrency domain.
Today's live PAWSWAP price is $0.0000000101, with a 24-hour trading volume of $578,556. L PAWSWAP is down 3.03% in the last 24 hours. The current CoinMarketCap ranking is #1040, with a live market cap of $4,334,741. It has a circulating supply of 429,085,008,744,464 PAW coins; the maximum supply is unavailable.
3. HowInu (HOW)
HowInu, a Meme Cryptocurrency on the Binance Smart Chain, introduces a lighthearted twist to the crypto landscape. Created by Pasindu Shenal, it leverages an image of a fictional dog, aiming to transcend the conventional role of a meme coin.
The project aspires to contribute meaningfully to the crypto industry's evolution while maintaining stability in the market and establishing itself as a prominent global Meme Cryptocurrency. An interesting facet is incorporating HowInu tokens for various services, aligning with a burn mechanism, which may foster scarcity over time.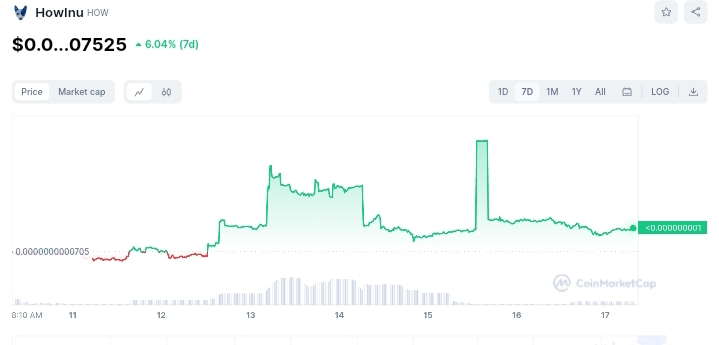 While the investment landscape in meme coins can be speculative, HowInu's commitment to longevity and its unique approach within the crypto market could attract those seeking a playful yet purposeful venture. As with any investment, careful consideration of market dynamics and risk factors is essential.
How to Create a Binance Account | Verify Identity | Add Security

English Language 👇https://t.co/1hwqJw07JP pic.twitter.com/XjerLRuUF7

— HowInu (@howinu) November 14, 2023
Today's live HowInu price is $0.0000000000753 with a 24-hour trading volume of $1,346.66. HowInu is down 2.16% in the last 24 hours. The current CoinMarketCap ranking is #5226, with a live market cap of unavailable. The circulating supply is unavailable, and a maximum supply of 1,000,000,000,000,000 HOW coins.
4. CumRocket (CUMMIES)
CumRocket, operating as a deflationary token and platform, ventures into the adult industry, introducing a novel approach to web3. Anchored by the $CUMMIES token, it serves as the currency for transactions on their adult content platform, tackling industry challenges such as payment hurdles, discrimination, and blocked transactions.
By leveraging crypto, CumRocket solves issues like chargebacks and payment processor restrictions. The platform facilitates various monetization avenues for creators, from NFTs to subscriptions and custom content, positioning itself as a potential competitor to established platforms like OnlyFans.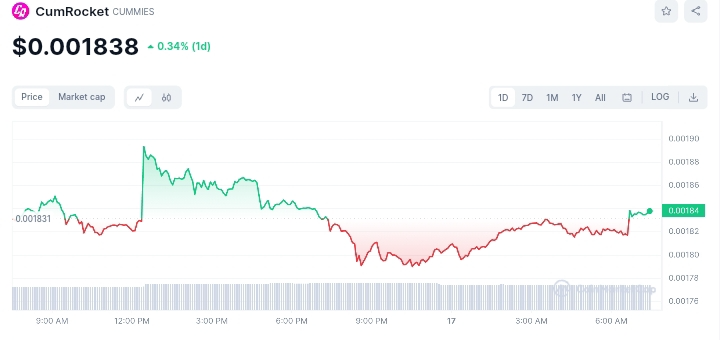 Notably, CumRocket aims to enhance the social aspect of the adult content experience through the utility of NFTs, fostering personal connections. Its unique niche arises from the absence of adult content on major NFT marketplaces.
While endorsements from adult content creators and visibility on mainstream platforms add credibility, potential investors should approach cautiously, considering the industry's nuanced nature and market dynamics.
Announcing our new and improved utility update 💫

💎 TIERED PLATFORM FEES* 💎

Hold 100k $CUMMIES → 5% off every purchase
Hold 200k $CUMMIES → 10% off every purchase
Hold 400k $CUMMIES → 20% (max fee) off every purchase

This also means that we can skip $CUMMIES being used as… pic.twitter.com/82DyAPS4Uf

— CumRocket (@CumRocketCrypto) November 10, 2023
Today's live CumRocket price is $0.001849, with a 24-hour trading volume of $30,676.40. CumRocket is up 3.60% in the last 24 hours. The current CoinMarketCap ranking is #1184, with a live market cap of $2,441,791. It has a circulating supply of 1,320,428,309 CUMMIES coins and a maximum supply of 1,320,428,309.
5. Spongebob ($SPONGE)
Spongebob ($SPONGE) emerged as a noteworthy meme cryptocurrency, gaining remarkable momentum since its launch on the Ethereum network on May 4, 2023.
🚨 Exciting news, #SPONGERS! 🧽

The $SPONGE Airdrop distribution is now complete! https://t.co/iMAdfg9SiS

Check your wallets to see if you've made a splash as one of the recipients! 🌊💰#SPONGE #MemeCoin #Airdrop pic.twitter.com/yw7RKVtcg9

— $SPONGE (@spongeoneth) November 7, 2023
Its impressive surge of 434% within the first 24 hours and subsequent 3000% increase to an all-time high of $0.0024 in four days has captured investor attention.
Despite experiencing a dip, $SPONGE has resiliently stayed 400% above its launch price, showcasing robust performance compared to similar meme tokens. Introducing a Sponge staking dashboard, offering a substantial annual return for passive income, and an airdrop program further add layers to its community engagement strategy.
The transparent tokenomics, with 61% in circulation, 29% locked, and 10% reserved for CEX listings, combined with renounced contracts and closed wallets, contribute to its credibility. Sponge roadmap emphasis on user base expansion, market cap milestones, and tier 1 CEX listings outlines a strategic vision.
Learn More
New Crypto Mining Platform – Bitcoin Minetrix
Audited By Coinsult
Decentralized, Secure Cloud Mining
Earn Free Bitcoin Daily
Native Token On Presale Now – BTCMTX
Staking Rewards – Over 100% APY