In cryptocurrency, the spotlight is currently on meme coins, where substantial price movements are unfolding. While established projects have garnered significant investment, a category of meme coins is characterized by untapped potential and profound susceptibility to social media trends.
One such contender is El Hippo, a nascent meme coin with just a 5-week history yet flaunting an impressive $3 million market cap. The project's robust launch can be attributed to the enthusiastic Hippo Army fanbase, actively engaging in social media activities such as meme sharing and trading insights.
Best Meme Coins Now and New Meme Tokens ICO Calendar
Presently valued at $0.000000004685 with a 24-hour trading volume of $350,000, El Hippo has maintained a remarkably tight price range, hinting at a potential forthcoming breakout.
Developers have taken a noteworthy step by locking over 90% of the tokens in an inaccessible liquidity pool. This is a strategic move fostering trust and possibly serving as the catalyst for an upward trajectory in HIPP's value.
Despite the allure of substantial gains in a coin of such low valuation, it's crucial to acknowledge the inherent risk associated with meme coins and the broader cryptocurrency landscape. This article highlights some of the best meme coins to watch now.
1. Guacamole (GUAC)
GUACamole ($GUAC), a Solana-based token, emerges from meme origins to establish itself as a community-oriented meme coin. Rooted in the ethos of "for the people, for the memes, for the toast, and the chips," GUAC brings a playful and inclusive approach to the crypto space. Its green and guacamole-themed branding distinguishes it within the Solana meme coin landscape.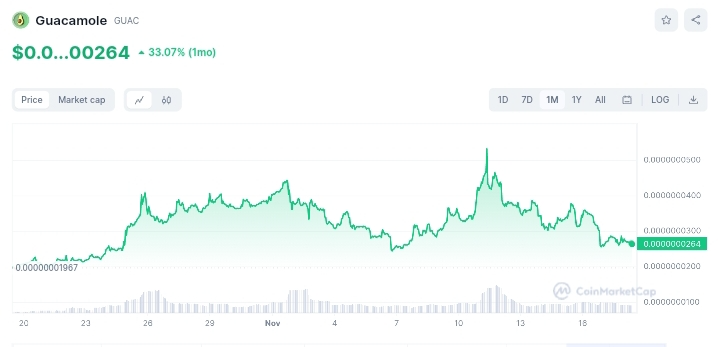 As a pioneer in the rise of Solana meme coins, $GUAC is notably the most successful in this category—regular transparency reports on its official Twitter foster trust and engagement within the community.
Despite a recent decrease in trading volume, GUACamole's unique position on the Solana blockchain and its active trading on decentralized exchanges, particularly on Orca, make it an intriguing investment option for those seeking a community-driven and aesthetically distinct meme coin experience.
Implementation of our liquidity lockers is right around the corner. The open-sourced no-code approach allows tokenized communities to time-lock their liquidity for platforms like @RaydiumProtocol & @MeteoraAG.

Launch your token & transparently build trust.

All on Guacamole🥑 pic.twitter.com/SPKcezmwaw

— GUACamole 🥑 (@guac_gg) November 17, 2023
Today's live Guacamole price is $0.0000000313, with a 24-hour trading volume of $202,565. Guacamole is down 13.20% in the last 24 hours. The current CoinMarketCap ranking is #2725, with a live market cap of unavailable. The circulating supply is unavailable, and a maximum supply of 99,000,000,000,000.
2. El Hippo (HIPP)
El Hippo (HIPP) stands out in the crypto space with its vibrant meme-loving community, boasting over 100,000 members since its launch in August. The coin has demonstrated early success by almost doubling in price and garnering a dedicated following through regular airdrops and meme contests.
With a modest market cap of $4.96 million, El Hippo enters the small-cap coin arena, where scrutiny meets the potential for explosive growth. The coin's commitment to rewarding its community and plans for new centralized exchange listings fuels incentives for development.
The native token, HIPP, is crucial in incentivizing exchange listings, cultivating influencer relationships, and driving various marketing campaigns. El Hippo prioritizes community engagement as a long-term project, which is evident in its commitment to reinvesting tokens to foster sustained growth.
The recent surge in trading volume and bullish community sentiment further underscore El Hippo's potential for genuine growth, although the inherent risks of small-cap coins are acknowledged.
Today's live El Hippo price is $0.00000000622 with a 24-hour trading volume of $614,119. El Hippo is down 5.17% in the last 24 hours. The current CoinMarketCap ranking is #2418, with a live market cap of unavailable. The circulating supply is unavailable, and the maximum collection is 777,000,000,000,000 HIPP coins.
3. SHARBI (SHARBI)
Sharbi ($SHARBI) presents itself as a unique community-owned Arbitrum token, standing out in the crypto landscape for its connection to Shiba and its commitment to decentralized Web3 community building.
Functioning on both Arbitrum and ETH blockchains, Sharbi distinguishes itself through an innovative tokenomics structure featuring USDC rewards, low taxes, a remarkable absence of marketing wallet or dev fees, a 10-year LP lock, and CA renounced status.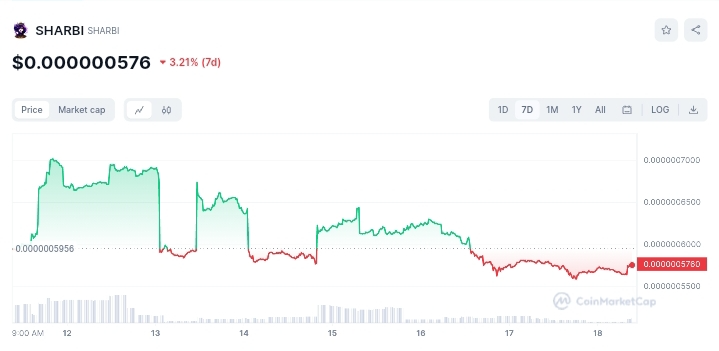 The token's highest recorded price on March 15, 2023, reflects an all-time high, but the current price is down by 97.14%. The community's bullish sentiment, with over 100% of users feeling optimistic today, suggests a collective confidence in Sharbi's potential.
However, before making decisions, potential investors should carefully consider the inherent risks associated with crypto investments and market volatility.
We're going to let #Shibarium in on a little secret. One of the pieces $Sharbi has been building is nearing completion!

Reducing the challenges of transferring $Bone to and from Shibarium!

Sharbi is proud to show off a little preview of our upcoming bridge built by… pic.twitter.com/K3kBqCEIpn

— Sharbi (@SharbiToken) November 15, 2023
Today's live SHARBI price is $0.000000576, with a 24-hour trading volume of $1,333.49. We update our SHARBI to USD price in real-time. SHARBI is down 0.37% in the last 24 hours. The current CoinMarketCap ranking is #5170, with a live market cap of unavailable. The circulating supply and the maximum supply are unavailable.
4. Cheems (CHEEMS)
$CHEEMS, the official token of the renowned Cheems meme, has become a significant player in the Solana ecosystem since its launch in May 2021. With a massive global following, the Cheems Token aims to provide a platform for a worldwide community to Shop, Game, and Interact on Web 3.0.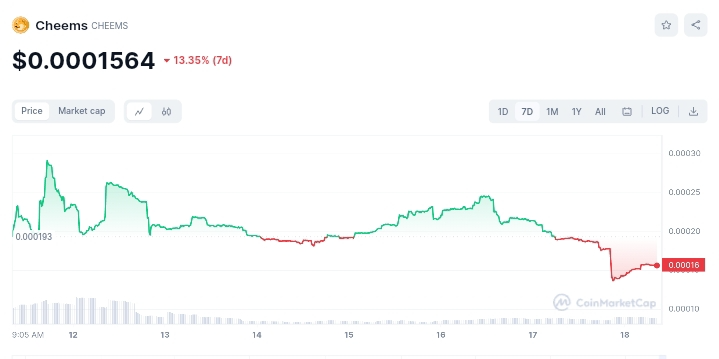 Introducing Cheems Arena, a free-to-play and play-to-earn Trading Card Game, adds an innovative twist by allowing users to own tangible game assets through the Solana Blockchain. This Play-to-Earn (P2E) model sets it apart from traditional trading card games, giving users ownership of in-game purchases.
As Warren Buffett famously said,

« Contrary to conventional wisdom, in the crypto space, You should diversify your investments like you're choosing toppings for a pizza. Pineapple, anchovies, and maybe even some marshmallows! »🍍🍕🚀#CryptoAdvice #UnconventionalWisdom pic.twitter.com/pKZBLAtIPD

— Cheems (@TheCheemsToken) November 13, 2023
This strategic approach, coupled with the backing of the Solana Blockchain, makes $CHEEMS an exciting investment for those looking to participate in a growing meme coin ecosystem with unique utility and community engagement opportunities.
Today's live Cheems price is $0.000220 with a 24-hour trading volume of $10,153.87. Cheems is up 14.59% in the last 24 hours. The current CoinMarketCap ranking is #1536, with a live market cap of $562,356. It has a circulating supply of 2,550,834,901 CHEEMS coins and a maximum supply of 7,000,000,000 CHEEMS coins.
5. Bitcoin ETF (BTCETF)
The Bitcoin ETF Token (BTCETF) positions itself as a promising investment opportunity, emphasizing deflationary tokenomics as a critical driver of its solid performance in the ongoing presale. With over $910,000 raised in under two weeks and a daily investment influx averaging $75,000, the project stands on the verge of hitting a $1 million milestone.
@WisdomTreeEU refiles spot #Bitcoin #ETF with the #SEC, marking a renewed push for approval in the burgeoning #CryptoETF realm.

With rising interest and a projected $30 billion demand, will 2024 mark the first $BTC ETF approval?#BitcoinETF has now also raised over $900K! 🪙 pic.twitter.com/6PGNkK5FBR

— BTCETF_Token (@BTCETF_Token) November 17, 2023
The token's unique approach involves burning 5% of the total BTCETF supply upon reaching real-world milestones in the ETF approval process and a 5% transaction burn through a selling tax.
This dual mechanism aims to systematically reduce the token's supply, potentially enhancing its scarcity and value over time. Notably, BTCETF caters to investors seeking speculative exposure to the anticipation surrounding a potential US spot BTC ETF launch.
As investors can currently acquire BTCETF tokens at $0.0054 during the presale, the token presents an evolving opportunity requiring considering its deflationary features and the broader market landscape before making investment decisions.
Learn More
New Crypto Mining Platform – Bitcoin Minetrix
Audited By Coinsult
Decentralized, Secure Cloud Mining
Earn Free Bitcoin Daily
Native Token On Presale Now – BTCMTX
Staking Rewards – Over 100% APY