Each day, we review some picks for the best meme coins to buy now based on the latest market movements, blockchain news and trending narratives.
In the current crypto landscape, significant market dynamics are unfolding within meme coins, where the most notable price movements occur.
While established projects have garnered substantial investments, a niche of meme coins has yet to experience significant price fluctuations. These coins uniquely thrive on the influence of social media trends.
Best Meme Coins Now and New Meme Tokens ICO Calendar
Notably, Dogecoin (DOGE) has recently reclaimed attention, emerging as one of the standout performers in the meme coin resurgence. It is priced at $0.08 and reflects a marginal gain over seven days. The coin, endorsed by Elon Musk, remains a focal point of market activity.
In parallel, Shiba Inu (SHIB), a notable contender in the meme coin arena, has demonstrated resilience. Trading at $0.00000861, it experienced a noteworthy 2.5% increase over seven days.
This surge was attributed, in part, to boxing legend Manny Pacquiao's announcement that his charitable foundation would leverage the token's blockchain network, Shibarium, for fundraising initiatives.
Exploring the potential of meme coin projects poised for an upward trajectory, we will analyze the four best meme coins investors should watch.
1. Chooky V2 ($CHOO)
Chooky presents itself as a unique blockchain ecosystem aiming to establish prominence as the leading entertainment hub within the crypto space.
Setting apart, Chooky boasts an existing music label with a noteworthy debut release featuring artists like Elesia Iimura and OT. This release garnered substantial attention with over 200k streams on Spotify, extensive organic videos on Instagram and TikTok, and recognition from prominent Hip Hop outlets worldwide.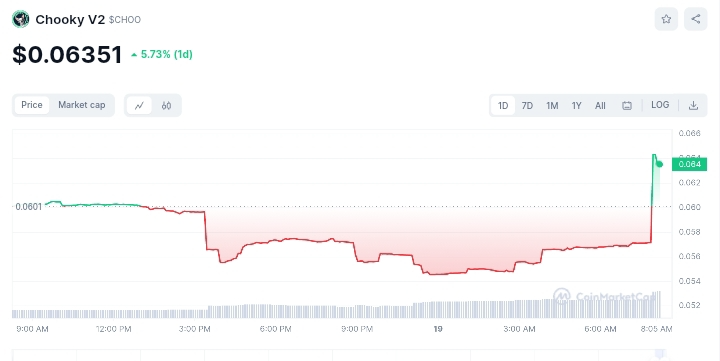 The Chooky music label stands out by putting relatively unknown artists on the map and offering a more artist-friendly royalty and revenue-sharing model compared to industry standards.
We will be adding 2 new memes to our upcoming music video with Busta Rhymes!

Based on our poll carried out on X.

Congrats $Shib and $Sharbi communities 🔥

This video will be featured on world star hip hop, mtv, BET, breakfast club, Trace urban Tv and all over the main… pic.twitter.com/IfZ58dWiPz

— Chooky (@Chookyinu) November 18, 2023
Additionally, Chooky is diversifying into crypto animation with an educational and lighthearted series centered around meme coins, set to launch soon. The partnership with projects like Volt Inu and Squidgrow indicates a collaborative approach, allowing Anime NFT owners to govern the series and contributors to earn rewards in tokens, merchandise, or ETH.
Today's live Chooky V2 price is $0.058234, with a 24-hour trading volume of $18,710.15. Chooky V2 is down 14.89% in the last 24 hours. The current CoinMarketCap ranking is #4141, with a live market cap of unavailable. The circulating supply is unavailable, and a maximum supply of 21,000,000.
2. Wojak Finance (WOJ)
Wojakians NFTs emerge as a promising web3 community-driven Profile-to-Earn (P2E) ecosystem, offering Woj tokens as rewards. The unique design, where increased NFT usage correlates with rising Woj token prices, sets it apart.
Positioned as a potential successor to Shiba, Wojak Finance introduces a groundbreaking Promotion-to-Earn metaverse in its plans. Notably, the project's strategy evolves with simplicity and effectiveness, starting with the Profile-to-Earn concept, encouraging users to adopt high-quality NFTs as Twitter profile pictures.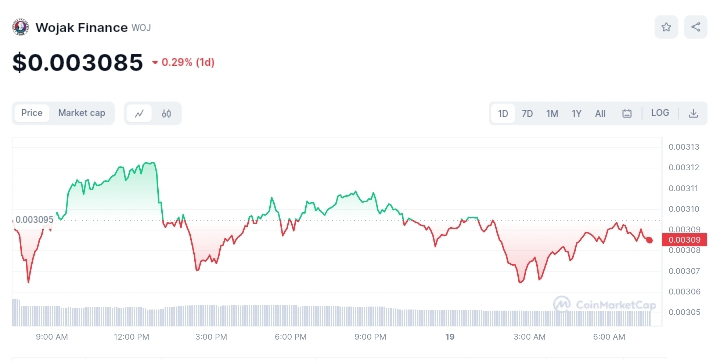 The transition to the Promote-to-Earn phase further distinguishes Wojak Finance by developing a decentralized advertising platform, addressing a fundamental need in the crypto space. With over 60,000 community members, a Certik audit, and listings on reputable exchanges, Wojak Finance has garnered significant traction.
🚀 Heads up #Wojakians! We've already sold 5000 of our unique NFTs and are holding onto 1500. This leaves only 3500 out of the initial 10,000 for you to claim. Demand is soaring, and supply is limited. Once all are sold, there won't be any more — which could drive prices up.…

— Wojak Finance (@wojfinance) November 11, 2023
Its visionary goal of acquiring one million regular NFT users within three years positions it as a trend-setting platform with the potential to revolutionize content promotion on Twitter.
Today's live Wojak Finance price is $0.003086, with a 24-hour trading volume of $3,822.67. Wojak Finance is down 0.95% in the last 24 hours. The current CoinMarketCap ranking is #4671, with a live market cap of unavailable. The circulating supply is unavailable, and a maximum supply of 50,000,000,000.
3. BIBI (BIBI)
BIBI stands out as a community-driven organization shaped by its leaders, builders, and holders. It emphasizes a unique meme culture embodied by the BIBIERS – a community of resilient and optimistic web3 newcomers.
Beyond being a cryptocurrency, BIBI cultivates an educative, interactive, and inclusive community ecosystem, fostering member benefits through organized events and promotions.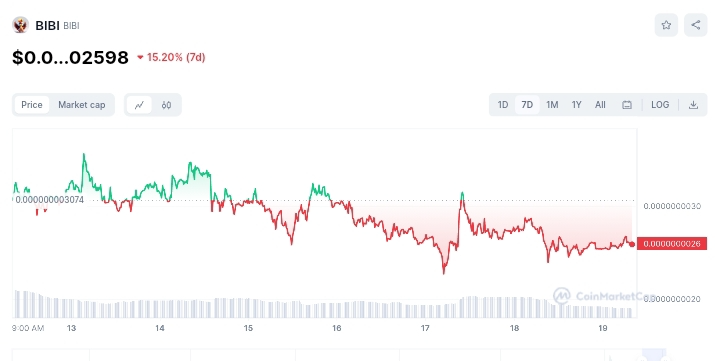 The mission is clear: to evolve into the most transformative leadership community, enhancing the lives of its members and contributing to the growth of the BIBI ecosystem.
We're harnessing the power of #blockchain to revolutionize the way we connect, collaborate, and create a sustainable future. Join us on this journey towards a greener, smarter world!@BIBI_Media#BIBI #Web3📷📷 #community #DAO #iweb3 #DeBox #Giveaway #Airdrop pic.twitter.com/sER1ttfMaT

— BIBI Foundation (@BIBI_Foundation) November 18, 2023
Notably, BIBI adopts an open approach, inviting everyone to contribute to its development by creating token economics that aligns with its goals. The strategic allocation of tokens to the liquidity pool, burning LP tokens, and renouncing the contract underscore a commitment to transparency and decentralization.
The live BIBI price today is $0.00000000263 with a 24-hour trading volume of $464,137. BIBI is down 5.24% in the last 24 hours. The current CoinMarketCap ranking is #2457, with a live market cap of unavailable. The circulating supply is unavailable, and the maximum supply is 4,206,900,000,000,000.
4. Risitas (RISITA)
$RISITA distinguishes itself from typical meme tokens by serving as a heartfelt tribute to the late Spanish laughter legend Juan Joya Borja, famously known as "El Risitas."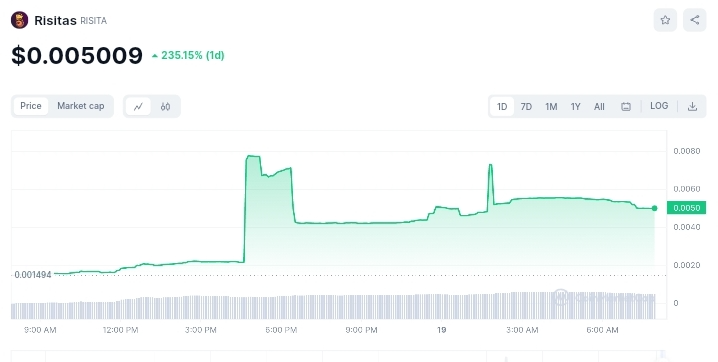 Beyond the laughter-inducing memes, $RISITA's mission is to honor Borja's comedic legacy, spreading joy within the meme community and contributing to charity endeavors.
Notably, 5% of all $RISITA tokens are allocated directly to Borja's family, exemplifying a commitment to giving back and supporting those in need. This unique blend of humor and philanthropy sets $RISITA apart, making it more than just a token for laughs.
Tick-tock, folks! ⏰
You've got until Sunday to jump in on our #giveaway.
Chance to win 2 x $50 in $ETH & $RISITA!
Don't be the one kicking yourself next week for missing out!⤵️ https://t.co/KKg9SK92ga

— $RISITA – King of Memes 🤴 (@Risitas_coin) November 17, 2023
It represents a sincere effort to pay homage to a comedy icon while channeling a portion of its proceeds towards a charitable cause. For investors seeking a crypto asset with a genuine mission and community-centric values, $RISITA offers a distinctive proposition that extends beyond the typical meme token narrative.
Today's live Risitas price is $0.005498, with a 24-hour trading volume of $347,640. Risitas is up 253.22% in the last 24 hours. The current CoinMarketCap ranking is #2529, with a live market cap of unavailable. The circulating supply is unavailable, and there is a maximum supply of 42,069,000,000 RISITA coins.
5. Wall Street Memes (WSM) 
Wall Street Memes' venture into the crypto space with its token, $WSM, has garnered substantial attention, boasting a market cap of $50 million after an impressive presale. The project extends beyond the typical meme coin narrative, leveraging its massive social media presence to redefine the intersection of memes and blockchain.
https://twitter.com/wallstmemes/status/1725530359025058263?t=p1ZXUyn-MZlxFI_eKrgpQw&s=19
The introduction of the Wall Street Memes Casino, powered by Telegram, adds another layer of innovation, providing players with secure and anonymous gaming, attractive bonuses, and a unique 10% token buyback feature.
The successful presale, raising over $25 million and pumping 275% after launch, positions $WSM as the fourth-largest meme coin by volume, with room for growth.
Its roots in the Wall St Bulls NFT legacy project, strong community engagement, and established rapport with figures like Elon Musk contribute to its credibility. The airdrop celebration further highlights the team's commitment to fostering community participation and engagement.
Learn More
New Crypto Mining Platform – Bitcoin Minetrix
Audited By Coinsult
Decentralized, Secure Cloud Mining
Earn Free Bitcoin Daily
Native Token On Presale Now – BTCMTX
Staking Rewards – Over 100% APY