On-chain data shows that Bitcoin miners have turned to selling recently, a sign that the asset's price could be bearish.
Bitcoin Miner Reserve Has Been On The Decline Recently
As analyst James V. Straten explained in a post on X, the miners had accumulated for most of the year before this latest selloff. The indicator of interest here is the "miner balance," which keeps track of the total amount of Bitcoin the miners are carrying in their wallets.
When the value of this metric goes up, it means that the miners are currently receiving a net number of coins to their addresses. Such a trend is usually a sign that these chain validators are accumulating, which can naturally be bullish for the asset's price.
On the other hand, the indicator declining implies the miners are taking BTC out of their wallets. Miners make transfers like these when they want to sell, so the market could see selling pressure with the onset of this trend.
Now, here is a chart that shows the trend in the Bitcoin miner balance over the past couple of years: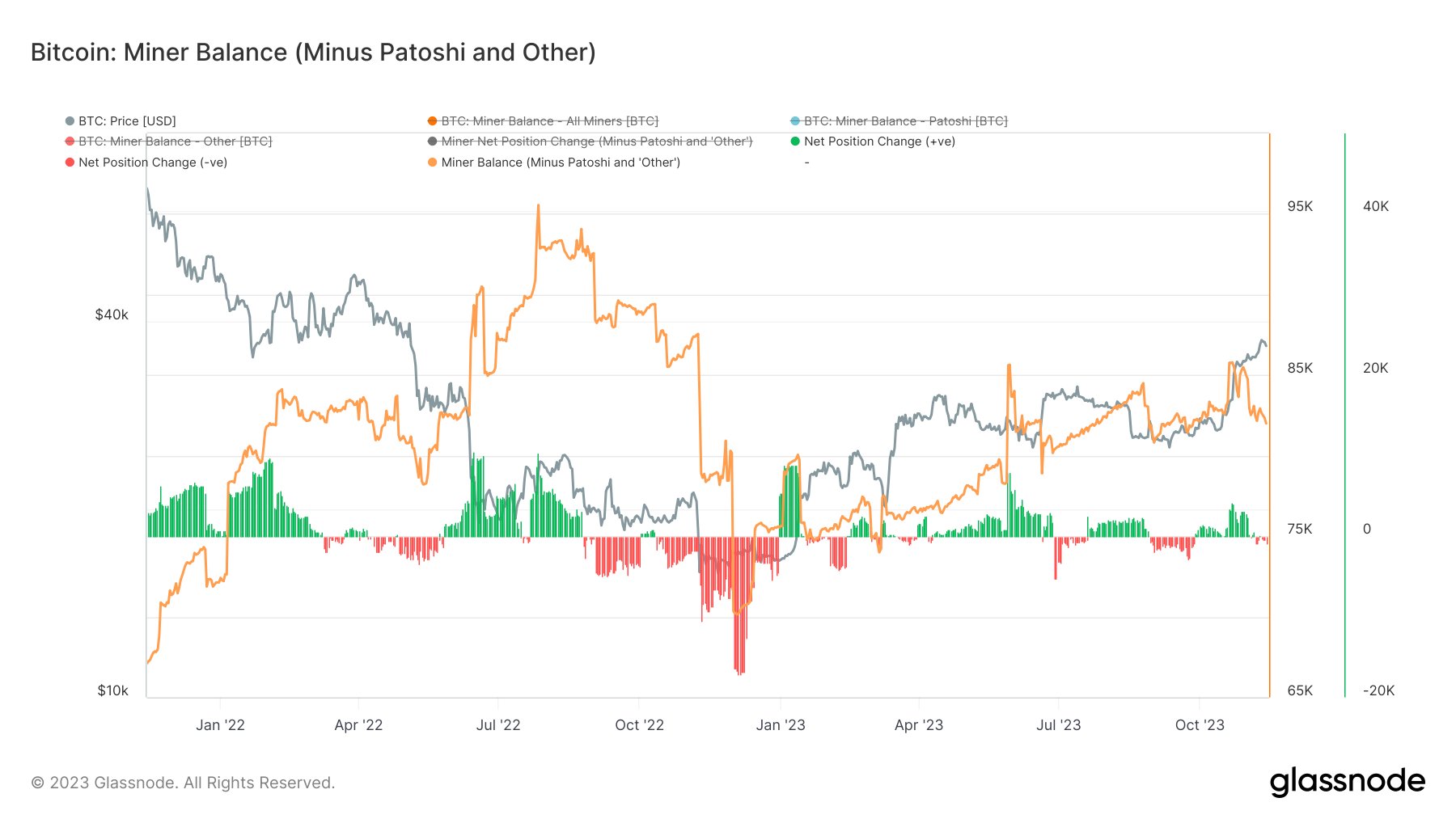 Looks like the value of the metric has been going down recently | Source: @jimmyvs24 on X
Note that the miner balance metric here says "minus Patoshi and Other." This means that the indicator excludes the data for the original miner Patoshi (who is believed to be Satoshi, the cryptocurrency's creator) and other entities that Glassnode hasn't been able to label.
The above graph shows that the Bitcoin miner balance has registered some downtrend recently, suggesting that some miners have likely been selling their coins.
This trend is also visible in the data for the "net position change," a metric that keeps track of the changes in the BTC miner balance. The indicator has turned negative recently, as the miners have transferred their coins from their wallets.
In the entire year so far, this metric has turned negative on only a few occasions, implying that these chain validators have been mostly accumulating in this period.
Interestingly, this latest selloff from the miners has come while their revenues have been doing well. This has not only been because of the price rally, which has improved the value of their block rewards, but also due to the return of the Inscriptions craze, which has boosted the transaction fees.
Because of the higher revenues, the miners have also been aggressively expanding their facilities, which has led to the total hashrate (the computing power connected to the network) exploring fresh all-time highs.
The mining hashrate has been trending up since a while now | Source: Blockchain.com
It would appear that despite this period of relative prosperity, some miners have decided to give in and harvest their BTC profits in this latest rally.
BTC Price
At the time of writing, Bitcoin is trading at around $36,400, up 3% in the past week.
BTC has seen some drawdown recently | Source: BTCUSD on TradingView
Featured image from Maxim Hopman on Unsplash.com, charts from TradingView.com, Blockchain.com, Glassnode.com