The non-fungible token tied to the flagship blockchain "Bitcoin" has seen a sharp spike in sales volume, reclaiming its past glory of becoming the second most traded NFTs. Bitcoin ordinals are back in action after losing their initial hype in the past several weeks.
Data compiled by CryptoSlam.io, an on-chain data aggregator, indicates that Bitcoin Ordinals have slightly increased this week. In the past 24 hours, Bitcoin Ordinals have recorded a trading sales volume of $1.4 million, representing a 225% spike from the previous days.
Souce: CryptoSlam.io, Bitcoin Ordinals Trading activity.
Bitcoin NFTs Are Back In Action
Launched in January 2023, Bitcoin ordinals are non-fungible tokens hosted on the Bitcoin network. The digital assets entered the non-fungible token market after the popular Bitcoin developer Casey Rodarmor inscribed NFTs on the Bitcoin blockchain network.
Bitcoin Ordinals protocol allows individual satoshis (SATs) in a Bitcoin blockchain to be assigned a unique identifier and transacted with extra data attached. Initially, Bitcoins were fungible. But recently, the protocol changed after leveraging two updates to the original Bitcoin protocol, the Segregated Witness and Taproot.
Taproot introduced a new type of Bitcoin address format that the Bitcoin Ordinals protocol uses to identify specific satoshis. Similar to NFTs on Ethereum or Solana networks, which can only reference metadata that documents ownership and authenticity for a specific digital asset, Ordinal NFTs can also store the digital asset itself on-chain within a transaction's witness data.
Since their inception, Bitcoin Ordinals have received a warm reception until recently, when they lost their initial hype. In the second quarter of this year, Bitcoin Ordinals registered $210 million in trading volume, an increase from just around $7.18 million in the first quarter of 2023. The spike represented a 2,834% quarterly increase.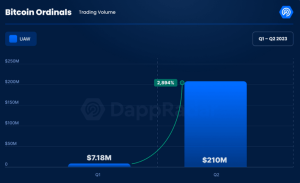 Source: DappRadar.com, Bitcoin Ordinals Trading Sales
Is This The Next NFT Wave?
Bitcoin ordinals gained a significant lead in May over popular blockchains like Polygon, Immutable X, BNB Chain, and Solana. Unfortunately, the hype around Bitcoin ordinals faded in mid this year, falling below the five top most traded NFT list. Bitcoin Ordinals are now back in action, hitting over 30 million inscriptions.
Bitcoin's Ordinal resurgence showcases that the general non-fungible token market has a strong market potential of resting hype after dropping in popularity in recent weeks. In the past 24 hours, the NFT market is up 20%, recording a trading sales volume of $10.7 million.

Source: CryptoSlam.io, NFT Sales In The Past 24 Hrs
Related NFT News:
Ends Soon – Wall Street Memes
Early Access Presale Live Now
Established Community of Stocks & Crypto Traders
Featured on Cointelegraph, CoinMarketCap, Yahoo Finance
Rated Best Crypto to Buy Now In Meme Coin Sector
Team Behind OpenSea NFT Collection – Wall St Bulls
Tier One Exchange Listings September 27
Tweets Replied to by Elon Musk