Dogecoin price has risen 6% in the last 24 hours to sell for $0.08544 as of 7:45 AM EST. It comes with a 20% increase in trading volume, crashing beyond the $2 billion mark.
With Dogecoin gaining momentum, the meme coin is now among the coins investors are watching closely.
The support levels to watch for #DOGE are as follows: $0.07933, $0.07632, and $0.07245. If a candle closes below the important support level of $0.07933, it will result in a loss of momentum for DOGE.

The resistance levels to watch for DOGE are as follows: $0.08410 and $0.08761.… pic.twitter.com/rj8yVy9SfA

— Crypto Daily Trade Signals (@cryptodailyTS) November 18, 2023
🚀🔥 It's REAL!! Dogecoin (DOGE) is on fire! 🌕 As the broader crypto market consolidates, DOGE is emerging as the best performing coin 📈🐶 Wowza! Let's ride this wave and see where it takes us! 🌊💸 #Dogecoin #Crypto #ToTheMoon pic.twitter.com/eh2KsJ6WLd

— Crypto Daily Trade Signals (@cryptodailyTS) November 18, 2023
It is among the most talked about projects on crypto-related social media after its value increase and soaring volatility.
Weekend musings

This morning, I just opened X and saw that #OKX is giving away #NFT #Avive .#Doge, after many years of silence, is now being talked about and has increased in value.#Tether has minted 4 billion USD in just 4 weeks.

The BTC ETF (#BTCETF) is being delayed and…

— Freedom Final I X (@FreedomFinal202) November 18, 2023
Perpetual traders in particular, are having a field day with the altcoin as it continues to record very actionable price fluctuations. This points to increasing volatility in the DOGE market.
#DOGE at the starting line. If conservative targets are met, #Dogecoin will eclipse all other gains by the major cryptocurrencies by far in the year 2023🚀🐕⚔️ pic.twitter.com/SyhbAchfKb

— FutureMan (@crypto202WIN) November 17, 2023
Dogecoin Price Three-Day Chart Is The One To Watch
Meanwhile, the three-day chart for the DOGE/USDT trading pair is the place to watch, with traders and analysts identifying good milestones. Among them, the cryptocurrency has overcome multi-year resistances presented by Moving Averages (MAs). More often than not, this precedes a strong move north.
#Dogecoin has closed its first 3 day candle above all of its major moving averages for the first time since early 2020. What came next is well I'm sure you know already unless you were living under a rock. Bull market #Doge #Crypto pic.twitter.com/53hnXNSb9s

— Yomi (@OG_Yomi) November 17, 2023
Elsewhere, the price action has created a double-bottom pattern, which is often a bullish technical formation. It represents a major change in trend and points to a momentum reversal that marks the end of a prior down move. It happens when the asset's price action records two consecutive drops with a rebound in between. The drops are of the same depth, with a last move north marking the breakout past the neckline.
The target objective of this price pattern is determined by measuring the depth of the drop and superimposing it at the breakout point.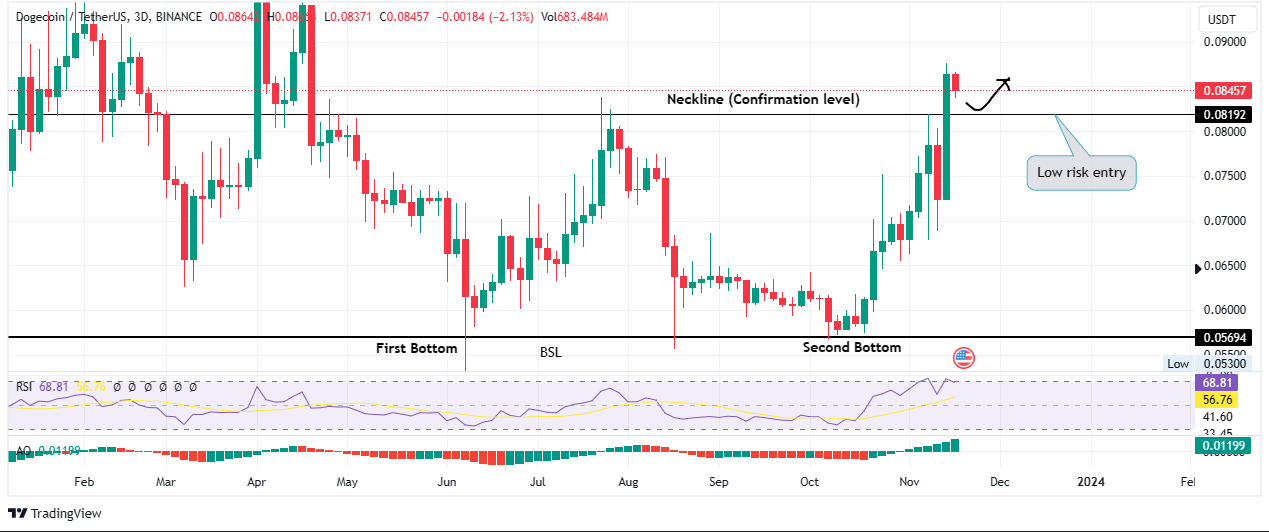 Dogecoin Price Forecast As DOGE Displays A Double-Bottom
After a value drop that began on April 22, Dogecoin's price found support at $0.05694 before pulling back only to fall again. DOGE shattered past the $0.08153 resistance level in the last move north to actualize a double bottom pattern with a forecasted 44% move north to the $0.11777 target objective.
With this move, a retest of the neckline at $0.08153 is expected, meaning DOGE holders should brace for a 5% slide that seems to be underway already. It may not be too late to buy DOGE. A test of this support level could see Dogecoin price rise to break past the $0.10000 and $0.011000 psychological levels before completing the 43% climb to the $0.11777 target objective.
Technical indicators support this outlook, with the Relative Strength Index (RSI) coiling up to give the bulls time to rejuvenate before a continuation of the trend. Its position above 50 also supports the bullish outlook, pointing to a strong price strength as the bulls lead the market. This Awesome Oscillator also corroborates this stance, holding in the positive territory with green histogram bars.
More importantly, the analysis of the volume indicator bolsters the outlook. It shows that there is relatively more buying on right now.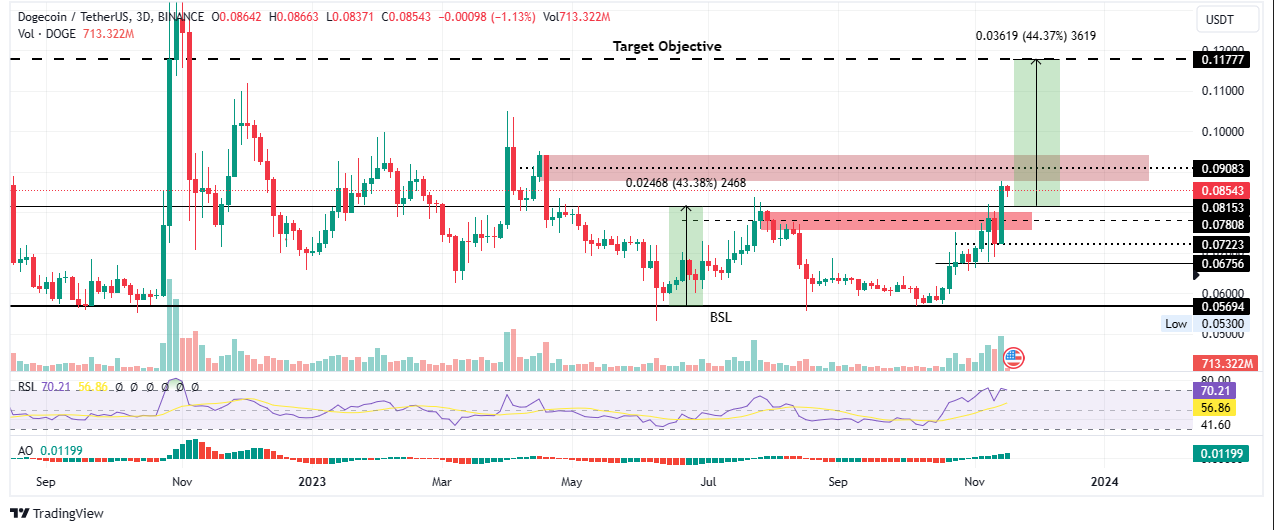 Meanwhile, all eyes are on BTCMTX, one of the best crypto ICOs to buy in 2023 and among the best cryptos to buy now.
Promising Alternative To Dogecoin
BTCMTX is the native cryptocurrency for the Bitcoin Minetrix project, a cloud-mining project that aims to make it easy for everyone to own BTC. To this end, it has decentralized and tokenized the entire process. This means there are no intermediaries and therefore the chances of swindles have significantly reduced.
#BTCMTX offers a safe haven in cloud mining for every #Crypto enthusiast.💻

Past worries over pricey equipment and shady cloud mining schemes have deterred numerous individuals from joining.

This decentralised approach offers a transparent and protected mining experience.🔐 pic.twitter.com/VB71r90u4A

— Bitcoinminetrix (@bitcoinminetrix) November 17, 2023
Also, by taking the process of Bitcoin mining to the cloud, Bitcoin Minetrix eliminates all hassles spanning from space, noise, heat, hardware costs, and others.
#BitcoinMinetrix Offerings:

Accessible entryways! 🛒

Financial effectiveness! 💰

Compact, silent setup! 🏡

No concerns about reselling! 🔄 pic.twitter.com/jqdVNmI39g

— Bitcoinminetrix (@bitcoinminetrix) November 16, 2023
You do not need hardware, space, heat endurance, or anything else that comes with traditional BTC mining. This is thanks to the project's standalone stake-to-mine utility or function. Here, you stake your BTCMTX tokens for credits, then burn or redeem these credits for mining hash power.
Acknowledging the Simplicity of #BitcoinMinetrix 🔄#BTCMTX: Safeguarding assets, empowering users with tradable tokens.

Traditional Cloud Mining: Complicated contracts and conditions. 📜🔒 pic.twitter.com/KuzDYfF7x1

— Bitcoinminetrix (@bitcoinminetrix) November 15, 2023
The project is in the presale stage, with investors buying BTCMTX for just $0.0117 in stage 8, which is still on for the next four days. Take advantage of it before the price increases.
#BitcoinMinetrix Stage 8 is underway! 💥 pic.twitter.com/szppCT4d8D

— Bitcoinminetrix (@bitcoinminetrix) November 17, 2023
So far, presale collections are going well, with an outstanding $4.122 million already in the bag. This is out of the stage target of $4.914 million.
Navigate to the Bitcoin Minetrix website here to buy BTCMTXC in the presale.
Also Read:
New Crypto Mining Platform – Bitcoin Minetrix
Audited By Coinsult
Decentralized, Secure Cloud Mining
Earn Free Bitcoin Daily
Native Token On Presale Now – BTCMTX
Staking Rewards – Over 100% APY