The Ethereum price has skyrocketed by 27% in the last month to trade at $1,981 as of 12:00 a.m. EST.
According to renowned analyst @el_crypto_prof, Ethereum (ETH) has completed its backtest and is now gearing up for another bull run.
Thought the last few weeks were exciting?

Wait and see what happens when $ETH has completed this backtest.

Altcoins round 2.🔔

Feel free to be bearish, but I'm overbullish here. pic.twitter.com/cK4r5ZpqSW

— 𝕄𝕠𝕦𝕤𝕥𝕒𝕔ⓗ𝕖 🧲 (@el_crypto_prof) November 14, 2023
Ethereum Price Prediction: Can New Testnet Kick ETH To The Moon?
Ethereum's layer-2 testnet could be a pivotal factor towards a jump in the Ethereum price due to its continuous adoption. OKX recently announced the initiation of a testnet for its Ethereum layer-2 network, "X1," set to utilize zero-knowledge proofs.
This network, built with the Polygon chain development kit (CDK), ensures seamless deposits and withdrawals across Ethereum and X1 layers, enhancing efficiency and security.
OKX has a daily trading volume of around $2.6 billion. These figures could influence the Ethereum price should activities on the testnet increase.
📣 Hot Off The Press 📣

We're thrilled to introduce #X1, our new Ethereum L2 network built on Polygon's CDK.

Our landmark collab. with @0xPolygonLabs empowers next gen. devs. with increased security, scalability & low transaction costs to BUIDL the future of Web3.

— OKX (@okx) November 14, 2023
Ethereum Price Prediction
Looking at 4-hour ETH/USD charts, the Relative Strength Index indicator is on an upward trajectory as it looks to bridge above the midline. The MACD indicator also moves in the green zone, showing bullishness on the Ethereum price. Bulls are now facing resistance at the $2123 level.
The 5-day moving average has exceeded the 15-day moving average to form a golden cross. This shows bull dominance on the Ethereum price as the altcoin king looks to rally in the short term.
Volatility levels are low on the Ethereum price, as shown by the Bollinger Bands, which are currently moving close to each other. These levels will likely remain low, as shown by the decreasing trading activities on Ethereum. The trading volume dropped by 6.9% in 24 hours.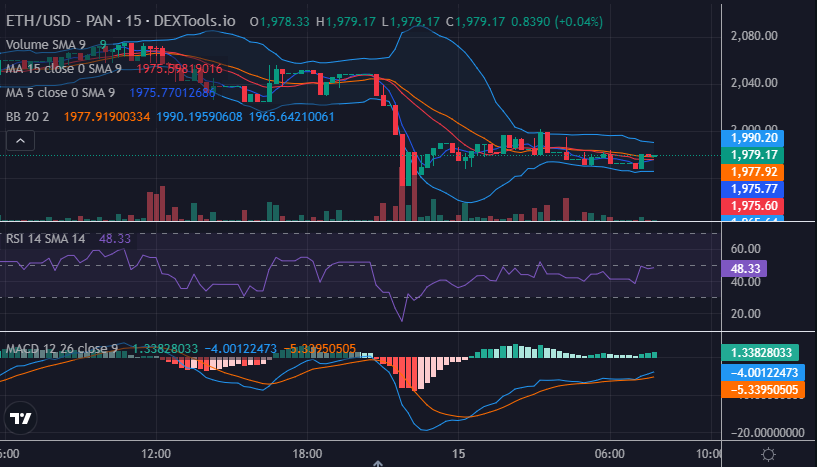 Meanwhile, as the Ethereum price looks to skyrocket in the short term, the new Bitcoin Minetrix token could be an excellent alternative as it looks to explode upon completion of its ongoing presale. YouTuber Jacob Crypto Bury says it may 5X after listing.
Bitcoin Minetrix: Wealth Beyond Traditional Bitcoin Mining
Bitcoin Minetrix (BTCMTX) is carving a unique path for those intrigued by Bitcoin mining, and its presale has made waves by amassing a substantial sum of almost $4 million.
Contrary to common belief, Bitcoin mining proficiency is not a prerequisite for reaping the rewards from this potentially game-changing innovation. BTCMTX aims to tackle the growing competitiveness in Bitcoin mining, paving the way for broader participation.
Bitcoin's ascent as a cryptocurrency has inadvertently cast a shadow on mining, rendering it increasingly inaccessible. Despite crypto's decentralized ethos, mining has transitioned into an industrial-scale operation, rendering it prohibitively expensive for individual enthusiasts. This has effectively excluded the average investor from mining endeavours.
Bridging the Gap with Staking and Cloud Mining Fusion
BTCMTX presents an ingenious blend of staking and cloud mining, poised to empower investors. The heart of this approach lies in the significance of staking within the ecosystem. The initial aspect functions as expected, allowing token staking. However, users have flexibility; they can unstake and trade tokens or opt for a respectable annual percentage yield (APY), currently at 149%. This places the BTCMTX token in a better position to pump than the Ethereum price.
Token stakers can exchange their holdings for mining credits, represented by optional ERC-20 tokens. These credits grant access to mining time or a share of generated profits.
Notably, this method eliminates hidden fees and fraudulent practices, establishing ethical and financially attractive advantages over conventional mining. By placing investors back in control, BTCMTX heralds a shift towards a more promising future for the project.
With BTCMTX returning power to the investor, optimism prevails. The project's holistic approach aims to democratize the Bitcoin mining world and foster a more inclusive and sustainable ecosystem.
In a landscape where control and accessibility matter, BTCMTX shines as an innovation poised to disrupt traditional paradigms, offering a promising alternative for wealth creation. So, as you watch out for the Ethereum price, remember to participate in the presale.

Visit Bitcoin Minetrix here.
Related News
New Crypto Mining Platform – Bitcoin Minetrix
Audited By Coinsult
Decentralized, Secure Cloud Mining
Earn Free Bitcoin Daily
Native Token On Presale Now – BTCMTX
Staking Rewards – Over 100% APY