The Fetch.ai price has experienced a 5% decline in the past 24 hours, trading at  $0.4110 at 10:00 a.m. EST. But it's up 98% in a month. 
The token's weekly performance also shows some positive signs. Although trading volume has dropped significantly by 29% to $68 million, analysts still see the Fetch.ai price pumping 68%.
According to the analysis of Pentoshi, a pseudonymous analyst with over 712k followers on X (Twitter), FET is likely to experience a price surge once it passes the resistance level at $0.49.
In his analysis, Pentoshi says that if FET successfully reclaims and surpasses $0.49, it has the potential to reach $0.69, indicating a substantial increase of 68%.
if it reclaims .49c this going to .69c imo https://t.co/jwu9rflv3c pic.twitter.com/9TCmLN2b70

— Pentoshi 🐧 euroPeng 🇪🇺 (@Pentosh1) November 10, 2023
Fetch.ai Price: Bulls Poised At $0.69 Supply Zone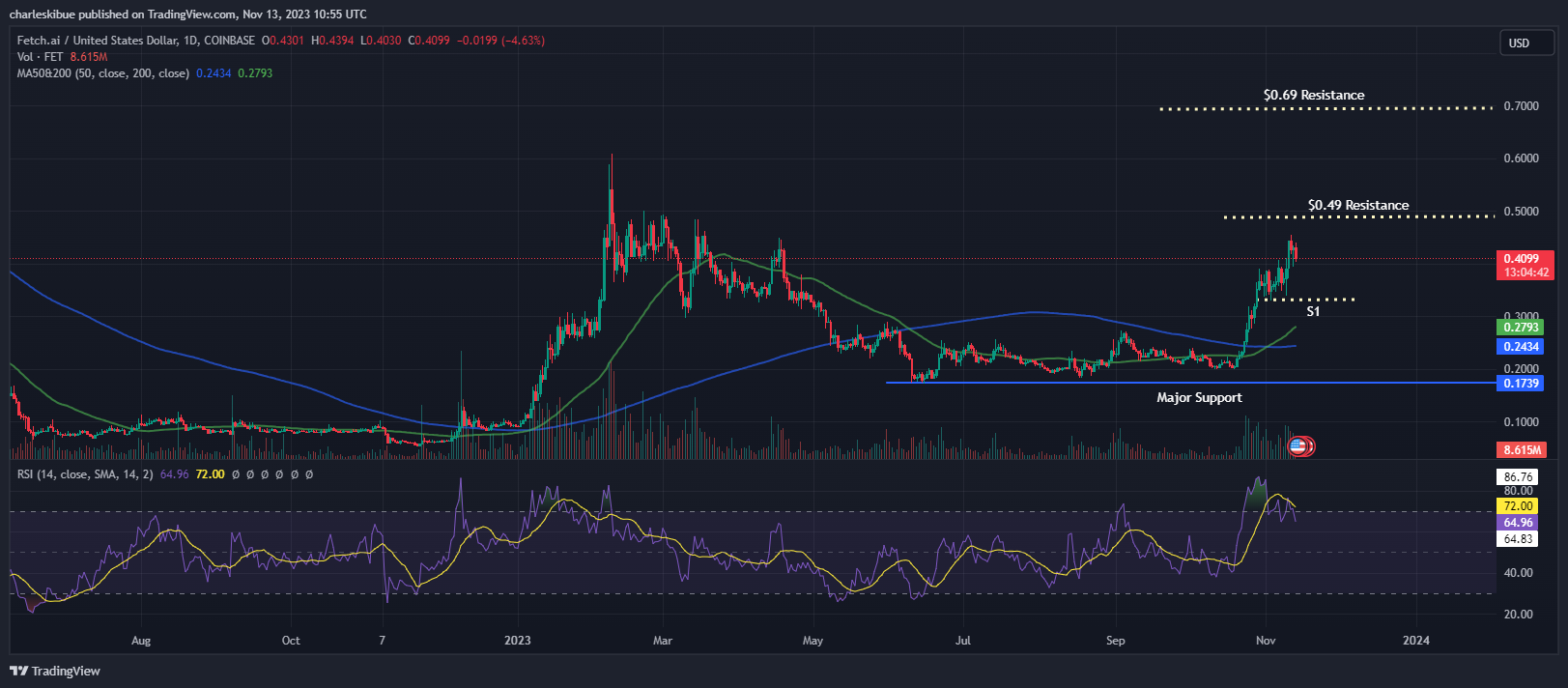 After a prolonged consolidation period starting in June 2023, the Fetch.ai price has finally broken, allowing the bulls to recover their losses from the $0.17 support zone. 
Initially, the token faced resistance and experienced a bearish push, leading to a price decline to the $0.23 support level. However, the bears continued to exert pressure, eventually pushing the price down to $0.17.
Fortunately, the $0.17 support zone has served as a foundation for the bulls, allowing them to regain control and drive the price higher. As a result, the price has surpassed the resistance level at $0.44.
The double-top pattern formed at the $0.46 price level may allow the bears to correct prices to recover their losses. This pattern is often considered a bearish signal, allowing bears to take control and pushing the price downward. As a result, the bulls may retreat to a support zone around $0.33.
Fetch.ai Price Could Break Through $0.44 Resistance
Currently, the Fetch.ai price trajectory is at a critical point. There is a possibility of a further bullish continuation. If the bullish momentum continues, FET could challenge and break through the $0.44 resistance level. Such a move would represent a 43% increase from its current price, presenting an attractive opportunity for bullish investors.
Conversely, if bearish sentiment prevails, the price may face downward pressure towards the $0.33 support zone. In this scenario, investors with a bearish outlook on FET could seek to profit from potential declines.
As FET aims to consolidate its progress, yPredict, another cutting-edge AI research tool, offers the potential for 20X gains, presenting itself as a favorable alternative investment for investors seeking guaranteed returns.
Last Call To Buy $YPRED
yPredict (YPRED) is a new cutting-edge project that offers an advanced cryptocurrency research and trading platform equipped with numerous AI-driven features. 
This includes access to a wide range of signals, the ability to identify market breakouts and patterns, and tools for analyzing social media and news sentiment. 
🚀 Dive into the exciting world of crypto trading with #yPredict! 🤖

Our cutting-edge AI and machine learning tech empowers traders with invaluable insights for better-informed decisions and increased profit potential. Plus, we open doors for AI enthusiasts to monetize their… pic.twitter.com/ZtWFZVxJV6

— yPredict.ai (@yPredict_ai) October 17, 2023
The yPredict presale is in its final phase before it debuts on major cryptocurrency exchanges. Having undergone eight funding stages, the project has impressively raised $4.8 million, approaching its target of $6.5 million. 
Investors can purchase $YPRED, yPredict's native currency, at a special discounted rate of just $0.11. This token will be used to run all operations in the yPredict ecosystem, greatly enhancing its potential for significant growth and scalability. 
🔥 yPredict: Shaping the Future of Predictive Markets! 🔥

🚀 yPredict is pleased to announce we have entered Stage 8 of our pre-sale as we work to revolutionize predictive markets. 💡

💰 Our token price has increased to $0.11 in response to strong demand, and we can confirm the… pic.twitter.com/IlNySmCkQU

— yPredict.ai (@yPredict_ai) October 31, 2023
This rate is set to rise to $0.12 in the coming days with the project's listing on crypto exchanges.
Stake for Impressive 45% Yields, Huge Discounts
Additionally, yPredict offers an attractive 45% quarterly yield for staking YPRED tokens, significantly higher than the average industry APY of 5-10%.
Token holders also gain privileged access to various platforms within the yPredict ecosystem, such as prediction platforms, analytical tools, data repositories, marketplaces, and advanced trading terminals, all at a discounted price.
Investors can also access yPredict's analytics base models, developed by top AI 1% developers. 
🚀 Unleash the Power of AI with $YPRED! 🤖

🌟 Dive into the world of AI and trading advantages like never before. Hold $YPRED tokens to secure privileged access!

🔥 Discover the yPredict ecosystem, offering discounted access to data repositories, prediction platforms,… pic.twitter.com/k3sogrbDzr

— yPredict.ai (@yPredict_ai) October 3, 2023
These models claim to predict cryptocurrency prices, including Bitcoin, Ethereum, and Shiba Inu, with unprecedented accuracy, better than any other models available to the public.
This will be available with a minimum purchase of $500.
Experts anticipate that yPredict will rapidly gain popularity post-launch, with eyes set on an impressive 20X price jump.   
Jacob Bury, a renowned crypto YouTuber and analyst with over 27,000 YouTube subscribers has endorsed yPredict, predicting over 10X growth for early investors. He labeled yPredict as a project "PACKED with Utility."
To purchase $YPRED, visit yPredict's official presale page. Payments can be made with cryptocurrencies (ETH, USDT, BNB, and MATIC) or via bank card.
Related News
New Crypto Mining Platform – Bitcoin Minetrix
Audited By Coinsult
Decentralized, Secure Cloud Mining
Earn Free Bitcoin Daily
Native Token On Presale Now – BTCMTX
Staking Rewards – Over 100% APY