Foom is a unique and exciting project that uses its tokens to train AI bots on how to speculate on cryptocurrencies effectively. The token's performance over the last seven days has been primarily bearish, although it did not see massive fluctuations.
Instead, it saw fluctuations almost constantly, with the price going up and down only fractions of the fractions of cents. However, over time, it is easy to see that the price has been steadily decreasing. A week ago, the token's price sat at $0.00000003878; after briefly sinking to $0.00000003029 on September 8, the token recovered to $0.00000003388.
After that, FOOM's price kept falling until it reached the support at $0.00000030 once more on September 12. Since then, its descent stopped, as this level became a relatively strong support.
However, FOOM also encountered resistance at $0.0000000315, which prevented it from going back up. As a result, the token has been stuck between these two barriers over the last several days. Interestingly enough, its fluctuations have grown smaller and smaller, even as the crypto industry saw events that should have impacted its price.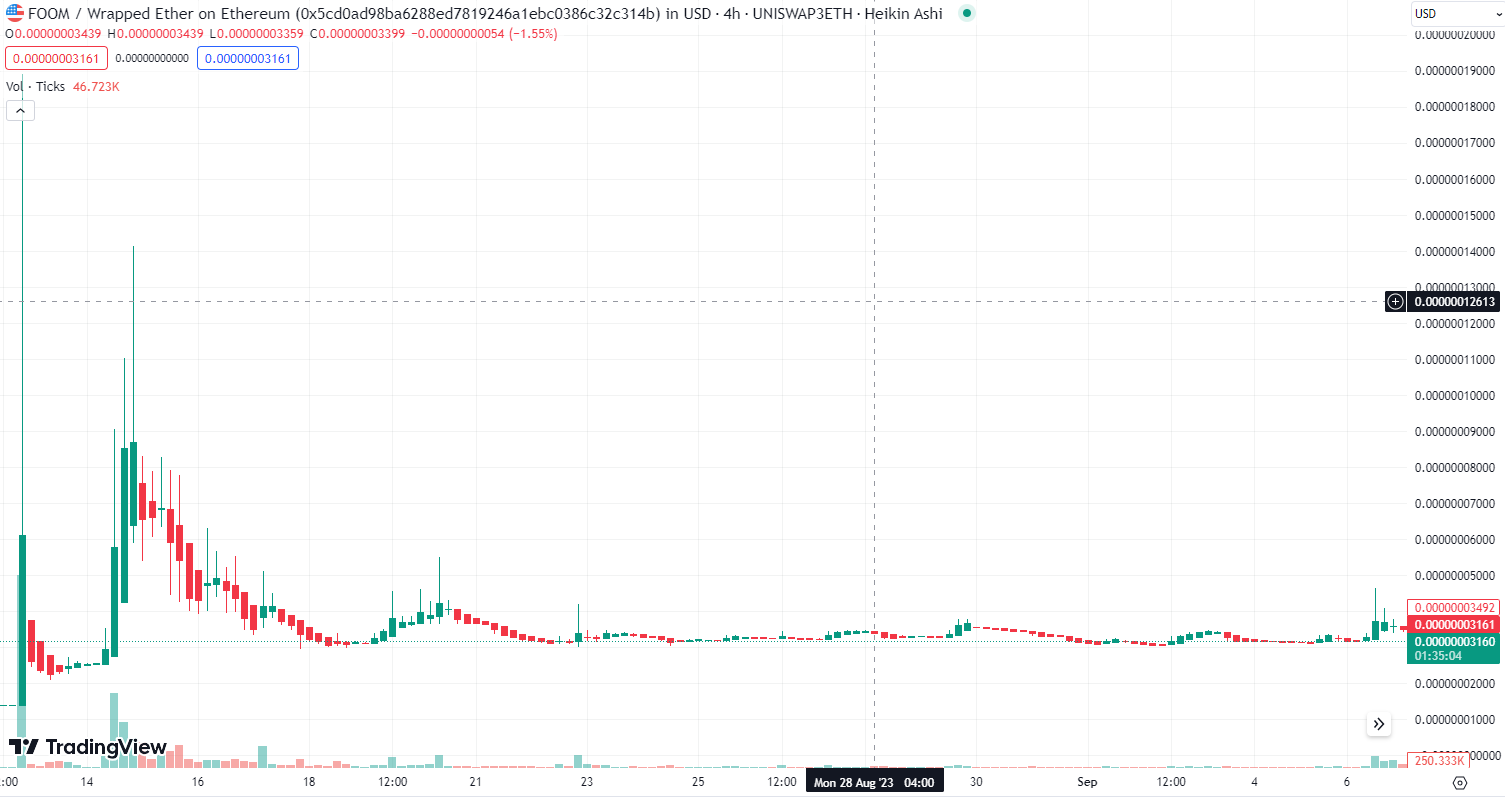 For example, Bitcoin's price recently climbed beyond $26k, which positively impacted many cryptos, allowing them to recover slightly. FOOM, however, did not react to the new price surge.
FOOM's price in the last 24 hours dropped by over 2%. Every week, however, the token is around 23% down. However, its drop is nearly doubled on a monthly chart, which shows a 43% price drop.
What next for FOOM?
Experts believe the token might see a minor price swing, likely in the neighborhood of 5%. It is possible that FOOM took longer to react to Bitcoin's new move, which shook the market.
The project's daily trading volume did see an 11% upswing in the last 24 hours, which might indicate that the price will soon respond to an increase in activity. Of course, with a circulating supply of 175 trillion FOOM, it likely takes a lot to cause the token's price to react.
For now, FOOM remains bearish, continuing the trend seen over the last week, which is not surprising given the recent uncertainty across the market.
Wall Street Memes presale is still ongoing, currently in its final stage
Throughout the summer, when cryptocurrencies started seeing negative performance, crypto buyers seeking opportunities turned to coins and tokens holding their presales. FOOM users might do the same, as Wall Street Memes (WSM), the most popular meme coin presale of the summer of 2023, is still available for purchase.
Wall Street Memes is a meme coin inspired by a subreddit called WallStreetBets — a Reddit hub for amateur investors who like to take risks and discuss various investment opportunities, strategies, and more. The subreddit grabbed the world's attention when it engaged in a massive stock purchasing campaign in early 2021 to stand against institutions that shorted those stocks to make a profit.
Their moves threatened to ruin the companies, so amateur investors boosted their prices. They were pretty successful, and now the meme coin bearing their name serves as a lasting reminder of the event. The project has raised over $25 million during its presale and is in its final stage. The token, WSM, is available for $0.0337 and can be bought with ETH, BNB, USDT, or credit card.
Related
Ends Soon – Wall Street Memes
Early Access Presale Live Now
Established Community of Stocks & Crypto Traders
Featured on Cointelegraph, CoinMarketCap, Yahoo Finance
Rated Best Crypto to Buy Now In Meme Coin Sector
Team Behind OpenSea NFT Collection – Wall St Bulls
Tier One Exchange Listings September 27
Tweets Replied to by Elon Musk