Grok (GROK) token, inspired by Elon Musk's artificial intelligence service through X (formerly Twitter), has recently come under scrutiny following explosive growth in market capitalization. 
According to recent reports, Grok zoomed to a staggering $160 million market cap within just eight days of its release. However, reports of alleged scam involvement have overshadowed the token's rapid ascent.
GROK Meteoric Rise Marred By Scammer Accusations
Grok token prices have soared, doubling within the past 24 hours alone, extending a week-long rally that has seen an astonishing 13,000% increase. The token boasts an impressive 11,000 holders and has witnessed a trading volume of over $60 million over the past 24 hours, according to data from DEXTools.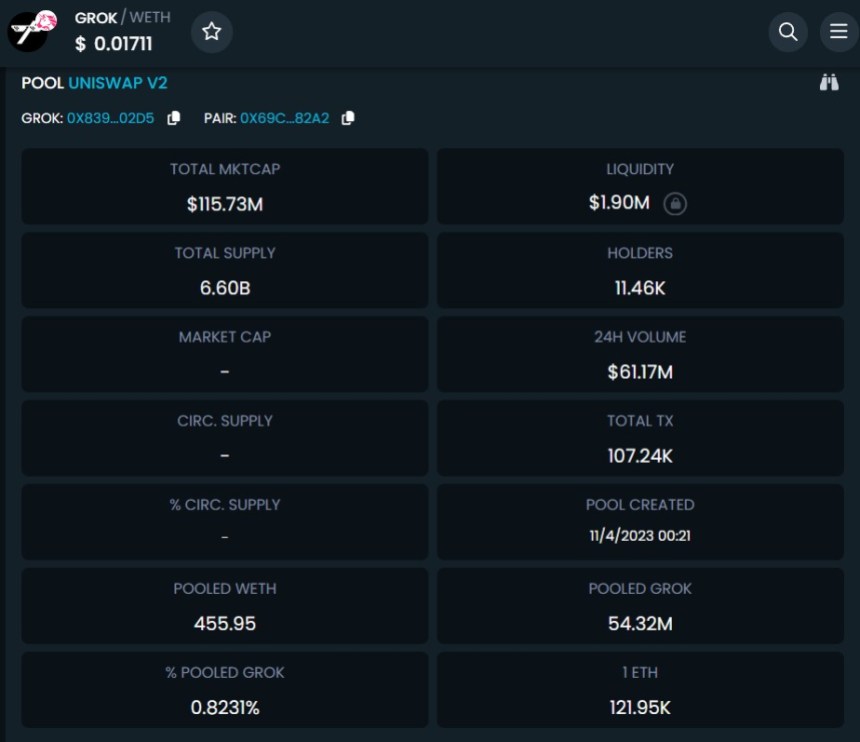 However, ZachXBT, a self-proclaimed crypto detective, has raised concerns about the legitimacy of Grok, stating that the token was created by a scammer. ZachXBT has stated that the same X/Twitter account associated with Grok has been linked to at least one other fraudulent scheme. ZachXBT stated:
Not that people in this space will care but GROKERC20 GROK was created by a scammer. Same exact X/Twitter account has been reused for at least one other scam. X/Twitter ID: 1690060301465714692
Satoshi Flipper, another prominent crypto trader on X, echoed this sentiment, labeling Grok as an "effing scam" and emphasizing that Elon Musk did not authorize the token's launch. Satoshi Flipper said:
This is Grok. $1.9M liquidity and a $137M market cap? What an effing scam. Not only that, it's completely fraudulent to trade this knowing Elon Musk, the owner of Grok, did not authorize these devs to launch a token. Imagine touching this toxic trash.
Experts from Arkham Intelligence also weighed in, reporting that an on-chain trader sold a significant amount of GROK at nearly 40% slippage, reinforcing the scam allegations made by ZachXBT.
The controversy surrounding Grok has raised concerns within the cryptocurrency community. Critics argue that the token's market cap, coupled with the lack of authorization from Elon Musk, raises red flags. 
Impressive Turnaround
The token's market cap has undergone a retracement, now at $108 million, down from its previous value of $160 million. Additionally, the token exhibits a liquidity of $1.83 million. 
Despite experiencing a substantial slippage of 48%, with its price dropping as low as $0.0056000, the token has remarkably recuperated and is now trading at $0.0108452.
It is yet to be determined whether further reports will surface to shed light on the individuals behind the token's creation and their objectives, potentially exposing the risk of a rug pull within the cryptocurrency industry. 
However, despite these allegations, the token has attracted significant attention and excitement from investors eager to participate in the potential surge of the next major meme coin, aiming to achieve substantial gains in their investments. As of the time of writing, the Grok official account on X has not made any statements regarding these allegations.
Featured image from Shutterstock, chart from TradingView.com