Real Smurf Cat (шайлушай), a new addition to the meme crypto community, benefits from the soaring popularity of meme coins, ranking number 1 on the hot pairs list on Dextools.io today.
It began trading on Dextools.io on September 14 and has a total market cap of $8.26 million. Also, its total supply is 100 billion tokens, with 17,046 transactions already processed as of 5:46 a.m. EST today.  
As of 5:46 a.m. EST on September 15, the token trades at $0.000087, with a 76.6% increase in the last 24 hours. 
шайлушай Thrives on Rising Interest in the Crypto Community
0xff836a5821e69066c87e268bc51b849fab94240c pic.twitter.com/E9pOujrwJU

— шайлушай ETHEREUM (@smurfcateth) September 14, 2023
Data from Etherscan.io reveals that there are 2,594 шайлушай holders today, September 15, less than 48 hours after it went live on Dextools.io. 
The rising interest could result from the success of meme coins in 2023 and the growing interest in the crypto community for these tokens.
According to knowyourmeme.com, Smurf Cat, the inspiration behind the Smurf Cat token, is a Russian language meme that gained popularity on TikTok in mid-2023. Its symbol is a blue creature with a mushroom head and a cat's face, and its name шайлушай, translated to English, means Little Scoundrel.
Upon launching in September, the Smurf Cat token rapidly grew in popularity among meme enthusiasts. Despite its short existence, the project already has 1,277 on Twitter, showing massive interest from the crypto community. 
Also, Smurf Coin announced its listing on CoinGecko today on Twitter, a sign of its rising relevance in the crypto community. шайлушай's price gains result from these positive developments and rising interest and adoption of meme tokens in the crypto community. 
According to the developers, the project allows zero tax and engages in token burns. These burns will likely boost the long-term value of the шайлушай tokens. 
On the daily price chart, шайлушай shows a positive price pattern as traders hope to take advantage of its early surge. 
шайлушай Buyers in Aggressive Accumulation Phase Leading to Price Surge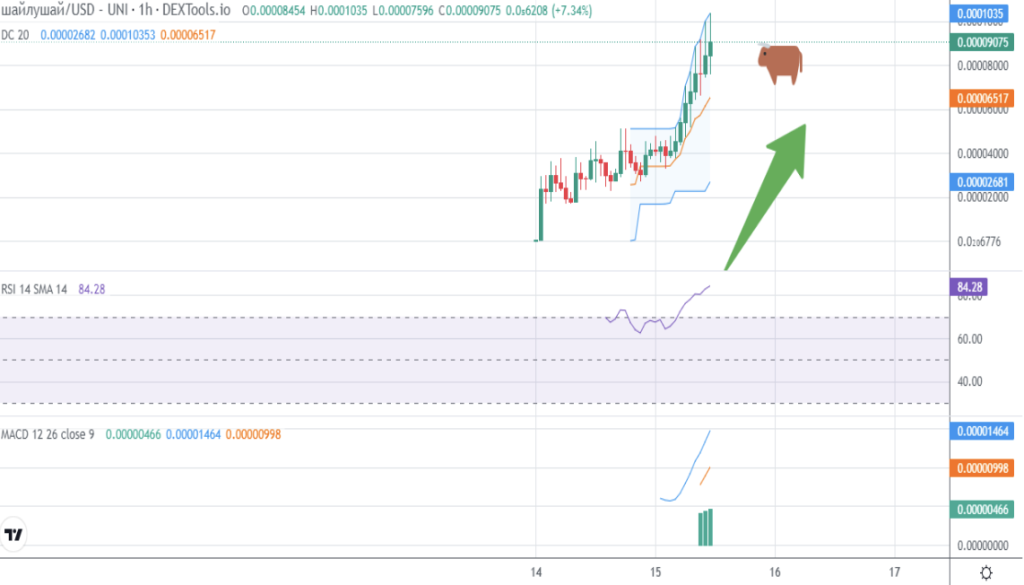 шайлушай is in an uptrend on the 1-hour chart, forming multiple green candles as buyers continue to dominate the market. Interestingly, шайлушай bulls have rallied above the peak value of $0.000083 attained today, September 15, to a new ATH of $0.000087.
However, the buyers are persistent and continue to open long positions in the 1-hour timeframe. Also, шайлушай is touching the upper band of the Donchian Channel (DC) after rising above the Median Band. 
The Relative Strength Index (RSI) indicator confirms the bullish trend and displays a strong buy signal of 84.28, confirming its entry into the overbought zone. 
Furthermore, the Moving Average Convergence/Divergence (MACD) is above its signal line and displays a buy signal. 
However, the MACD's fading green Histogram bars hint at a possible retracement phase ahead for шайлушай if the buyers decide to take profit. 
шайлушай Approaching $0.00009 Resistance Will It Break Above It?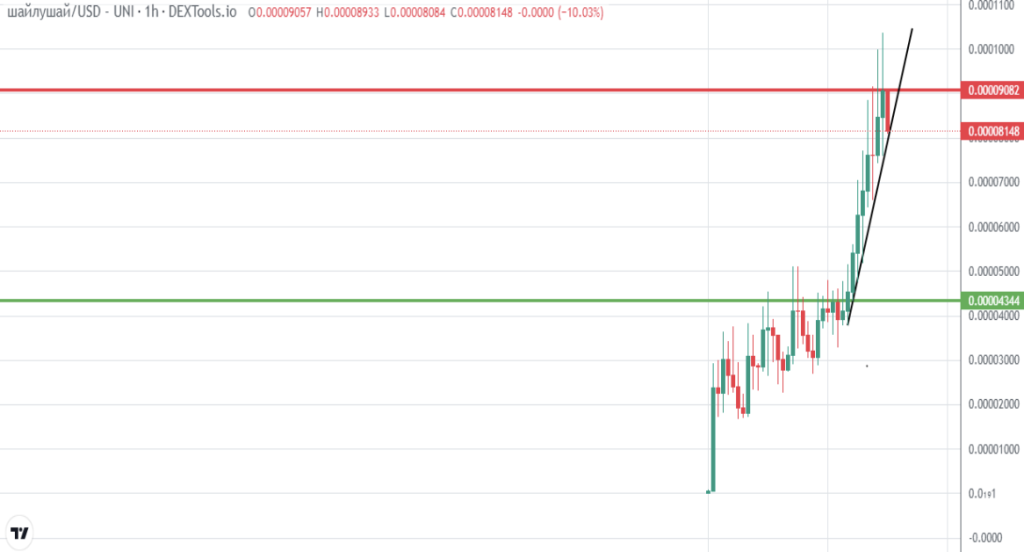 шайлушай, from September 14-15, has moved in an uptrend with slight dips in between. However, the asset is already in the overbought zone, making it more tempting for traders to make a profit. 
шайлушай flipped the $0.000043 resistance level, turning it to support before attaining its all-time high today. However, a red candle has formed on the 1-hour chart, suggesting an increasing selling activity among traders. 
Despite the slight decline, it is still above the trend line, confirming that the buyers still need to finish their rally. шайлушай will likely retrace in the short term before resuming its rally in the coming days if the bulls sustain their charge. 
шайлушай has rallied over 70% today and will likely continue its positive price action based on investor adoption and ecosystem growth. 
While шайлушай rallies ahead of a possible retracement, investors can take advantage of Bitcoin BSC presales and its staking feature for rewards.
Over 2 Million Dollars Raised As BTCBSC Presales Goes Viral
Bitcoin BSC is a BNB Smart Chain-based eco-friendly cryptocurrency that seeks to reward users through staking. Its presale has been an outstanding success, with over $2 million raised from its presale target of $3.96 million. 
Visit the presale page to slice a piece of this promising project. Users can purchase at least $10 worth of BTCBSC tokens before a potential price surge after listing on exchanges. 
Staking Provides Passive Income and Protects The Environment
Most modern crypto ecosystems shift from the energy-intensive Proof-of-Work (PoW) model to staking. Users can stake their tokens to receive staking rewards distributed based on the percentage of tokens they stake in a pool. 
Discover the fusion of Bitcoin's legacy and Binance Smart Chain in #BitcoinBSC! 🚀

Our sustainable #Staking method fosters enduring dedication and community involvement.

Join the #Presale today and secure your $BTCBSC #Tokens!

🔗https://t.co/oM0YP8IlbV #CryptoCommunity #Web3 pic.twitter.com/kyZSmpOPRD

— Bitcoinbsc (@Bitcoinbsctoken) September 14, 2023
Over 985,700 BTCBSC tokens are already staked today at 7:44 a.m. EST, showing rising interest from investors in this feature. 
Additionally, it introduced a referral program that allows users to earn 5% extra rewards on each purchase made by new users who joined through their referral links. 
Related Stories:
Ends Soon – Wall Street Memes
Early Access Presale Live Now
Established Community of Stocks & Crypto Traders
Featured on Cointelegraph, CoinMarketCap, Yahoo Finance
Rated Best Crypto to Buy Now In Meme Coin Sector
Team Behind OpenSea NFT Collection – Wall St Bulls
Tier One Exchange Listings September 27
Tweets Replied to by Elon Musk