LINQ coin is trending at number five in the Hot Pairs list on DEXTools. The outlook suggests a steady 56% rise in its value in the coming days based on its groundbreaking features.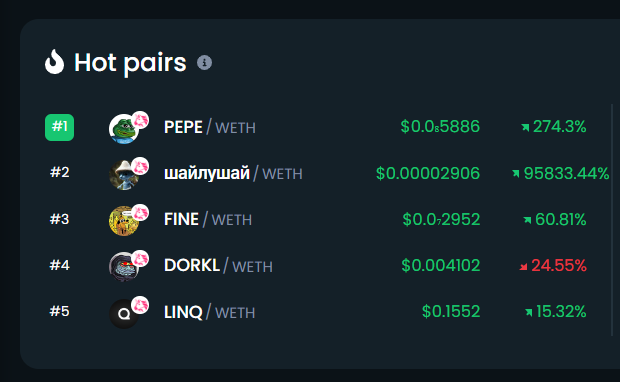 LINQ Showcases Impressive and Unique Features
LINQ is a new cryptocurrency that uses a clever method to protect its users from sudden losses or scams. The decentralized liquidity feature allows it to redistribute tokens from a pool to its owners through a tax system, making it very secure.
This means you can trust it more than other cryptocurrencies, as it is designed to prevent fraud and significant price drops. It's a simple yet innovative idea that could change the future of cryptocurrency.
Another compelling feature capturing investors' interest is the revenue-sharing mechanism. This project offers rewards in the form of LP tokens to those who hold LINQ tokens. In early September, LINQ initiated the distribution of these rewards. Approximately 3% of LP tokens were made accessible for claiming by token holders.
Tomorrow will mark another distribution of the original $LINQ LP tokens. 3.4% of the LP will be made available for $LINQ holders to claim. Current value is $50,000 This is in addition to the LP holders have been claiming made available by #LINQONOMICS pic.twitter.com/AyDSNi3NL5

— LINQ (@linq_group) August 31, 2023
These features in favor of users are benefitting the LINQ Group, increasing its community. In only one month of its launch, the cryptocurrency has gathered more than 4000 holders.
4000 $LINQ holders and growing. Decentralized Liquidity #LINQUIDTY 🔗 pic.twitter.com/BZjFgFo2as

— LINQ (@linq_group) September 1, 2023
LINQ Group, the network behind the LINQ token, has recently unveiled plans to launch the LP staking feature. This new feature is expected to provide enhanced benefits and opportunities for token holders. They will be able to earn rewards through their participation in liquidity provision.
$LINQ token staking is coming soon. This new addition aims to strike a balance between participants interested in LP staking and those who are keen on the price and price action of $LINQ itself.

— LINQ (@linq_group) September 5, 2023
LINQ Price Analysis
The LINQ/USD daily price chart indicates a potential uptrend in its prices on the horizon. The crypto pair currently finds support at the 61% Fibonacci Retracement level, at $0.1504. Technical indicators strongly suggest positive momentum in the days ahead.
A bullish signal emerges from the recent formation of an Exponential Moving Average (EMA) cross, with the shorter EMA9 crossing above the longer EMA26. Additionally, the Stochastic Oscillator points upwards, while the MACD histogram displays green bars. These indicators align with the bullish sentiment suggested by the EMA cross.
Given this overall picture, LINQ/USD may continue its ascent until its first resistance at the 50% Fibonacci Retracement level of $0.1970. Should the price break and close above this level, it would further reinforce the bullish trend and propel prices towards the 32% Fibonacci Retracement level at $0.2436, representing a substantial increase of approximately 56% from the current price.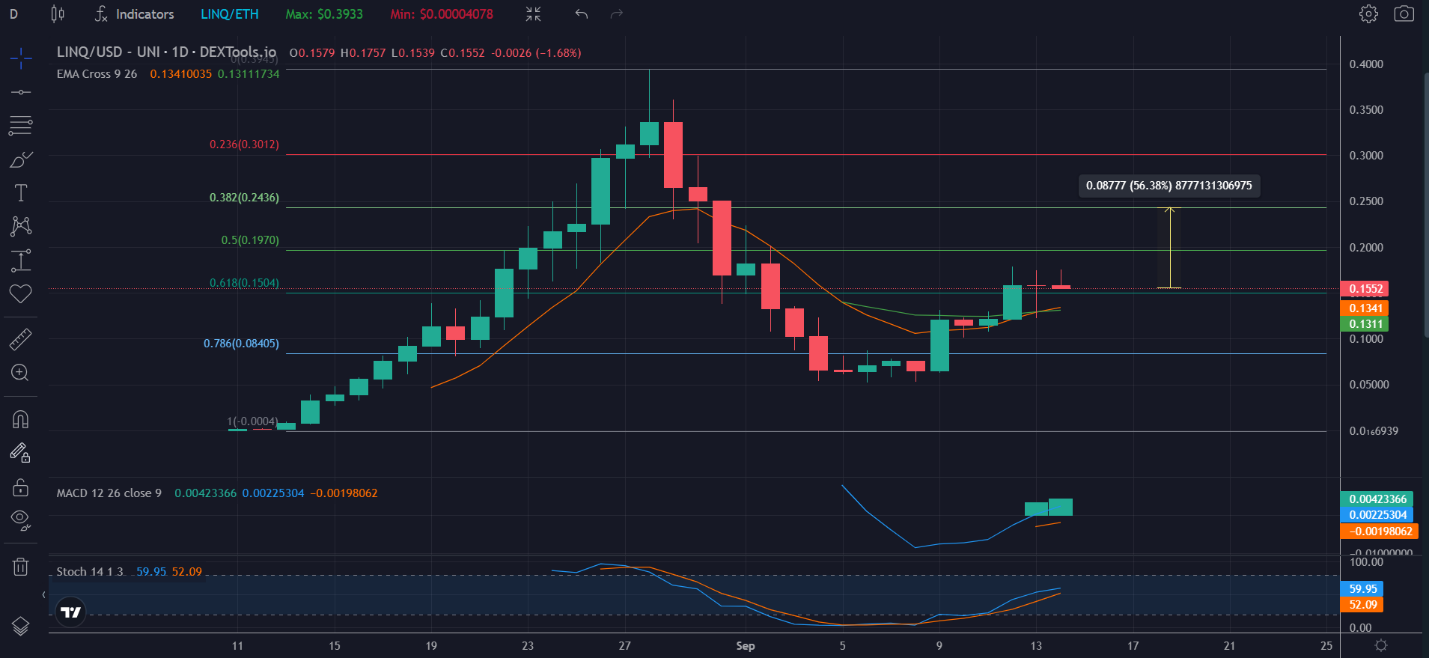 Conversely, if prices struggle to surpass the initial resistance at $0.1970, they could retreat toward the current support level at $0.1504. A break and close below this support level could lower prices, potentially dipping below the Exponential Moving Averages.
Meanwhile, LINQ/USD on DEXTools boasts a market capitalization of $15.51 million and $1.31 million in liquidity. These robust statistics, a 99/99 reliability score, and an 85% Community Trust rating underscore the coin's growth potential.
Alternative to LINQ
The Wall Street Memes is one of the high-performing meme tokens. It has successfully raised over $25 million in its presale, launched at the end of May.
WSM will be listed officially after 12 days, marking the last streak of the last stage (30) of its presale. It is worth $0.0337 right now, providing an excellent chance for investors to buy WSM tokens during its most crucial presale stage. Although few days remain for its listing on exchanges, the Wall Street Memes team has not yet revealed the names of the exchanges.
Hey, #WSM Gang! 😎
Only 11 days left until the presale ends! ⏳
CLAIM and TRADE $WSM – 27th of September! 📆$WSM to launch on multiple tier-one exchanges! 🚀
In the meantime, make sure to buy and/or stake your tokens and enjoy impressive APY rates!https://t.co/F6tr0TIZqK pic.twitter.com/mEp4pzB6e7

— Only $WSM ( The Soldier of Gordon Gekko ) (@WsmArmy) September 14, 2023
As a side note, the Wall Street Memes community is more extensive than anticipated, recording about 1 million members. The power of this great number and their active participation is a significant factor in experiencing an increase in the price of WSM. Experts are sure this will be a big name in the meme coins family and is not expected to slow down soon. Furthermore, the community rewards by the token, which accounts for 30% of the total token supply, attracts investors.
$WSM @wallstmemes would be worth buying. The biggest pre-sale ever, which has already reached $21M. Even @elonmusk is interested. Check it out, there is also a crypto whale that Dumps 460 ETH in that project. pic.twitter.com/oqOzfvCKjT

— Dražen Punčec (@DrazenPuncec) August 6, 2023
Another interesting fact about the WSM token, which sparked massive interest of investors in it, was a whopping $1M investment by a whale address. During its presale, a whale invested about 460 ETH in only 6 minutes.
The same crypto whale invested about 93 ETH over the next 2-3 weeks. This interest in a secret whale address prompted other investors to follow him, and the coin completed its 25M worth presale in only two months.
Also Read:
Ends Soon – Wall Street Memes
Early Access Presale Live Now
Established Community of Stocks & Crypto Traders
Featured on Cointelegraph, CoinMarketCap, Yahoo Finance
Rated Best Crypto to Buy Now In Meme Coin Sector
Team Behind OpenSea NFT Collection – Wall St Bulls
Tier One Exchange Listings September 27
Tweets Replied to by Elon Musk