New cryptocurrency projects often have more upside potential for buyers than established, high market cap coins – the 'big caps.'
Cryptocurrency, having experienced a decade of explosive growth, has firmly entered the mainstream. New cryptocurrencies are emerging almost daily, adding to the diverse landscape alongside established names.
New Cryptocurrency Releases, Listings, and Presales Today
A distinctive feature of cryptocurrencies lies in their utilization of open-source technology, meaning the underlying code is publicly accessible, allowing anyone to create their version of a blockchain.
Rather than constructing a new blockchain from the ground up, launching a cryptocurrency is simplified by copying the code of an existing blockchain. Builders can then make modifications to suit their preferences, resulting in a distinct blockchain with the same technical foundation as the original.
This approach facilitates the rapid creation of new cryptocurrencies, each with unique characteristics while sharing the fundamental technical aspects of the source blockchain. This article looks at some of the newly listed tokens on CMC today.
1. Autonolas (OLAS)
Autonolas, represented by the OLAS token, introduces a novel network of off-chain services launched in 2022 across multiple European and Asian countries. The project's core functions, including automation, oracles, and co-owned AI, are accessed through the OLAS token.
Users can stake OLAS to operate off-chain services and secure governance rights by locking OLAS in veOLAS, actively contributing to the network's evolution. The innovative application, Governatooorr, an AI-enabled governance delegate for DAOs, exemplifies the project's potential impact.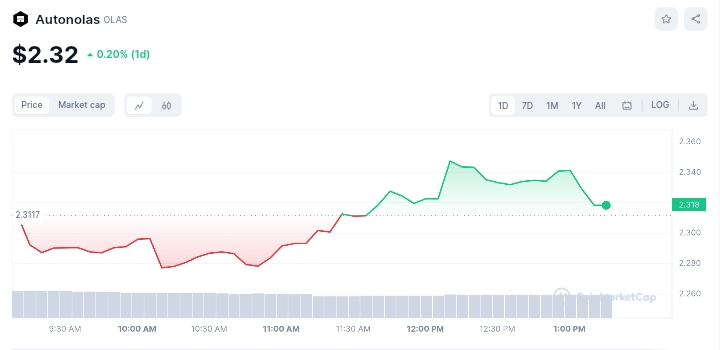 With a commitment to expanding services and supporting additional chains, Autonolas aims to be deployed on every significant blockchain, fostering a unified network of off-chain services.
The steady growth trajectory and the project's vision of decentralized, cross-chain integration make Autonolas a compelling prospect for those interested in the intersection of blockchain, AI, and decentralized governance.
With a price increase of 72.60% in the last seven days, Autonolas (OLAS) is outperforming the global cryptocurrency market, which is up 2.30%, while outperforming when compared to similar Ethereum Ecosystem cryptocurrencies, which is up 12.70%. The community is bullish, as more than 83% of users feel good about Autonolas (OLAS) today.
☴ Olas Member App Update: Understanding veOLAS Allocationhttps://t.co/dyL6JXOHYX

— Autonolas (@autonolas) November 17, 2023
The public token launch of Autonolas took place via a liquidity bootstrapping pool in July 2023. The OLAS token, the native utility token of the network, provides access to the network's core functions. Users can stake OLAS to operate off-chain services and lock OLAS in veOLAS to gain governance rights, contributing to the shaping of the network. 
Today's live Autonolas price is $2.33, with a 24-hour trading volume of $1,389,635. Autonolas is up 0.60% in the last 24 hours. The current CoinMarketCap ranking is #2295, with a live market cap of unavailable. The circulating supply and the maximum supply are unavailable.
2. SPECTRE AI (SPECTRE)
SPECTRE presents itself as an innovative AI-powered predictive learning tool aiming to assist traders and investors in the cryptocurrency space. Operating as an ERC-20 token on the Ethereum blockchain, SPECTRE employs advanced machine learning to provide users with valuable predictions and analyses, facilitating informed decision-making.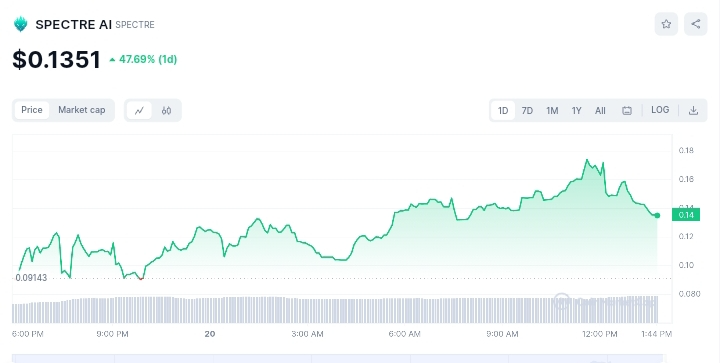 The bot's unique approach involves constant data collection from various cryptocurrency markets, including historical price data, trading volumes, and market indicators. This wealth of information forms the basis for the AI-powered prediction Bot to generate tailored forecasts based on users' preferences and selected timeframes.
The accessibility through the official Telegram channel adds a user-friendly aspect to the tool. SPECTRE aims to enhance trading strategies by leveraging predictive capabilities grounded in comprehensive historical data analysis. It has maintained a steady growth since the start of this year and is currently up by 85% in the last 24 hours.
SPECTRE Community,

We're thrilled to grant you beta access to the SPECTRE AI Prediction Bot. Now, you can post CA and choose prediction timeframes.

The link to the #SPECTRE AI BOT in our main telegram

In the world of crypto, market volatility can be a formidable challenge.… pic.twitter.com/fQh0znZDwX

— SPECTRE (@Spectre__AI) November 8, 2023
In the world of cryptocurrency, market volatility can be a formidable challenge. Enter SPECTRE, an innovative AI-powered predictive learning tool to assist traders and investors. SPECTRE is your key to AI-based trading based on machine learning.
Today's live SPECTRE AI price is $0.135531, with a 24-hour trading volume of $271,165. SPECTRE AI is up 48.21% in the last 24 hours. The current CoinMarketCap ranking is #2640, with a live market cap of unavailable. The circulating supply is unavailable, and a maximum supply of 10,000,000.
3. GoYoo (GOYOO)
GoYoo distinguishes itself in the crypto landscape by placing public welfare at its core, setting it apart as the world's only token launched with altruistic intentions. The project strives to redefine perceptions of blockchain by making every participant an initiator in a collective effort toward world peace and happiness.
GoYoo commits to donating 60% of its sales tax to aid those affected by war and disasters globally, fostering transparency by showcasing all donations on various platforms. The coin aspires to be a powerful force in the industry, with its name derived from a slogan encouraging everyone to join in.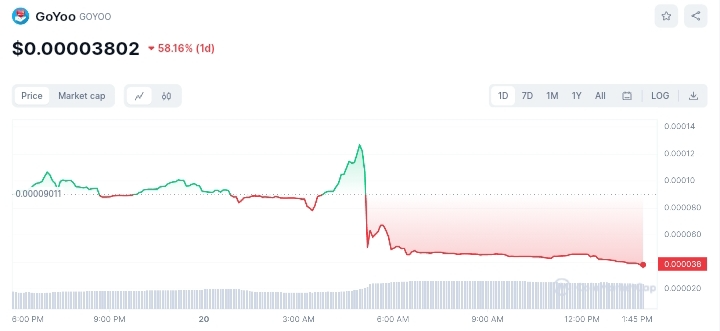 GoYoo envisions carrying the hopes and dreams of its community to a brighter future, offering unique benefits and rewards for coin holders through collaborations with other projects.
The sizeable total supply of GoYoo coins provides ample room for growth. At the same time, the attention and expectations garnered by its public welfare initiatives contribute to its uniqueness and authenticity in the crypto world. The project is led by a team with rich management experience, projecting unlimited potential for GoYoo.
GOYOO coins aim to become one of the most potent coins in the coin industry. Its name comes from a slogan. We hope everyone will start and join in from here. GOYOO will carry everyone's hope and dream to the sunshine avenue. In the future, we will continuously benefit holders through cooperation and development with other projects. Holders can participate in various activities and projects, enjoying unique benefits and rewards.
Our Team has sent a listing application on @CoinMarketCap.
Ticket number of the request is 796737.
CMC Dexscan page of our project: https://t.co/JJVLT8KUE5

— GoYoo (@GoYoo_cn) November 19, 2023
Today's live GoYoo price is $0.000047, with a 24-hour trading volume of $497,190. GoYoo is down 48.42% in the last 24 hours. The current CoinMarketCap ranking is #2466, with a live market cap of unavailable. The circulating supply is not available, and a maximum supply of 9,900,000,000.
4. Meme Kombat ($MK)
Meme Kombat has captured attention with its presale success, raising over $1.9 million in under two months. The project introduces an innovative concept in the crypto gaming space, allowing players to engage in animated battles between meme characters and bet on the outcomes.
Investing MK tokens for yields up to 530% per year adds a unique earning opportunity, surpassing many existing staking protocols.
Don't forget that we are going to be giving away 10,000 USDT when we hit $2 million raised in presale🤩

The time is drawing near, so get those >$100 buys in fighters!$MK pic.twitter.com/CRrn8lrZ0I

— Meme Kombat (@Meme_Kombat) November 20, 2023
As the crypto gaming sector witnesses impressive growth, Meme Kombat positions itself as a significant player, drawing support from influencers like Jacob Bury, who sees it as having substantial potential.
While early investors can acquire MK tokens at $0.205 during the ongoing presale stage, the impending price increase in the next phase adds urgency for prospective investors.
Meme Kombat's mission appears to blend entertainment and financial incentives, offering a distinctive proposition within the evolving landscape of crypto gaming.
Learn More
New Crypto Mining Platform – Bitcoin Minetrix
Audited By Coinsult
Decentralized, Secure Cloud Mining
Earn Free Bitcoin Daily
Native Token On Presale Now – BTCMTX
Staking Rewards – Over 100% APY