Every day, our team reviews new cryptocurrency releases recently launched on crypto exchanges and upcoming token presales.
Celsius Network grapples with legal turbulence amid a post-bankruptcy journey, even as its native CEL token experienced a 40% surge in the past week. The company's pivot toward crypto mining, recently endorsed by the court, is a pivotal step in addressing prolonged fund inaccessibility for customers.
New Cryptocurrency Releases, Listings and Presales Today
However, the backdrop is marred by regulatory challenges, as revealed by the Commodity Futures Trading Commission (CFTC), citing Celsius's breaches of U.S. regulations, including misleading investors and operating without proper registration.
This disclosure amplifies regulatory discrepancies, adding complexity to the company's trajectory. Nevertheless, despite these legal hurdles, the market reflects positive momentum, with the CEL token currently trading at $0.306506, signifying a robust 42% increase in the last seven days.
The juxtaposition of legal challenges and market resilience underscores the intricate landscape Celsius Network navigates in its pursuit of stability and customer rectification.
1. KlubCoin (KLUB )
KlubCoin is a cryptocurrency explicitly tailored for the electronic music industry, establishing trust among major nightclubs, festivals, and electronic music brands globally. Its unique value proposition lies in offering Web3 ownership and rewards extending beyond the digital realm into physical and digital events.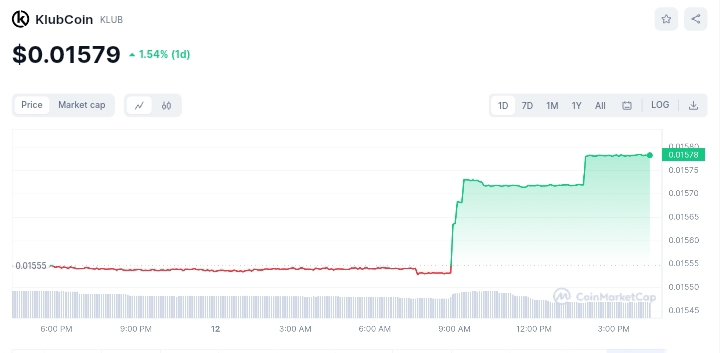 With practical applications for party-goers and establishments alike, KlubCoin enables users to seamlessly engage in various transactions, from purchasing tickets and drinks to booking VIP tables.
The token, $KLUB, not only serves as a means of transaction but also grants access to exclusive experiences and rewards, fostering a tangible connection between the cryptocurrency and the vibrant electronic music community.
The strategic partnerships with renowned names in the industry, including Amnesia Ibiza, Eden Ibiza, and Bootshaus Germany, and a user base exceeding 20,000 underscores KlubCoin's growing influence.
The coin's potential for real-world usage within the electronic music ecosystem, coupled with its expanding network and perks, positions it as an intriguing investment opportunity. However, prospective investors should approach with diligence, considering factors such as market volatility and the sustained growth of the electronic music industry.
Time of you standing in long lines, waiting for hours to get a regular drink at your favorite festival and club has ended.

With $klub, you can party in the backstage, meet famous DJs, skip the queues, and save money 💜

We call it the magic world of "Money can't buy experiences"… pic.twitter.com/3vPI0VDVQj

— KlubCoin (@KlubCoin) November 10, 2023
KlubCoin offers actual life usage and utility for party-goers, clubs, festivals, and more. Users can purchase tickets drinks, book VIP tables, get cashback and loyalty rewards, hold $KLUB, access exclusive money-can't-buy experiences, or convert them into fiat. 
Today's live KlubCoin price is $0.015786, with a 24-hour trading volume of $44,724.58. KlubCoin is up 1.54% in the last 24 hours. The current CoinMarketCap ranking is #3449, with a live market cap of unavailable. The circulating supply is not available, and the maximum supply is unavailable.
2. Astra DAO (ASTRADAO)
Astra DAO emerges as a decentralized and non-custodial automated crypto asset allocator, established initially on Ethereum and now migrating to Arbitrum.
Positioned as a solution to the complexities faced by retail investors in navigating the volatile crypto ecosystem, Astra DAO aims to provide accessible and practical access to crypto-oriented investment strategies.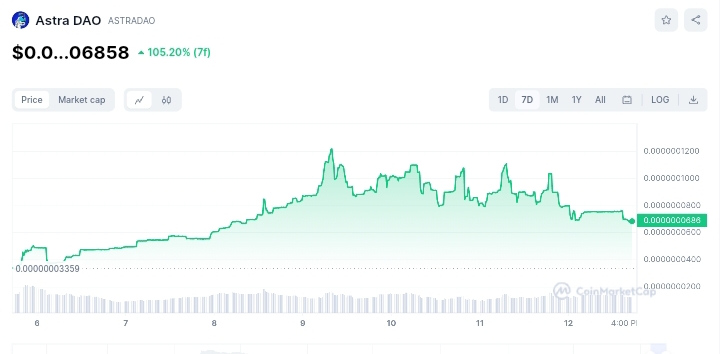 Its use cases span diverse offerings, including investment products/indices, a marketplace for participation units, user staking, profit harvesting from investment strategies, and a zero-fee user participation model.
With a vision aligned with the World Economic Forum's prediction of substantial growth in crypto assets, Astra DAO seeks to democratize crypto investing by simplifying portfolio diversification for retail investors.
Its innovative model fosters a mutually beneficial relationship among investors, creators, and token holders, drawing parallels to the success of index funds in traditional markets. By utilizing its ERC-20 native token ("ASTRADAO"), Astra DAO incentivizes active participation, facilitates governance, and manages value aggregation within the ecosystem.
The coin's potential lies in its commitment to providing practical solutions for navigating the complexities of the digital economy, positioning itself as a significant player in the evolving landscape of crypto investment strategies. However, as with any investment, careful consideration of risks and market dynamics is crucial.
🤑 Will This COPY Trading Strategy 10x Your Crypto? 🚀 #AstraDAO pic.twitter.com/7XHyFjLJsE

— Astra DAO (@astradao_org) November 7, 2023
Astra DAO's use case includes providing various investment products/indices, participation units marketplace, user staking, harvesting investment strategies profits, zero-fees user participation model, and an improvement culture using the DAO-managed Treasury. ASTRA is the native utility token, and it is used for the following: *Utility Access – Astra token holders can vote, add their indices, join the network as investment managers, and harvest performance fees. 
Today's live Astra DAO price is $0.0000000701, with a 24-hour trading volume of $64,244.84. Astra DAO is down 22.43% in the last 24 hours. The current CoinMarketCap ranking is #3249, with a live market cap of unavailable. The circulating supply is not available, and the maximum supply is unavailable.
3. TG.Casino Token ($TGC)
TG.Casino Token ($TGC) positions itself as a unique player in the crypto casino space, currently experiencing a successful token presale surpassing $500,000 and nearing the $1 million soft cap.
Priced at $0.125, holding $TGC enables users to generate staking rewards and grants a share of casino profits through a thoughtful token buyback mechanism upon the casino's launch.
The casino distinguishes itself as a fully decentralized and licensed platform powered by Telegram. It offers instant and anonymous play, crypto transfers, an array of slots, classic casino games, and a sportsbook.
Exciting News!!!

We are proud & excited to announce that our KYC has been APPROVED by The Verification Gold Standard, @AssureDefi ✨✅

Taking a step towards solid investor security and transparency.

View our KYC #Certificate:https://t.co/N940WZJsE3 pic.twitter.com/UNCJyHPUSn

— TG Casino (@TGCasino_) November 10, 2023
Notably, $TGC holders can earn additional rewards beyond traditional gambling by participating in the staking pool, boasting an impressive annual percentage yield (APY) of 737%. The buyback mechanism, distributing 60% of purchased tokens to stakers and burning 40%, introduces a deflationary aspect that has historically positively impacted token values.
TG.Casino's transparent and structured approach and its mission to offer more than just a gambling platform through token rewards positions it as a noteworthy investment opportunity within the evolving crypto casino landscape.
Read More
New Crypto Mining Platform – Bitcoin Minetrix
Audited By Coinsult
Decentralized, Secure Cloud Mining
Earn Free Bitcoin Daily
Native Token On Presale Now – BTCMTX
Staking Rewards – Over 100% APY