Newly released crypto assets can offer buyers a higher return on investment (ROI). Today, we reviewed various new coins on the market.
Amidst the current crypto market dynamics, a resurgence of enthusiasm is palpable, hinting at a potential shift from the crypto winter to a new bull market. The landscape witnesses a continuous influx of new tokens leveraging blockchain solutions for real-world challenges. Notable instances, like Pepe, showcase remarkable gains, illustrating the market's dynamism.
New Cryptocurrency Releases, Listings and Presales Today
We have also seen the progress made by a new token, Bitcoin Minetrix, which is still in its presale stage. The project in this landscape is reshaping the Bitcoin mining sphere.
By eliminating high entry barriers, tokenizing the space, and enabling mining from as low as $10, this initiative transforms accessibility. Users can oversee the entire mining process effortlessly through a dedicated mobile app.
Within just a month, the project, represented by BTCMTX, has surged, amassing over $4 million in funding. Although still in its presale stage, we have seen its massive progress.
Like Bitcoin Minetrix, new cryptos keep flocking to the crypto market, with some making their mark while some have become scams. As such, navigating this environment poses a challenge for investors seeking tokens with substantial growth potential. This article aims to spotlight the promising cryptocurrencies for investment in 2023.
1. Verified USD Foundation USDV (USDV)
Verified USD (USDV) emerges as a tokenized real-world asset (RWA) backed stablecoin, positioned at the intersection of centralized and decentralized finance. Its primary goal is to facilitate modern finance by providing a stable and transparent digital representation of real-world assets.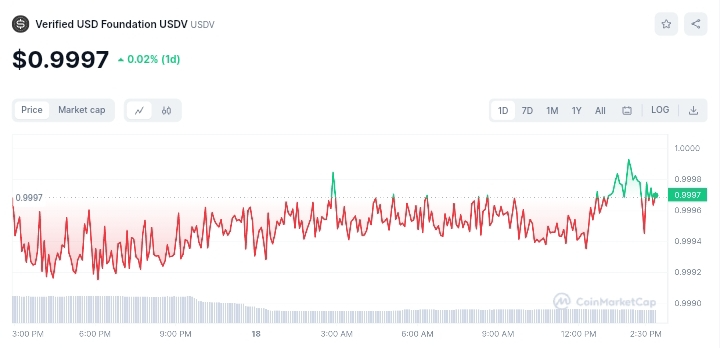 USDV distinguishes itself by offering on-chain supply transparency and off-chain reserves, fostering a bridge between various blockchains. The stablecoin boasts native omnichannel capabilities, enabling seamless transfers between supported chains and promoting efficient liquid markets. With partnerships spanning the industry, USDV aims to be the go-to currency for global payments, capital markets, and trade.
The project's commitment to transparency, interoperability, and collaboration with reputable entities enhances its credibility. However, investors should exercise due diligence, considering both the potential benefits and inherent risks of stablecoin investments.
"The upcoming launch of the stablecoin is keenly eyed by crypto market enthusiasts as the USDV's reserve encompasses a variety of real-world assets (RWA). Furthermore, USDV is boosted by ColorTrace, an algorithm developed by @LayerZero_Labs, facilitating transparency and equity…

— USDV.Money (@USDV_Money) November 16, 2023
Verified USD (USDV) is a tokenized real-world asset (RWA) backed stablecoin built for modern finance. USDV bridges the best of CeFi and DeFi, transcending borders, blockchains and operating hours—the money for global payments, capital markets and trade.
Today's live Verified USD Foundation USDV price is $0.999479, with a 24-hour trading volume of $4,028,756. Verified USD Foundation USDV is up 0.02% in the last 24 hours. The current CoinMarketCap ranking is #2207, with a live market cap of unavailable. The circulating supply is not available, and the maximum supply is unavailable.
2. FelixCoin (FELIX)
FelixCoin ($FELIX) emerges as a forward-thinking cryptocurrency, drawing inspiration from the beloved character Felix the Cat. Positioned at the intersection of innovation and security, the coin seeks to redefine digital transactions.
The mission of FelixCoin is rooted in providing a user-friendly and community-driven experience. Utilizing blockchain's power, the platform ensures transparency, immutability, and decentralization, supporting swift and secure transactions.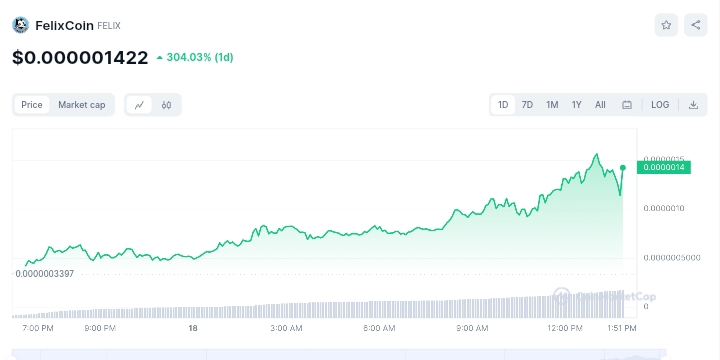 Noteworthy features include advanced privacy measures, anonymous transactions, and innovative contract capabilities for decentralized applications (DAPPS). A standout aspect is Felix Coin's zero-tax policy on buying and selling, eliminating additional costs and fostering inclusivity in decentralized finance (DeFi).
Operating on the Binance Smart Chain, Felix Coin capitalizes on high-speed, low-cost transactions, offering an economical and scalable cryptocurrency experience. With a commitment to accessibility, Felix Coin presents a cost-effective solution for traders, investors, and cryptocurrency enthusiasts.
😺FelixCoin live in 2 Hours.
LAUNCH: 17th Nov (Friday) on 4pm UTC.

Dextools:https://t.co/beTsCOKqBB

Dexview:https://t.co/TGUxKG1mvx

🚀 ⏰ Don't miss out on this exciting opportunity to be a part of the FELIXCOIN community! 🎉
Tg: https://t.co/oJhGfp0LtZ pic.twitter.com/W8GsWbk6Zw

— FelixCoin (@FelixContact) November 17, 2023
FelixCoin (FELIX) is a cutting-edge blockchain-based cryptocurrency that pays homage to the iconic cartoon character Felix the Cat. Built on a foundation of innovation and security, FelixCoin (FELIX) aims to revolutionize how transactions are conducted in the digital world. Our mission is to provide a seamless and user-friendly experience with a solid community-driven approach. 
Today's live FelixCoin price is $0.000001, with a 24-hour trading volume of $2,401,007. FelixCoin is up 283.60% in the last 24 hours. The current CoinMarketCap ranking is #2246, with a live market cap of unavailable. The circulating supply is unavailable, and there is a maximum supply of 650,000,000,000 FELIX coins.
3. EthXY (SEXY)
SEXY plays a vital role in the EthXY gaming ecosystem, serving as the currency for in-game transactions within the innovative EthXY platform.
EthXY introduces a unique gaming experience where players can customize avatars using RPG items and engage in dynamic, visualized gameplay through Telegram chat. The game's design emphasizes accessibility, allowing users to seamlessly integrate it into their daily routines, promoting adoption and ease of use.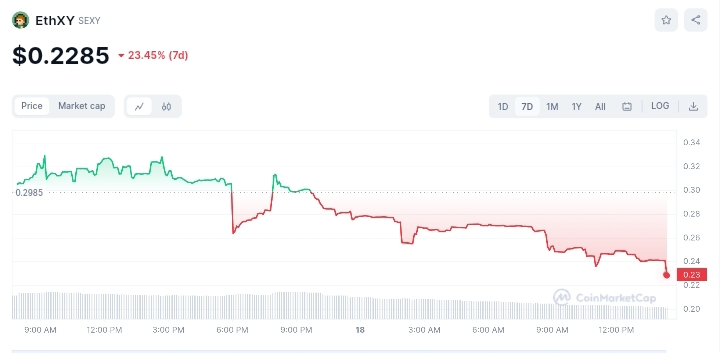 Incorporating various innovations, such as utilizing the Base chain while maintaining a user-friendly interface like Telegram chat, demonstrates a commitment to providing a friction-free and compelling consumer experience.
The focus on turning raw crypto technology into approachable consumer experiences positions EthXY as a player in enhancing crypto adoption. While investment decisions should be made judiciously, EthXY's mission to blend raw crypto tech with user-friendly gaming experiences adds an exciting dimension to its potential in the crypto space.
gm. Today we are thrilled to announce our $1.6M preseed round for https://t.co/ldv3Bgu5kJ with participation from @a16zcrypto CSS23 @OrangeDAOxyz @pioneer_fund @WW_Ventures @nonceclassic @PepperVentures @founderheads @spacewhalecap @MH_Ventures @0xShadX @ytwovc @Justdoit110

And… pic.twitter.com/0u1H56cLWe

— EthXY (@ethxy) November 14, 2023
Utilizing unique innovations, EthXY can provide dynamic visualization of the gameplay where players can see themselves fighting another character in Telegram chat. Players earn loot that can be equipped to make the avatar look amazing. One of the critical factors for playable games is the ease of picking up and putting down while minimizing time impact. The most playable games are ones you can pick up during your spare time—on your commute, waiting at the airport, or taking a working break during the day. A friction-free, compelling consumer experience will lead to crypto's greater adoption during this next cycle.
Today's live EthXY price is $0.241819, with a 24-hour trading volume of $237,656. We update our SEXY to USD price in real time. EthXY is down 23.05% in the last 24 hours. The current CoinMarketCap ranking is #2678, with a live market cap of unavailable. The circulating supply is unavailable, and the maximum supply is unavailable.
4. Bitcoin Minetrix (BTCMTX)
Bitcoin Minetrix (BTCMTX) has garnered substantial attention in its presale, raising over $4 million as it introduces a Stake-to-Mine platform. This innovative model allows users to earn Bitcoin (BTC) rewards passively by staking the native token, BTCMTX, generating mining credits that are exchanged for cloud mining power.
#BitcoinMinetrix Stage 8 is coming to an end in just 4 days! 📅

What aspects fascinate you the most about #Bitcoin mining? pic.twitter.com/FtNRtrI295

— Bitcoinminetrix (@bitcoinminetrix) November 18, 2023
Notably, the staking protocol offers lucrative rewards, up to 144% annually, outperforming industry averages. With over 289 million BTCMTX tokens staked in under two months, the project aims to transform the Bitcoin cloud mining landscape. The presale, featuring ten stages with an 8% price increase at each location, has generated significant FOMO among investors.
The distribution strategy allocates 77.5% of the total supply to presale buyers, fostering community initiatives and staking rewards. As the presale concludes, the rising interest in BTCMTX, reflected in a growing Telegram community, adds anticipation for its debut on major exchanges.
Read More
New Crypto Mining Platform – Bitcoin Minetrix
Audited By Coinsult
Decentralized, Secure Cloud Mining
Earn Free Bitcoin Daily
Native Token On Presale Now – BTCMTX
Staking Rewards – Over 100% APY