The global crypto market's capitalization achieved a full 1.17% rise early on Friday to stay at $1.06 trillion in the last 24 hours. The growth is a further improvement on the market's performance on Thursday.
Despite the substantial market capitalization growth, the total crypto market trading volume has experienced a temporary dip, falling to $26.68 billion. It reflects an 8.56% decrease in the past day. However, the decentralized finance sector remains robust, contributing $1.8 billion to the 24-hour crypto market volume, making up 6.74%. Notably, stablecoins continue to dominate the market landscape with a volume of $24.57 billion, accounting for a significant 92.07% share of the total crypto market volume over the same 24-hour period.
Bitcoin's dominance continues to assert its presence in the ever-evolving crypto landscape. The leading cryptocurrency's market dominance currently stands at 49.09%, marking a modest 0.09% increase for the day. This development highlights Bitcoin's enduring significance and influence within the broader cryptocurrency market.
On Friday, Asian stocks surged, further extending the global equity rally. This surge was propelled by impressive Chinese economic data, which added to the positive sentiment stemming from the belief that the world's largest central banks were nearing the end of their tightening measures.
Next Cryptocurrency to Explode
The US dollar remained near its six-month high against major currencies, supported by robust US economic data. In contrast, the euro weakened following signals from the European Central Bank indicating that Thursday's interest rate hike was likely the final one in this economic cycle.
1. yPredict (YPRED)
The yPredict presale has raised over $3.8 million in funding from a global pool of investors. These investors are eager to secure an early stake in one of the crypto industry's most promising AI-driven Web3 ecosystems. The steady push makes YPRED the next cryptocurrency to explode.
🚀 Want to unlock the secrets behind Ethereum's price fluctuations? Dive into the 10 key factors shaping the value of #Ethereum! Whether you're an investor, trader, or crypto enthusiast, understanding these factors is 🔑.

Read more: https://t.co/NDAJ1KPeLc #yPredict… pic.twitter.com/wbZF3WKZ1G

— yPredict.ai (@yPredict_ai) September 15, 2023
yPredict is at the forefront of developing a sophisticated suite of AI analytics tools encompassing crypto and SEO analysis. To finance its ongoing development, the project has initiated a presale of its native YPRED token.
In this public presale, yPredict plans to make 80% of its total token supply, which amounts to 100 million YPRED tokens, available to interested buyers. Holders of YPRED tokens will enjoy attractive staking rewards of up to 45% every quarter, substantial discounts on yPredict's AI tools, and lifetime free access to the platform's highly acclaimed crypto price prediction system.
The current stage of the presale is the seventh, with YPRED tokens being offered at $0.1 each. However, potential investors should act swiftly to secure tokens at this favorable rate. Once the presale reaches $4.58 million, the price of YPRED tokens will increase to $0.11. Subsequently, when the token is listed on cryptocurrency exchanges later in the year, it will be priced at $0.12. This implies that early presale participants could realize a 20% paper gain.
yPredict's YPRED token is gaining recognition as one of the top AI utility coins available in the market due to the platform's diverse range of AI use cases. Moreover, the generous staking rewards and substantial discounts on yPredict's tools provide strong incentives for token holders to hold onto their investments.
Furthermore, with the majority of the token supply (80%) being accessible to the crypto community through the presale, concerns about significant insider token supply dumps that could negatively impact the token's price in the future are greatly diminished. The remaining 20% of tokens are allocated to liquidity (10%), treasury (5%), and development (5%), ensuring a well-balanced tokenomics structure that reduces the potential for unexpected market manipulation. As a result, the risk of a "rug pull" is significantly minimized within the yPredict ecosystem.
Visit yPredict.
2. Axie Infinity (AXS)
AXS, the native cryptocurrency of the popular Axie Infinity Game, experienced a rapid and substantial surge, witnessing an impressive increase of over 20% within minutes.
During this remarkable price surge, AXS generated a prominent green candlestick on its daily chart, featuring an extended upper wick. Within an hour, AXS surged from $4.22 to $5.15, marking an impressive gain of nearly 22%. At this report's time, although some initial gains had tapered off, AXS remained elevated at 12.36% over the previous 24 hours, trading at $4.75.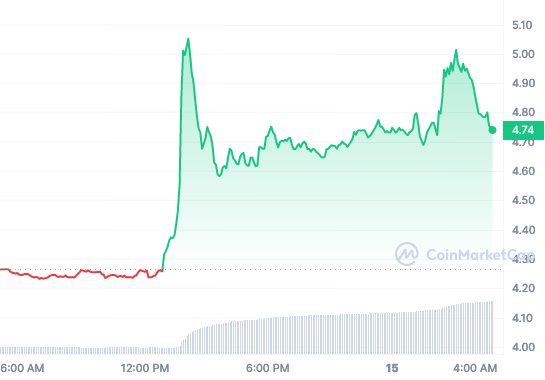 The rally for AXS commenced on September 11th after hitting lows not seen since June 2021, bottoming out at $4.059. The daily Relative Strength Index (RSI) dropped below 30, reaching 21, signaling oversold conditions and serving as a catalyst for a rebound.
Following this initial bounce-back, the gaming token consolidated its gains and rallied for two consecutive days. The surge reached its zenith with a sharp spike, propelling AXS to a high of $5.15 in the current trading session.
The precise reason behind this remarkable price surge remains elusive. A thorough examination of AXS's official sources failed to reveal any significant announcements or upgrades that could account for such a rapid price increase. Nevertheless, technical factors played a pivotal role.
Lunacians, the Mystic Era has ended and we have now entered the Off-Season. ⚔️

Congrats to everyone who battled it out in the Arena during Season 5! We've released a few exciting updates for the Off-Season. Here's what's new! 👇 pic.twitter.com/p6PCcad47o

— Axie Infinity (@AxieInfinity) September 14, 2023
The most plausible explanation for this price surge is an unexpected short squeeze, characterized by a rapid price increase driven primarily by excessive short selling rather than underlying fundamental factors. This theory gains credence when considering the substantial liquidation of short positions accompanying the price spike. In the last four hours, approximately $1.41 million worth of Axie Infinity assets were liquidated, with short positions accounting for a significant portion at $798,420.
The sudden and dramatic price movement also led to a substantial surge in trading volumes as traders rushed into the market to capitalize on potential gains. Over the past 24 hours, AXS trading volume surged by 750.44%, exceeding $178 million in total trading activity.
3. Bitcoin Cash (BCH)
Bitcoin Cash (BCH) experienced an impressive 13% surge late on Thursday, propelling it above the crucial psychological barrier of $200 at the time of reporting. This resurgence came after finding solid support around the $186 price range. The concurrent rise of Bitcoin (BTC) to the $26,000 price level has further fueled optimism for BCH's bullish trajectory.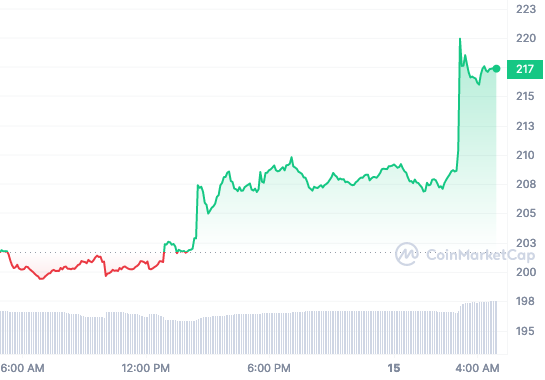 BCH had been mired in a bearish trend since early July, witnessing a decline from $325 to $165 before initially finding support at the $186 level. The 12-hour chart shows that bulls made a strong comeback on August 29 but encountered resistance around the $220 price. A retest of the $186 support level on September 11 triggered BCH's recent rally, with bullish traders seeking to build upon this momentum.
Should BCH sustain its upward momentum, it could result in profitable outcomes for bullish investors, with potential targets of $220 to $240. The bullish sentiment would receive an additional boost if Bitcoin continues its upward trajectory.
Conversely, if Bitcoin retraces below the $26,000 mark, it might create a favorable setup for sellers, potentially leading to shorting opportunities with target levels ranging from $170 to $185.
#Airdrops are coming to the BCH Gurus! BCH Guru is the leading #NFT project on the brand new #cashtokens ecosystem on BCH! Get your Gurus by getting #bitcoincash, a cashtokens wallet and visiting: https://t.co/QgyahK3HcV Wave 2 is almost sold, and price goes up soon! pic.twitter.com/vVBpn8otON

— BCH Guru (@BCH_Guru) September 14, 2023
Notably, the Relative Strength Index (RSI) surged to 60, underscoring the significant buying pressure in the BCH market. The On Balance Volume (OBV) also rose from 7.7 million to 8.1 million, emphasizing robust trading volume supporting BCH.
In the futures market, the short-term bias for BCH remained bullish. Data from Coinglass indicated that bulls held a commanding 51.33% share of the open contracts, representing long positions amounting to $166.26 million, surpassing the $157.63 million held in short positions. This suggests buyers are keen to leverage their bullish advantage, anticipating further gains.
4. Conflux (CFX)
Conflux has gained recognition for its unique consensus mechanism, combining the robustness of Proof of Work with the efficiency of the Tree-Graph model. This innovative approach holds promise as a solution to scalability challenges while being environmentally conscious.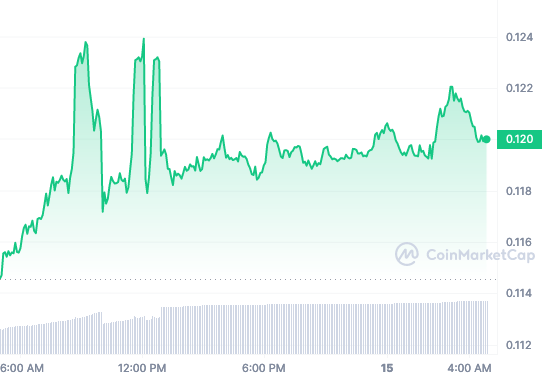 Conflux's price experienced a notable surge, surging from $0.023 to $0.48, primarily fueled by speculations and hopes of China supporting its domestic blockchain initiatives. Since Conflux is a Chinese blockchain project, it was perceived as a strong contender to benefit from such developments.
However, China's anticipated adoption of Conflux did not materialize as expected, resulting in a price correction to a more sustainable level of $0.1249. The critical milestone for Conflux is overcoming the resistance at $0.18. A successful breach of this level could trigger a movement towards the next significant resistance point at $0.48.
#Web3 in China – On Conflux We Buidl!🚀

12. NFT in China 12 —— Bosie

🥽 Bosie, a popular gender-inclusive fashion brand in China, continuously explores diverse fashion styles suitable for all genders, ages, and regions, promoting equal access to fashion and beauty. pic.twitter.com/ETAS3TxuOM

— Conflux Network Official (@Conflux_Network) September 12, 2023
It's important to acknowledge that Conflux exhibits considerable volatility. Nonetheless, due to its forward-looking approach, the project has garnered a devoted following. Conflux holds substantial potential for significant upside gains if the platform gains significant traction during the upcoming bullish market cycle.
Read More
Ends Soon – Wall Street Memes
Early Access Presale Live Now
Established Community of Stocks & Crypto Traders
Featured on Cointelegraph, CoinMarketCap, Yahoo Finance
Rated Best Crypto to Buy Now In Meme Coin Sector
Team Behind OpenSea NFT Collection – Wall St Bulls
Tier One Exchange Listings September 27
Tweets Replied to by Elon Musk