The crypto market slightly declined on Friday, with the overall market capitalization settling at $1.39 trillion. It marks a substantial decrease of 2.87% in the last 24 hours. It is considered a minor correction that does not exert much pressure on the next cryptocurrency to explode.
Over the 24 hours, the crypto market's trading volume experienced a modest increase, reaching $71.05 billion, signifying a 1.89% uptick. The decentralized finance sector contributed $8.34 billion within this volume, accounting for 11.74% of the total crypto market volume. Stablecoins also showed robust activity, recording a $63.11 billion trading volume comprising 88.82% of the 24-hour crypto market volume.
Bitcoin's dominance currently stands at 51.11%, a slight increase of 0.14% over the day. It has not gained more than a lot of assets in a while.
In international trade, China's Commerce Minister expressed concerns to U.S. Commerce Secretary Gina Raimondo during their meeting on Thursday. He expressed unease over the United States' restrictions on semiconductor exports to China, the imposition of sanctions on Chinese firms, and tariffs on Chinese imports. This sentiment was relayed by Wang Wentao during the San Francisco meeting, emphasizing the necessity for discussions around the distinction between national security interests and fostering trade and economic collaboration, according to a statement released by the ministry on Friday.
The once-entwined trade relationship between the world's two largest economies has shifted as both nations have expanded their trade networks elsewhere. While openly opposing the idea of decoupling, China has heightened trade interactions with Southeast Asia, while the United States has bolstered trade ties with its neighboring countries, Canada and Mexico.
Next Cryptocurrency To Explode
Under President Joe Biden's administration, the United States has maintained previous tariffs imposed on a wide array of Chinese exports from the preceding Trump administration. Additionally, new constraints have been implemented, restricting the export of advanced semiconductors and related manufacturing equipment over national security apprehensions.
Despite the evolving trade landscape, bilateral trade between the U.S. and China soared to $690 billion last year. This surge was fueled by increased U.S. demand for Chinese consumer goods, matched by Beijing's growing import requirements for U.S. agricultural produce and energy resources.
1. yearn.finance (YFI)
In a recent analysis by Santiment, Yearn Finance is experiencing a surge in whale activity, signifying a bullish trend within its ecosystem. The YFI token is also leading the gainers' chart on CoinMarketCap. This development represents YFI's position as the next cryptocurrency to explode.
In case you missed it ↩️ https://t.co/rLyvT8uQiS

— YFI (@YFI_on_BSC) November 16, 2023
The upsurge in whale activity has significantly contributed to the overall positive momentum of the Yearn Finance (YFI) ecosystem. Notably, the resurgence in whale activity and the growing user base have propelled a remarkable 17+% surge in the YFI token's market capitalization. Moreover, the ecosystem is witnessing a substantial increase in trading activity, pushing the token's price to new highs. Interestingly, the whales purchase more instead of offloading or shorting the tokens, alleviating selling pressure.
This cryptocurrency's positive sentiment is reflected in its escalating market capitalization, which has now surpassed $510 million. Santiment's data indicates a considerable spike in large transactions by whales, reaching levels not seen in the past 15 months. Simultaneously, the number of new addresses holding YFI increases, indicating growing interest and adoption.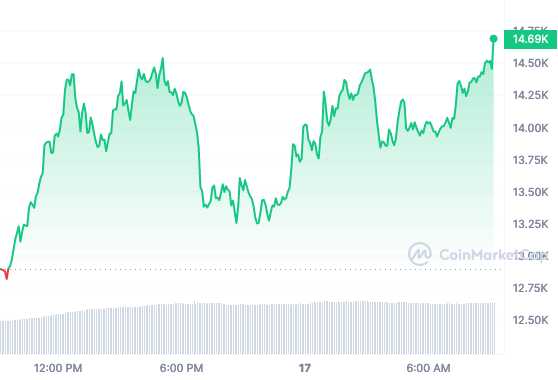 Yearn Finance (YFI) continues to soar as its trading volume surpasses $150 million, marking a significant surge. Notably, the token's price has exceeded analysts' expectations, increasing from around $9,900k to over $15,500k at the time of reporting.
The token's value shows substantial gains, boasting a weekly surge of more than 75% and a monthly increase of over 100%, per Coinmarketcap's data. This surge indicates the growing investor confidence and market enthusiasm driving Yearn Finance to unprecedented price levels as it is the next cryptocurrency to explode.
2. TG.Casino (TGC)
TG.Casino is an online gambling platform that merges blockchain technology with Telegram-based betting. It promises users an efficient, secure, and transparent betting experience.
Functioning as a licensed online casino, TG.Casino provides a comprehensive array of games encompassing slots, table games, live dealers, and a sportsbook. Unlike conventional gambling sites, TG.Casino permits anonymous wagering, eliminating the need for know-your-customer (KYC) checks.
At the core of the casino's operations lies TGC, the ERC-20 token, which is pivotal in facilitating swift, cost-effective deposits and almost instant withdrawals. Holding TGC offers various advantages, such as staking rewards and cashback on losses incurred while betting with the token.
Each $TGC token is now valued at $0.16.

So if you bought early, your tokens are now worth more🎉

Let's go players! pic.twitter.com/zZnELxDWfl

— TG Casino (@TGCasino_) November 17, 2023
Additionally, TG.Casino incentivizes TGC ownership through token buybacks, wherein a portion of the profits is used to repurchase tokens from the open market. Of the repurchased tokens, 40% are burned, reducing the overall supply, while the remaining 60% are distributed to stakers as rewards. This mechanism infuses deflationary pressure on TGC, augmenting its value.
The ongoing TGC presale has already amassed over $2.2 million, featuring a tiered structure where token prices increase after each stage sells out. Currently trading at $0.16, the presale's hard cap is $5 million. Post-presale, the team intends to list TGC on exchanges, enhancing accessibility and boosting trading volume. It is a move that will hasten it to be the next cryptocurrency to explode.
Given the online casino industry's projected annual growth rate of 8-9%, the GambleFi space, bridging gambling and decentralized finance, presents an enticing opportunity. TG.Casino, leveraging its unique amalgamation of Telegram integration and blockchain, offers a web-based platform. This strategy has captured the interest of early supporters who are optimistic about TGC's potential amidst the casino's growth within the GambleFi niche.
Visit TG.Casino.
3. Mantle (MNT)
The current price of Mantle (MNT) stands at $0.510661, exhibiting a 24-hour trading volume of $15.71 million. Over the past day, it has seen an 8.10% increase in price, and in the last seven days, there's been a notable 11.01% upswing. With a circulating supply of 3.1 Billion MNT tokens, Mantle currently holds a market cap of $1.59 billion.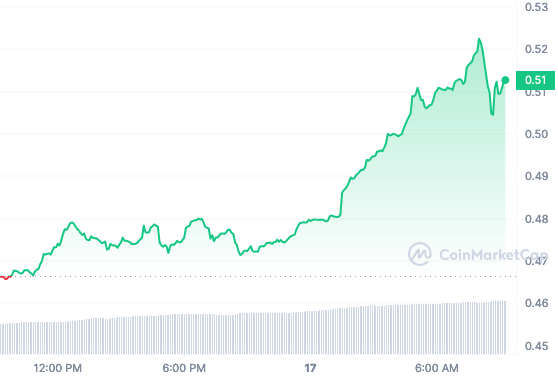 The highest price Mantle (MNT) reached is $0.600075, recorded on Jul 20, 2023, about four months ago. Comparatively, the current price is 13.94% lower than its all-time high. On the flip side, the lowest price recorded for Mantle (MNT) was $0.307978, observed on Oct 18, 2023, around one month ago, signifying a remarkable 67.68% surge from its all-time low.
The fully diluted valuation of Mantle (MNT) projects at $3.19 billion, assuming a maximum circulating supply of 6.2 Billion MNT tokens. However, realizing this valuation might take several years, depending on the emission schedule of MNT tokens.
🐦 Just the community sharing with us their #MantlePets

⚙️ Don't forget to pair your pet with something Mantle (a Mantle swag, anything with the Mantle logo) and post about it with the hashtag #MantlePets for a chance to win a Citizens of Mantle NFT!https://t.co/rZuXUK7uZL

— Mantle (@0xMantle) November 16, 2023
Mantle's recent performance exhibits an 11.20% increase in the last seven days, outperforming the global cryptocurrency market, which experienced a decline of 2.10%. Nevertheless, it falls slightly behind similar Ethereum Ecosystem cryptocurrencies, which have surged by 12.70%.
The community sentiment around Mantle (MNT) remains overwhelmingly bullish, with over 94% of users expressing positive feelings about its prospects of being the next cryptocurrency to explode.
4. Dogecoin (DOGE)
Dogecoin (DOGE) is also gaining today. It has recently shown a notable price and transaction volume surge amid an overall bearish market trend. According to Santiment, Dogecoin has experienced a modest 5% uptick, standing out amidst prevailing market pessimism.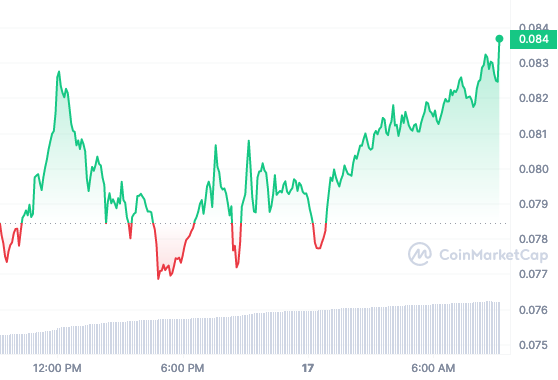 This upturn is supported by a remarkable on-chain transaction volume of $665 million, marking its highest level witnessed in the past three months.
Moreover, there's been a substantial rise in the number of Dogecoin long positions. They signal a strong confidence among traders regarding its sustained price increase.
The recent positive momentum in Dogecoin's market performance can be attributed to significant whale activity and the enthusiasm surrounding its lunar aspirations.
🚀Dogecoin On The Moon Update🌕

Exciting news for the Dogecoin community!🌑

Astrobotic plans to send a physical Dogecoin to the moon in the DHL Moonbox via ULA's Vulcan Centaur Rocket on 12/23/2023. Funded by our community in 2015, this mission embodies collective effort! pic.twitter.com/QESz4ikHln

— Dogecoin (@dogecoin) November 16, 2023
Lately, a Dogecoin whale transferred over 103 million DOGE from Robinhood's trading platform, adding to several large transactions recorded in November. A massive transfer of 690 million DOGE between unknown wallets and other substantial movements involving hundreds of millions of DOGE was particularly noteworthy.
Further stoking excitement is the announcement of a physical Dogecoin token slated to be sent to the moon in December as part of a project by space payload transporter Astrobotic. This news has ignited considerable interest among Dogecoin enthusiasts and investors, contributing to the optimistic sentiment surrounding the meme-based cryptocurrency.
Read More
New Crypto Mining Platform – Bitcoin Minetrix
Audited By Coinsult
Decentralized, Secure Cloud Mining
Earn Free Bitcoin Daily
Native Token On Presale Now – BTCMTX
Staking Rewards – Over 100% APY