In a recent development, the global crypto market capitalization gained 0.32% to $1.06 trillion in the last 24 hours. The crypto market has been a subject of immense interest and speculation, and this uptick in market capitalization further adds to the intrigue.
Over the past 24 hours, the total crypto market volume has dropped by 1.16%, settling at $26.42 billion. However, the crypto landscape continues to evolve, with significant portions of this volume allocated to different industry sectors.
DeFi currently accounts for $2.3 billion in trading volume, constituting 8.72% of the total market 24-hour volume. Interestingly, stablecoins play a significant role, with a total volume of $24.2 billion, making up 91.62% of the total market 24-hour volume. 
Bitcoin currently holds a dominance of 48.88%. This figure represents a minor decrease of 0.23% for the day. 
The US stock market closed on a significantly bearish note. At the same time, Treasury yields surged higher on Friday as a steep decline in chip stocks and a mixed bag of economic data combined to suppress investors' appetite for risk, concluding a tumultuous week on a somber tone.
Next Cryptocurrency to Explode
All three major U.S. stock indices ended the day firmly in the red, with chip manufacturers exerting notable pressure on the tech-heavy Nasdaq.
The S&P 500 and the Nasdaq, which had been on an upward trajectory earlier in the week, relinquished their weekly gains, while the Dow, a barometer of blue-chip stocks, closed the week with marginal gains.
1. Wall Street Memes (WSM)
The Wall Street Memes (WSM) project has emerged as a standout memecoin presale of 2023. It has raised over $25 million from its ongoing presale so far. Bolstered by a vibrant community exceeding one million members, this project is on the brink of a momentous launch on centralized exchanges in just nine days. Substantial gains are anticipated as soon as the launch is kicked off.
The achievement of amassing $25 million in presale funding represents an almost unprecedented feat for a new memecoin project that has yet to debut on decentralized exchanges. Consequently, investors are taking notice as Wall Street Memes establishes itself as a premier candidate for the most significant coin CEX launch of Q3 2023.
In a nod to the anti-bank sentiment epitomized by the Wall Street Bets community, WSM aims to convert the powerful community sentiment into a tangible asset. The project seeks to tokenize the anti-bank movement and redefine our understanding of digital value.
Furthermore, there are clear indicators that investors may unlock substantial gains with WSM, not least because of the built-in +30% bonus for presale participants during the initial listing.
In a notable display of enthusiasm for this meme coin, a crypto whale invested $1 million in Wall Street Memes' WSM presale in early August, sparking speculation about their identity. The mysterious whale address executed five transactions, totaling 460 ETH valued at $840,000, all within six minutes. Two weeks earlier, an additional 93 ETH had been invested from the same wallet, bringing the mystery crypto whale's total investment in WSM to a cool $1 million. These substantial purchases reflect a resounding vote of confidence in Wall Street Memes and its potential for a lucrative return on investment.
Carry on sir… pic.twitter.com/dnWQrtYOQk

— Bay Street Memes (@baystmemes) September 15, 2023
The explosive growth of this community is poised to drive significant momentum during the upcoming CEX launch in just nine days, potentially propelling the WSM token to new heights. With a unique staking mechanism offering an astonishing 282% Annual Percentage Yield (APY), long-term holding is incentivized, making this token an attractive prospect for many.
With a proven track record from the success of the Wall Street Bets NFT collection, this project continues to thrive, building upon the historic moment when WSM burst onto the scene. Seize the opportunity to secure a stake in the next skyrocketing meme token.
Visit Wall Street Memes.
2. Toncoin (TON)
Toncoin has steadily positioned itself as the top gainer in the cryptocurrency market over the past 24 hours. The journey began at a modest $1.91, and it has since experienced a remarkable, bullish surge, breaking through significant resistance levels. With a surge of more than 16%, this marks the most substantial single-day gain the coin has witnessed since its introduction to the market.
Coin tracking platform Coinstats provides valuable insights into the events of the past 24 hours. The ascent to its current price of $2.20 has been both steady and rapid. After briefly dipping to $1.89 earlier on Friday, the asset swiftly rebounded and has maintained a consistent upward trajectory.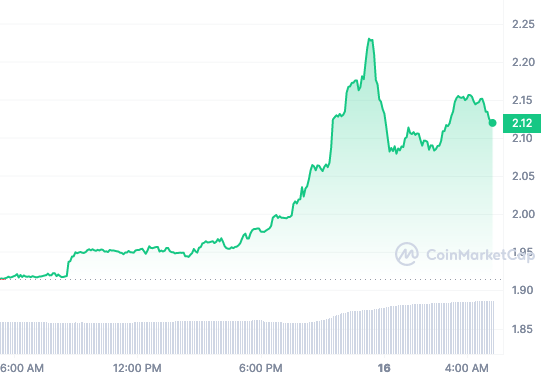 Beyond the price movement, the trading volume is a key factor contributing to the coin's recent performance. The 24-hour trading volume has surged by over 77.45%, with a significant portion representing fresh investments into Toncoin. However, the coin's fundamentals have played a pivotal role in driving this impressive surge.
It's worth noting that Toncoin is built on the foundation of the popular social media platform Telegram. As of this writing, the campaign to encourage users to invest in the coin is ongoing, further contributing to its current momentum. This movement will push the token to be the next cryptocurrency to explode.
📣 Yesterday, TON Foundation announced it started working with @telegram, and @wallet_tg is now available to 800 MILLION USERS!

A 🧵on the greatest #Web3 mass adoption event ever. pic.twitter.com/pwm1RJhmN6

— TON 💎 (@ton_blockchain) September 14, 2023
Toncoin's recent ascent showcases the dynamic nature of the cryptocurrency market, with both technical and fundamental factors influencing its remarkable performance. Investors and enthusiasts will closely monitor its continued journey in the days ahead.
3. Aave (AAVE)
Aave has firmly established itself as a frontrunner in decentralized finance, offering various services, including lending, borrowing, and seamless access to liquidity pools. Notably, Aave has made waves with its groundbreaking flash loan service, enabling users to secure instant loans without collateral.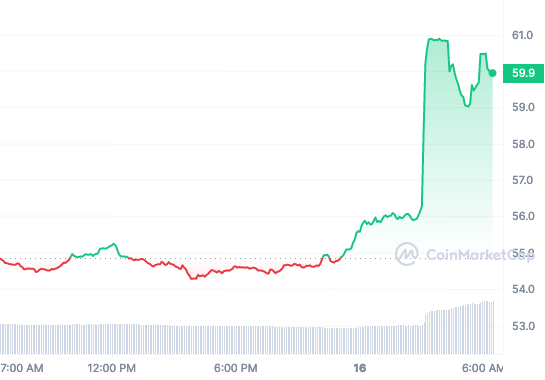 Amid the 2021 bull run, Aave experienced a remarkable surge in value, catapulting from a modest $50 to an astonishing $666.86 within just five months. However, the initial euphoria was short-lived, as Aave's value took a sharp nosedive, plummeting by a staggering 92%. The cryptocurrency currently resides at $59.95.
Market analysts closely monitor Aave's performance, as a discernible descending triangle pattern has emerged on its charts. The $46 level has been identified as a crucial support threshold. The future trajectory of Aave remains uncertain, with questions looming about whether it can muster the momentum to breach the $113 threshold or retrace to the $45-47 support range, which has steadfastly supported Aave for nearly three years.
We're heading to @ETHGlobal New York and we've brought bounties 👻 pic.twitter.com/uoOV5a55bA

— Aave (@AaveAave) September 15, 2023
Aave's journey in the DeFi space is a testament to the market's volatility and the challenges that even the most prominent players face in cryptocurrency. Investors and observers will keenly observe Aave's next moves in this ever-evolving ecosystem.
4. Maker (MKR)
Maker (MKR) has garnered significant attention for its impressive performance as one of the top-performing altcoins this year. Notably, its performance over the past 365 days has outshone even Bitcoin, underscoring its growing prominence. According to the latest data, MKR has surged 75.45% in the past year.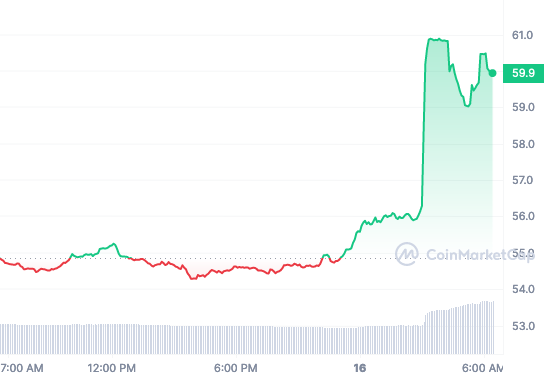 The increasing confidence of cryptocurrency whales may play a pivotal role in MKR's ascent. Records indicate that these influential investors have steadily accumulated MKR tokens at various intervals. What's particularly intriguing is that their accumulation activities keep going on.
According to insights from on-chain data provider Spot On Chain, a prominent whale executed a substantial MKR purchase on September 14th, amounting to a staggering $12.1 million. This particular whale currently holds the 9th largest MKR wallet, boasting 16,205 MKR tokens as of the time of composing this article.
On Sunday, September 17, at 14:15 UTC, Spark Protocol will increase its debt ceiling from 200 million to 400 million DAI.

200 million DAI, directly injected from the Maker Protocol, ready to be borrowed from the next-gen lending venue of DeFi.

⚡️ https://t.co/6z0TuiZF1b pic.twitter.com/c68ojPOnD5

— Maker (@MakerDAO) September 15, 2023
In the crypto space, whale accumulation often signals the potential for an immediate or delayed price surge. Some investors closely monitoring whale wallets may interpret this move as a compelling "buying opportunity from the bottom." Nevertheless, despite a 6.58% price increase in the past 24 hours, MKR is presently trading at $1,282.
Maker's remarkable performance and the strategic moves of cryptocurrency whales are themes that continue to captivate the attention of investors and market observers. The cryptocurrency landscape remains dynamic, with intriguing developments on the horizon for MKR and its stakeholders.
Read More
Ends Soon – Wall Street Memes
Early Access Presale Live Now
Established Community of Stocks & Crypto Traders
Featured on Cointelegraph, CoinMarketCap, Yahoo Finance
Rated Best Crypto to Buy Now In Meme Coin Sector
Team Behind OpenSea NFT Collection – Wall St Bulls
Tier One Exchange Listings September 27
Tweets Replied to by Elon Musk