The global crypto market capitalization has slightly receded to $1.38 trillion, marking a marginal 0.99% decrease in the last 24 hours. The market is declining for the second day in a row in this current phase. Observers hope it will pick up again in the coming week and present more asses as the next cryptocurrencies to explode.
Over the last 24 hours, the overall trading volume within the crypto sphere has notably decreased, down by 19.72% to $56.53 billion. Decentralized finance contributes $6.65 billion to this volume, representing 11.76% of the total crypto market's 24-hour volume. The volume of stablecoins has also reached $50.14 billion, comprising a significant 88.70% share of the entire crypto market's 24-hour volume.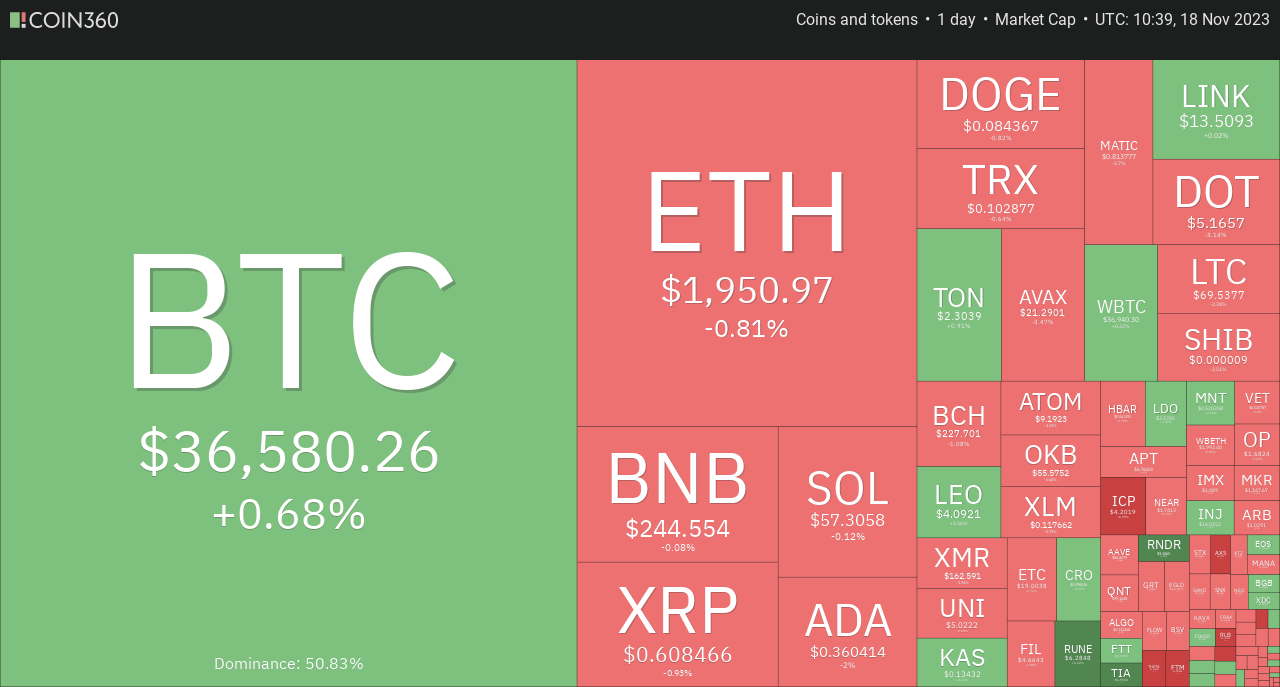 Bitcoin has seen a slight uptick in dominance, reaching 51.66%, indicating a 0.58% increase over the day.
Global stocks stabilized near their highest levels in about two months on Friday, while yields on Treasury bonds briefly touched a two-month low. This followed investors' firm conviction that U.S. interest rates have reached their peak and potentially might decrease in the coming year.
However, sentiments were tempered as Federal Reserve Bank of Boston President Susan Collins indicated on Friday that while signs indicate a potential easing in inflation, she wasn't ready to rule out the possibility of additional rate hikes if deemed necessary.
Next Cryptocurrency To Explode
Wall Street showed some restraint in response to this update. The Dow Jones Industrial Average (.DJI) and the Nasdaq Composite (.IXIC) closed with marginal gains, while the S&P 500 (.SPX) saw a modest rise of just 0.13%.
In sync with the expectations surrounding U.S. interest rates, the dollar index declined by 0.48%, marking one of its most notable weekly declines this year. The weakening dollar considerably strengthened the yen, which traded below 150 per Dollar.
1. Bitcoin ETF Token (BTCETF)
Despite recent setbacks in Bitcoin's price, a cryptocurrency asset revolving around the highly anticipated approval of a spot BTC ETF continues to attract attention and move to be the next cryptocurrency to explode. The Bitcoin ETF Token (BTCETF) is demonstrating robust progress in its ongoing presale campaign, having amassed over $980,000 in funding within two weeks. Given the current trend, with an average daily investment inflow of $75,000, the presale is poised to reach the $1 million mark as early as tomorrow.
This impressive performance primarily stems from Bitcoin ETF Token's deflationary tokenomics, involving the burning of 5% of the total BTCETF supply upon reaching real-world milestones in the ETF approval process, as outlined in the project's whitepaper.
Just three days left in the countdown till the end of #BitcoinETF Stage 3! 🚀 Keep your eyes peeled! ⏱️ pic.twitter.com/9LsJMJwEAk

— BTCETF_Token (@BTCETF_Token) November 17, 2023
The project also implements a selling tax, where 5% of each transaction is likewise burned. These dual mechanisms are strategically designed to gradually reduce the overall supply of BTCETF over time, potentially enhancing its scarcity and value.
Moreover, the token's structure positions it as an attractive choice for investors seeking speculative exposure to the excitement surrounding a potential launch of a spot BTC ETF in the United States.
Austin Hilton, a prominent crypto YouTuber boasting over 236,000 followers, has lauded BTCETF, remarking that it's "like nothing you have ever seen."
Presently, investors can acquire BTCETF tokens at $0.0054 during the current presale stage, although this price is anticipated to increase periodically until the presale allocation is fully subscribed.
Visit Bitcoin ETF Token.
2. BitTorrent(New) (BTT)
The current price of BitTorrent (BTT) stands at $0.000000502607, experiencing a 4.00% surge in the last 24 hours and a 6.07% increase in the past seven days. Its 24-hour trading volume totals $31.55 million, while its circulating supply amounts to 950 trillion BTT, resulting in a market capitalization of $477.73 million.
The all-time high for BitTorrent (BTT) stands at $0.00000343, observed on Jan 21, 2022, nearly two years ago. In comparison, the current price is notably lower, marking an 85.25% decrease from its peak value. Conversely, the all-time low for BitTorrent occurred on Oct 13, 2023, approximately one month ago, recording a price of $0.000000365368. Presently, the price has increased by 38.54% from its lowest point.
Regarding its fully diluted valuation, the figure stands at $498.80 million. This projection represents the maximum market capitalization if the circulating supply of 990 trillion BTT tokens was circulating today. It's important to note that realizing this valuation might take several years, contingent upon the emission schedule of BTT tokens.
🛠️#BTFS Weekly Report
✅Total miners exceeded 7.21 Million
✅Total Storage Contracts exceeded 129 Million
✅Total Revenue exceeded 22614 Billion $BTT pic.twitter.com/ZmSl3djREC

— BitTorrent (@BitTorrent) November 15, 2023
Regarding price performance relative to its peers, BitTorrent has displayed a 6.00% increase in the last seven days, outperforming the global cryptocurrency market, which faced a decline of 2.10%. However, BitTorrent slightly lags compared to similar Ethereum Ecosystem cryptocurrencies that demonstrated a 12.70% increase.
Market sentiment surrounding BitTorrent remains bullish. More than 89% of users express confidence in its status as the next cryptocurrency to explode.
3. Cronos (CRO)
Cronos crypto (CRO) has recently demonstrated a robust and consistent bullish trend, displaying significant momentum in recent weeks. Its steady ascent has notably reached a high point not seen in months.
According to Coingecko's report, Cronos has exhibited a 7% increase and an impressive 57% rally over the past few weeks. This surge not only garners attention but firmly establishes Cronos as a critical participant in the current market landscape.
Specifically, the CRO token has broken through the descending trend line connected to its highest points observed since February. This positive development underscores Cronos' current vigor and bullish momentum, signaling a noteworthy shift in its market dynamics.
However, caution might be warranted due to the considerably elevated Relative Strength Index (RSI) at 97.45, indicating an overbought status. This could suggest a potential retracement or consolidation soon. Despite this, the cryptocurrency maintains a solid bullish trend in the short term, supported by the 50-day exponential moving average at $0.0630.
Cronos Ecosystem Spotlight: @Ballies_NFT 🔥

The popular #CROfam NFT collection, Ballies, recently launched their strategic basketball-themed card mobile game on #Cronos.

Read on to find out more about Ballies and their latest game launch👇https://t.co/b2xDVJuRWQ

— Cronos (@cronos_chain) November 17, 2023
Observing the critical resistance level at $0.10, buyers will likely continue to uphold the coin's upward trajectory. Additionally, the ADX indicator shows a consistent upward trend, while the stochastic oscillator has reached the overbought threshold. All these data prove that CRO is the next cryptocurrency to explode.
4. KuCoin Token (KCS)
KuCoin (KCS) currently trades at $6.33, with a 24-hour trading volume of $143,269. Over the last 24 hours, there has been a 1.85% increase in price and a 1.97% increase over the past seven days. With 97 million KCS tokens in circulation, KuCoin's market capitalization is $612.38 million.
The all-time high for KuCoin (KCS) is $28.83, recorded on Dec 01, 2021, which signifies a significant difference of 78.06% from its current price. Conversely, the all-time low for KCS was $0.342863, logged on Feb 07, 2019, representing a considerable increase of 1,744.57% from the current price.
The fully diluted KuCoin (KCS) valuation is estimated at $913.08 million, assuming 140 million KCS tokens in circulation today. However, the realization of this valuation might occur over multiple years, depending on the designed emission schedule of KCS tokens.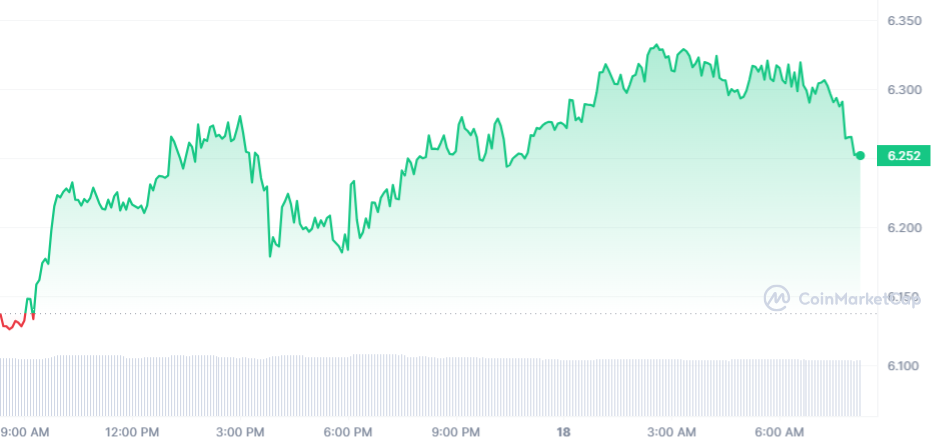 In the past seven days, KuCoin (KCS) has outperformed the global cryptocurrency market, which has experienced a decline of 2.00%. It has also outperformed similar Exchange-based Tokens cryptocurrencies, which have shown a decline of 2.00%.
Presently, the sentiment in the KuCoin (KCS) community is predominantly bullish, with more than 91% of users expressing positivity about the token's performance.
Read More
New Crypto Mining Platform – Bitcoin Minetrix
Audited By Coinsult
Decentralized, Secure Cloud Mining
Earn Free Bitcoin Daily
Native Token On Presale Now – BTCMTX
Staking Rewards – Over 100% APY