North Korean hackers are fortifying a partnership with Russia and that may make countering their activities more difficult even as the loot they pillaged from foreign victims this year plunged.
That's the conclusion of a Sept. 14 report by blockchain data platform Chainalysis that says North Korean hackers stole $340.4 million from crypto companies and other platforms through September 14 this year, a drop of 80% compared with the record $1.65 billion stolen in all of 2022,
But despite the slump in successful hacks, Chainalysis cautions that the world isn't safer and the North Korean hackers aren't less active. And the blossoming partnership between North Korea and Russia is an alarming development.
"Russia's notoriously uncooperative stance toward international efforts by law enforcement makes the prospect of recovering stolen funds sent to Russian exchanges particularly grim," it said. "While the types of mainstream centralized exchanges North Korean hackers have previously relied upon typically cooperate, Russia's exchanges and law enforcement agencies have a track record of non-compliance, significantly reducing the chance of asset recovery."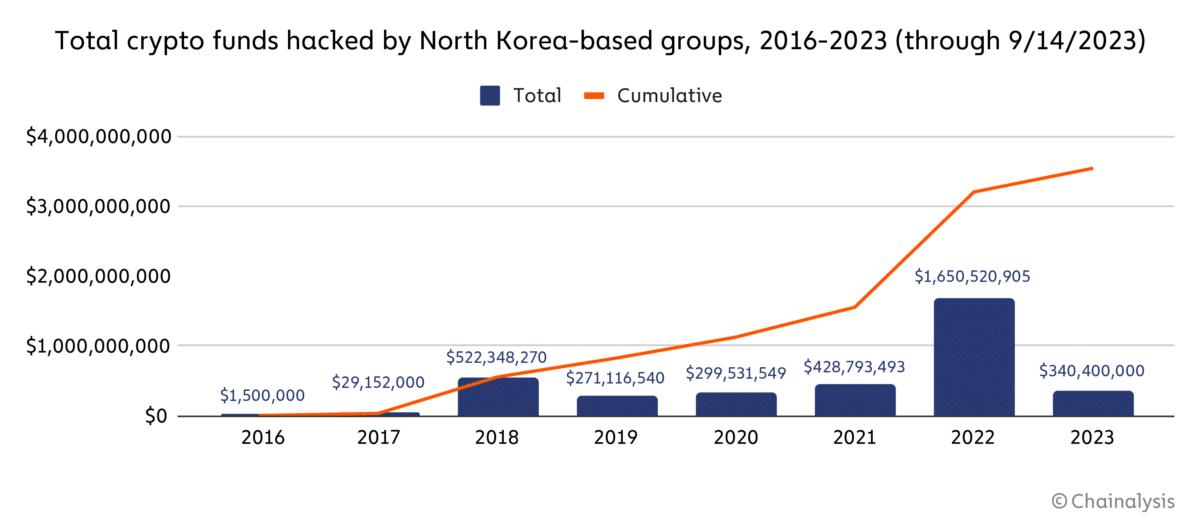 Source: ChainalysisIt calls the money stolen from hacks in 2022 "a dismally high benchmark" and warns that the world is "only one large hack away from crossing the billion-dollar threshold of stolen funds for 2023."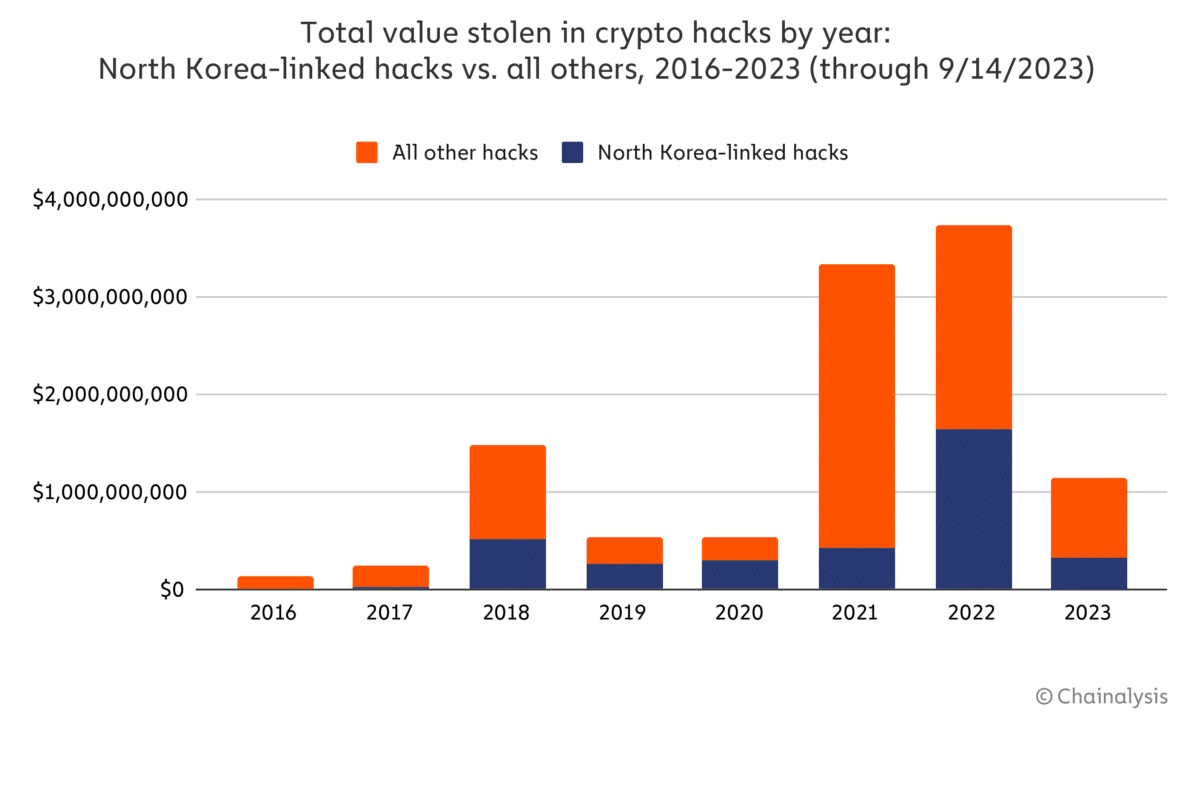 North Korean Hackers Still Responsible For 30% Of All Hacks
North Korean hackers were still responsible for more than 30% of all crypto hacks in 2023, making it still one of the the biggest threats in the cybercrime landscape.
Of the $340 million crypto lost this year, over $290 million has been lost in the last three months to five different attacks. The most recent attacks have happened in the last 10 days when North Korea's Lazarus group siphoned about $41 million from crypto betting site Stake.com and an additional $56 million from CoinEx, a crypto exchange.
Russia's Laundering Hub
Chainalysis says $21.9 million of the $100 million that Harmony Protocol lost during an exploit orchestrated by North Korea's Lazarus group was recently transferred to a Russia-based exchange known for processing illicit transactions.
Chainaanalysis notes that $21.9 million worth of cryptocurrency stolen from Harmony Protocol by North Korean hackers was recently transferred to a Russian exchange. North Korean entities have been using Russian services since 2021 for money laundering. Russia's uncooperative…

— Wu Blockchain (@WuBlockchain) September 15, 2023
Related Articles
Ends Soon – Wall Street Memes
Early Access Presale Live Now
Established Community of Stocks & Crypto Traders
Featured on Cointelegraph, CoinMarketCap, Yahoo Finance
Rated Best Crypto to Buy Now In Meme Coin Sector
Team Behind OpenSea NFT Collection – Wall St Bulls
Tier One Exchange Listings September 27
Tweets Replied to by Elon Musk