Mark Scott, a lawyer jailed for 20 years for laundering $400 million from the OneCoin fraud, was denied a new trial even after it was confirmed that a key government witness had lied during his trial.
In denying the motion at a Sept. 18 hearing, District Judge Edgardo Ramos said he was unconvinced that "an innocent person may have been convicted." Lawyers for Scott said they would appeal the ruling.
They said they were "disappointed that the court did not grant a new trial given the undisputed evidence that the government's sole cooperating witness perjured himself."
A key prosecution witness in Scott's case was Konstantin Ignatov, brother of "crypto queen" Ruja Ignatova, the mastermind behind the $4 billion OneCoin scam. Ignatov has admitted that he lied on the witness stand and that he helped his sister commit the fraud.
Scott, 54, was convicted in November 2019 of helping to launder money and commit bank fraud. Prosecutors said he created a fake investment fund that made $50 million. Scott's lawyers argued that he should not be held responsible for helping create an investment fund that was used to launder money because he did not know that OneCoin was a scam at the time.
As the #OneCoin turns: now money launderer Mark Scott's motion denied. How many years?
Docketed today: "ORDER as to Mark S. Scott's motions for a new trial pursuant to Federal Rules of Criminal Procedure 29 and 33. the motions are DENIED." https://t.co/CpstHJAkrr

— Inner City Press (@innercitypress) September 18, 2023
The OneCoin Saga
OneCoin, a fraudulent cryptocurrency scheme, operated as a multilevel marketing network, offering commissions to individuals worldwide for recruiting new participants to purchase OneCoin packages. Defrauding over 3.5 million investors globally, the OneCoin scandal is one of the largest fraud schemes in history, generating more than $4 billion in sales revenue and earning some $2.92​​ billion in profits.
The Disappearance of Ruja Ignatova
Ruja Ignatova vanished in 2017, just as suspicions surrounding OneCoin began to mount. She co-founded the fraudulent cryptocurrency venture in Sofia, Bulgaria, alongside Karl Sebastian Greenwood, who played a prominent role in promoting OneCoin.
The notorious "Crypto queen" is currently on the FBI's Ten Most Wanted list, with a $100,000 reward for information leading to her arrest.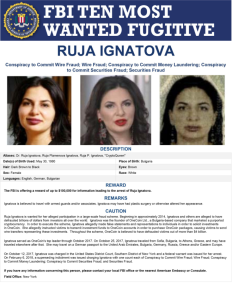 Last week, Greenwood was sentenced to a 20-year prison sentence for his role in one of the biggest ever frauds. 
Related Articles
Ends Soon – Wall Street Memes
Early Access Presale Live Now
Established Community of Stocks & Crypto Traders
Featured on Cointelegraph, CoinMarketCap, Yahoo Finance
Rated Best Crypto to Buy Now In Meme Coin Sector
Team Behind OpenSea NFT Collection – Wall St Bulls
Tier One Exchange Listings September 27
Tweets Replied to by Elon Musk