PancakeSwap price is up 7% in the last 24 hours to sell for $2.652 as of 1:35 AM EST and for the month it's up 150%
The monthly surge seemed to be sparked by a mysterious November 12 post by PancakeSwap that was interpreted as an announcement. Speculation around the tweet and what development might come on November 22 sent PancakeSwap's price on a tear as it began a token-burning program.
🐰Do You See What I See?

🥞22.11.23 pic.twitter.com/Jz5qgO2lMe

— PancakeSwap🥞Everyone's Favorite DEX (@PancakeSwap) November 20, 2023
Data shows that the network has burned 8,743,965 CAKE tokens, worth approximately $23.2 million at current rates.
📢 #Pancakeswap has burned a total of 8,743,965 $CAKE 🔥

~Equivalent to $22M 💸

🔸Trading fees (V2,V3 & Perpetual): 229k CAKE ($576k)
🔸Prediction: 48k CAKE ($122k)
🔸Lottery & #NFT Market: 25.9k CAKE ($64k)
🔸Pancake Protectors: 12k CAKE $30k

Txhttps://t.co/Efyp3GQNes#BNB pic.twitter.com/3jQ0OB9NDe

— BNB Swap (@BNBSwap) November 21, 2023
PancakeSwap Price: Bullish Drivers
Other bullish drivers include the launch of the PancakeSwap Gaming Marketplace, and a new hub for gaming enthusiasts, a place where developers can create and build games. Currently, players can enjoy either of these two games, Pancake Protectors and Binary X's Pancake Mayor.
Breaking 📣#PancakeSwap just launched their PancakeSwap Gaming Marketplace, a new hub for gaming enthusiasts which supports the creation, building, and playing of games .

Currently, there are two flagship games available: Pancake Protectors and Binary X's Pancake Mayor.

This… pic.twitter.com/eNd2DqtkP9

— BrotherHood (@BHVenture) November 15, 2023
This PancakeSwap Gaming Marketplace platform enhances gaming experiences and integrates CAKE tokens and NFTs seamlessly into the gameplay.
The development has catapulted PancakeSwap to the top three positions on the Ethereum blockchain on volume metrics.
#PancakeSwap is top 3 on #ETH by volume(24h)!

soon 22.11.23$CAKE pic.twitter.com/BHX3UGYBUq

— juapia /.bnb/.pancake.crypto (@juapia) November 21, 2023
As the PancakeSwap Gaming Marketplace continues to gain popularity, the network has secured the eighth position on fees and revenue edition metrics.
Crypto Rankings: Fees and Revenue Edition

1. #BTC
2. #Ethererum
3. #Lido
4. #Uniswap
5. #Tron
6. https://t.co/I8ImwSTgVq
7. #Maker
8. #Pancakeswap
9. #BSC
10. #AAVE

Stay tuned for the latest updates on the crypto leaderboard! pic.twitter.com/yCrg3O7dbb

— Ve Holding (@Veholding) November 20, 2023
PancakeSwap Price Prognosis As Network Forays Into Gaming Space
PancakeSwap is trading above the 78.6% Fibonacci retracement level at $2.466, in a market range from $1.052 to $2.851. The token remains on an uptrend, with prospects for more gains as the Relative Strength Index (RSI) teases with a pending buy signal. The signal would be activated once it crosses above the yellow band.
Traders heeding this call could see PancakeSwap price extend higher, potentially stretching to clear the range high at $2.851, marked by the 100% Fibonacci retracement. In a highly bullish case, the gains could extrapolate for CAKE market value to hit the $3.000 psychological level. Such a move would constitute a 15% climb above current levels.
The position of the RSI corroborates this outlook even without the buy signal. Its position at 68 shows more room to the north before CAKE can be considered overbought. Also, because it is edging north, momentum is rising, which could steer PancakeSwap's price north.
Furthermore, the Awesome Oscillator (AO) is still in positive territory, showing the bulls maintain a presence in the CAKE market.
More interestingly, PancakeSwap price enjoys robust support downward due to the Exponential Moving Averages (EMA). Their northbound inclinations show more bulls are still coming in. Also, there is yet another bullish call likely to happen. This will be witnessed once the 50-day EMA at $1.808 exceeds the 200-day EMA at $1.836.
Once this happens, the market will likely favor the bulls, and investors can look to buy CAKE. Following the trend identification, we must wait for the buy or sell signal to appear.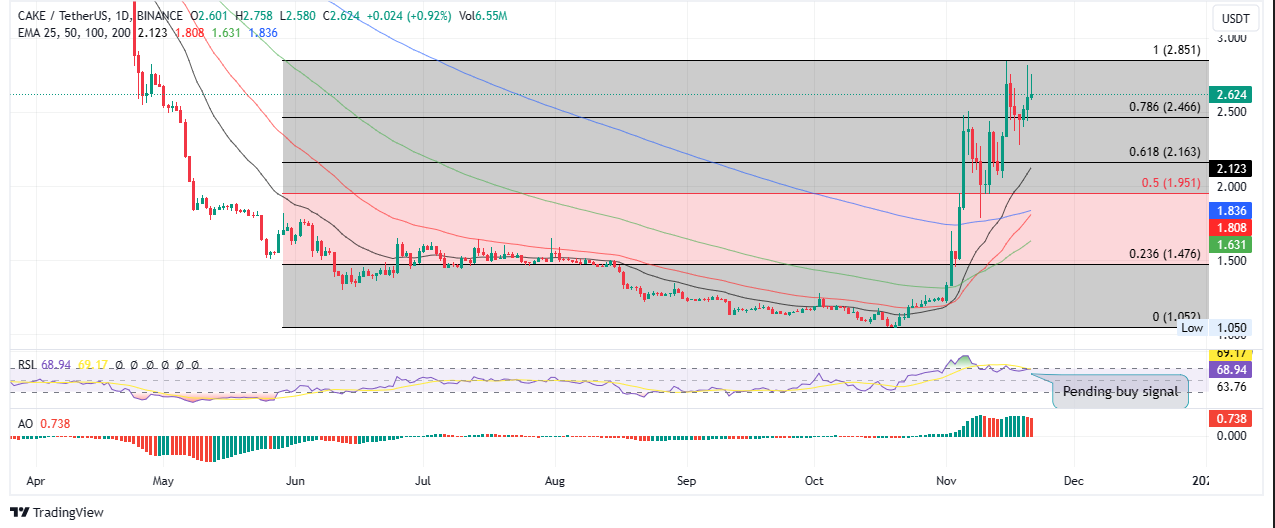 Converse Case
On the other hand, selling appetite could put out the bullish outlook for PancakeSwap price, sending it below the 78.6% Fibonacci retracement at $2.851. Further south, it could extend to the important Fibonacci level, 61.8%, at $2.163, which is highly likely if the slump happens.
Increased selling pressure past this level could send PancakeSwap price to test the 25-day EMA at $2.123 before a break below the 50% Fibonacci retracement at $1.951. Ultimately, the bullish thesis would only be invalidated once the CAKE market value breaks and closes below the 23.6% Fibonacci retracement at $1.476.
It is worth mentioning that with the histogram bars of the AO flashing red, the bears are already in play. This means the bears could easily take over if the bulls show weakness.
Meanwhile, all eyes are on TGC, one of the best crypto ICOs to buy in 2023, as the token is selling out fast. It is a Telegram casino token that will hit the markets soon, meaning now is the time to join at the lowest price.
Promising Alternative To PancakeSwap
TGC is the native cryptocurrency for the TG.Casino ecosystem, offering interested investors entry into an exclusive place where they can gamble online anonymously. It is fully licensed and 100% safe, according to the website, with a recent approval of KYC.
TG Casino looks like it has everything it needs to contend against Rollbit in the coming weeks.

Over 2000+ active players
Team is KYC'd at @AssureDefi
Stunning UI
No KYC needed@TGCasino_ https://t.co/nlbYUY0nXr

— POΞ.eth (@Poe_Ether) November 21, 2023
TG.Casino's native token, TGC, is selling for $0.16 in the current stage, a price tag that will only hold for the next 14 hours. So far, presale sales are past $2.7 million.
Our presale price will increase in 24 hours⏰

One day left to get $TGC at $0.16! pic.twitter.com/CZXoefCs5I

— TG Casino (@TGCasino_) November 21, 2023
There will never be another opportunity to buy TGC for a better price than during the presale. Visit TG.Casino to acquire the token here.
Also Read:
New Crypto Mining Platform – Bitcoin Minetrix
Audited By Coinsult
Decentralized, Secure Cloud Mining
Earn Free Bitcoin Daily
Native Token On Presale Now – BTCMTX
Staking Rewards – Over 100% APY