The Monetary Authority of Singapore banned for nine years two founders of the failed crypto hedge fund Three Arrows Capital (3AC)
Former CEO Zhu Su and Chairman Kyle Davies were given prohibition orders that prevent them managing, directing or becoming shareholders of any capital market services firms in the city state for the period.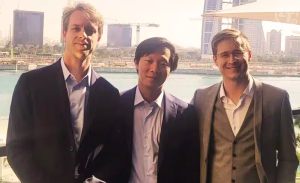 Kyle Davies, Su Zhu, Mark Lamb
Three Arrows Capital Was Once One Of The Largest Crypto Hedge Funds
Three Arrows, once one of the biggest crypto hedge funds with some $10 billion in assets under management, filed for bankruptcy in July last year after hitting financial difficulties following the implosion of the Terra ecosystem. It imploded with debts of some $3.5 billion.
After the MAS had previously reprimanded 3AC for providing it with false information, it conducted further investigations that uncovered new breaches. These included failing to notify it in a timely fashion of a new hire, providing it with false information in connection with that hire's responsibilities, and failing to have in place an appropriate risk management framework, the MAS said.
"MAS takes a grave view of Mr. Zhu's and Mr. Davies' blatant disregard for MAS' regulatory requirements and their neglect of their duties as directors," said assistant managing director Loo Siew Yee. " MAS will take measures to remove senior managers who engage in such misconduct."
After the company  emerged from bankruptcy, it was rebranded as 3AC Ventures.
We are excited to announce OPNX's ecosystem partner— 3AC Ventures.

The partnership will invest in projects building in the OPNX ecosystem and working towards a decentralized future.

🐂🐂🐂
🏹🏹🏹 https://t.co/EUi5bejTlH

— 🐂 OPNX (Open Exchange) (@OPNX_Official) June 21, 2023
Dubai's VARA Slaps Fine On Reborn Three Arrows Capital 
In August, OPNX and its founders were fined about $2.7 million by Dubai's Virtual Assets Regulatory Authority (VARA) for violating market regulations introduced earlier this year, the regulator said in a notice. 
Separate fines of $54,000 each were imposed on OPNX founders Davies, Zhu, and Mark Lamb, as well as CEO Leslie Lamb.
Related Articles
Ends Soon – Wall Street Memes
Early Access Presale Live Now
Established Community of Stocks & Crypto Traders
Featured on Cointelegraph, CoinMarketCap, Yahoo Finance
Rated Best Crypto to Buy Now In Meme Coin Sector
Team Behind OpenSea NFT Collection – Wall St Bulls
Tier One Exchange Listings September 27
Tweets Replied to by Elon Musk