Social media has become a crucial tool for businesses, facilitating brand building, market research, eCommerce integration and reputation management. Many businesses need to operate multiple social media accounts for different purposes or regions. Automating social media activities such as commenting and liking can be detected as bot activity. Social media proxies allow businesses and individuals to mask the automation source, and provide different IP addresses for each account to avoid platform restrictions.   
This article aims to provide you with comprehensive information on various social media proxy service providers. We evaluated 7 proxy service providers that offer proxies specifically tailored to social media platforms, detailing their main features and pricing models.
We've compared top proxy service providers, focusing on key aspects such as the price range for residential proxies, the Pay As You Go (PAYG) price per GB, and the availability of free trials.
| Vendors | Price range (1 GB)* | PAYG (1 GB) | Free trial |
| --- | --- | --- | --- |
| Smartproxy | $4 – $7 | $8.50 | 14-day money-back |
| Bright Data | $6.30- $7.88 | $10.50 | 7-day |
| SOAX | $2.2 – $6.6 | ❌ | 3-day trial for $1.99 |
| IPRoyal | $2.45 – $7 | ❌ | For companies |
| NetNut | $4 – $15 | ❌ | 7-day |
| ProxyEmpire | $5 – $13.3 | $15.00 | $ 1.97 for 100 MB of residential, 50 MB of mobile proxy |
| PrivateProxy. | N/A** | ❌ | 2-day |
The list is sorted in an ascending order based on the lowest price level, with the exception of the products of the article's sponsors which are linked to sponsor websites.
Price range (1 GB)*: The prices listed for residential proxies represent the minimum and maximum per GB costs on a monthly basis. While the listed providers offer a variety of proxy types, our comparison specifically uses residential proxies to standardize unit pricing across different vendors.  The pricing and other details have been directly obtained from the official websites of these proxy service providers.
N/A**: PrivateProxy. does not list prices per GB on their website, so it's not possible to provide a unit price for them. Their rotating residential proxy plans begin at $150 per month.
Smartproxy
Smartproxy stands as a key player in the proxy service industry, providing a vast network of over 10 million IPs from 130 global locations and encompassing more than 700 Autonomous System Numbers (ASNs).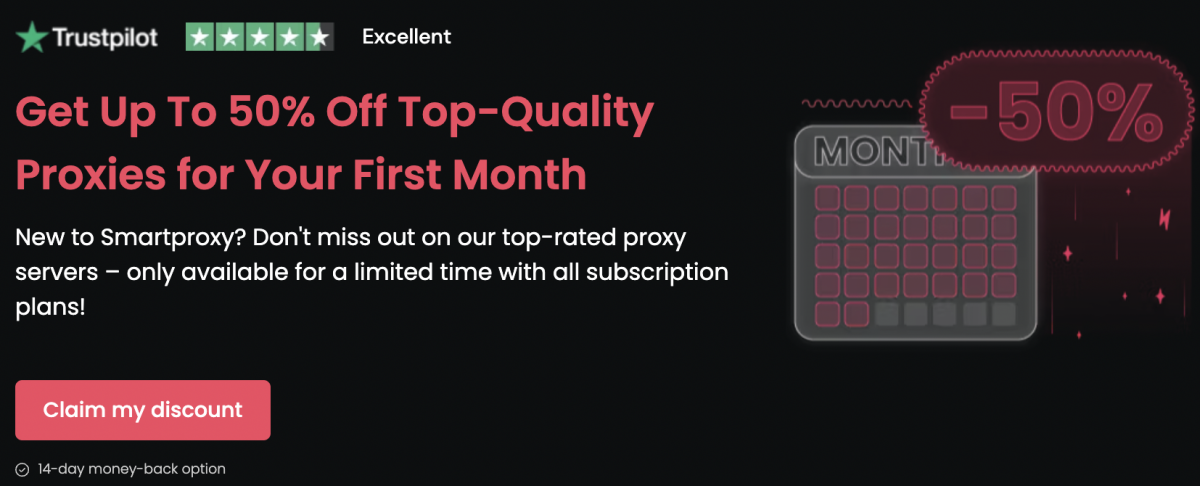 Features:
Sticky port: Provide session lengths that can be set to up to one, 10, or 30 minutes.
Rotating port: Change IP addresses for each connection request to that target social media platform. 
Custom sticky session length: The session duration for their proxies can be customized using the 'session duration' parameter. The default session time is 10 minutes. 
Supported protocols: ISP and mobile proxies are compatible with numerous tools that accept HTTP(S) proxies. Their ISP pool includes IP addresses from locations in the United States, Hong Kong, France, and Canada.
Shared and dedicated datacenter proxies: Offer datacenter (Pay/GB), datacenter (Pay/IP) and dedicated datacenter proxies. Available countries for  datacenter (Pay/IP)  proxies are the United States, United Kingdom, Germany, France, Netherlands, Italy, Israel and Australia. Dedicated datacenter IP addresses are  located in the US. Shared datacenter proxies are available in both the US and Europe, while dedicated datacenter proxies are offered exclusively in the US.
Sequential and non-sequential IP addresses: When opting for a datacenter proxy plan, Smartproxy allows the choice between sequential and non-sequential IP addresses, with an additional 25% fee applied for selecting non-sequential IPs.
SOCKS protocols: residential proxies, mobile proxies, and dedicated datacenter proxies support the SOCKS5 and HTTP(s) protocol.
Pricing:
Free trial: For residential, datacenter, and dedicated datacenter proxies, they offer custom trials provided you furnish information about your company. a 14-day money-back option is also available.
Pay as you go: The Pay As You Go option is available only for residential and mobile proxy services. The payment system for their services is available through Smart Wallet. The cost for residential proxies is $8.5 per GB, while for mobile proxies, it's priced at $21 per GB.
Bright Data
Bright Data offers residential, mobile, datacenter and ISP proxies for social media scraping, including Facebook proxies, Instagram proxies, Reddit proxies, TikTok proxies, or Youtube proxies.

Features:
Proxy types: 1.6 million shared and dedicated datacenter IP addresses from 98 different countries, 700K ISP proxies, 72 million residential IPs from 195 countries and 7 million mobile IPs.
City, ASN, and Zip code level targeting: Allow users to choose IP addresses that are specifically associated with a particular city or a zip code area.
Static sessions: Hold the same IP address for up to 1 minute or 30 minutes.
Pricing:
Pay as you go and custom plans available
Free trial: Offer 7-day free trial for registered companies only.
IPRoyal
IPRoyal offers private ISP, datacenter, mobile and sneaker proxies for social media sites. Their residential proxies (2 million) are shared, yet they prioritize selecting those proxies that are least utilized at any given time. IPRoyal's residential proxies enable you to maintain the same IP address for up to 24 hours, making them ideal for various uses including social media automation and social media management.

Features:
IP rotation: The interval at which the proxies rotate depends on the specific plan you have purchased. With the 1-day plan, you have the option to manually rotate IP addresses once every 6 minutes. For the 30, 60, and 90-day plans, you can either manually or automatically rotate your IP address every 6 minutes.
Static IPs: Offer static residential and datacenter proxies. The proxy provider doesn't offer rotating datacenter proxies. Their datacenter proxies are IP-bound, meaning you can't use them across multiple devices if these devices are assigned different IP addresses.
City and region-level targeting: Only available for residential proxies.
Auto-rotating: Available for residential proxies.
Pricing:
Free trial: If you're registering an account with IPRoyal on behalf of a company, you might qualify for a free trial period. On the other hand, if you're setting up an account as an individual, it's recommended to opt for the minimum traffic purchase for residential proxies, or consider one-day plans for static residential, sneaker, and mobile proxies.
There is no pay as you go payment option.
ProxyEmpire
ProxyEmpire offers static residential, rotating residential, or rotating mobile proxies to manage social media accounts.

Features:
Proxy types: ISP proxies in 21 countries that support both HTTP and SOCKS5 protocols. 110K rotating datacenter proxies in 13 different countries. 4 million 4G rotating and static mobile proxies, 9 million residential proxies with advanced filtering options like region, city and ASN / ISP targeting.
IP rotation: Can be adjusted to change the IP address at intervals ranging from 90 seconds to 1 hour.
Targeting options: The proxy provider offers only country targeting for static residential and rotating datacenter proxies. Dedicated mobile proxies come with city level targeting. Meanwhile, for both rotating residential and rotating mobile proxies, they provide a range of targeting options including country, region, city, and ISP or mobile carrier targeting.
VIP integration: Each residential proxy plan they offer includes VIP integration support.
Pricing:
Free trial: ProxyEmpire does not offer a free trial. They provide a trial option priced at $1.97, which includes 100 MB of residential proxy and 50 MB of mobile proxy data.
There is no pay as you go option.
NetNut
NetNut, initially established to provide proxies for data extraction activities, launched three scraping products in 2023: the Unblocker, Social Scraper, and the SERP Scraper API. They offer 52 million static and rotating residential proxies to create and manage multiple social media accounts.

Features:
Static IPs: Static residential proxies provide session stability for extended durations.
IP rotation: Allow users to change the IP address for each request.
City & state targeting: Offer the option to select proxies based on specific cities and states within the United States.
Pricing:
Free trial: 7-day trial for companies.
Offers monthly and yearly subscription plans.
PrivateProxy.
PrivateProxy is an IT company based in Hong Kong, specializing in Cloud IT services. They provide a range of proxy servers, including those specifically tailored for social media purposes. Social media proxies are dedicated proxies designed for scraping data on social media platforms.

Features:
Proxy type: Offer residential, datacenter and mobile proxies for social media.
IP rotation: Provide both static and rotating IP options for their residential and datacenter proxies.
Synchronous requests:Allow users to send multiple requests to a single website and receive multiple responses using rotating proxies. 
Supported protocols: Offer static HTTP/S and Socks5 proxies. Their rotating proxies are compatible only with the HTTP/S protocol, and they do not offer rotating Socks5 proxies or IPv6 proxies.
Locations: Provide proxies from only from the United States, United Kingdom, Germany, Kazakhstan, Hong Kong, and South Africa. 
Pricing:
Free trial:  They offer 3 private proxies for trial.  To access a free 2-day Backconnect Rotating Proxy Trial, you can opt for the Beginner Package, which includes 200,000 free requests.
They offer their proxy solutions in two categories: static proxies and rotating proxies, each priced differently.
SOAX
SOAX is a proxy service provider that offers proxies for various use cases including social media. Their proxy network includes residential, US ISP, mobile and US datacenter proxies.

Features:
Proxy types: Static ISP proxies (USA) and DC proxies (USA), residential and mobile IPs.
Rotating and static session: The minimum session rotation interval is 90 seconds. You can get a new IP address on each connection request. The default duration of a sticky session is set to last for 180 seconds.
Pricing:
Free trial: Provide $1.99 trial-100 MB for 3 days.
There is no pay as you go option
Social media proxy is a type of proxy server designed for use with social media platforms, acting as intermediary between the user's device and the target social media site.
To automate social media tasks: On popular social media platforms such as Instagram and Twitter, there are restrictions on how many social media profiles can be operated and how much activity can come from a single IP address. Activities like posting and liking can be automated across multiple accounts using proxies. You can leverage social media proxies to appear as each account accesses the platform from a different IP address. Social media proxies mostly used in conjunction with social media automation tools.
Create and manage multiple accounts: For instance, Instagram's algorithm is adept at identifying actions that seem automated or similar to those performed by bots. The platform gathers data from and regarding the computers, smartphones, connected TVs, and other devices linked to the internet that are used to access Instagram. This includes information like IP addresses, operating system details, and device identifiers. If the platform observes unusual patterns in activities such as following, unfollowing, liking, and commenting, it may result in the suspension or banning of your IP address.Different proxies for different social media profiles can help you avoid triggering Instagram's detection mechanism.
Data collection: You can use social media proxies for scraping public data from social media platforms without being flagged as spam or bot-like behavior.
Bypassing geo-restrictions: Proxies allow users to access restricted social media content, helping businesses and create and manage social media campaigns that are specifically designed for audiences in particular regions.
Transparency statement
AIMultiple serves numerous emerging tech companies, including Bright Data and  Smartproxy.
Further reading
For guidance to choose the right residential proxy service, check out data-driven list of proxy providers, and reach out to us: