THETA remains 94% below its all-time high, yet the coin has shown a modest rebound since the start of 2023 and has been trading above $0.90.
Theta crypto began as a small player in a field dominated by giants, with a low market cap. However, the network has since evolved, shedding its under-the-radar status and no longer considered an underdog.
Fueled by its distinctive and potentially valuable real-world applications, particularly in booming sectors like digital media and online video games, Theta has managed to overshadow more highly-ranked crypto projects.
Understanding Theta Network
Theta's core business concept revolves around decentralizing video streaming, data delivery, and edge computing, enhancing efficiency, cost-effectiveness, and fairness for all industry participants. Operated on a native blockchain, the network utilizes two internal tokens, namely Theta (THETA) and Theta Fuel (TFUEL), to power its economy.
Theta's appeal extends in three directions. Viewers enjoy incentives with improved streaming quality, content creators witness enhanced earnings, and intermediaries like video platforms save costs on infrastructure while increasing advertising and subscription revenues.
Users are encouraged to both consume network content and contribute resources, receiving rewards in the form of TFUEL tokens. Being open source, the platform grants token holders governance powers, aligning with the structure of many proof-of-stake (PoS) blockchain ecosystems.
Beyond video, data, and computing, Theta accommodates developers seeking to launch decentralized applications (DApps) on its fully featured EVM-compatible smart contract platform.
$THETA's Historical Price Trends and Future Price Projections
The price trajectory of $THETA has experienced substantial fluctuations. Beginning its journey in 2018 at around $0.2, $THETA underwent a significant transformation in 2021, with its value fluctuating throughout the year.
The coin reached a historic peak of $15.90 in April 2021 but subsequently faced a sharp decline, enduring considerable bearish pressure until April 2022. From May onward, $THETA's token price has shown a consolidative movement until the present.
However, since the start of 2023, it has displayed a moderate recovery. As of now, the $THETA token is valued at $0.97, with a 24-hour trading volume of $49.72 million and a market cap of $826.51 million. Over the last 24 hours, the $THETA price has increased by 6.28%.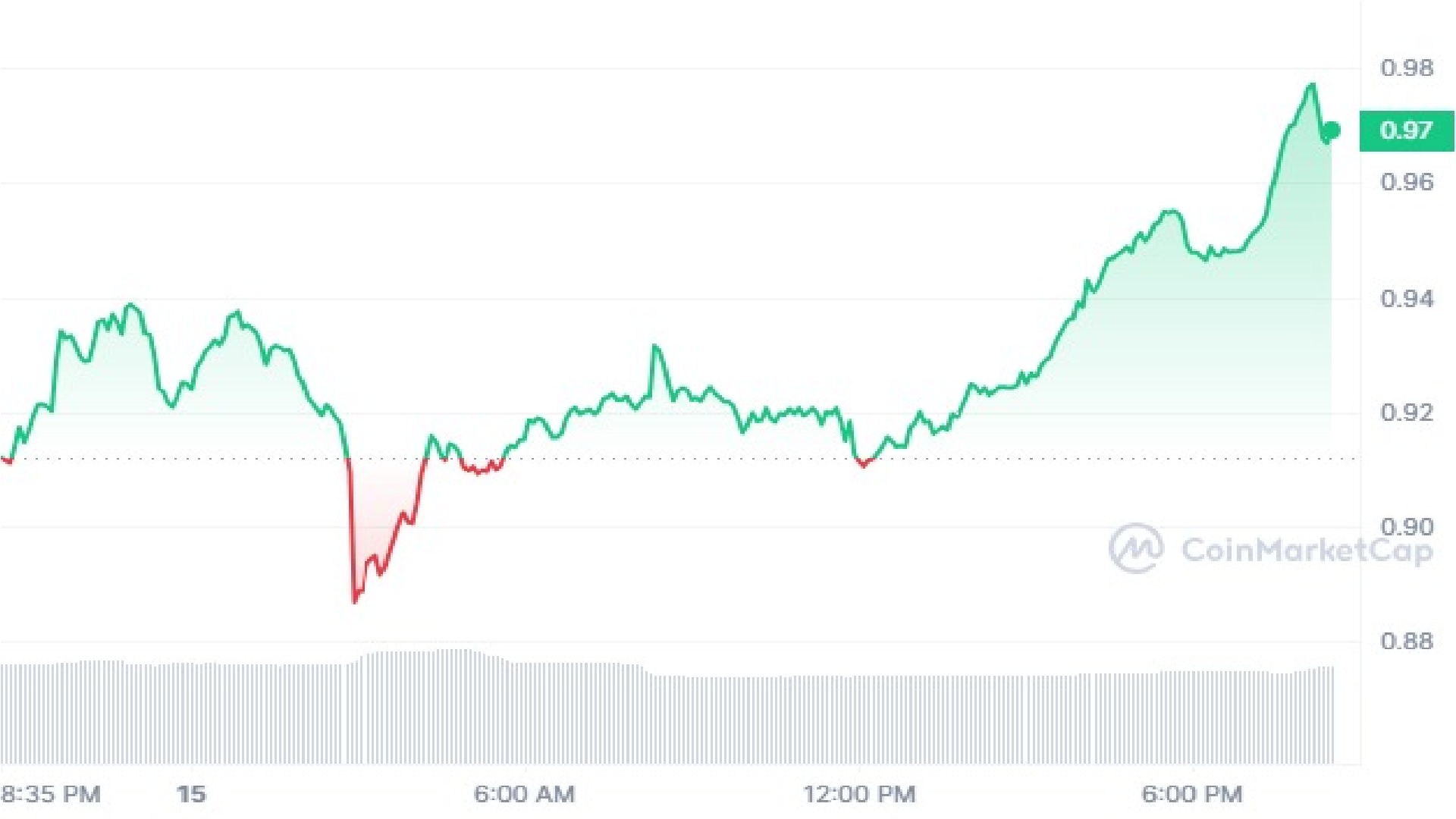 The Relative Strength Index (RSI) is at 65.53, indicating a neutral market position. According to technical analysis, Theta Network is projected to reach $1.20 by the end of 2023. The $THETA token has strong and impressive fundamentals for the crypto community.
Predictions for Theta's price in 2024 suggest that the token will continue its positive momentum and potentially reach a highest price of $2.50. Following that, $THETA might experience a decrease to $2.10, maintaining an average trading price of $2.15.
Watch the comprehensive analysis on $THETA's crypto price prediction in the video above. Subscribe to Jacob Crypto Bury's YouTube channel for more crypto-related information and insights. Join Jacob's engaging Discord server of 17,000 members for exclusive trading tips and insights into upcoming crypto presales.
DappRadar, The World's Leading DApp Store, has Become an Enterprise Validator Node on the Theta Network
DappRadar, the premier global dapp store covering NFTs, DeFi, games, and all other decentralized applications (DApps), has recently launched the latest Theta Validator Node. DappRadar monitors over 15,000 dapp projects across 54 blockchains, including Theta, Ethereum, Solana, Avalanche, and Binance's BNB Chain.
Established in Lithuania in 2018, DappRadar has evolved into the leading dapp platform with over 1 million monthly users. Supported by prominent investors like Prosus (formerly Naspers Ventures), Blockchain Ventures, NordicNinja VC, and Angel Invest Berlin, DappRadar holds a solid foundation.
The Theta validator group is expanding, encompassing various stakeholders within the Theta Ecosystem. Presently, the total number of Theta validator nodes stands at 29, including:
Media and tech companies (Samsung, Sony, Google, CAA)
Crypto projects and companies (DappRadar, Replay, Binance, gumi Cryptos, Blockchain)
Theta community members
Institutional investors (Sierra, DHVC, Heuristic Capital, Venture Reality Fund, and GFR Fund)
Theta Labs
$THETA's trend has displayed notable aggression, suggesting potential substantial growth, particularly in the realm of strategic partnerships.
Investors Flock to Bitcoin ETF Token as Spot ETF Approval Looms
Altcoins maintained their leading position, while Bitcoin stayed positive. The recent surge in Bitcoin is attributed to the rumored approval of its Bitcoin spot ETF. Many traders and investors believe the approval is imminent, potentially acting as a double boost for Bitcoin's price.
This anticipation has led investors to flock to the new crypto presale, Bitcoin ETF Token, which offers a deflationary burning mechanism and substantial staking returns. This deflationary cryptocurrency plans five token burning events, triggered by reaching predetermined milestones tied to the release of the first Bitcoin Spot ETF.
As you may know, various investment management companies have been seeking approval for a spot Bitcoin ETF in the US market for years. The team behind the $BTCETF token aims to leverage this enthusiasm and unite the crypto community in supporting the approval of a spot Bitcoin ETF.
The ongoing $BTCETF presale has already raised an impressive $600k, with each token selling for $0.005. The total supply of $BTCETF is set at 2.1 billion tokens, with 40% allocated to participating users. Additionally, 25% of the token supply is reserved for staking rewards, while another 25% will be burned over time.
Global X's revised #BitcoinETF filing intensifies anticipation for #SEC approval.

Are we finally on the verge of witnessing a breakthrough for #Bitcoin ETFs in the US? 📈🇺🇸

In addition, #BTCETF has now surpassed $600K! 🥇 pic.twitter.com/aalPajzQCB

— BTCETF_Token (@BTCETF_Token) November 15, 2023
The remaining 10% is set aside for providing liquidity to the $BTCETF token markets. A significant aspect of this project's tokenomics is a 5% burn tax applied to each $BTCETF token transaction. Interested investors can visit our guide on how to buy Bitcoin ETF Token here.
This tax gradually reduces the total token supply, designed as a reward for long-term holders and to alleviate selling pressure. Take part in the $BTCETF token presale at btcetftoken.com.
Related
New Crypto Mining Platform – Bitcoin Minetrix
Audited By Coinsult
Decentralized, Secure Cloud Mining
Earn Free Bitcoin Daily
Native Token On Presale Now – BTCMTX
Staking Rewards – Over 100% APY