The THORChain price has jumped 19% in the last 24 hours to trade at $5.74 as of 8:15 a.m. EST. 
THORChain (RUNE) has also skyrocketed by 250% in the past month and crypto analyst Crypto Tony is optimistic that there's more to come. 
UP 91% since our entry at $3.00 legends. Plenty more to come 💯 pic.twitter.com/wL4VfMWyhB

— Crypto Tony (@CryptoTony__) November 15, 2023
THORChain Price Prediction
Looking at the 2-hour RUNE/USD charts, the THORChain price is on track for a continuous bullish short term, as pointed out by the Relative Strength Index indicator, which is currently on an upward trajectory as it now crosses above the midline.
The MACD also moves in the green zone as bulls push for the overbought region as buying pressure escalates.
The 5-day moving average has also exceeded the 15-day moving average to form a golden cross. This shows bullishness on the THORChain price as the token now trades at a yearly high. Looking at volatility, the THORChain price is currently facing high volatility, as shown by the Bollinger bands, which are diverging.
Trading activities have also increased as the trading volume rose 58% in 24 hours.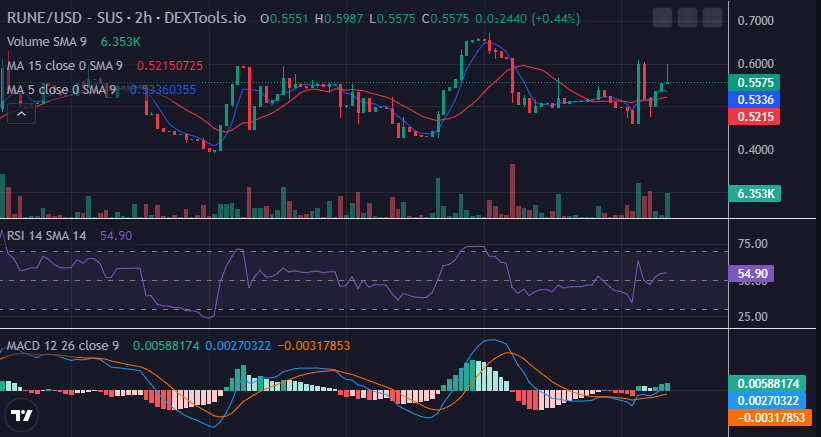 Meanwhile, as the THORChain price looks to carry on its impressive performance, Bitcoin Minetrix's presale continues to make waves, with its BTCMTX token holding prospects of a massive price jump upon the presale completion.
THORChain Price Prediction: Is Bitcoin Minetrix a Better Alternative to RUNE?
Despite the increasingly competitive landscape, Bitcoin Minetrix (BTCMTX) has emerged as a game-changer in the Bitcoin mining world. The project's presale has garnered remarkable success, amassing a staggering $3.9 million in funding.
Warning! ⚠️

Caution advised regarding potential #BitcoinMinetrix Scams!

🔍 Verify from trusted sources.
🚫 Refrain from sharing personal data.
🛡️ Report any dubious accounts.#CryptoSafety #StayVigilant pic.twitter.com/5VGy9ydP4E

— Bitcoinminetrix (@bitcoinminetrix) November 15, 2023
The widespread adoption of Bitcoin has unintended consequences for mining. While cryptocurrencies are designed to be decentralized, the reality is that most mining operations occur on an industrial scale, making it financially unattainable for the average investor. This situation has effectively excluded everyday people from participating in the mining process.
Bitcoin Minetrix offers a solution that combines staking and cloud mining to level the playing field. Historically, cloud mining answered Bitcoin's challenges, allowing individuals to mine Bitcoin through contracts with mining firms. However, excessive fees and rampant fraud have plagued this approach, leaving average investors few options.
The BTCMTX Solution
Bitcoin Minetrix's stake-to-mine approach is a solution that reclaims control for investors. Users can stake their tokens and be flexible to unstake and sell them.
Alternatively, they can choose to hold their tokens and enjoy an impressive annual percentage yield (APY), currently at 149%. This puts the BTCMTX long-term price at a better advantage than the THORChain price, with more people looking to stake.
The third option is equally compelling. Investors can exchange their staked tokens for mining credits, represented by optional burnt secondary ERC-20 coins.
This grants them access to mining time or a share of mining profits without additional charges or hidden fees. BTCMTX's approach is more sustainable and cost-effective, putting investors back in the driver's seat.
With Bitcoin Minetrix, the power to participate in mining is no longer reserved for the elite few. This initiative's innovative strategies are poised to reshape the industry, allowing ordinary investors to thrive.
Bitcoin Minetrix is ushering in a new era of accessibility and profitability in the mining world. So, as you watch the THORChain price, remember to participate in the BTCMTX presale. 
Related News
New Crypto Mining Platform – Bitcoin Minetrix
Audited By Coinsult
Decentralized, Secure Cloud Mining
Earn Free Bitcoin Daily
Native Token On Presale Now – BTCMTX
Staking Rewards – Over 100% APY