Integrating artificial intelligence(AI) into your organization's contact center is a must since ~85% of worldwide organizations feel that AI will provide them with a competitive advantage.1

Talkdesk is an AI-enabled global contact center leader listed as number 8 in the annual Forbes Cloud 100 list, however, it might not be the appropriate contact center software for your company due to its shortcomings (according to user reviews) such as not having skill-based call-routing, complex/insufficient reporting and documentation.2

For businesses that pursue a tailored cloud contact center software, this article will address Talkdesk and its top five alternatives through a detailed evaluation of each vendor.
Comparison of Talkdesk and its top 5 alternatives
| Vendors | Total # of employees* | Total reviews** | Average rating** | Free trial | Pricing*** |
| --- | --- | --- | --- | --- | --- |
| Talkdesk | 1,421 | 3,453 | 4.3/5 | 30-day | $75.00 |
| Salesforce Service Cloud | 70,338 | 4,613 | 4,4/5 | 30-day | $25.00 |
| NICE CXone | 10,419 | 2,942 | 4.5/5 | 60-day | $71.00 |
| Genesys Cloud CX | 7,461 | 2,683 | 4.4/5 | 30-day | $75.00 |
| CallRail | 322 | 1,581 | 4.6/5 | 14-day | $45.00 |
| Aircall | 780 | 1,420 | 4.7/5 | 7-Day | $30.00 |
*Based on the total number of employees on LinkedIn as of 11/14/2023.
**Based on the total number of reviews and average rating data on the Capterra, G2, and Trustradius software review platforms as of 11/14/2023. With Salesforce Service Cloud (sponsored) at the top, other vendors are sorted by total number of reviews in descending order.
***Starting price per seat/month, billed annually
Vendors
Low code – no code
Next best action recommendations
Advanced analytics
Deployment
# of integrations
Talkdesk
✅
✅
In premium plans
-Cloud
-SaaS
-Web-based
-Desktop
60+
Salesforce Service Cloud
Low code
✅
In premium plans
-Cloud
-Mobile
Contact Salesforce
NICE CXone
✅
✅
In premium plans
-Cloud
100+
Genesys Cloud CX
Low code
Add-on
✅
-Cloud
-Desktop
-Mobile
100+
CallRail
✅
✖
✅
-Cloud
-SaaS
-Web-based
100+
Aircall
✅
Add-on
In premium plans
-Cloud,
-SaaS
-Web-based
100+
Vendor selection criteria
While selecting the top five Talkdesk alternatives, we've narrowed down the vendor comparison list by only including the vendors that fit the following criteria:
Number of reviews: 1,000+ total reviews on Capterra, G2, and TrustRadius.
Average rating: Vendors with an average rating of more than 4/5 on Capterra, G2, and TrustRadius.
Employee size: 700+ employees on LinkedIn
Talkdesk
Talkdesk is an AI-enabled cloud contact center platform that offers contact center AI such as interactive voice response (IVR), speech recognition, and call routing.
Talkdesk's cloud capabilities (workforce engagement&analytics, omnichannel engagement, customer experience, and employee collaboration) are connected to its CX platform, which includes: low-code / no-code, conversational AI chat, self-service automation tools, 60+ pre-built integrations, 1,800+ companies around the world, (including Acxiom, Fujitsu, IBM) and 80+ AppConnect solution marketplace.3

Pros
Calls: The customer service and sales team users indicate that making calls regularly to customers all across the United States is convenient.4

Dialer: Users stated that the dialer is easy to use, it is stable when handling inbound/outbound calls, and there are no connectivity issues.5

ACD: According to users, the automatic call distributor immediately connects them with related agents.6

Cons
Call routing: Talkdesk lacks advanced routing features, and skill-based routing is not available.7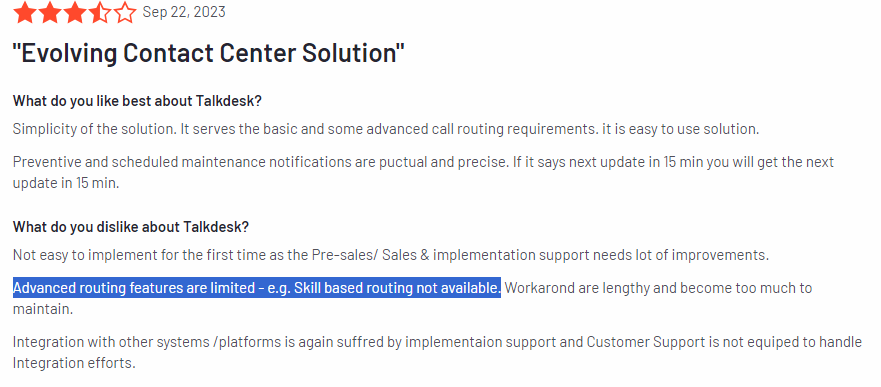 Reporting: Although Talkdesk has a tool to manage reports called "Explore", it is still difficult to determine which report to run for users (many of the reports need to be sent, rather than viewed in the browser).89

Features: There is no feature to report team performance with mail functions.10

Documentation: Some users think that the documentation could be more efficient, they also state that they expect to see more accessibility and documentation covering all the features.1112

User Ratings
Capterra: 4.5/5
G2: 4.4/5
Trustradius: 4.3/5
Pricing (starting price per seat/month)
Essentials: $75.0013
Elevate:  $95.0014
Elite:  $125.0015
Enterprise: Contact Talkdesk
A 30-day free trial is available.
Top 5 Talkdesk alternatives
1- Salesforce Service Cloud
Service Cloud is a cloud contact center product of Salesforce (an American cloud-based software company headquartered in San Francisco, California), established in 1999, and has over 70,000 employees and 150,000 product users globally.16

Service Cloud's contact center automation may help organizations automate operations and repetitive tasks with its low-code/no-code capabilities.
To automate processes, Service Cloud offers an add-on tool called "Einstein" that can be connected to Salesforce's cloud contact center system starting at $50 per user per month.17

Einstein can use contact center AI to assist organizations with: 
Figure 1: Einstein bot calling a customer
Source: Salesforce18

Pros
Contact center functionality: Users report that they may easily manage contact center information such as incident records, contact records, and customer interaction data on a single screen.19

Einstein Bot: Users provide positive credit to "Einstein", stating that Einstein search features provide faster information mining for their agents.20

Customization: Users think that low-code/no-code capabilities make the software highly customizable.21

Cons
Reporting: Creating time-based or historical reporting can be challenging for some users.22

Pricing: Some users are concerned about the high operating expenses of Service Cloud.23

Email integrations: Some users believe that Salesforce should improve its native email integration features as they do not always prefer to integrate their Gmail or Outlook accounts.24

User Ratings
Capterra: 4.4/5
G2: 4.3/5
Trustradius: 4.4/5
Pricing (starting price per seat/month, billed annually)
Starter: $25.0025
Professional: $80.0026
Enterprise: $165.0027
Unlimited: $330.0028
A 30-day free trial is available.
2- NICE CXone
NICE CXone is an AI-powered cloud-based contact center technology used by over one million customer service representatives and 85 Fortune 100 companies.29

NICE CXone assists businesses with gleaming, centralizing, and analyzing all contact center data from various incoming and outbound phone calls, live chat, and voicemail. The platform also uses speech recognition, call routing, virtual assistants, analytics, and low-code / no-code technologies to enable organizations to foster a positive customer satisfaction strategy. 
Pros
Contracting: Users compliment the efficiency of the inbound and outbound contracting processes, noting that callers can request a return call or agents may organize a callback plan.30

IVR platform: According to users, scripting and debugging the IVR screen is straightforward.31

Reporting: Reporting is considered to be easy and helpful with the intuitive dashboard.32

Cons
Call notifications: The duration between notifications for incoming calls is 3-4 seconds, users indicate that they are missing calls since the duration time is short.34

Reporting: Prebuilt reports have no modification functionality.35

User Ratings
Capterra: 4.2/5
G2: 4.3/5
TrustRadius: 4.1/5
Pricing (starting price per seat/month)
Digital agent: $71.0036
Voice agent: $94.0037
Omni-channel agent: $110.0038
Essential suite: $135.0039
Core suite: $169.0040
Complete suite: $209.0041
A 60-day free trial is available.
3- Genesys Cloud CX
Genesys Cloud CX, used by 4,800 organizations in over 100 countries, is an omnichannel cloud contact center as a service with a centralized desktop and mobile interface for managing phone, chat, mobile, and online interactions (has access to AppFoundry market).42Genesys Cloud CX positioned highest in "Ability to Execute" (a quick way to help prioritize ideas worth acting on) according to the 2023 Gartner Magic Quadrant™ for CCaaS report.43The platform includes numerous features such as IVR, call routing, chatbot, AI, sentiment analysis, and analytics. 
Pros
Low-code/no-code: The architecture of the system enables users to quickly design workflows and IVRs with low-code and no-code implementations.44

Call routing: Genesys Cloud CX's call routing algorithms are appreciated by users, increasing their first-contact resolution rates.45

Ease-of-use: Users agree that with Genesys Cloud CX, finding recorded calls, viewing dashboards and team member statuses, and using chat features is convenient.46

Queue times: Queue times are long, according to one reviewer it takes  27 seconds for a customer to get to the queue.47

Cons
Features: According to some users several basic use cases are not available with Genesys Cloud CX. For example, the option to use a phone number for voice and SMS communications is not provided.48

Analytics: Users believe that the software's statistical data reports should be more comprehensive, and employee performance metrics can display a higher number of queues per report.49

Custom reporting: Users claim that Genesys Cloud CX does not allow them to specify what they want to see on exporting reports.50

User Ratings
Capterra: 4.4/5
G2: 4.3/5
TrustRadius: 4.2/5
Pricing (starting price per seat/month, billed annually)
Genesys Cloud CX 1 (Voice plan): $75.0051
Genesys Cloud CX 2 (Digital plan): $95.0052
Genesys Cloud CX 2 (Digital + Voice plan): $115.0053
Genesys Cloud CX 3 (Digital + WEM plan): $135.0054
Genesys Cloud CX 3 (Digital + WEM + Voice plan): $155.0055
A 30-day free trial is available.
4- CallRail
CallRail is an AI-powered cloud contact center software with call tracking and conversation intelligence (650,000 hours of AI-trained speech data) capabilities with more than 300 team members serving 200,000+ companies.56

CallRaill's conversation intelligence tool automatically understands and examines all of your inbound and outbound phone calls by evaluating metrics such as pay-per-click (PPC) campaigns, frequency of phone calls, customer interaction trends, or call length to determine which channels or leads are producing the most revenue for your company.
Pros
AI-call tagging: Users admire the automated AI-enabled call tagging feature.57

Call routing: Users appreciated how smoothly the call routing works, allowing them to correctly monitor customer insights and analytics.58

Phone numbers: Users appreciate the fact that CallRail provides different phone numbers for tracking, which is useful for SEM**** and social advertisements.
****SEM: Internet marketing is the advertising of websites through increased visibility in search engine results pages. 
Cons
Call whispering: The platform does not offer a "whisper"***** technology in the basic plan.59

Call tracking: In CallRail the main function is call tracking, however, users point out the fact that the system malfunctions, sometimes the phone rings, sometimes it does not.60

Reporting: Some users believe that the reporting interface might be improved.61

*****A call monitoring tool that enables you to listen in on a call between a customer and an agent and communicate to the agent without the customer hearing you.
User Ratings
Capterra: 4.5/5
G2: 4.6/5
TrustRadius: 3.2/5
Pricing (starting price per seat/month)
Call Tracking: $45.0062
Call tracking + form tracking: $95.0063
Call tracking + conversational intelligence: $95.0064
Call tracking complete: $145.0065
A 14-day free trial is available.
5- Aircall
Aircall is a cloud-based contact solution, with over 100 software integrations and over 15,000 customers worldwide. The software provides both desktop and mobile apps that may accept and route calls from 100+ countries using its IVR/ACD technology. 66

Aircall can also use AI-powered analytics and reporting tools for call and voicemail transcription services, including AI conversation analysis, to provide call summaries, talk-to-listen ratios, and call metrics.
Pros
Automatic call distribution (ACD): Users were able to quickly set up and configure a call center to route/distribute calls to available employees based on availability, skill set, and priority of incidents.67

Configuration & ease-of-use: Users claim that  Aircall is quick to load (20 minutes) and offers intuitive interface & controls for troubleshooting audio issues.68

Reporting: Users liked the easily accessible contact data and the reports for measuring agent productivity on the intuitive dashboard.69

Cons
Integrations: Users claim that the integration speed with Hubspot is slow, especially for SMS integration.70

Onboarding: Some users have experienced disappointment with the onboarding procedure and couldn't have started dialing after five days of waiting.71

Documentation: Users expect to have more improved documentation in Aircall.72

User Ratings
Capterra: 4.3/5
G2: 4.3/5
TrustRadius: 3.2/5
Pricing (starting price per seat/month)
Essentials: $40.00 (minimum purchase includes 4 licenses)73
Professional:  $70.00 (minimum purchase includes 4 licenses)74
A 7-day free trial is available.
Compared features of Talkdesk alternatives
1- Low-code no-code development
Our research data reveals that "ease of use" is the most frequently used (11%) positive term for low-code and no-code development platforms, according to customer evaluations.
Low-code and no-code platforms offer pre-built templates and drag-and-drop functionality, allowing users to create applications quickly and without extensive coding knowledge. Thus, using software can become as simple as using daily apps, allowing the average business user to become a citizen developer.
2- Next best action recommendations
~60% of consumers expect businesses to know their unique expectations75

Next Best Action (NBA) is a consumer engagement strategy that creates hyper-relevant customer experiences by combining AI and real-time interaction data. Companies can decide the most appropriate and significant action to engage customers by understanding their individual preferences across any channel. 
For example, a customer who has recently purchased a tablet and subsequently encountered advertisements for a charger is a next-best-action recommendation.
3- Advanced analytics
Advanced analytics is an indispensable tool to evaluate contact center data since ~80% of surveyed CX executives believe it is vital to collect business intelligence data from contact centers. 76

With advanced analytics, businesses can pursue a data-centric semi-autonomous or autonomous data (or other content like images) collection/analysis approach to identify deeper insights, make forecasts, or produce recommendations.
4-Deployment
Software deployment is the method of making software accessible for usage on a computer by users and other applications.
Deployment types are listed as follows:
On-premise (desktop): On-premises deployment needs all databases, applications, and infrastructure to be housed and maintained on your company's premises, requiring your IT personnel to manage the deployment on their own. 
Web-based or cloud: Web-based deployment is the continuous deployment of computer resources and service provisioning over the internet ("the cloud") rather than employing private servers. For example, Software as a service (or SaaS) is a way of deploying applications over the Internet.
Note: Cloud deployment functions in the same way cloud deployment does, however, cloud implementations do not require continuous internet connection.
5- Number of integrations
Software integration is the technique of integrating one software into another, often via application programming interfaces (APIs). Software with a high number of integrations is important to automate and execute a wide range of operations and improve the overall functioning of your organization. 
Transparency statement
AIMultiple partners with numerous emerging tech companies, including Salesforce Service Cloud.
Further reading
Please, read our transparent, up-to-date articles to learn more about cloud contact centers.
Please check our transparent and data-driven software list of our contact center vendors.
External Links