The crypto market sees rapid surges and declines in many digital currencies. This phenomenon demands constant vigilance to stay informed. DEXTools' trending cryptocurrency listings give traders and investors a valuable opportunity to closely monitor what's going on with their investments and explore new possibilities.
DEXTools boasts over 10 leading crypto assets in its trending section. It is noteworthy that the market is doing better at the time of this report than it did in the last 24 hours as we reported.
Stock markets in Asia jumped on Friday as they continued a global equity rally. It is driven by better-than-expected Chinese economic data and the optimism from indications that major central banks were coming to the end of their rate hikes.
The U.S. Dollar maintained its position close to a six-month high against major currencies, benefiting from robust U.S. economic indicators. At the same time, the Euro weakened in response to the European Central Bank's suggestion that the recent interest rate hike was likely the last one in this cycle.
In August, Chinese indicators for retail sales and industrial production exceeded economists' expectations, further bolstered by the central bank's decision to reduce banks' reserve ratio requirements for the second time this year, announced overnight.
Most Trending Crypto Today – Top List
However, not everything was rosy, as earlier data revealed the most significant decline in new home prices in ten months, a stark reminder of the property sector's ongoing challenges. This followed Moody's decision on Thursday to downgrade the sector's outlook to negative. 
1. Jinbe Knight of the Sea (JINBE)
The newly launched crypto asset, Jinbe Knight of the Sea (JINBE), has been experiencing significant price increases since its debut on Thursday. JINBE has surged by almost 400% from its initial decentralized exchange price, pushing its market capitalization to nearly $200,000. With more than 100 holders and liquidity exceeding $150,000, the coin has garnered considerable attention.
HOT #10?$JINBE#crypto #eth #pepe #solana #bitcoin #bnb #token pic.twitter.com/YoMOgBJWYN

— Jinbe Knight of the Sea (@JinbeKOTS) September 15, 2023
While a security audit on DEXTools has only raised one token contract alert, it's important to note that the absence of locked liquidity raises concerns about the potential for a rug pull. Consequently, potential investors are strongly advised to exercise utmost caution when considering an investment in JINBE.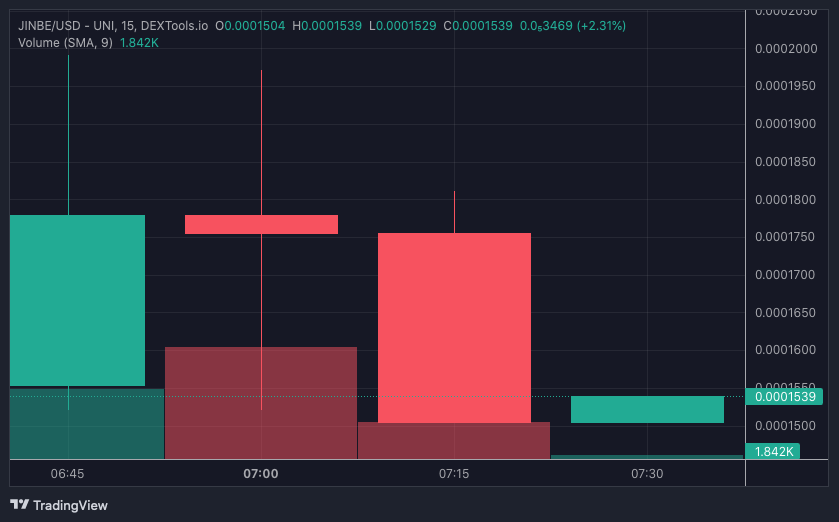 Jinbe Knight of the Sea draws inspiration from the popular anime character named after, known for being a water user in the acclaimed series One Piece. Jinbe, often called the Knight of the Sea, belongs to the Fishman race and possesses extraordinary water-related abilities. Although he cannot generate water, his mastery of Fish-Man Karate allows him to perform a wide range of remarkable feats with it. Jinbe is renowned for his formidable combat skills, taking on formidable opponents such as Big Mom, manipulating water-like fabric, and launching long-range attacks by harnessing water particles present in the air.
2. Pond Coin (PNDC)
Pond Coin (PNDC) has been grabbing headlines since Tuesday, experiencing an impressive 24% surge in value. The major driving force behind this sudden upswing is a significant shift in investment activity from PEPE coin to PNDC.
As an illustrative example, a trader conducted a series of transactions, converting more than $250,000 into PNDC. This trend is not an isolated occurrence.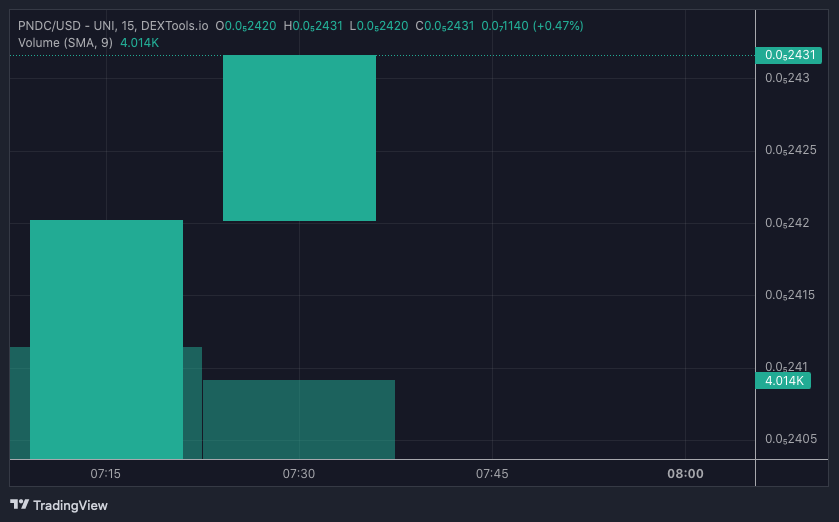 An on-chain analyst platform, Lookonchain, has identified a noteworthy pattern. On Tuesday, three distinct wallets shifted their holdings from PEPE to PNDC. These wallets collectively sold an astounding 1.38 trillion PEPE coins, equivalent to 600 ETH ($965,000), and subsequently reinvested the same amount of ETH to acquire 487 billion PNDC coins.
Pond Coin is the native token of the Marlin Protocol. Marlin's mission is to revolutionize blockchain technology by enhancing node communication and scaling peer-to-peer networks. PNDC operates on the Ethereum blockchain and functions as the lifeblood of the Marlin network. It enables users to delegate to Marlin nodes while offering incentives for efficient network maintenance.
PNDC boasts a circulating supply of 5 billion coins and a total supply of 5.03 billion. Its integral role within the Marlin ecosystem positions it as a token of considerable interest, especially as it garners attention among PEPE coin enthusiasts.
The Pond project also employs an innovative method for incentivizing traders who use its platform, encapsulated in the motto "More swaps, more drops."
Achievement Unlocked 🏆

🐸 https://t.co/drhxZvjlak 🟪 pic.twitter.com/F7fCFfMjSy

— Pond Coin (@Pond0x) September 14, 2023
For instance, when Pond Coin launched, it offered traders 2x PNDC token rewards for trading Shib tokens and an enticing 4x reward for trading Pepe. Currently, traders can enjoy 3x PNDC rewards for all trades conducted on Chainlink.
This unique incentive structure has garnered substantial enthusiasm among traders, contributing to the 2,000% jump in PNDC price in just under a week since its launch. Furthermore, the decentralized exchange associated with Pond has recorded a trading volume exceeding $50 million.
While it remains uncertain whether Pond Coin can compete with established giants like Uniswap and SushiSwap, one thing is evident: $PNDC has captured traders' attention and is currently a token worthy of close observation.
3. Mog Coin (MOG)
Mog Coin (MOG) is a pure speculative crypto asset without any significant purpose beyond providing quick profits to traders. This is evident in the token's heavy reliance on memes, featuring references to figures such as Milady Maker, Pepe, Kim Jong Un, and more.
The token has made an explosive debut, registering a remarkable 4,200% surge in value during its initial month after launch. However, this appears to be just the beginning for MOG, as the token continues to rally this week, accompanied by a trading volume exceeding $500,000.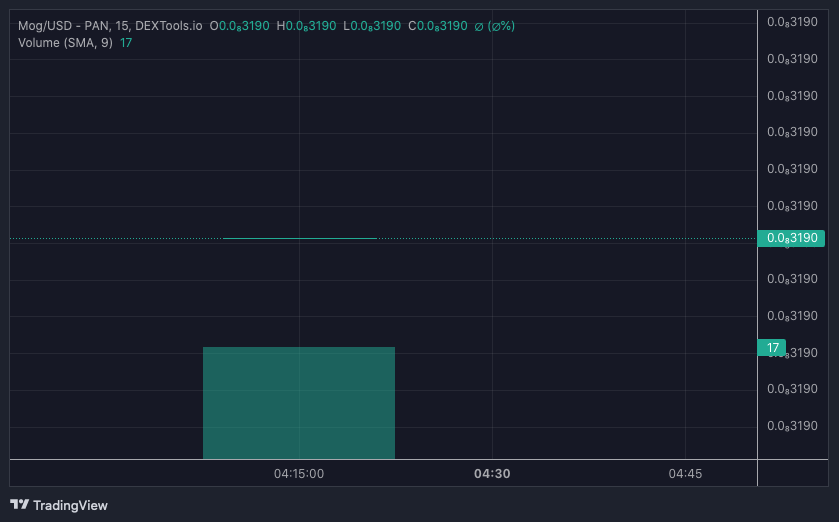 According to DexTools, MOG now boasts a community of over 4,500 unique token holders and has locked liquidity approaching $720,000. While it remains uncertain when the market sentiment for MOG might turn bearish, this situation appears to present a potential opportunity for traders to capitalize on timing the peak and making swift profits.
What Might Be The Next Top Trending Crypto?
Wall Street Memes is still riding the waves of the current spirit of the crypto presale movement. It cleverly satirizes the avarice and recklessness often associated with Wall Street and traditional finance. Simultaneously, it fosters community among its members, encouraging them to hold onto tokens like WSM and find humor in the face of financial setbacks.
That's messed up. Who would do that? Now step by step, how EXACTLY did she do that? pic.twitter.com/L5FPkB967Y

— Wall Street Memes (@wallstmemes) September 14, 2023
This project has garnered substantial support from the r/WallStreetBets community, demonstrating its ability to influence financial markets significantly, as seen with the GameStop stock phenomenon.
Even meme maestro Elon Musk has taken notice, sharing multiple memes from the Wall Street Memes project. The project has amassed an impressive following of over 270,000 on Musk's Twitter account.
Financial analysts hold an exceedingly bullish outlook for WSM, with many suggesting the potential for tenfold returns once the token becomes available on exchanges. Notably, a portion of the token supply is locked at launch, a factor that could result in an overwhelming demand for WSM, potentially driving its price to new heights.
Traders have a final opportunity to purchase WSM during the presale at $0.0337 before it becomes accessible on exchanges. The upcoming exchange listing promises to be a highly anticipated event.
Visit Wall Street Memes.
Read More
Ends Soon – Wall Street Memes
Early Access Presale Live Now
Established Community of Stocks & Crypto Traders
Featured on Cointelegraph, CoinMarketCap, Yahoo Finance
Rated Best Crypto to Buy Now In Meme Coin Sector
Team Behind OpenSea NFT Collection – Wall St Bulls
Tier One Exchange Listings September 27
Tweets Replied to by Elon Musk