In a rapid turn of events, the crypto market broke out from its last bearish trend in the last 24 hours. As reflected in our previous reports, the market struggled in the red zone for up to four consecutive days.
It was challenging to see unscathed top trending coins in that period, but the bullish breakout promises to smother the market. The crypto market surged by over 3.6% in the last 24 hours to the cheer of traders and investors. With the surge, the top trending cryptocurrencies on DEXTools are attracting more investment.
Meanwhile, global stocks experienced a downturn after a continuous five-session climb, oil prices slid, and a minor uptick was observed in the U.S. Dollar on Thursday. This shift came as markets grappled with the likelihood of declining interest rates following almost two years of consistent market upswings.
In Europe, the STOXX 600 index (.STOXX) retreated from a peak it reached over a month ago. Simultaneously, Taiwan's dollar increased after China's President Xi Jinping and U.S. President Joe Biden agreed to reinstate crucial military communications.
This week, global markets have seen another surge, driven by inflation data from the United States and regions like Britain. The development boosted optimism that major central banks may have concluded raising borrowing costs.
Top Trending Crypto Coins on DEXTools
However, the robust retail sales figures reported in the U.S. on Wednesday suggested a potentially non-linear trajectory, shifting the focus to forthcoming euro zone data expected on Friday. Government bond yields globally resumed their overall downward trajectory on Thursday, reflecting growing confidence in the likelihood of upcoming interest rate cuts.
1. Pepe (PEPE)
Amid increasing attention from market analysts and enthusiasts, Pepe (PEPE) is preparing for a significant bullish surge. Recent market movements and heightened trader interest signal an imminent uptrend in Pepe's trajectory, a sentiment resonating within the crypto community and market analyses.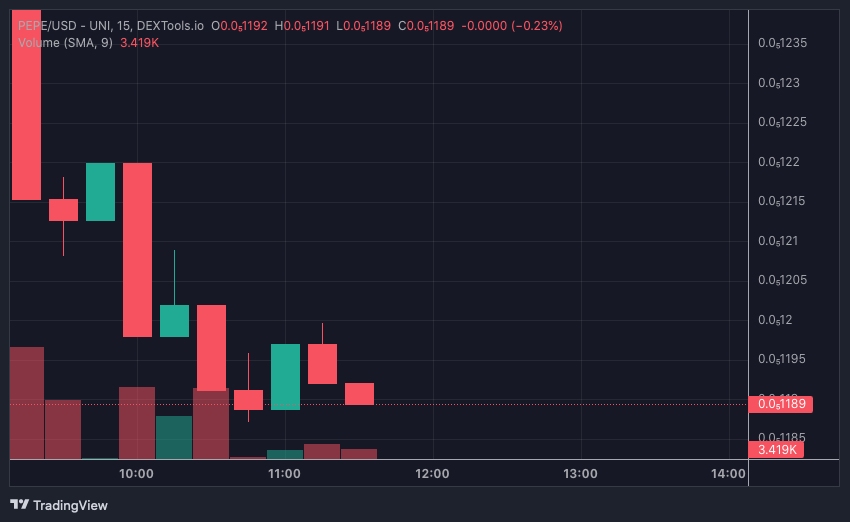 Pepe (PEPE) is currently trading between $0.000000724 and $0.000001463. Notably, its 10-day moving average stands at $0.000001222, indicating a burgeoning momentum in the short term. Simultaneously, the 100-day moving average, set at $0.000000908, suggests a gradual yet consistent increase in its long-term value. The coin's support level, established at $0.0000003009, underscores a robust foundation, while resistance levels at $0.000001779 and $0.000002518 signify potential thresholds for price fluctuations.
Amid the burgeoning market buzz and anticipated bull run, Pepe (PEPE) stands on the brink of a substantial breakthrough. Recent performance and positive market sentiment collectively pave the way for potential growth.
During the writing on Thursday, the price of the popular memecoin, Pepe Coin, has surged by 8.91% to $0.000001217. Over the past 24 hours, its trading volume soared by 38.40% to $149.60 million. The coin has exhibited an impressive 86% surge over the last 30 days.
gm☕️ $PEPE pic.twitter.com/8p5HPeifEw

— Pepe (@pepecoineth) November 13, 2023
Although PEPE faced a downturn from Friday to Tuesday, losing over 21% of its value, the coin's recent rejection of the $0.00000108 support level on the 4-hour chart has reignited bullish momentum. The coin indicates an uptrend on the 4-hour timeframe, suggesting potential regained control by the bulls.
This rebound in PEPE does not have a clear catalyst, indicating its movement may be driven by market sentiment and technical factors. Moreover, the recent release of better-than-expected U.S. CPI data contributed to a more buoyant market outlook, benefiting the memecoin and setting it up as one of the most trending cryptocurrencies.
2. Starship (STARSHIP)
The value of StarShip (STARSHIP) currently stands at $0.01753500, with a 24-hour trading volume of $4,852. It experienced a notable surge of 10.83% in the last 24 hours, with a 5.30% increase observed during the previous seven days. Presently, StarShip holds a market capitalization of $331,227, deriving from a circulating supply of 19 million STARSHIP tokens.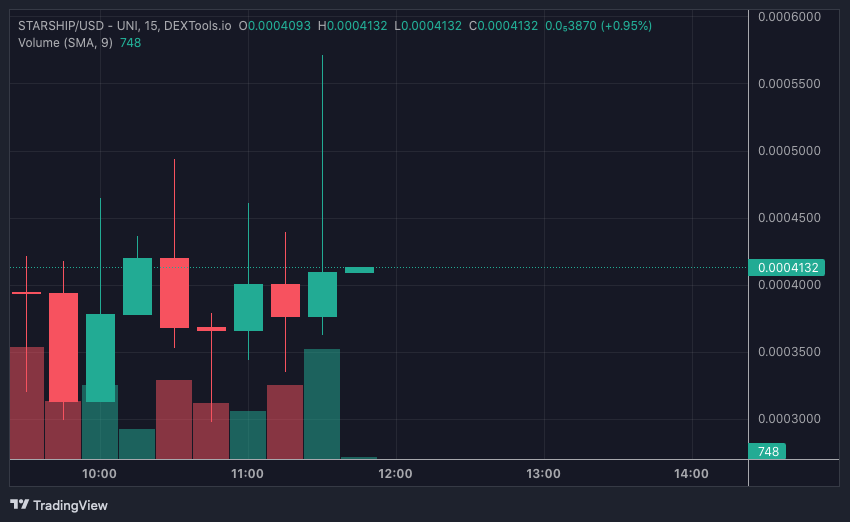 Peaking back into StarShip's historical performance, the coin reached its pinnacle price at $6.11 on November 2, 2021, nearly two years ago. Comparatively, the present value reflects a staggering 99.71% dip from this all-time high. Its lowest point, on the other hand, was registered at $0.000000002448 on June 26, 2021, more than two years back. The current value marks a tremendous increase of 719,953,566.95% from this all-time low.
I'm ready for my ticket to Mars#STARSHIP #STARSHIP #STARSHIP #STARSHIP pic.twitter.com/VNZ6uQKCPq

— Starship (@Erc20Starship) November 16, 2023
Considering a fully diluted valuation perspective, StarShip's FDV is $352,330, representing a statistical depiction of the maximum potential market cap. This estimation assumes that the maximum number of 20 million STARSHIP tokens are presently in circulation. However, the realization of this FDV might take several years based on the emission schedule of STARSHIP tokens.
Assessing StarShip's recent performance compared to its peers, the coin has showcased a 5.30% surge in the last seven days, surpassing the 3.40% uptick observed in the global cryptocurrency market. This can pump it up to become a top-trending cryptocurrency in a short time.
Regarding market sentiment, the community's outlook towards StarShip remains bullish, with over 60% of users expressing positive sentiment about StarShip (STARSHIP) today.
3. CRESO (CRE)
Creso (CRE) also gained substantially in the last 24 hours as its price is $0.00034065. It exhibited a substantial 38.70% surge in the previous 24 hours. However, data on the circulating supply of CRE tokens is unavailable today, preventing an assessment of its market capitalization.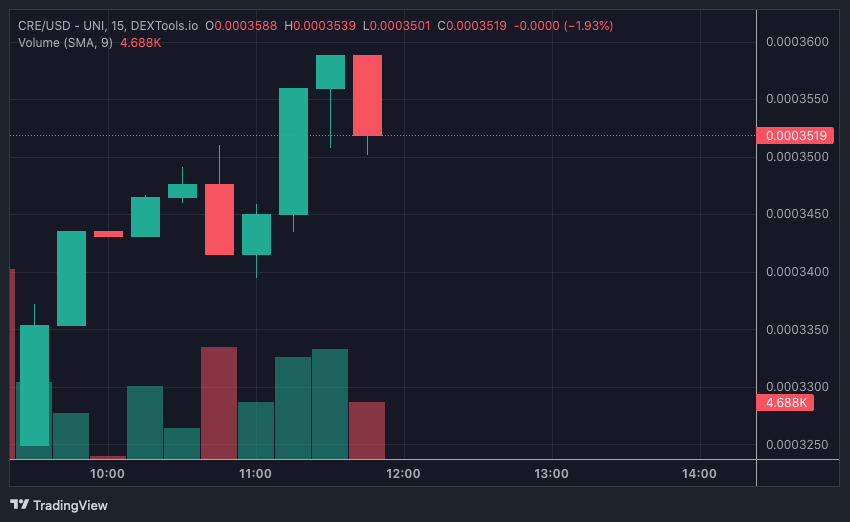 Creso's historical performance showcases its all-time high, marked at $0.00035519, attained on November 16, 2023, merely an hour ago. The price reflects a marginal 2.46% decrease from this peak value. Conversely, the lowest point for Creso (CRE) was registered at $0.00015506 on November 15, 2023. The current value stands significantly higher, marking a notable 123.43% increase from this all-time low.
In terms of recent price performance against its peers, Creso (CRE) has observed a 0.00% change in the last seven days, showing underperformance compared to the 2.90% uptick in the global cryptocurrency market and notably lagging behind similar Ethereum Ecosystem cryptocurrencies, which have surged by 12.70%.
Really enjoyed @VitalikButerin's talk on Cryptography and Society at #Progcrypto. His insights into tech's impact on society are so thought-provoking. A big thank you to @PrivacyScaling and @0xPARC for organizing this great event. 🌐🧠 pic.twitter.com/nBvANboOCw

— creso (@cresowallet) November 16, 2023
Despite these figures, the market sentiment toward Creso remains predominantly bullish. It is also making waves as a top-trending cryptocurrency.
What Might Be The Next Top Trending Crypto?
Meme Kombat's presale has recently garnered substantial attention, raising over $1.7 million in funds. This presale offers 50% of the total MK token supply at a discount before the launch.
The $2 million milestone is closing in and we're ready to give away another large amount of USDT

Hands up if you've entered🙌 pic.twitter.com/gLrYrdwHwF

— Meme Kombat (@Meme_Kombat) November 16, 2023
Furthermore, the presale adopts a staged approach, spanning seven-day intervals, with a 10% increase in token price per new stage. This strategy has sparked significant conversation about MK's future, with various crypto influencers highlighting the token.
Adding to the buzz is the project's founder, Matt Whiteman, a seasoned figure in crypto and gaming. Whiteman, a fully identified project lead, brings credibility through his extensive experience with companies like North Technologies and Phat Loot DeFi, contributing to the growing enthusiasm surrounding Meme Kombat's ambitious roadmap.
After the presale, Meme Kombat is scheduled to unveil its gaming platform officially, granting users access to the battle arena for the first time. The inaugural season will commence immediately, offering players the chance to engage with famous meme coin mascots, climb leaderboards, and earn rewards.
Moreover, the project plans continuous enhancements to gameplay, introducing new characters and game modes post-launch.
Visit Meme Kombat.
Read More
New Crypto Mining Platform – Bitcoin Minetrix
Audited By Coinsult
Decentralized, Secure Cloud Mining
Earn Free Bitcoin Daily
Native Token On Presale Now – BTCMTX
Staking Rewards – Over 100% APY