Fine token (FINE) is trading with a bullish bias after a 377% rise from its debut price of $0.00000001562 recorded on September 13 to an intra-day high of $0.00000007421 recorded on September 15. At the time of writing, the token is valued at $0.00000006630. As a result of this remarkable move, it is trending on giant social media platform X for recording 100X gains.
🔥 $FINE is infinitely close to 100X🙈🙊 MEME is always crazy🔓

💸 Contract address: 0x75c97384ca209f915381755c582ec0e2ce88c1ba

🚀 Chart: https://t.co/3JDg3CP7BV

👍 Global Telegram: https://t.co/BrRXES9DVL

👍 TwitterX: https://t.co/XL5I9lv30v pic.twitter.com/1VYE01nShd

— 东方龙 🇨🇳Crypto Chinese Calls (@Dongfang_kols) September 15, 2023
FINE is a new meme coin, leveraging the ongoing market lull to solidify its presence. Highlighting that "this is fine" on its social media platform, the project advertises as the go-to place for the entire industry to rally behind. "With all the uncertainty about market conditions, regulations, and political events," FINE commits to taking investors from the depths of the bear market, with promise even for the skeptics that "EVERYTHING IS FINE."
the "this is fine" meme is one this entire space can rally behind. with all the uncertainty about market conditions, regulations & political events. at the depths of the bear market, we keep the attitude that EVERYTHING IS FINE.

🔥🔥🔥🔥🔥🔥🔥🔥🔥🔥🔥🔥🔥🔥 pic.twitter.com/76SFNhb1r4

— $FINE (@thisisfinerc) September 11, 2023
Coinbase Effect Playing out For FINE Token
The Fine token has earned its place among the top trending pools on Gecko Terminal while at the same time making it to CoinMarketCap's top gainers list today.

$FINE TOP TRENDING POOLS ON #GECKOTERMINAL 🔥 pic.twitter.com/dZ3JQa5VWj

— FINE (@FineBSC) September 15, 2023
It boasts the most views on Crypto.com over the last 24 hours, with investors looking to ride on the rally in pursuit of the Coinbase effect.
$FINE is token gained the most views over last 24 hours on https://t.co/MnFBcVKApo 🔥 pic.twitter.com/dCuIOSaciM

— FINE (@FineBSC) September 15, 2023
The token recently secured listing on the MEXC exchange, further solidifying the Coinbase effect.
🚨#MEXC new listings alert!

📈 $FINE/USDT will list in the Innovation Zone at 09:00 on Sep 13 (UTC).

🔹Deposit: Opened
🔹Withdrawal: Sep 14, 09:00 (UTC)

Details: https://t.co/vHC30H6D7r pic.twitter.com/N0n6qN4rXK

— MEXC (@MEXC_Official) September 13, 2023
For the layperson, the Coinbase effect is when an asset's price skyrockets upon listing on a major exchange. Among the drivers for this turnout is growing investor confidence, mainly when the listing happens on centralized exchanges.
The Allure Of FINE As Touted By LordKEK
LordKeK is a popular name when the FINE token is the subject. His recent post about the project's marketing outperforming that of Pepe Coin (PEPE) inspired optimism among community members.
@lordkeklol knows this will age like $FINE wine 🚀 pic.twitter.com/qlhNgEMsjl

— Star₿ound (@Star_Bound_Gems) September 14, 2023
LordKeK is the lead developer behind the Pepe ecosystem and has been "leveraging his PEPE connections to hasten the global market reach through strategic marketing and centralized exchange listings. The developer also hinted at more listings underway.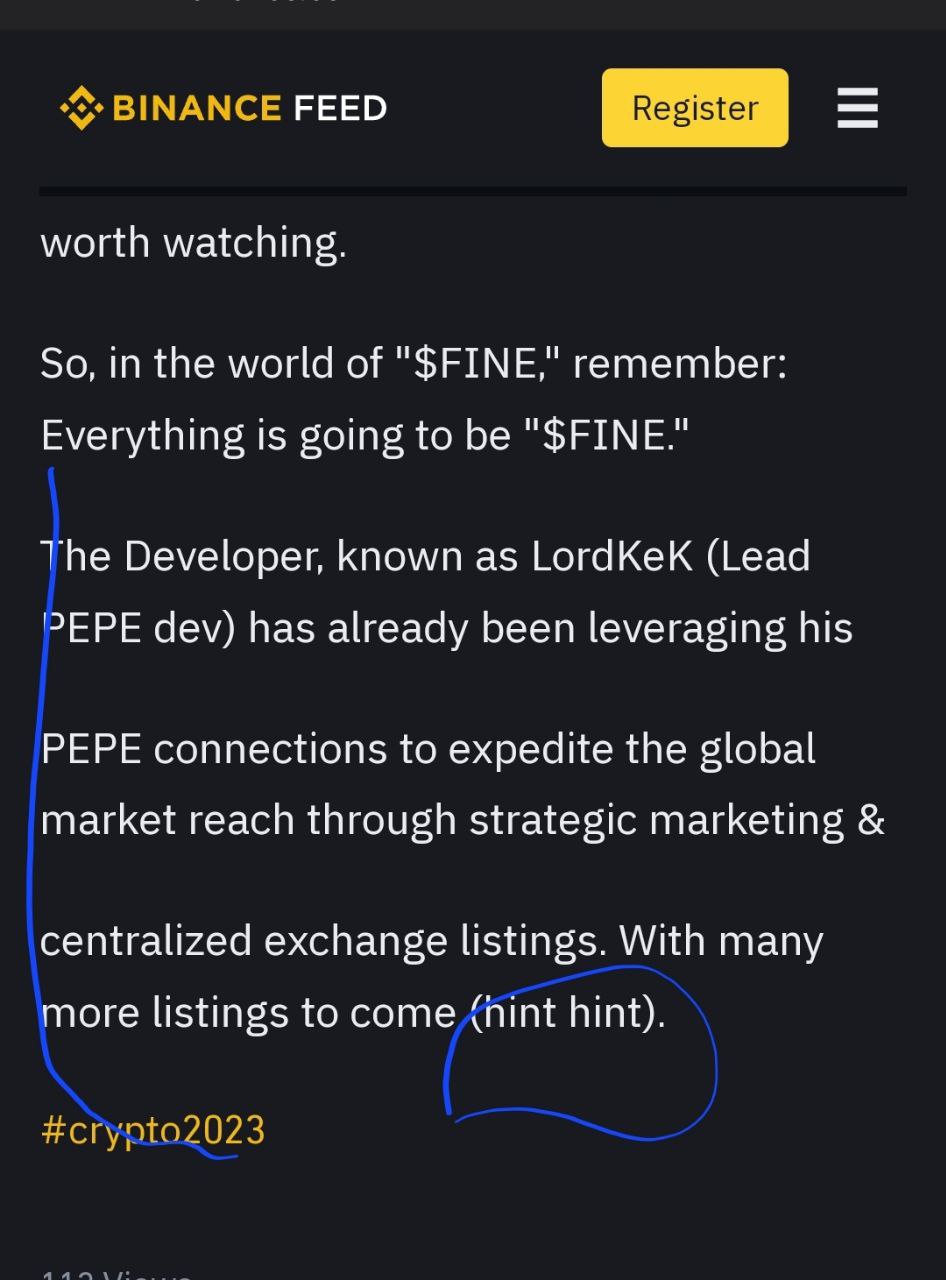 FINE Price Prognosis With Prospects For 2X Value Growth
On a four-hour timeframe, Fine price has been consolidating along an ascending parallel channel. This highly bullish technical formation is expected to rake in more gains for investors as long as it sustains within its confines or stays above its upper boundary.
As indicated, Fine has broken above the upper boundary at around the $0.00000006000 psychological level. Increased buying pressure above this level could increase the value of FINE, sending it further north to record more gains, potentially even doubling its value.
Technical indicators tip the odds in favor of the upside, with the Parabolic SAR tracking Fine price from underneath. For as long as this happens, the asset remains bullish. In addition, the overall trajectory of the Relative Strength Index (RSI) is upward, meaning momentum continues to rise.
Furthermore, the Moving Average Convergence Divergence (MACD) indicator moves north with its signal line. Its histogram bars also record growing volume. Together, these momentum indicators show that bulls have solidified their presence in the market.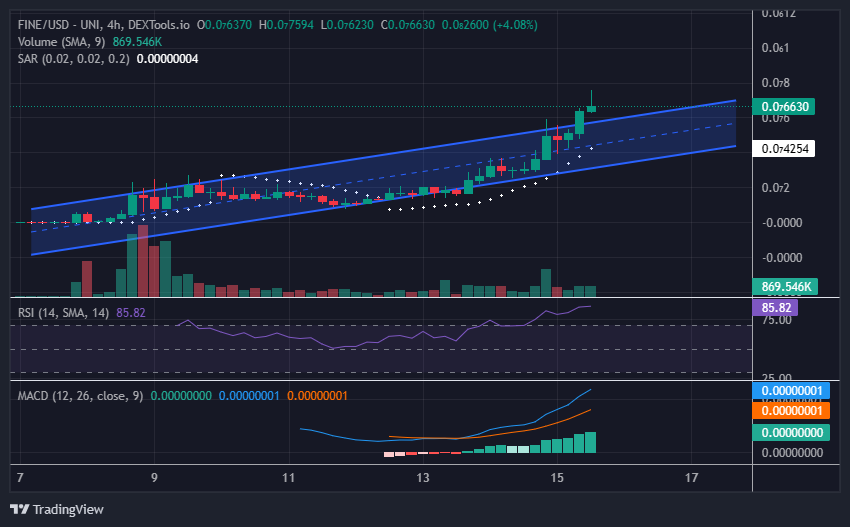 The biggest threat to FINE's upside potential is investors giving in to their profit appetite. This could cajole FINE back into the confines of the ascending parallel channel to limit its gains. In the dire case, the meme coin could fold below the lower boundary of the chart, potentially visiting the $0.00000002000 psychological level. This would constitute a 66% drop from current levels.
Like FINE, another token breaks past every obstacle despite being in the presale stage. BTCBSC is a new project mirroring Bitcoin (BTC) but with better prospects. It is a new low market-cap crypto presale that you should consider adding to your portfolio.
Fine Alternative For FINE Token
BTCBSC takes the stage as the most promising alternative for the FINE token. It is the native asset for the BitcoinBSC ecosystem, a remarkable project here to give those who missed the BTC train of 2011 a second chance. Accordingly, it goes for just $0.99, the same price the flagship crypto retailed for 12 years ago.
Embrace the nostalgia of Bitcoin's beginnings with #BitcoinBSC! 🕰️

Revisiting April 2011 prices, when #Bitcoin cost was only 99¢ each. 🚀

Join us on this journey down memory lane and experience market accessibility like never before.

🔗https://t.co/oM0YP8IlbV pic.twitter.com/dUJluWiWeW

— Bitcoinbsc (@Bitcoinbsctoken) September 12, 2023
The project continues to cruise through its presale with unparalleled success. Never in the history of presales has a project breached the $2 million mark in under two weeks, adding to its success potential.
🚀Breaking News!📢#BitcoinBSC has passed the remarkable $2 million mark!

A massive shoutout to the incredible #CryptoCommunity for their huge support!

Join the #Presale today and seize the chance to generate passive earnings by staking your $BSCBSC!💰https://t.co/oM0YP8IlbV pic.twitter.com/bJVfNPIojX

— Bitcoinbsc (@Bitcoinbsctoken) September 15, 2023
Join the BTCBSC presale today and witness the blend of Bitcoin's timeless value and Binance Smart Chain innovation. The project lets you generate passive income with staking, linked to Bitcoin's original block reward system.
Discover the fusion of Bitcoin's legacy and Binance Smart Chain in #BitcoinBSC! 🚀

Our sustainable #Staking method fosters enduring dedication and community involvement.

Join the #Presale today and secure your $BTCBSC #Tokens!

🔗https://t.co/oM0YP8IlbV #CryptoCommunity #Web3 pic.twitter.com/kyZSmpOPRD

— Bitcoinbsc (@Bitcoinbsctoken) September 14, 2023
According to the Bitcoin BSC website, almost 1 million BTCBSC tokens have been staked with an Annual Percentage Yield (APY) of 266%. Similarly, the block rewards are 0.25 per BSC block, the same as that of Bitcoin.
Meanwhile, investors must always exercise caution when interacting with projects, especially when they have fundamentals as good as Bitcoin BSC and perform as well as it does in the presale. This explains why bad actors are already trying to exploit it with fake profiles. Stay alert, and always buy BTCBSC here.
Also Read:
Ends Soon – Wall Street Memes
Early Access Presale Live Now
Established Community of Stocks & Crypto Traders
Featured on Cointelegraph, CoinMarketCap, Yahoo Finance
Rated Best Crypto to Buy Now In Meme Coin Sector
Team Behind OpenSea NFT Collection – Wall St Bulls
Tier One Exchange Listings September 27
Tweets Replied to by Elon Musk