Oasis Network has conquered the prevailing bearish pressure as its price has accelerated. ROSE trades at ~$0.0427, with more than a 5% increase in the past 24 hours as of 05:45 AM EST on September 18.
The impressive performance responds to the overall crypto market trend, which increased following improved investor sentiment within the past few days.
With the strong presence of the bulls, Oasis has exceeded critical moving averages. However, the question remains: How long can ROSE sustain this bullish trend?
Oasis Network Scales Higher in Days – Will its Price Double by Year's End?
Oasis Network witnessed increased selling activities at the start of September, slipping off the $0.4 price level to a month low of $0.3701 on September 11. However, the presence of buyers has become intense these past few days, successfully pushing the coin back to the $0.4 price level.
Moreover, from its opening price of $0.04001, ROSE's accelerating price indicates its readiness for a more bullish run.
ROSE has recorded a 13% surge in value over the past seven days. Its 30-day price action reflected an increase of almost 3%. Its impressive performance is higher than most prominent crypto assets as the general crypto market trend has been on a lower scale within the past month.
Further, Oasis Network has recorded a staggering 156% increase in its 24-hour trading volume, pushing its value to over $16.3 million, a sign of increased buy demand.
A substantial buying spree in the future could exert a higher upward push on the price of ROSE. If the token consistently scales above its key SMAs, Oasis Network will trigger a notable upturn, potentially doubling its price.
ROSE Buyers Force Price Recovery Today

ROSE has formed a bullish engulfing pattern on the daily chart breaking out of the downtrend between September 16-17 createorm a large green candle.
This green candle indicates that the buyers have entered an aggressive accumulation phase and will likely sustain the rally in the coming days.
Meanwhile, ROSE is close to the upper band of the Donchian Channel (DC), confirming buyers dominate the market.
Also, the Relative Strength Index (RSI) confirms this bullish sentiment, displaying a value of 57.3 and rising as it approaches the overbought region of 70.
Moreover, the Moving Average Convergence/Divergence (MACD) is bullish, displaying a solid buy signal confirmed by its green Histogram bars.
Based on the technical indicators, traders can likely open new long positions in a shorter time frame to make a profit. However, ROSE's ability to overcome its nearest resistance level will likely determine its next price move.
Navigating Key Price Levels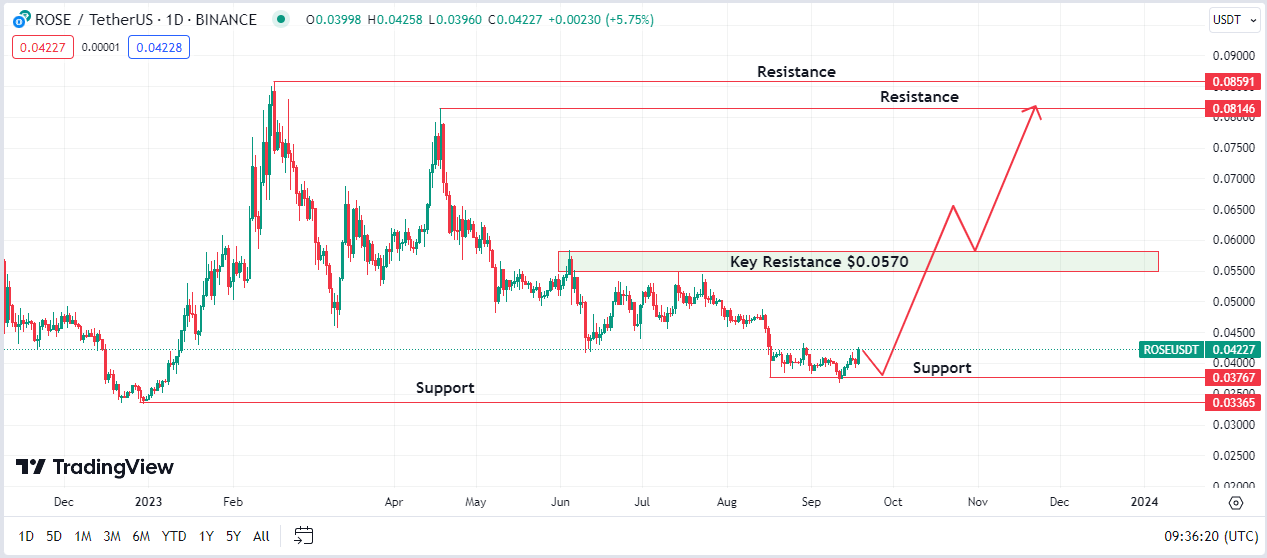 Following the chart above, ROSE is trading bullish today, with buyers trying to dominate the market and sustain an uptrend.
This is evident in the bullish candlestick pattern forming on the daily chart. If the market successfuldevelopsrms the higher high candle, it could reach the key resistance zone at $0.0570.
Furthermore, ROSE trading in the upper band of the Donchain Channels indicator suggests the bulls have enough momentum to overcome the prevailing resistance.
On the other hand, ROSE might retrace from the resistance level of $0.0570 to support at $0.037 if buyers recede from upholding the rally.
It is worth noting that ROSE has tested the $0.0570 level severally but failed to breach it due to high sell pressure.
ROSE Best Alternative – Bitcoin BSC (BTCBSC)
Meanwhile, investors could choose Bitcoin BSC (BTCBSC) as an alternative to overturn investment uncertainty within the crypto market.
Bitcoin BSC is a BNB Smart Chain-based cryptocurrency. Bitcoin BSC mirrors Bitcoin's fundamentals but employs a Proof-of-Stake crypto model to ensure energy efficiency and environmental sustainability.
Like Bitcoin, BTCBSC has a maximum supply of 21 million. It creates a daily earning opportunity for investors through stake rewards. Bitcoin BSC releases stake rewards to users in BTCBSC tokens at 10-minute intervals, mirroring Bitcoin's block reward.
Bitcoin BSC Impressive Presale and Real-World Utility Value
With a low entry price of $0.99 (equivalent to Bitcoin's price in 2011 before its massive boom), BTCBSC aims to replicate Bitcoin's early boom, offering investors a chance to enjhugeive returns.
Already, the presale has proven its explosive potential as it has raised more than $2.78 million within a short period. This represents a more than 45.8% achievement of the $3.96 million presale soft cap.
Further, Bitcoin BSC offers a lucrative real-world utility to users through its staking program. It incentivizes investors by allowing them to stake their BTCBSC coins to earn up to 310% APY.
Investors could join the presale by buying the token with ETH, USDT, or BNB on the Bitcoin BSC official website.
Related:
Ends Soon – Wall Street Memes
Early Access Presale Live Now
Established Community of Stocks & Crypto Traders
Featured on Cointelegraph, CoinMarketCap, Yahoo Finance
Rated Best Crypto to Buy Now In Meme Coin Sector
Team Behind OpenSea NFT Collection – Wall St Bulls
Tier One Exchange Listings September 27
Tweets Replied to by Elon Musk