X.com has fallen by 4.15% within 24 hours. It trades at $0.07367 as of 6:22 AM EST on September 20 after losing 9% in the last 30 days.
X dipped in tune with the broader crypto sphere during the recent downturn. But while many coins have recovered, X remains down after a brief uptick.
According to CoinMarketCap data, X lost another 21% in the last seven days, with speculation rising that more dips will occur. 
Considering this negative trend, it may be near $0.07174 in the next few hours. Given this bearish performance, can X achieve the expected $0.1 spike by the end of 2023?
X Signals Bearish on Major Technical Indicators – Can It Increase Again?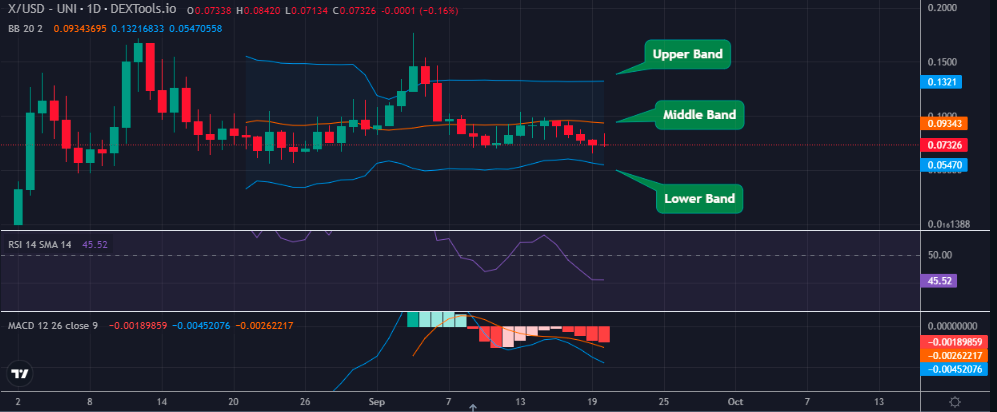 The chart above shows that X.com (X) has lost its bullish momentum to the bear market. The coin's Moving Average Convergence/Divergence (MACD) indicator is below the signal line, with red bold histogram bars. This shows a shift from the bullish to the bearish momentum, suggesting a potential price loss for X.
The red candlesticks formation on the chart signifies increased selling pressure. Also, the coin's Relative Strength Index (RSI) is at 45, moving through the neutral zone. This implies that there have been no significant SELL or BUY trades today. If the sell pressure increases, the RSI will plunge toward the oversold zone below 30. 
Moreover, X is trading between the Centre and Lower Bollinger Band, an oversold market condition. This indicates that the coin's bearish trend could last longer with several recovery attempts.
X's Support Level of $0.07174 Could Trigger Price Recovery Soon.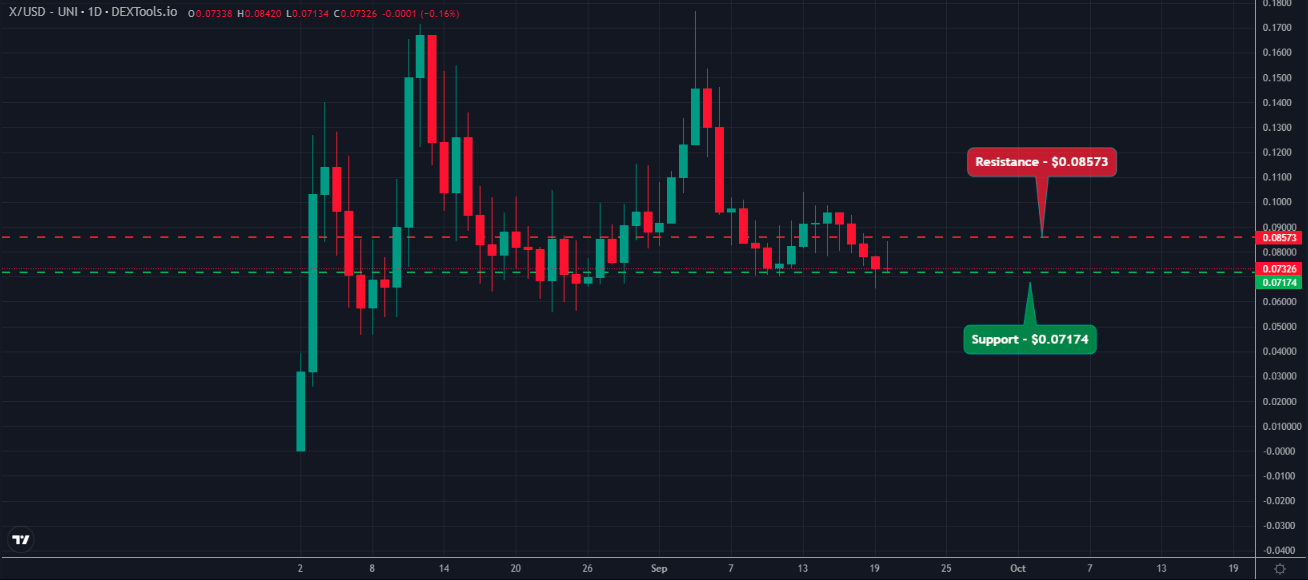 The current market situation shows that X has been bearish in the past four days. In the short term, the coin has dropped a few pips near its support level of $0.07174. meanwhile, its resistance is positioned at $0.08573.
Speculation is rising that X's steady fall could push it below the critical support level. This will spike the fear and doubt among traders in the market, triggering further dip in the coming days.
Nevertheless, its recovery lies in the buying pressure anticipated from traders joining the market at lower prices.  
On the other hand, X is far from the resistance level of $0.08573. The coin could record several rallies if the bulls sustain momentum.
Based on the analysis above, the support level presents a potential recovery point for X.com (X) if those seeking to acquire X at low prices can buy more units in the coming days. 
X.com Alternative – Bitcoin BSC
The uncertainty of X.COM's future has compelled savvy investors to seek opportunities in emerging tokens like Bitcoin BSC. This token shows excellent promise for substantial returns on investment, particularly for early investors.
Bitcoin BSC's operation combines the efficiency of the Binance Smart Chain. This aims to revolutionize how token-based rewards are utilized.
Regarding its presale, Bitcoin BSC has amassed over $3.4 million since September 5, with tokens valued at $0.99. $BTCBSC has garnered significant attention within the crypto community, with analysts speculating on the potential for substantial profits. 
The project entered the cryptocurrency space with a moderate hard cap exceeding $6 million. A key factor for this is its staking feature, which focuses on promoting long-term holding.
In essence, holders of BTCBSC have an enticing opportunity to generate passive income through staking. In the meantime, Bitcoin BSC has recorded over 1.2 million staked BTCBSC tokens. Investors are already enjoying an impressive annual percentage yield (APY) of 216%.
This high APY raises some eyebrows, especially compared to established economies' modest single-digit interest rates. So, to ensure transparency, Bitcoin BSC offers a real-time staking dashboard. The dashboard allows anyone to track the number of active token holders on the platform.
Additionally, the project has undergone rigorous smart contract audits, promising locked liquidity upon its Uniswap (DEX) launch.
Generally, staking has become an attractive way to generate passive income in the crypto world. As such, BTCBSC could gain fame, utility, and adoption as a prominent stake-to-earn token.
The project has also been featured on prominent platforms like Crypto News, Cointelegraph, and other crypto media outlets. These could pave the way for $BTCBSC's potential growth.
Purchasing BTCBSC tokens
Acquiring BTCBSC is easy and done via its official website, thanks to the multiple payment options. Investors and traders can pay $BTCBSC with BNB, USDT, or ETH. Also, card payments are accepted.
All purchases made through the ETH contract will seamlessly transition to the BNB presale contract after $BTCBSC's presale. Token claims will be processed via the BSC network.
Also Read:
Ends Soon – Wall Street Memes
Early Access Presale Live Now
Established Community of Stocks & Crypto Traders
Featured on Cointelegraph, CoinMarketCap, Yahoo Finance
Rated Best Crypto to Buy Now In Meme Coin Sector
Team Behind OpenSea NFT Collection – Wall St Bulls
Tier One Exchange Listings September 27
Tweets Replied to by Elon Musk