The Yearn.Finance price dropped 45% to an intra-day low of $8,258 before recovering a tad.
Its native token, YFI, is selling for $9,163 as of 11 PM EST, recording a 27% drop in 24 hours.
Nevertheless, trading volume is up 35%. The lack of parity between price and trading volume points to increased risk in the Yearn.Finance market. It hints at a possible shift toward a correction or bear market. This is likely, as altcoins have begun to lose their footing, as Bitcoin (BTC) whose cues altcoins tend to follow, is moving sideways with no directional bias whatsoever.
The rate of change for Yearn.Finance price was concerning. Starting November 8, the price had rallied 167% to the November 17 local top of $15,955. The load-shedding exercise for the nine-days work saw five days of gains written off in five hours.
For some, $YFI is rug pull, and for those who know TA, it's hitting a support.

For some, #YFI is crash, and for those who know TA, it's throwback (retest of breakout level)

There is great need of technical analysis knowledge to handle such situation. It's doable…👍#Crypto… pic.twitter.com/jERsyQSdlq

— Ⓜ️ Mihir (@RhythmicAnalyst) November 18, 2023
Typically, weekends tend to register low trading volumes as retail takes a break. The low trading volume exposes the market to increased volatility. This is because a single huge trade has the capacity to move the assets market. One trader has attributed to dump to a single large wallet after on-chain data tools identified a huge transaction from their address.
$YFI wasn't rugpull, on 12 Nov, this wallet (0xE94xx) bought these $YFI and then transferred to wallet (0x6exx) 7 hours ago.
6hours ago this wallet (0x6exx)sent 4.331m$ worth of #YFI to exchange (probably sold out);
So this wallet (0xE94xx) made 1.2m$ from 725k$.
Onchain… pic.twitter.com/rglO3RBIyu

— Bilal Nasir Khan (@BilalNasirKhanI) November 18, 2023
He says, to identify such moves beforehand, "…identify the big holders, create an alert for them using arkm [Arkham Intelligence], whenever they transfer to wallet or exchange you will get notification instantly."
Yearn.Finance Dump Sends Traders Underwater As $87.55 Million In Open Interest Was Wiped Out
For Yearn.Finance, the dizzying crash so up to $3.07 million in long positions liquidated against $1.48 million shorts.

In the process, $87.55 million in open interest was wiped out, comprising long and short positions for YFI.

It caught many traders off-guard, considering the market has been optimistic of late. To a keen eye, the futures data reveals a 40% increase in open interest ahead of the slump. This suggests the move could have been triggered due to the opening of short positions.
With, $1.48 million worth of shorts also liquidated, it could be considered fear of missing out (FOMO) bears that piled on at the last minute and at the end of the 45% crash.
This underscores the need to stay alert and watch out for sell signals.
Had I seen this SHORT sign, I would have been fine. #YFI pic.twitter.com/Q0I8zcabwB

— Lemon 🍋 (@TheCryptoLemon) November 18, 2023
Was It An Exit Scam?
There are theories that it was an exit scam by insiders as almost 50% of the entire YFI supply is held by only ten wallets. Among the ten are wallets belonging to crypto exchanges. With the slump, more than $250 million in market value dissipated in minutes.
Those scamming f**ks front ran the 17K. #YFI

EXIT SCAM https://t.co/xovG5KqUGE pic.twitter.com/I4xW7hy60x

— CoinsKid (@Coins_Kid) November 18, 2023
Yearn.Finance Price Outlook As The Market Reels From the Dizzying Crash In YFI
With the Relative Strength Index (RSI) still southbound, momentum is falling fast, meaning Yearn.Finance could record more losses. The most important Fibonacci retracement level of 61.8% is at play, providing support for Yearn.Finance price at $8,923.
Increased selling pressure could see Yearn.Finance price stretch lower to test yesterday's support presented by the 25-day Exponential Moving Average (EMA) at $8,516. In the dire case, the price could spiral lower, breaching the 70.5% and 79% Fibonacci retracement levels at $7,955 and $6,986 respectively to test the 100% Fibonacci at the floor price of $4,592. This would constitute a 50% fall below current levels.
The Awesome Oscillator (AO) supports this outlook with a red histogram showing after a series of green bars, This is potential evidence that bears are taking over.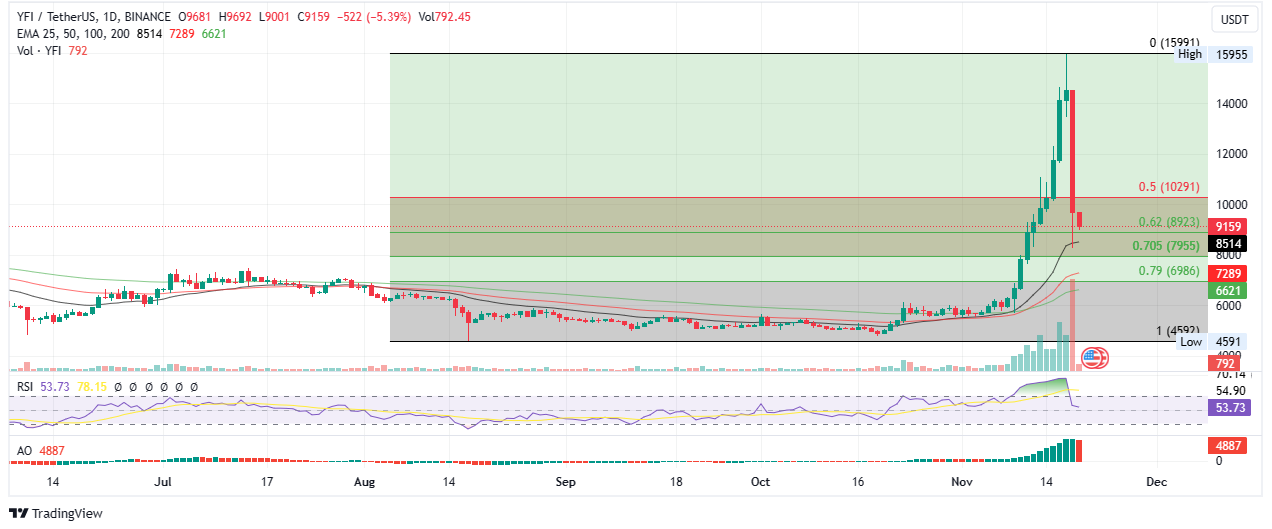 Conversely, increased selling pressure could see Yearn.Finance price pivot at the 61.8% Fibonacci, pulling north to restore above the 50% Fibonacci retracement at $10,291. To reclaim the range high of $15,955, the price must overcome the $12,000 and $14,000 psychological levels.
This is distantly possible considering the RSI is above 50 and the AO is still in the positive territory.
Meanwhile, experts are saying that TG.Casino, a new crypto casino that is luring investors from industry giant Rollbit Coin (RLB), might be the hottest opportunity right now.
A $RLB whale recently invested approximately $150K in @TGCasino_ , making a $50K purchase and staking it. View the transaction details here: https://t.co/xOmwQXqg3e Explore the investor's wallet funding at this address: https://t.co/PmRAWicLMd Notably, part of their Rollbit… https://t.co/rTb10zvSKd pic.twitter.com/ESxGzn7ex8

— Erik Stevens 🐆 (@IHunt100xGems) November 18, 2023
While RLB has been one of the key outperformers in the 2023 crypto market, TG.Casino seems to be muscling in with an ecosystem that the competition can't match.
Promising Alternative To Yearn.Finance
TG.Casino is the most promising alternative to Yearn.Finance, with its native token, TGC, selling for just $0.16 in the presale. So far presale collections have reached $2.565 million, constituting 51.3% of the target objective of $5 million.
Among other use cases, TGC token holders can utilize the project's staking function. Staking rewards are as high as 221.75%. Interestingly, 76.61% of the entire TGC supply has already been staked.
Buying into the TG Casino is more than just getting $TGC 🤩

We offer some amazing benefits that are really attractive as well! pic.twitter.com/7UhJqja127

— TG Casino (@TGCasino_) November 18, 2023
There are only three days to go before the presale price of the TGC token increases. This means you have no time to wait around.  Buy TGC now at current low prices. The token price rises by $0.005 every five days until the hard cap of $5 million is reached.
Visit TG.Casino website here to buy TGC token in the presale. It is considered one of the best crypto ICOs to buy in 2023.
Also Read:
New Crypto Mining Platform – Bitcoin Minetrix
Audited By Coinsult
Decentralized, Secure Cloud Mining
Earn Free Bitcoin Daily
Native Token On Presale Now – BTCMTX
Staking Rewards – Over 100% APY