Bluzelle Buzz still looks bullish, with an upward chart formation and a pending positive cross on the daily chart. It is at the top of an ascending triangle, projecting a ballistic rise to $0.2135. 
BLZ is trading at $0.1394, up 3% over the last 24 hours. This decentralized storage token rose as much as 31% to take the top gainer position as tracked by Coinwink.
Top gainer: #Bluzelle #BLZ $BLZ increased by 31.35% in 24h! Create your Bluzelle (BLZ) #crypto alert: https://t.co/Z5zbPGoCYj pic.twitter.com/LitBBTDsmv

— Coinwink (@Coinwink) September 11, 2023
Bluzelle Buzz is up 7% over the last seven days and 127% over the last month. The monthly surge in the BLZ price was triggered by an announcement by Huobi, a leading crypto exchange, that it was listing the token. 
🔥 $LPT 和 $BLZ USDT 本位永续合约上线@Livepeer @BluzelleHQ

详情:https://t.co/WzNOmOFiv6 pic.twitter.com/ZQsSnVbGam

— 火币Huobi中文频道 (@HuobiGlobalzh) August 14, 2023
At the time of writing, the altcoin is trading in a third consecutive bullish daily session as market participants expect the price to increase.
Bluzelle Buzz Bulls Eye 53% Uptick to $0.21
The BLZ price action has led to the appearance of an ascending triangle on the daily chart. This highly bullish chart formation projects a significant upward move for the Bluzelle Buzz price once the triangle is confirmed. 
This will happen once a daily candlestick close is produced above the triangle's resistance line at $0.145. Above this, the following barriers would emerge from the $0.160 and the $0.180 psychological levels. Another roadblock is found at the $0.20 supplier congestion zone before the BLZ price rises to reach the technical target of the prevailing chart pattern at $0.2135. Such a move would represent a 53% ascent from the current price.
BLZ/USD Daily Chart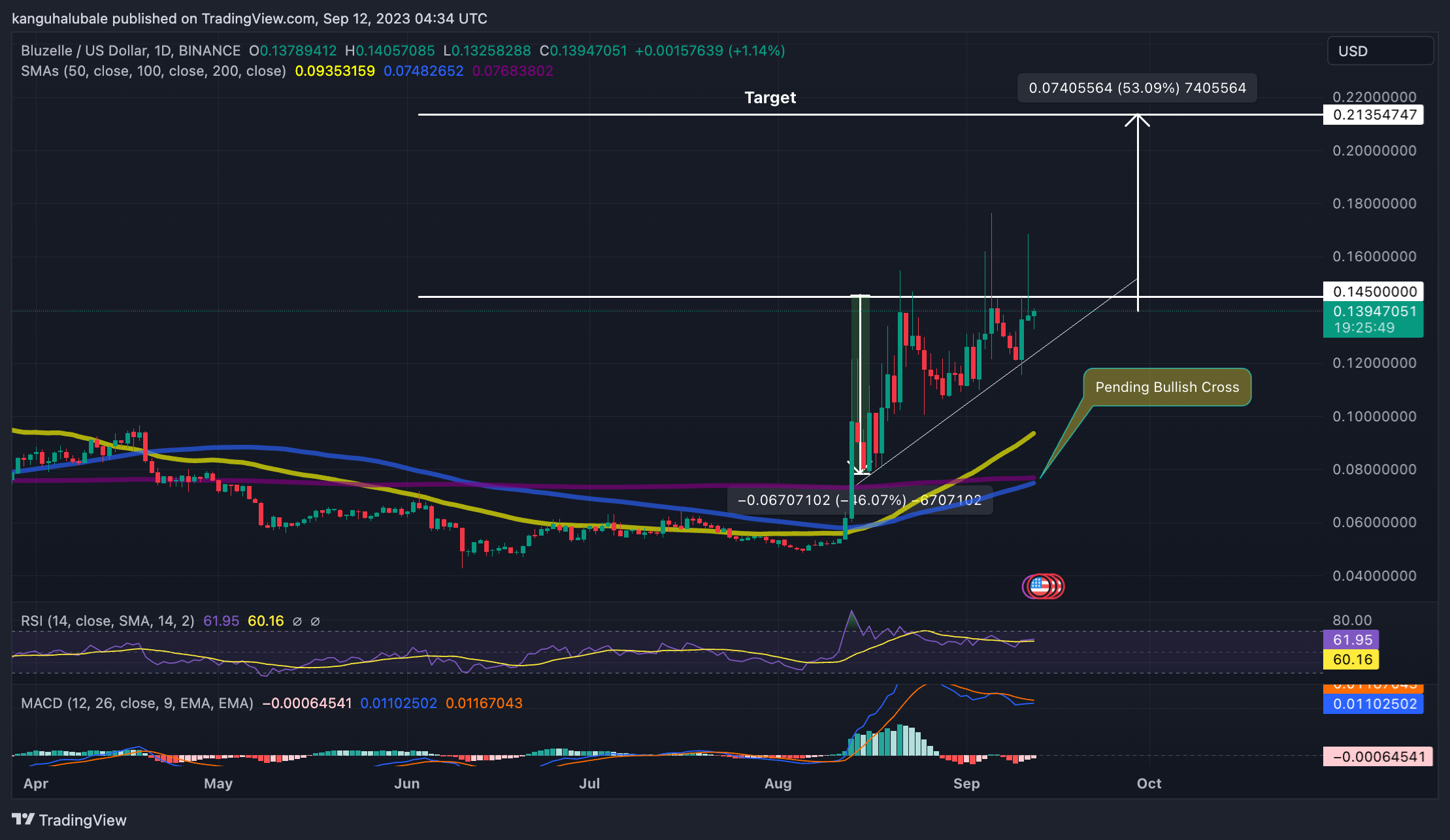 Supporting this positive outlook for Bluzelle Buzz were the upward-facing moving averages. Note that BLZ's northward traction will gain momentum once the pending bullish cross is confirmed on the daily chart. This could occur soon once the 100-day Simple Moving Average (SMA) crosses above the 200-day SMA.
The price was also above the moving averages, which provided formidable support for BLZ at $0.0935, $0.0768, and $0.0748, embraced by the 50-day, 200-day, and 100-day SMAs, respectively. Increased buying from these demand zones is likely to propel Bluzelle Buzz higher.
Additionally, the Moving Average Convergence Divergence (MACD) indicator and the Relative Strength Index (RSI) were moving in the positive region, adding credence to the optimistic outlook. The price strength at 61 suggested that the buyers controlled the BLZ price.
On-chain metrics from Santiment also added credence to Bluzelle Buzz's bullish narrative. The crypto and on-chain data analysis firm posted the following chart on social media platform X: "Bluzelle's supply on exchanges dropped from 55% to 35% amid its rally that has been in progress since last month." 
🐳 #Bluzelle's supply on exchanges dropped from 55% to 35% in the midst of its rally that has been in progress since last month. Our latest insight looks at $BLZ's supply moving to whale cold wallets during this price drop, and a lesson in supply & demand. https://t.co/jIjthVtCA2 pic.twitter.com/2MQgor0dMZ

— Santiment (@santimentfeed) September 6, 2023
Reducing supply on exchanges is usually a sign of accumulation, which means that investors are holding on to their crypto in anticipation of future price increases. According to Santiment, BLZ tokens are being moved to "cold wallets during this price drop, " reducing its market supply. This is likely to lead to increased prices due to increased demand. 
On the downside, BLZ price could turn down from the current levels, with the first line of defense emerging from the $0.130 major support. Additional support lines are found at $0.124, embraced by the triangle's hypotenuse or the $0.120 psychological level. This is where Bluzelle Buzz's downside could be capped in the short term. 
Those seeking to buy the crypto should wait for a decisive close above the triangle's horizontal line. While they wait for this, market participants could look into a new cryptocurrency in presale, Bitcoin BSC, that offers a similar opportunity early adopters had when they bought the pioneer cryptocurrency, Bitcoin (BTC), when it was below $1. 
Promising BLZ Alternatives
Bitcoin BSC (BTCBSC) is now in presale, priced at $0.99 per token. The token is one of the best presales to invest in, with more than $1.25 million raised so far.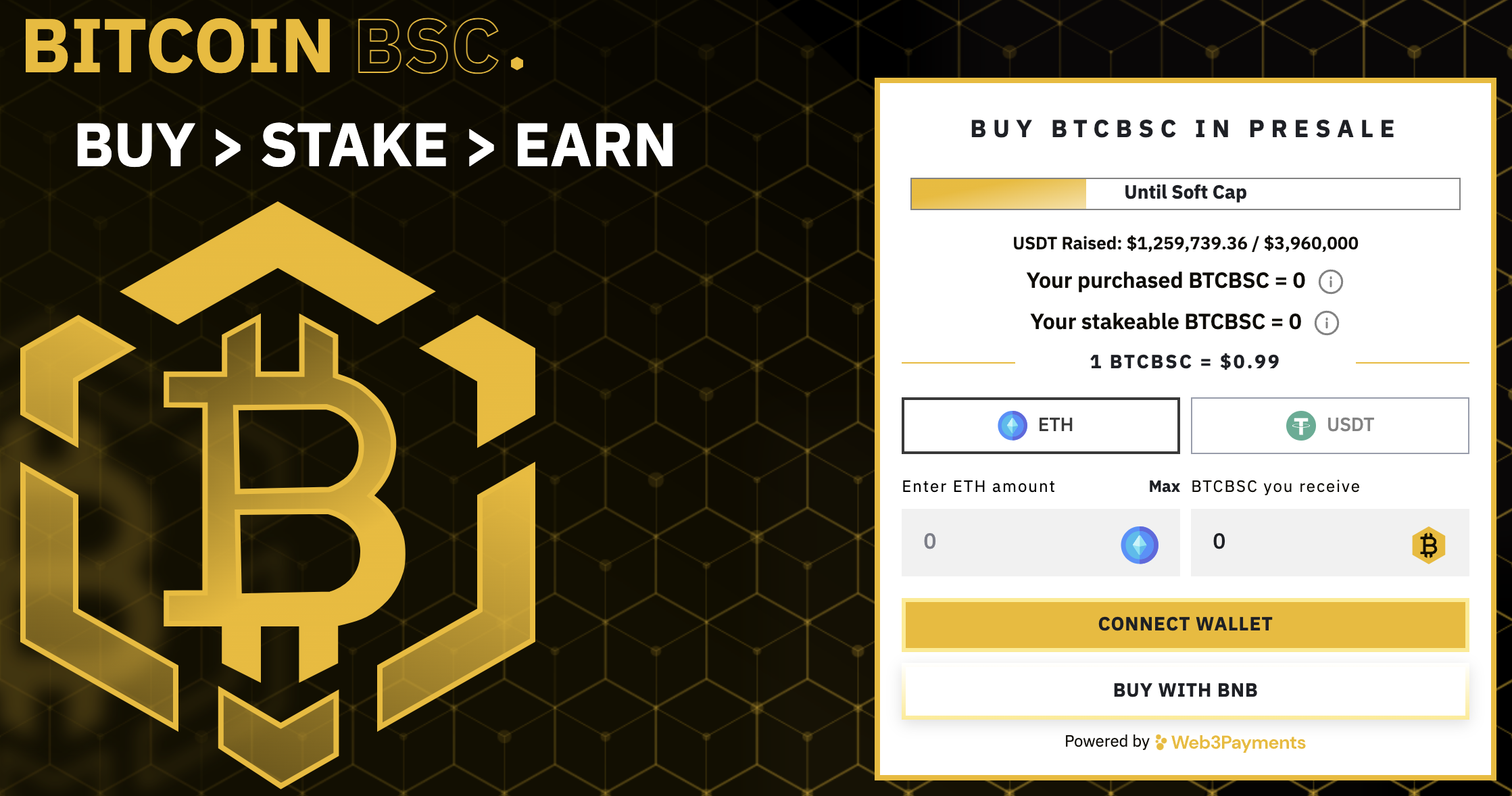 BTCBSC adopts similar tokenomics to the original Bitcoin, with the total supply fixed at 21 million tokens. As new blocks are confirmed, tokens are released and sent to stakers every ten minutes – and set to reward holders of the new cryptocurrency over 120 years.
However, instead of adding more BTCBSC into circulation through the proof-of-work (PoW) mining mechanism like with Bitcoin, the tokens are released into circulation as staking rewards. 
BTCBSC is a BEP-20 standard token built on the Binance Smart Chain (BSC) and compatible with a vast range of crypto wallets, DApps, DeFi protocols, and staking services. It uses the BSC network to provide a greener alternative with lower gas fees. It is worth noting that transactions on the BSC blockchain cost less than transactions on the Bitcoin and Ethereum blockchains.
 Bitcoin BSC currently offers over 400% APY to stakers.
Stake for a greener future with #BitcoinBSC!

Earn rewards tied to your stake and current APY, following Bitcoin's historic schedule since April 2011. Join our growth journey in the #Token ecosystem.

Get in on the $BTCBSC #Presale today! 🚀
https://t.co/oM0YP8IlbV pic.twitter.com/sRVRqmC2Jb

— Bitcoinbsc (@Bitcoinbsctoken) September 6, 2023
Become a part of the community by visiting the Bitcoin BSC website here to learn how to participate in the presale.
Related News
Wall Street Memes – Next Big Crypto
Early Access Presale Live Now
Established Community of Stocks & Crypto Traders
Featured on BeInCrypto, Bitcoinist, Yahoo Finance
Rated Best Crypto to Buy Now In Meme Coin Sector
Team Behind OpenSea NFT Collection – Wall St Bulls
Tweets Replied to by Elon Musk