Compound COMP has continued its uptrend today, September 15, up by 6% in the last 24 hours, according to CoinMarketCap data.
Initially, COMP started the month with a bearish sentiment, which pushed its price down by 27%, creating panic among investors. But surprisingly, the token found support at the $35 price level on September 11.
Buyers regained momentum, pushing its price above $40 on September 13 while targeting the $42 resistance zone. 
As of 8:32 a.m. EST, September 15, COMP is trading at $40 with a trading volume of over $46 million. Given today's uptick, COMP targets the $46 resistance zone, a takeoff point to the $60 price mark. 
Should the token succeed, traders who entered positions at the current price could gain a massive 50% return on their investment.
COMP Price Analysis: Key Indicators Point to Potential Upswing in Coin's Performance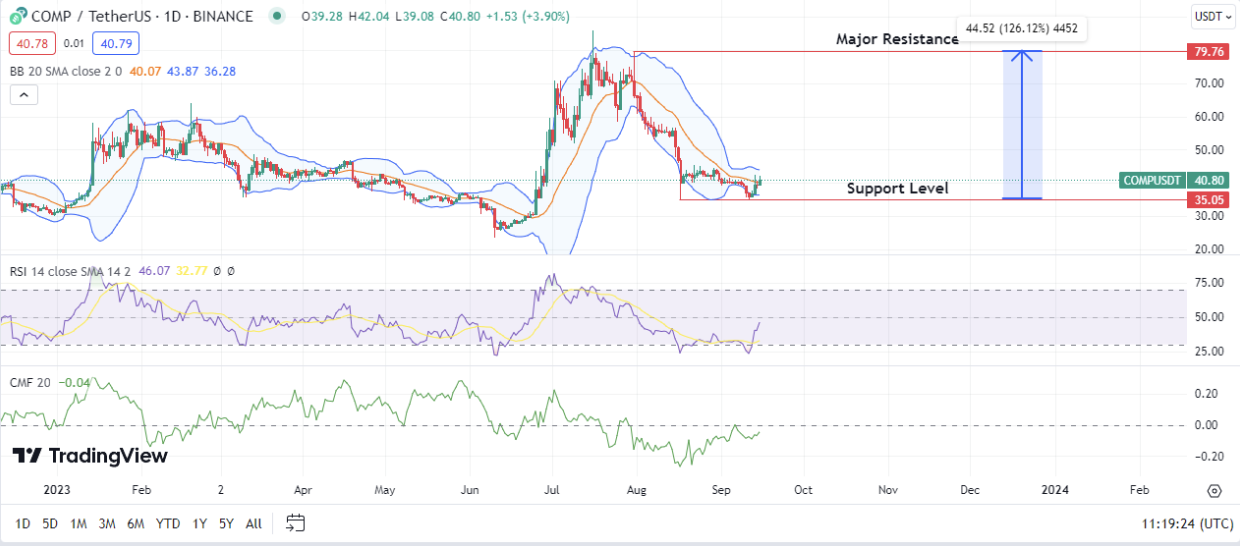 COMP is trading above the 20-day Simple Moving Average line, indicating a prolonged period of positive momentum. Moreover, the coin may ascend further with the Relative Strength Index aiming upward to the overbought area.
Furthermore, the recent uptick in this coin's Chaikin Money Flow (CMF) score is a positive development. As of September 13, the score was -0.07 and has climbed to -0.04 today, indicating a potential increase in buying pressure. This shift suggests a growing trend of capital flowing into the coin, potentially driving its value higher.
While the CMF remains in negative territory, the improvement from the previous day's score is noteworthy. It implies that the selling pressure has eased, and buyers have a more substantial presence in the market. This could lead to a more stable and bullish outlook for the coin in the short term.
Given the market structure, COMP is currently bullish, but traders should watch out for the $44 demand level, as a close above this zone could attract more traders and investors, potentially further driving up COMP's price.
However, closely monitoring market conditions is essential, as unforeseen factors can still influence price movements.
Critical Price Levels: Resistance and Support Analysis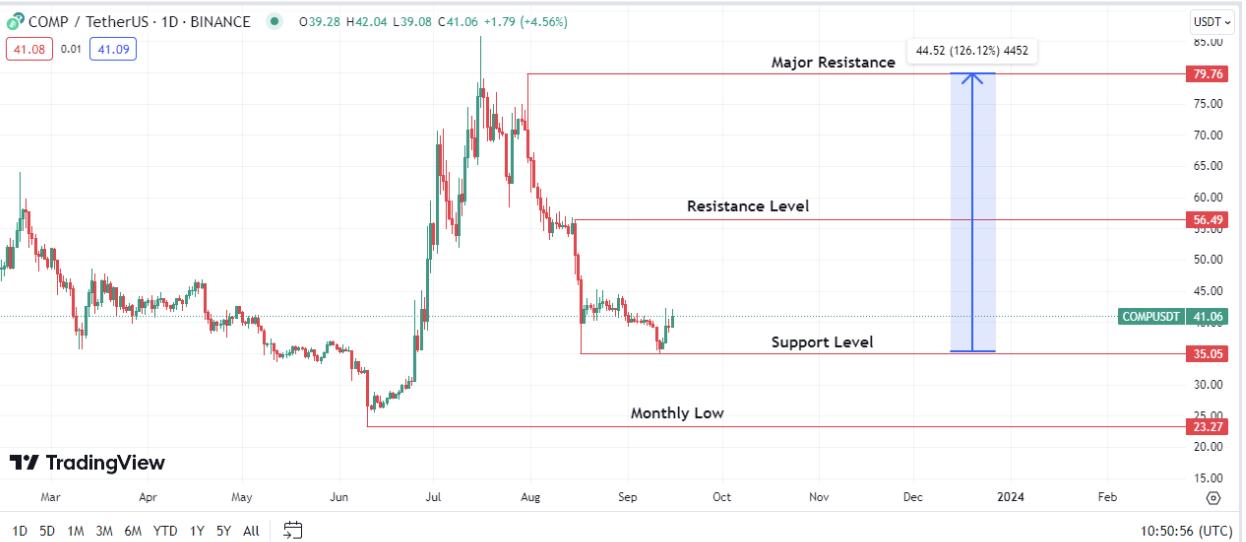 COMP is hovering around the $42 and $39 price levels based on its current price movement.
If the COMP bulls exert more dominance in the market, the DeFi token can escape this range and reach levels as high as $56.49. This movement will signify a 35% increase from its market value of $42.
Additionally, the COMP has another resistance at $79.7; the market could head next after breaking $56.49. This level will represent an increase of more than 120% using its current value.
Conversely, if the bears regain market control, COMP is projected to retest the $35.05 level, its primary support. 
Compound COMP Alternative – Bitcoin BSC Coin
Although Bitcoin BSC ($BTCBSC) is a relatively new player in the world of cryptocurrencies, it has generated quite a buzz thanks to its unique qualities. 
BTCBSC's presale price is $0.99, creating an attractive entry path for interested investors. The project has gained recognition among industry leaders like Binance and could leverage this popularity to achieve notable feats in the coming months.
After its presale phase, the project has carved a clear and straightforward roadmap, aiming to hit top-tier exchanges, including Binance. It employs a stake-to-earn model that allows token holders to stake their BTCBSC coins for yields and rewards released every 10 minutes, akin to Bitcoin's block reward schedule.
However, it's worth noting that these rewards are locked for approximately seven days before becoming available for withdrawal.
According to the latest data on the staking dashboard, there are currently 984,146 BTCBSC tokens staked, with an estimated annual yield (APY) of 267%. 
Remember that these rewards are temporarily locked but will become claimable after the official token launch.
BTCBSC Is $1.9 Million Away from Milestone
So far, the BTCBSC presale has raised over $2 million of its $3.96 million soft cap. Given its growing popularity, BitcoinBSC could sell out in a few days or weeks. 
While counting down to its public launch, BTCBSC offers its community a referral program where individuals can invite friends to join the presale and get 5% of their purchased tokens. 
Those willing to secure a slot for the next crypto moon shot should visit the official website to acquire the tokens by swapping BNB, ETH, or USDT.
Related Stories:
Ends Soon – Wall Street Memes
Early Access Presale Live Now
Established Community of Stocks & Crypto Traders
Featured on Cointelegraph, CoinMarketCap, Yahoo Finance
Rated Best Crypto to Buy Now In Meme Coin Sector
Team Behind OpenSea NFT Collection – Wall St Bulls
Tier One Exchange Listings September 27
Tweets Replied to by Elon Musk