Dork Lord Token DORKL has registered notable gains in the past 24 hours, rising 19% on a 45% increase in trading volume.
As of 4:38 a.m. EST, DORKLis trading at $0.00713 with a volume of over $6.2 million.
DORKL's Parabolic Move After Launch Attracted Massive Sell-Offs, What's Next?
Dork Lord (DORKL), which started trading at $0.0005 on Sept. 6, underwent a parabolic move that saw the token surge 9,700% within just a few hours of launch.
However, this pump was short-lived as profit-taking investors entered the market, sending the token to a low of $$0.00266 on Sept. 9.
Nonetheless, Dork Lord (DORKL) has recovered significantly from this low and is up by over 190% from the level. 
Despite having decent ratings on DEXTools and X platform, this token lacks real-world use, making it hard to predict its future performance.  It's crucial to be cautious with coins like Dork Lord (DORKL) as they often pose risks.
$DORKL @X. pic.twitter.com/FLewXkjQkz

— ᗪOᖇK ᒪOᖇᗪ (@DorkLordToken) September 11, 2023
DORKL Trades Positive on Technical Indicators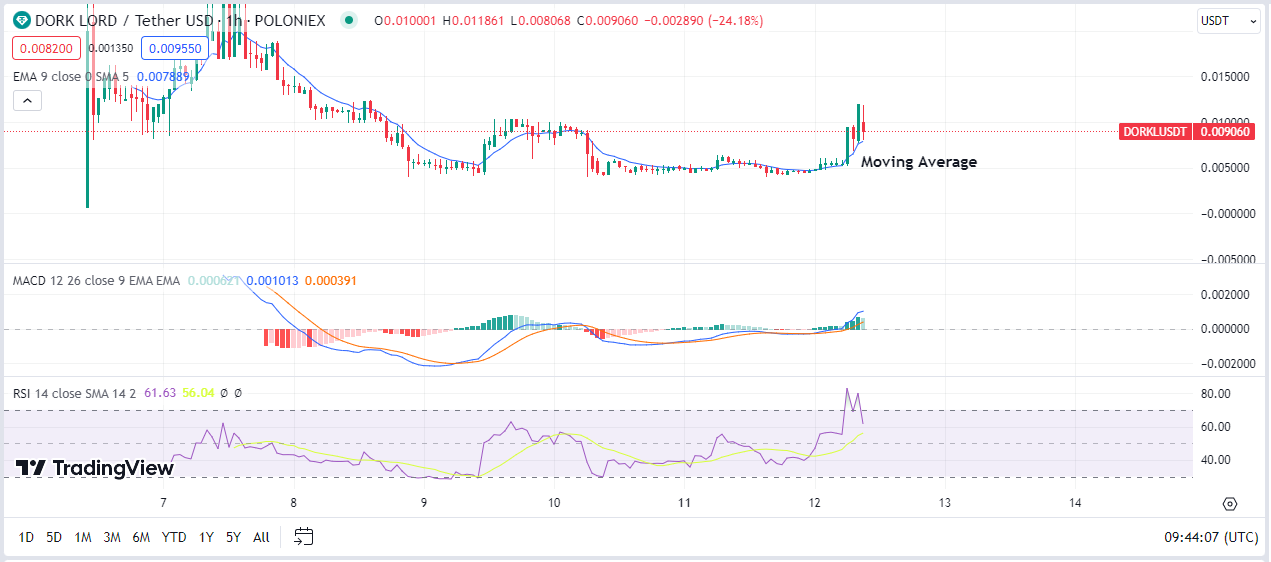 This coin trades above its moving average indicator, suggesting a bullish market momentum. 
The moving average (MA) can potentially act as a support level for the DORKLUSD pair. If the price dips towards the MA and then bounces back up, it indicates buying interest at that level, reinforcing it as a potential support. 
Also, the MACD is above the signal line, validating the bullish sentiment in the market and implying that the buyers are in control of the market. The histogram bars are green today, signaling that the bullish momentum is growing stronger.
In addition, the Relative Strength Index at 68 shows that the buying strength has outweighed that of the sellers.
In all, the coin is exhibiting a bullish sentiment at the moment, and if the bulls can sustain this momentum, the price may hit a new all-time in the coming days.
However, investors should also consider other factors and conduct thorough research before making investment decisions, as the market is highly volatile.
Unidentified Wallet Holding Over 1% Each – What is the Implication on DORKL

Etherscan is drawing notable attention as it reveals the existence of two enigmatic wallets possessing more than one percent of the entire coin supply. 
This scenario introduces an element of mystery, as the identities and motives behind these wallets remain undisclosed. 
Holders need to keep a vigilant eye on these wallets (0xC6e344 and 0xeb79ac), as any significant transactions or movements they make could have noteworthy implications for the coin's value. 
But while being cautious with DORKL is important, BTCBSC could be a potential life-saver given the low price and massive investor adoption.  
DORKL Alternative BTCBSC Presents Massive Potential for Investors
The $BTCBSC token is priced at Bitcoin's 2011 rate of $0.99, and it may hold similar growth potential.
Investors have swiftly recognized the promise of the Bitcoin BSC project, as over $1.2 million has been raised within just seven days of its presale launch.
BTCBSC Unique Staking Mechanism

The on-chain staking system of Bitcoin BSC offers an opportunity for regular investors to earn passive income, even in a pessimistic market environment.
The staking pool of Bitcoin BSC provides an annual percentage yield (APY) of over 400%, with more than 633,712 tokens already staked. Even though the APY decreases as more tokens are staked, it still outperforms the rewards offered by major networks like Solana and Cardano.
Every 10 minutes, token holders will be rewarded, and their stake in the staking pool will determine the quantity. Furthermore, the staking feature of Bitcoin BSC helps alleviate concerns about any sudden surge and drop in value after the token is introduced. 
A substantial portion, 61% to be precise, of the total $BTCBSC supply, which amounts to 14,455,000 tokens, is set aside for distributing staking rewards. 
Potential investors are welcome to begin staking their tokens right from the presale stage to maximize their rewards. 
However, it's important to note that acquiring the token will require using either BNB or BEP-20 USDT. Those opting for ETH or ERC-20 USDT will only be eligible for staking rewards once the presale is concluded.
Also Read:
Wall Street Memes – Next Big Crypto
Early Access Presale Live Now
Established Community of Stocks & Crypto Traders
Featured on BeInCrypto, Bitcoinist, Yahoo Finance
Rated Best Crypto to Buy Now In Meme Coin Sector
Team Behind OpenSea NFT Collection – Wall St Bulls
Tweets Replied to by Elon Musk