EmotiCoin token EMOTI has captured the attention of investors and crypto enthusiasts with its recent price performance. This utility meme coin built on the Ethereum network is pumping massively while the general crypto ecosystem is down by over 2%.
This price increase could be attributed to the hype and optimism surrounding its social media handle (X platform). However, while the coin is positive today, some investors are curious whether it will sustain the trend or fall back like other meme coins. 
EmotiCoin Skyrockets Massively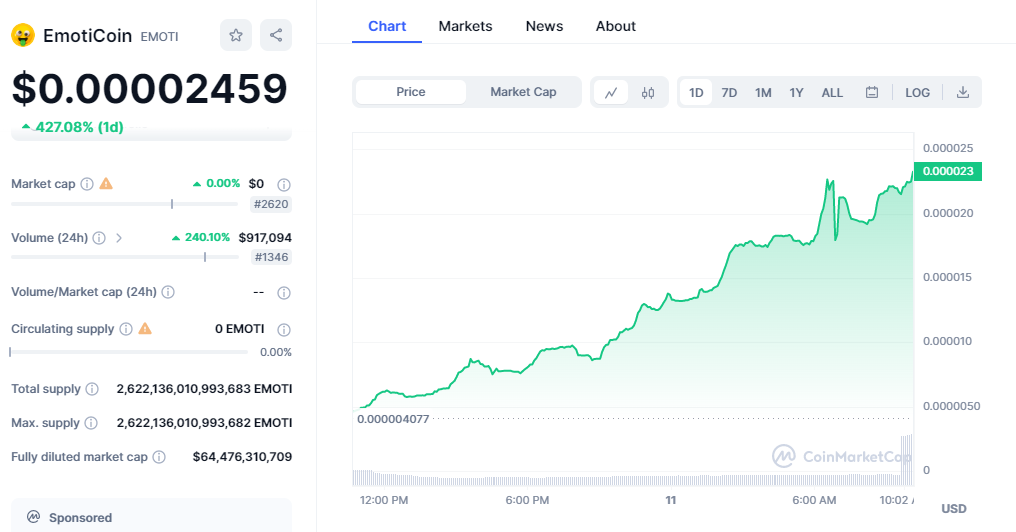 In the past 24 hours, EMOTI's value has soared by over 420% due to a substantial surge in trading activity. At 10:47 a.m. EST, the coin is trading at $0.00002497. Over the last week, the currency has maintained a solid upward trend, recording an impressive 3511717% increase. 
With these recent developments, EmotiCoin is displaying notable potential. Also, this surge in the seven-day trading session suggests that the buyers are still maintaining the bullish trajectory.
If the buyers continue with this momentum, EMOTI might hit a new all-time level in the coming days, returning enormous profits for investors who enter the market now.
Upcoming Utilities May Affect Price Positively
The upcoming launch of an NFT market, staking, minting, and collecting features by the Emoticoin ecosystem signifies a notable expansion in its utility and potential value. 
The NFT market will provide a platform for users to buy and sell unique digital assets, creating a vibrant ecosystem around the coin. This could attract artists, collectors, and enthusiasts, driving increased demand.
In addition, NFT staking will allow users to earn rewards by holding onto their NFTs, encouraging long-term engagement with the platform. 
This feature can foster a loyal user base and reduce circulating supply, potentially leading to upward price pressure. NFT minting allows users to create their NFTs, democratizing the process of tokenizing digital assets. This could lead to a surge in platform activity and provide an additional revenue stream for the coin.
Moreover, NFT collecting features will likely draw a diverse community of users seeking to curate their digital art collections. This engagement can drive more interactions within the ecosystem, potentially boosting the coin's value.
EmotiCoin Price Analysis as EMOTI Trend Higher
According to the hourly chart, EMOTI has steadily increased, giving early investors notable gains. In the early hours of today, September 11, the bears tried to pull down the price but failed as the buyers managed to sustain their momentum.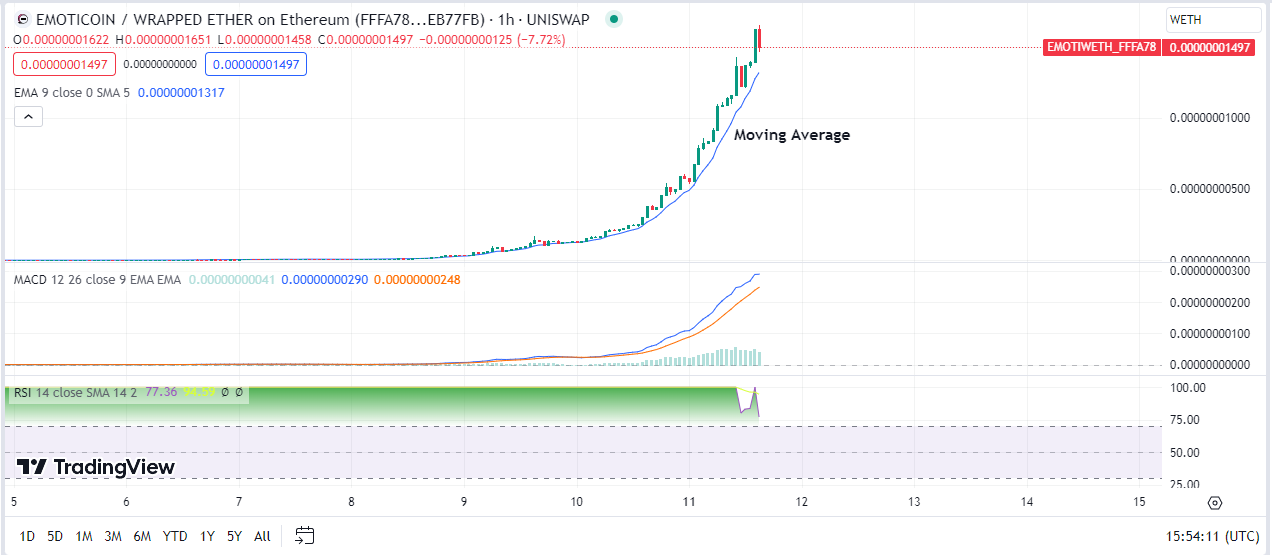 Looking at the chart, EMOTI is above its Moving Average (MA) indicator, indicating potential opportunities for gains. The Relative Strength Index is at 72, and the MACD is above the signal line, showing high buying momentum in the market.
Generally, the above indicators suggest that the coin is exhibiting bullish sentiment. However, it's crucial to consider other factors and conduct thorough research before making any trading decisions.
While EmotiCoin exhibits increased buying activities and potential price gains, investors could still diversify by grabbing a meme coin WSM on a low presale. 
EmotiCoin Alternative
The Wall Street Memes (WSM) token initiative is at its last presale phase and has gathered more than $25 million, establishing itself as one of the swiftest-growing crypto presales in 2023. It's often called the 'Pepe and Shiba challenger' and aims to boost investors' wealth with substantial gains. 

Projections from crypto specialists suggest an astounding 1000x growth for the project by the end of the year. The project's well-defined plan and big goals are attracting much attention. It's worth noting that $WSM may face ups and downs because of how unpredictable the cryptocurrency market can be. 
However, the skilled $WSM team, along with their large community, gives confidence to investors and contributes to the project's positive prospects. People are getting enthusiastic about $WSM, and more people are joining the project's online chat group daily. The team behind the coin has grand ambitions, which include ensuring that $WSM can be traded on prominent exchanges. 
They're also looking forward to the total value of all $WSM coins reaching an enormous sum – $1 billion. Currently, the token is offered at $0.03307 for each, making it very low for investors to buy for a huge return when they launch a few days from today.
Related News
Wall Street Memes – Next Big Crypto
Early Access Presale Live Now
Established Community of Stocks & Crypto Traders
Featured on BeInCrypto, Bitcoinist, Yahoo Finance
Rated Best Crypto to Buy Now In Meme Coin Sector
Team Behind OpenSea NFT Collection – Wall St Bulls
Tweets Replied to by Elon Musk