FINE's price at 4:15 am EST today, September 14, is $0.00000029, representing a 68% increase in the past 24 hours. Data from CoinMarketCap shows that FINE's trading volume is up by 214% in the last 24 hours, indicating massive accumulation from investors. 
Also, FINE attained an all-time high value of $0.000000037 today, September 14, confirming a positive price trend for the asset. FINE benefits from the rising investor interest in meme coins in 2023 and the early success of other dog-themed cryptocurrencies. 
Its listing on CoinGecko and CoinMarketCap could be driving the price gains for the token combined with other factors below. 
$fine will kill another zero. $fine to 100million mcap
Cg listed
Cmc coming soon
Mexc listed and more cex to come#fine @thisisfinerc https://t.co/3CxPwh8fWO pic.twitter.com/Rk6HcfWu1D

— devilslayer (@devilslayer018) September 13, 2023
FINE Lists on MEXC Crypto Exchange
Crypto exchange MEXC announced its listing of FINE tokens in the Innovation Zone today. Trading of the FINE/USDT pair began yesterday, while withdrawals were enabled today. 
CompareMarketCap Bullish On FINE After Its Listings
On September 12, the analytical platform CompareMarketCap stated that if FINE reaches PEPE's present market cap, its price will move to $0.68, 39x its current value. 
🚀If $FINE (@thisisfinerc) reaches $PEPE's current market cap, its price would be $0.0₆68. That makes 39x!

You can now compare FINE with over 3500 coins at https://t.co/kiMeAukuPP pic.twitter.com/cccckxOPRw

— CompareMarketCap (@comparemcap) September 12, 2023
These optimistic projections will likely influence more investors to accumulate the tokens, leading to a price surge for FINE. Meanwhile, data from Etherscan.io reveals that FINE currently has over 3,900 holders with over 50,000 transfers processed.
FINE's price movement in the 1-hour timeframe also confirms the bullish sentiment for the asset. 
Buyers Taking Profit on Shorter Timeframes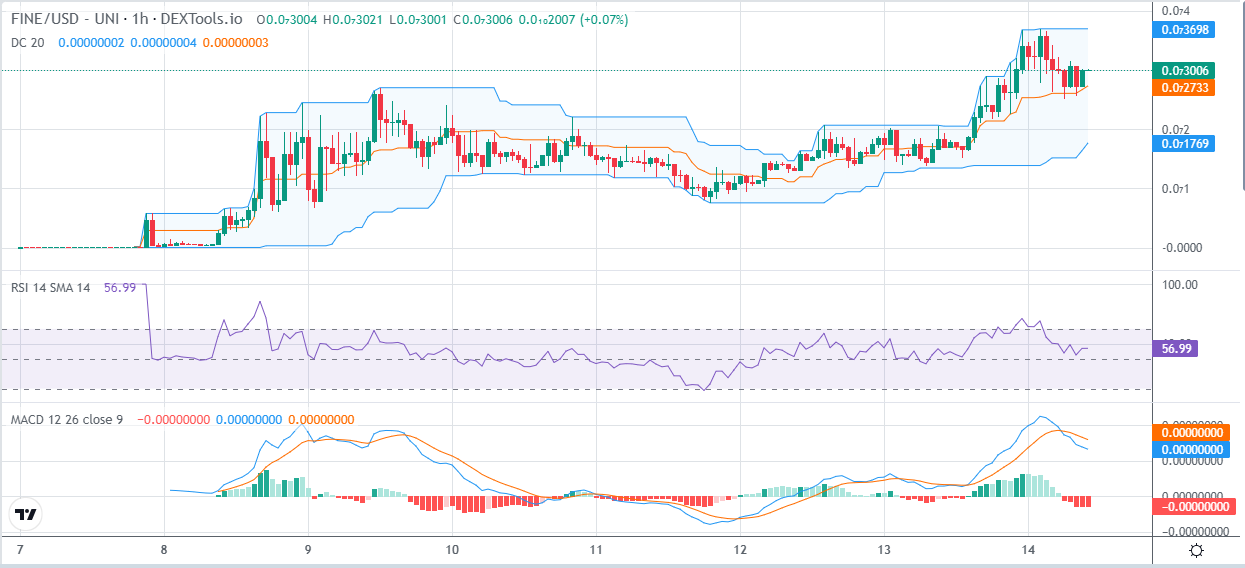 The FINE Relative Strength Index (RSI) indicator is 57 in the neutral zone between the oversold region of 30 and the overbought region of 70. 
The RSI currently moves sideways, suggesting that some buyers are taking profit on the shorter timeframes, resulting in a temporary decline. 
Also, the Moving Average Convergence/Divergence (MACD) has dropped below its signal line as more traders seek to close long positions and take profit. 
FINE attained its all-time high-value today. Therefore, a brief retracement is possible before the buyers resume the uptrend. Also, based on the 1-hour chart pattern, the FINE price is in the upper area of the Donchian Channel (DC), indicating a potential recovery.
The asset will likely break into an uptrend like its past price behavior if new buyers accumulate the token.
FINE Facing Multiple Resistance After Attaining All-Time High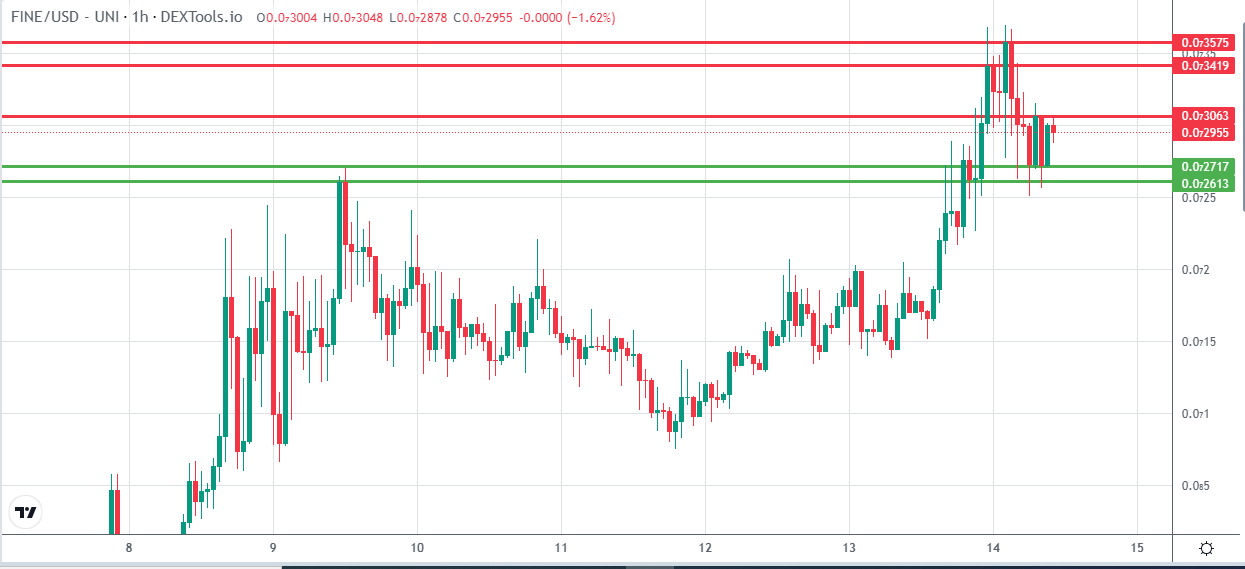 FINE found support at $0.000000026 earlier today, rising to touch a new ATH value of $0.000000037 before declining as selling pressure surged from traders seeking to take a profit. 
FINE now faces resistance at $0.000000030. A break above this level will likely push it to the $0.000000034 resistance. If the buyers sustain the rally, FINE will surpass the next resistance level of $0.000000035 to reclaim its ATH value. 
Based on its historical price performance, it will likely rally again in the coming days if the sellers retreat and more buyers emerge at the resistance zones. 
However, investors who missed out on FINE's surge to a new ATH value can take advantage of the ongoing Wall Street Meme presale ahead of a potential price surge after listing.  
Wall Street Memes – Community Movement for Financial Freedom
Wall Street Memes is a fun-themed meme coin project aiming to provide financial freedom for its users while creating catchy memes. 
I was losing money fast due to bad advice but now I've bought a second monitor I'm losing money twice as fast pic.twitter.com/MFR30xkPcs

— Wall Street Memes (@wallstmemes) September 12, 2023
It has arguably the largest presale in 2023, and with over 1 million active users, WSM is set to be the next trending memecoin. 
Wall Street Memes Presales Ending In a Few Days
WSM, the utility token of this platform, is on presale with just 12 days left to end the event. The presale has been an outstanding success, with over $25 million raised as numerous investors scramble to accumulate the tokens ahead of its listing. 
Each $WSM token is worth $0.0337 and can be purchased with ETH, USDT, or BNB once a user links a secure crypto wallet to the presale page. 
The unlimited memes in the ecosystem and exciting roadmap are likely driving more investors to accumulate the tokens ahead of a minimum projected price surge of $1 after its listing. 
WSM also supports a buy-and-stake feature as a reward system for its investors and a hedge against inflation. Staking will also protect the price of WSM tokens since investors will resist the urge to short all their tokens after listing.
Interestingly, the developers have no reserved tokens, giving all users equal opportunities to accumulate the WSM tokens. Users who commit their tokes to the WSM staking pool earn rewards calculated based on the percentage stake in the pool. 
Notably, today, September 14, over 323 million tokens have been staked at an APY of 62%.
Also, according to the roadmap, WSM will release branded merchandise such as caps, T-shirts, and sweatshirts to promote the brand and encourage global adoption. 
WSM ranks as the number one crypto meme community in 2023 based on this glowing review from YouTube. However, investors are encouraged to conduct proper research before making any investment.
Related:
Ends Soon – Wall Street Memes
Early Access Presale Live Now
Established Community of Stocks & Crypto Traders
Featured on Cointelegraph, CoinMarketCap, Yahoo Finance
Rated Best Crypto to Buy Now In Meme Coin Sector
Team Behind OpenSea NFT Collection – Wall St Bulls
Tier One Exchange Listings September 27
Tweets Replied to by Elon Musk