THORChain is one of the crypto assets that has seen a considerable recovery over the last several days, with a chart that somewhat resembles Bitcoin's. Such performance allowed the project's token, RUNE, to increase by over 9% in the last week and around 6% in the previous 24 hours.
How did THORChain Perform?
In late August, RUNE saw a surge that took it from $1.43 to $1.83, but in the month's final days, its price started to drop. It was allowed to bounce back up whenever it hit a support level.
However, each time, it would encounter resistance that would send it right back down, and that second drop would break the support that previously stopped its downward progression.
This continued until the price hit $1.40 on August 26, after which it recovered to a resistance at $1.60. At this point, the token started fluctuating between these two levels, which has been its behavior throughout September. Things started to change on September 13, when THORChain surged from $1.44 to nearly $1.80, stopping just short of the resistance.
It reached its peak at $1.75, which happened only a few hours before the time of writing. Since then, the token corrected slightly to $1.72, where it currently sits.
Will RUNE Continue its Growth?
Analysts noticed the change on September 14, stating that the falling wedge upside breakout was already done on the daily timeframe. Given the token's performance, they expected a massive bullish wave, which could bring 50% profit.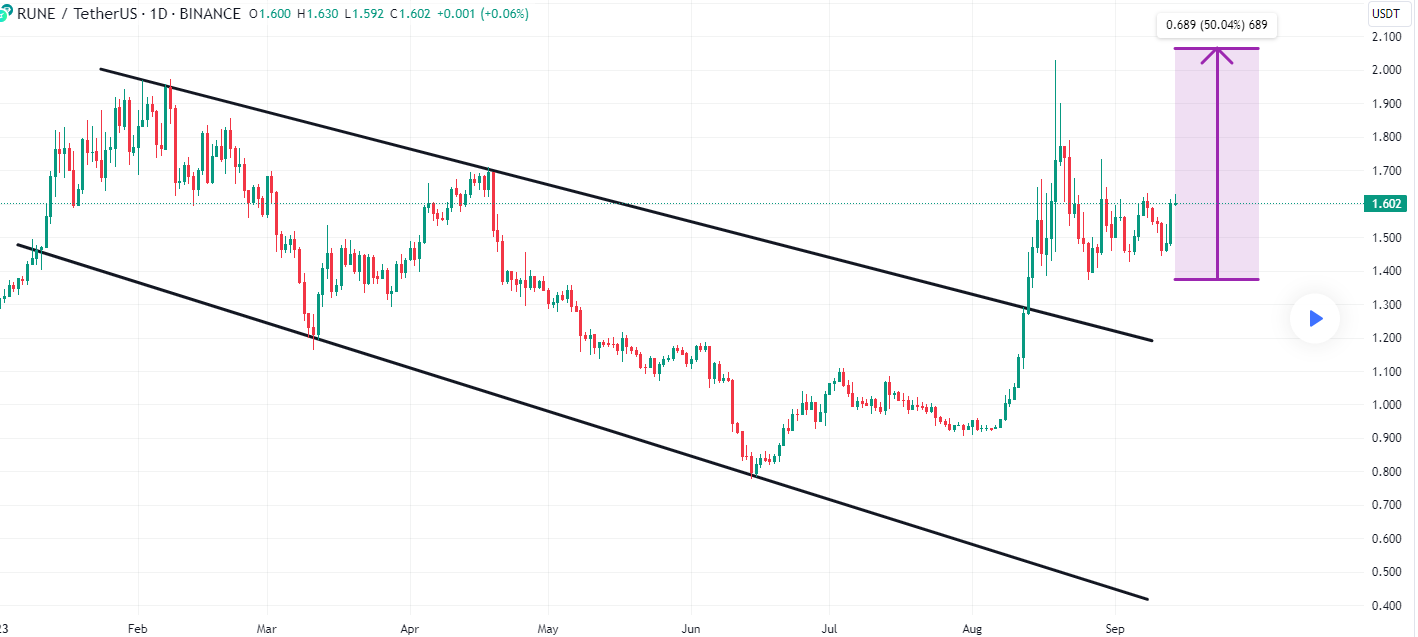 So far, this has yet to happen. Rune has seen significant gains, but only around 10% since then. This could either mean the prediction was too optimistic or RUNE has more growth. A third possibility is that something may have impacted it to turn off the projected growth.
Bitcoin BSC Presale Blows Up, Hits $2m Raised
Another project that has attracted massive interest lately has been Bitcoin BSC (BTCBSC), a Binance Smart Chain-based BEP-20 token that represents Bitcoin from 2011. At the time, Bitcoin was only $1, so the project is selling its token for $0.99. The presale seeks to let today's crypto users experience owning Bitcoin at a time when it was worth only $1, but many expect that the token's price will quickly surge after it goes live.
So far, the project has raised over $2.07 million, and the amount raised continues to grow. More than that, it is growing faster, suggesting that the presale might end within only a few days.
Anyone interested in buying the token can do so in exchange for BNB, USDT, or ETH. Once it goes live, it will focus intensely on staking, releasing a portion of staking rewards every 10 minutes. That way, it will imitate Bitcoin's blockchain, which removes mining rewards at the same speed.
Related Stories:
Ends Soon – Wall Street Memes
Early Access Presale Live Now
Established Community of Stocks & Crypto Traders
Featured on Cointelegraph, CoinMarketCap, Yahoo Finance
Rated Best Crypto to Buy Now In Meme Coin Sector
Team Behind OpenSea NFT Collection – Wall St Bulls
Tier One Exchange Listings September 27
Tweets Replied to by Elon Musk