Mog Coin (MOG) seems to be another of the cryptocurrencies to start turning the situation around and launch a recovery after extensive price drops.
MOG Price Skyrockets Only to Crash in Mid-August
MOG is not an old coin — it has only been around for less than two months. When it appeared in mid-July, it did so with a price of $0.0000001648.
Only a few weeks later, in early August, its price — which had performed moderately well up to that point, given the market situation — started to increase.
MOG then saw a real surge, breaking away from support at $0.000000020 and through the resistance at $0.000000040.
The token surged up to $0.0000001, which is where it reached its all-time high.
This was on August 19/ Then the price started spiraling down. MOG broke one support after another, heading deeper and deeper down.
Most supports allowed it to try to bounce back up before getting broken, and its chart shows that the token fought against the drop.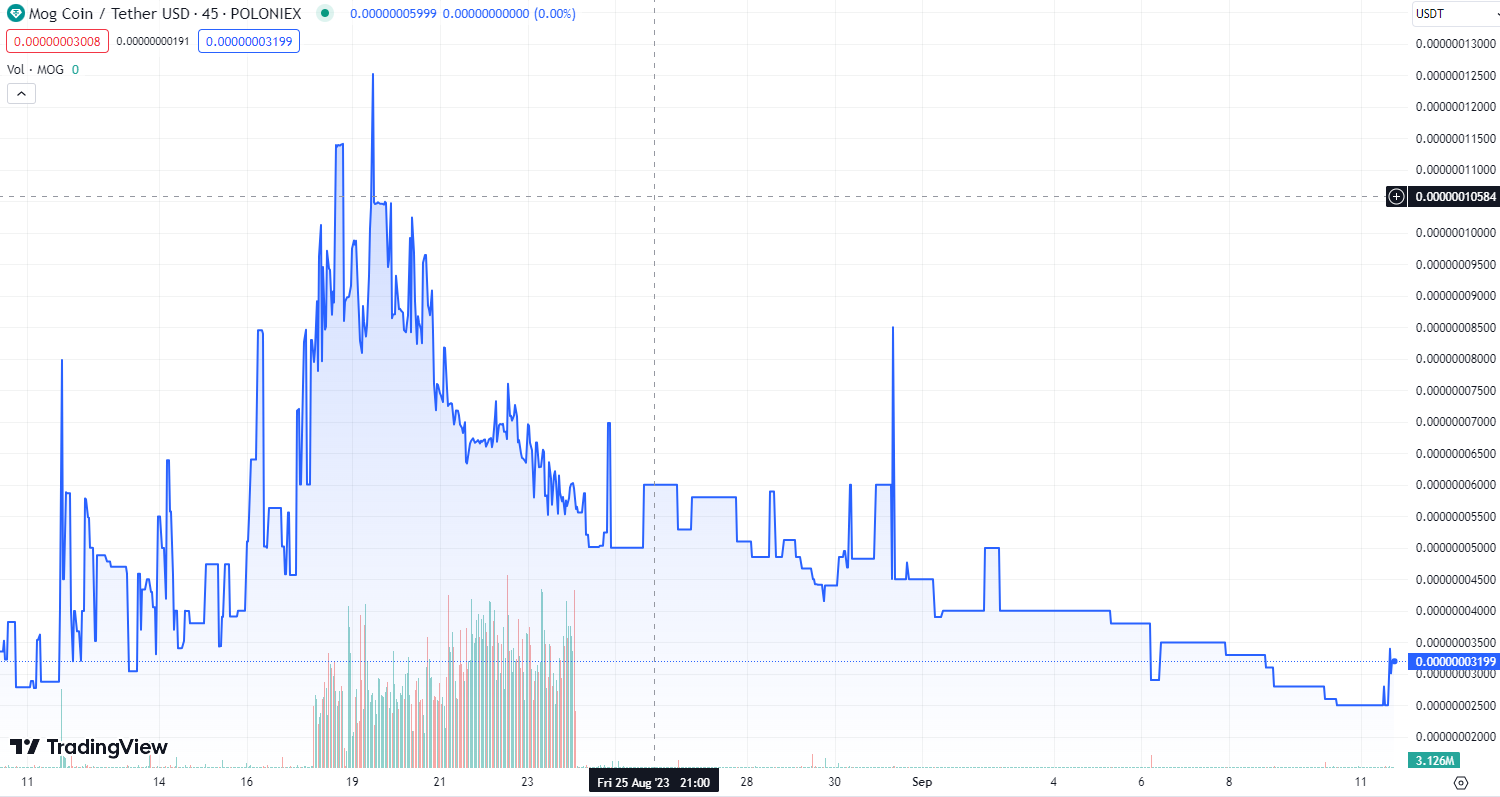 However, the solid bearish market kept pushing the token's value further. On the positive side, the deeper it went, the slower the drop became, resulting in MOG's near-sideways trading by mid-September.
MOG Turns Around and Starts Growing
Around September 10, MOG dropped under $0.000000025. Since then, its price action has turned around. It has been trying to breach this resistance for the last four days and go up.
Today, September 14, is not the first time it succeeded, but it is the first time its price will not return under the $0.000000025 mark.
Earlier today, MOG Coin reached $0.00000002813, and while it has corrected since then, it still stands above resistance at the time of writing. Its current price is $0.00000002704, after a 13% increase in the last 24 hours.
Weekly, MOG is still around 28% down, and its price has lost over 43% every month. Finally, compared to its ATH, MOG is 75% down.
Wall Street Memes Announces Last Chance to Join Presale
Some crypto users still consider MOG too risky to get involved with now. Instead, they turn to other opportunities, and one of the most popular ones is Wall Street Memes (WSM).
Wall Street Memes is one of the most popular presales this summer — one that raised over $25 million over the past several weeks.
Its presale is in its final stage, offering the WSM token for $0.0337. In 11 days, the token will be listed on various crypto exchanges.
This means this is the last chance to buy it at this price. Given its popularity and the seemingly changing market, purchasing it now might still be a good opportunity. Remember, however, that there are no guarantees and that the price could go either way post-launch.
Related Articles:
Ends Soon – Wall Street Memes
Early Access Presale Live Now
Established Community of Stocks & Crypto Traders
Featured on Cointelegraph, CoinMarketCap, Yahoo Finance
Rated Best Crypto to Buy Now In Meme Coin Sector
Team Behind OpenSea NFT Collection – Wall St Bulls
Tier One Exchange Listings September 27
Tweets Replied to by Elon Musk