Pepe Coin has been on a downtrend following the explosive price surge recorded shortly after its launch in April. PEPE has lost over 50% from its past month's gains, with a near 15% price decline in the last seven days. 
Several people suspect the scandal among its development team was the main reason behind the price decline. However, this could change given the positive prospects of the broader market, particularly the anticipation of Bitcoin ETF approval that could initiate another bull run.
Moreover, PEPE has witnessed a slight uptick today, trading at $0.000000675, with an over 1% price increase as of 8:50 AM EST on September 14. Given the latest strides, could PEPE be on a path to a 40% rise in the coming days? What obstacles must the frog-themed meme token surpass to achieve this? 
Buyers Lose Grip on Pepe Coin Market
The bulls' control of the Pepe Coin market has long been lost as the token continued to dip over the past weeks. Notably, a tweet from Lookonchain on September 11, 2023, underscored the shift in investor sentiment away from PEPE.
We noticed that 3 wallets changed their $PEPE positions to $PNDC today.

They sold a total of 1.38T $PEPE for 600 $ETH($965K) and spent 600 $ETH to buy 487B $PNDC.

Address:https://t.co/tPT0P3KvOghttps://t.co/nKOS9H3tbGhttps://t.co/EzkRW2BuPt pic.twitter.com/f7rUHZY2jx

— Lookonchain (@lookonchain) September 11, 2023
According to the tweet, three wallets strategically swapped their PEPE holdings for PNDC. They successfully sold 1.38 trillion PEPE for 600 ETH, equivalent to $965,000, and then reinvested the entire 600 ETH to acquire 487 billion PNDC tokens. 
While the general market trend affects PEPE's price, its failure to take a bullish turn also hinges on its ecosystem scandals, triggering massive selloffs among token holders. PEPE's trading volume has dropped 32% over the same 24 hours, implying that trading activity has declined significantly. 
It could mean two things: buyers are hesitant to purchase more tokens, or sellers have paused their selling activity while anticipating the next move. Either way, the following technical analysis suggests that PEPE could still witness a bullish turn in the coming days.
Where Is the Next Point for A Reversal?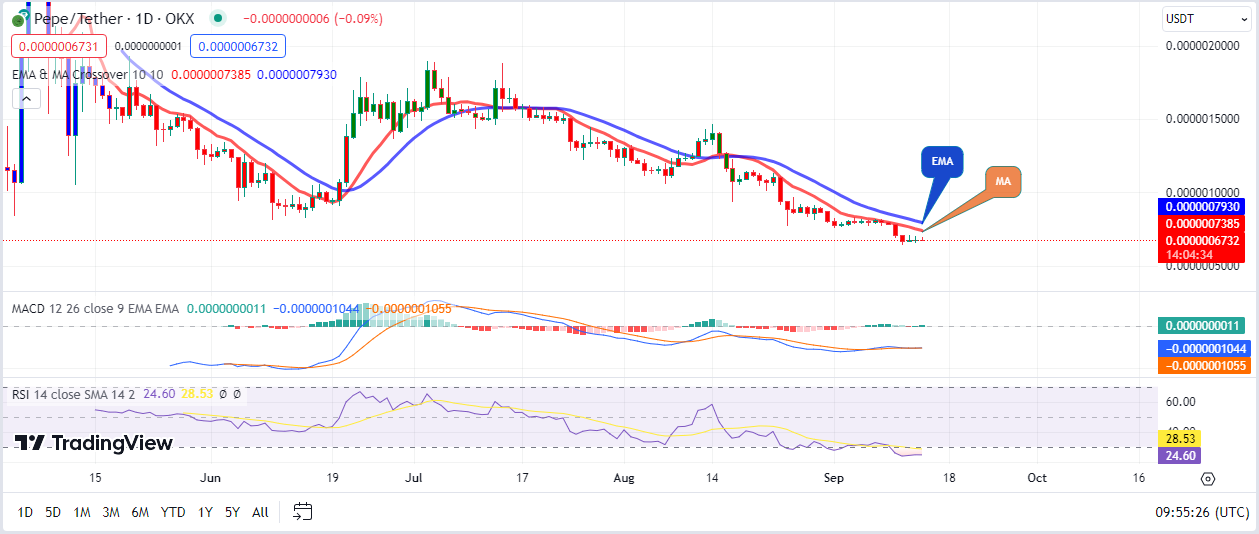 The selling pressure on the PEPE market is reducing as the token's price movements remain narrow over the last three days after a continuous downtrend. While this setup doesn't clearly define PEPE's next move, some indicators show that a bullish reversal could be imminent.
The Relative Strength Index (RSI) of 25 indicates that PEPE is in the oversold zone. The current position presents an attractive entry point for those looking to buy the dip in preparation for the next rally. 
Therefore, if more investors capitalize on this price level, PEPE could witness upward pressure to set it up for more gains in the coming days. Besides, the MACD line also attempts to cross above the signal line, raising the possibility of buyers' charge over the market.
Pepe Coin Support and Resistance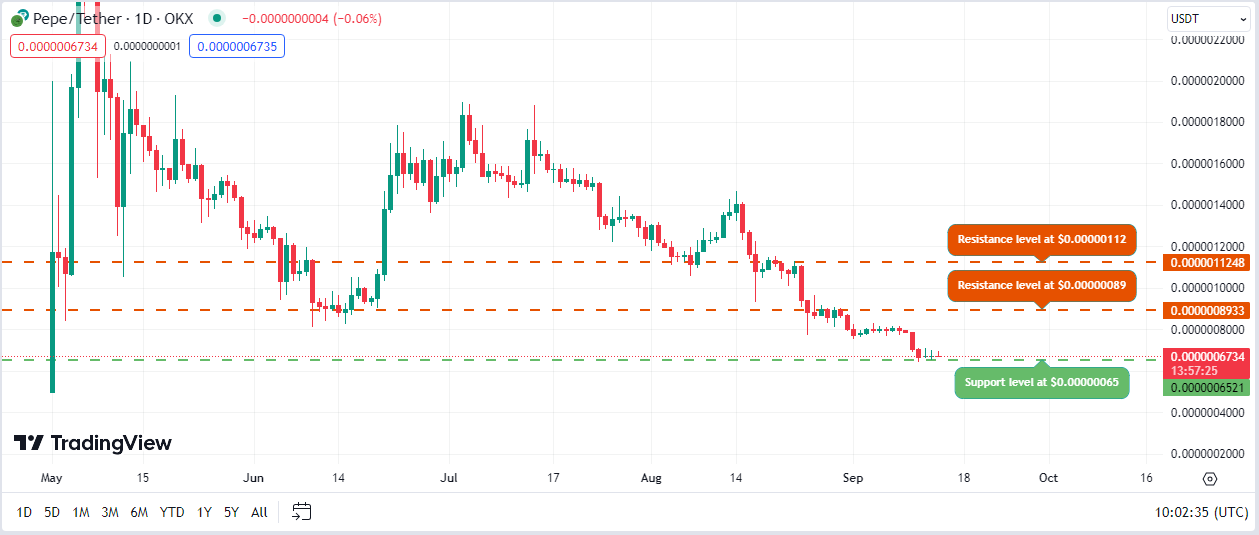 Furthermore, the chances of a bullish turn also hinge on the support level at $0.00000065, a position that has bucked further price dips over the past four days.
But while this price level has proven to be a strong support, it doesn't guarantee a complete shield from continuous decline. PEPE trades above this level, indicating higher chances for bullish rallies in the coming days.
BitcoinBSC Raises Eyebrows with Over $1.7 Million in Presale
Bitcoin BSC (BTCBSC) presale thrives as investors scram to participate in a project with the potential to replicate Bitcoin's early boom. Remarkably, the nascent crypto project employs a stake-to-earn model instead of Bitcoin's high energy-consuming proof-of-work algorithm.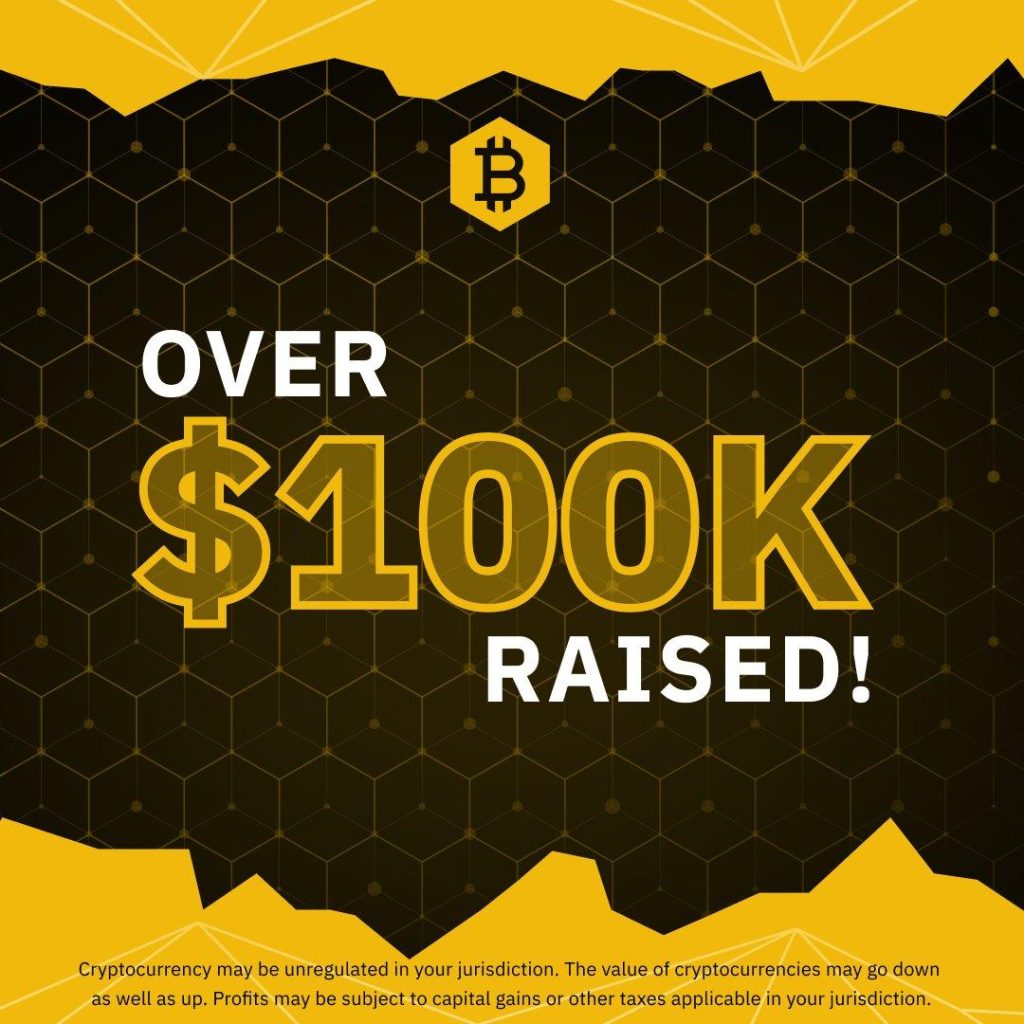 BTCBSC has a total supply of 21 million but no affiliation. It is built on the Binance Smart-Chain network (BSC), from which it derives an aspect of its name.
With Bitcoin BSC's Stake2Earn program, investors can lock their tokens to earn yields as staking rewards payout every 10 minutes. This model also boosts long-term utility for BTCBSC.
BitcoinBSC Impressive Presale Activity
BitcoinBSC has garnered attention from the crypto community, reflected in the $1.7 million raised within a few days of running the presale phase. With this success rate, the token could soon hit its soft cap of over $3.9 million.
According to information from the presale website, 29% of the token supply, over 6.1 million tokens, is set aside for public purchase. The remaining tokens will be reserved to reward investors who support the project's staking program.
The staking pool is live, and over 8.5 thousand BTCBSC tokens have been staked with a current reward capacity of 0.25 for every new block created.
Moreover, the staking reward APY is 307% and could attract more investors to the project, boosting its adoption and market value in the long run. To get all the benefits, visit the presale website to buy the tokens before it sells out.
Related:
Ends Soon – Wall Street Memes
Early Access Presale Live Now
Established Community of Stocks & Crypto Traders
Featured on Cointelegraph, CoinMarketCap, Yahoo Finance
Rated Best Crypto to Buy Now In Meme Coin Sector
Team Behind OpenSea NFT Collection – Wall St Bulls
Tier One Exchange Listings September 27
Tweets Replied to by Elon Musk