The cryptocurrency market slipped a bit deeper into bearish territory on Tuesday. It reflects a measure of our previous report. It remains subject to external forces that have left investors cautious and apprehensive. The inconsistent economic indicators from China have only intensified the market's challenges. Asian stocks, initially awaiting stimulus packages, saw modest gains as trading began. The repercussions of dwindling export figures primarily drove it.
The crypto market exhibited robust trading activity for an extended period, with funds changing hands at a noteworthy rate despite a lack of fresh inflows. However, the landscape has transformed in the past 48 hours, with market capitalization and trading volume firmly in the red. This shift signals a waning appetite among traders for crypto assets.
The cryptocurrency market's trajectory in the wake of financial stabilization remains uncertain. What is known for sure is that investors are on the lookout for clarity regarding policy directions. The market's future rests on this important information, and until then, the market's fate remains in limbo.
Most Trending Crypto Today – Top List
These leading cryptocurrencies have garnered significant interest on DEXTools. Keeping abreast of trending tokens is important as they are valuable resources for making well-informed investment choices. 
1. ᗪOᖇK ᒪOᖇᗪ (DORKL)
The Dork Lord project is a memecoin venture that looks back at the early days of Pepe coin and tries to bring it back. The team behind this new project aims to build Dork Lord up to a status similar to that of Pepe and other memecoins that preceded it. Much like the beloved Pepe meme, ᗪOᖇK ᒪOᖇᗪ aims to conquer the internet with its unmatched memeability and appeal, heralding the arrival of the ᗪOᖇK ᒪOᖇᗪ revolution, blending dark-side references with the iconic charm of Dork Lord. An impressive 97% of the tokens have been allocated to the liquidity pool, LP tokens have been burned, and the contract has been renounced, with the remaining 3% of the supply reserved in a multi-sig wallet for potential use in centralized exchange listings, bridges, and liquidity pools.
I am the father of $Pepe,

I am the Lord of the #StarWars universe,

I am the creation of an OG out of inspiration for what this space could once again become.

Who am I?

— ᗪOᖇK ᒪOᖇᗪ (@DorkLordToken) September 11, 2023
Dork Lord operates as an Ethereum-based platform, with the DORKL token serving as its native currency. The current value of the new token stands at $0.006707, accompanied by a 24-hour trading volume of $8.23 million, marking a notable surge of 32.91%. Its market capitalization reaches $6.84 million, and the cryptocurrency is actively listed on prominent exchanges, including LBank, Bitget, BitMart, Gate.io, and MEXC.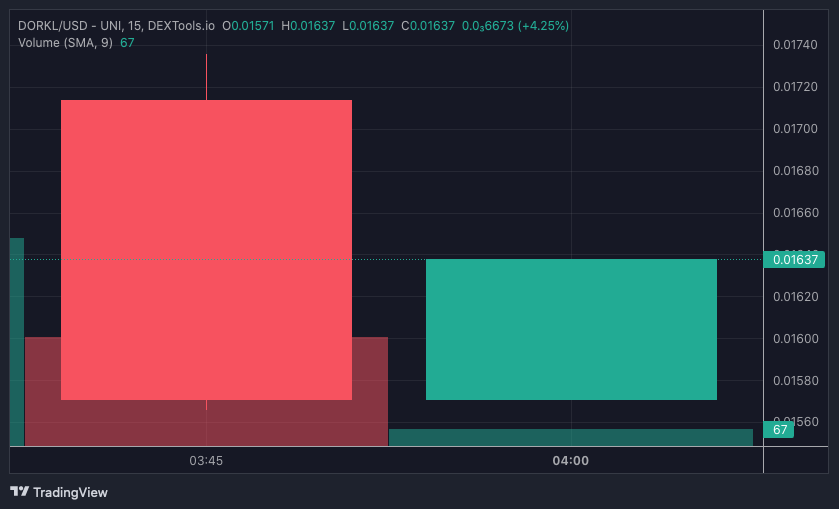 The token's 24-hour gain reflects a bullish trend, potentially signaling further short-term gains, particularly if driven by investor participation. The Relative Strength Index (RSI) currently stands at 52, indicating buyer momentum. However, it's worth noting that buying pressure appears relatively weak, and the RSI is hinting at a potential shift towards bearish pressure as sellers may enter the market.
Conversely, DORKL's Moving Average Convergence Divergence (MACD) line is trending upward, with positive green histogram bars, affirming the dominance of bulls in determining price direction.
2. RED HOT COCK (RHC)
Red Hot Cock's token, RHC, displayed strange movement right after being listed. Reports on DEXTools show that RHC is currently selling at $0.000007633. Its price has shown considerable volatility, marked by some red candlestick formations within a short timeframe.
Red Hot Cock (RHC) is garnering significant attention from investors despite not being available on prominent crypto platforms like CoinMarketCap and Coingecko yet. On Etherscan, there are over 2300 RHC holders, with one prominent address holding a substantial quantity.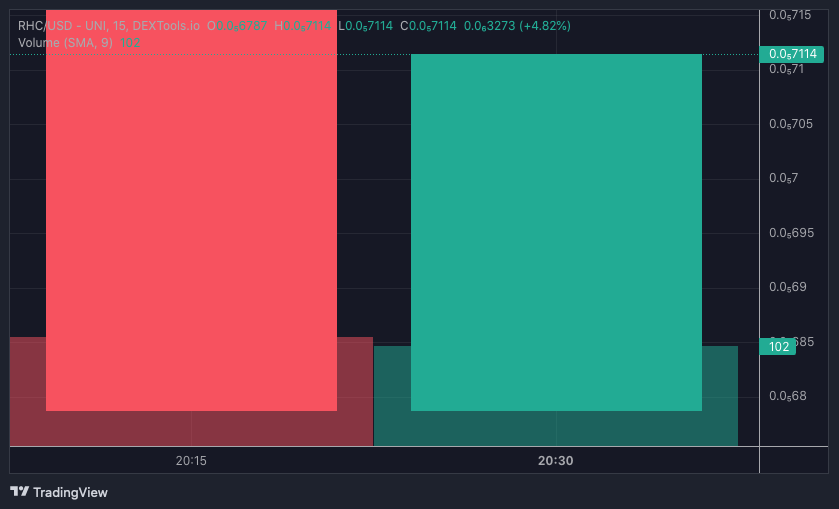 Red Hot Cock (RHC) has a total token supply of 99.42 billion and a market capitalization of $763,000. The abundance of RHC tokens may attract investors seeking an affordable entry point. As its popularity and demand grow, the volume of RHC tokens could broaden its accessibility to a wider audience.
Despite the ample token supply, the relatively modest total market capitalization of $763,000 suggests that RHC is still in its early developmental stages. Should the project gain attention and see an expansion in its market capitalization, it will attract more interest from traders and investors seeking rapid gains.
RHC maintains locked liquidity estimated at around $116,000 and records a 24-hour trading volume of $735,090. This substantial locked liquidity can instill confidence in potential investors and foster a stable trading environment. Considering this 24-hour trading volume, there is active trading and liquidity in RHC's market. Price stability and liquidity could attract traders looking to engage with RHC if trading activity rises.
However, there are growing speculations regarding the legitimacy of RHC as a project, given the limited available information about its intentions within the crypto space. While such speculations may cast a negative sentiment around the coin, traders and investors must exercise caution when considering RHC as an investment option.
We're excited to announce that the long-awaited $RHC Airdrop is LIVE!

Check eligibility and claim on our site:

~ $150,000,000 has been allocated for the airdrop.
~ Distribution is based on on-chain activity

Available to all Layer2 Ethereum users!

— Red Hot Cock Community ll SUPPORT ✪ (@RedHotCockcom_1) September 11, 2023
Assessing the Relative Strength Index (RSI) position and movement, RHC appears to be in a healthy uptrend and has not yet entered overbought territory. The upward trajectory of the RSI suggests mounting buying pressure and potential room for further price advances into the overbought zone (above 70).
Moreover, RHC's Moving Average Convergence Divergence (MACD) is positioned above the signal line, displaying green bold histogram bars. This affirms the short-term bullish outlook and the prevailing momentum driving the coin's price trend in favor of buyers.
3. SHIC (SHIC)
Like other trending assets, the Shic token has captured considerable attention on DexTools. It achieved this because of its increasing popularity and active trading activity. The SHIC token has witnessed an astounding 1023% increase in the last 24 hours. It is a significant feat in the crypto market.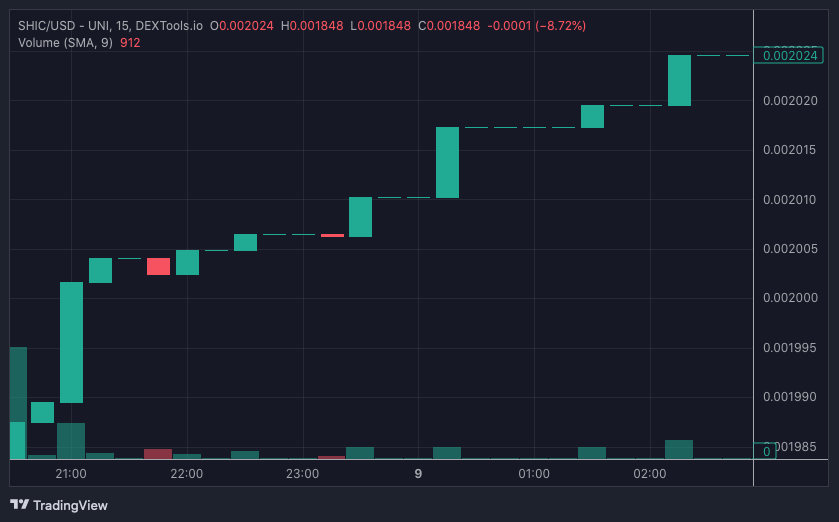 The SHIC token is currently valued at $0.02207. In less than a day, the total market capitalization of all SHIC tokens has reached $4.36 million. Its 24-hour trading volume also soared to $1.24 million, with close to 500 distinct wallet addresses now holding this token.
🚀 Shic (SHIC) is on fire!🔥 This meme coin is gaining massive attention and popularity on DexTools. With increasing trading activity, Shic aims for $0.10! 📈 Join the hype, like, and retweet to be part of this crazy ride! 🚀 #Shic #MemeCoin pic.twitter.com/uCuQe86IG0

— Take Meme Coin (@TakeMemeCoin) September 8, 2023
This rapid growth exemplifies how fast new tokens can gain prominence and underscores the substantial interest they generate. Despite being a relatively new memecoin, SHIC has garnered substantial attention and has the potential for significant impact.
The Relative Strength Index (RSI), a vital market gauge, hovers around 60 and trends toward the oversold zone, suggesting an increasing inclination among investors to purchase SHIC. Moreover, the Moving Average Convergence Divergence (MACD) displays fewer red bars, signifying diminished selling pressure and heightened interest from individuals looking to acquire SHIC.
What Might Be The Next Top Trending Crypto?
With altcoin prices displaying signs of a downtrend, numerous investors are diversifying their portfolios by exploring new presale tokens that have yet to debut on exchanges. They are often accompanied by staking or revenue-sharing functionality. One such asset gaining attention is the recently unveiled cryptocurrency, Bitcoin BSC (BTCBSC), currently in its presale phase, priced at $0.99 per token.
🎉 Monumental Milestone Alert 📣#BitcoinBSC has reached $1M raised!

Huge thanks to the amazing #CryptoCommunity for all the support!

Join the #Presale now and don't miss out on the opportunity to earn passive income through staking your $BSCBSC!💸https://t.co/oM0YP8IlbV pic.twitter.com/tgTInGJtTW

— Bitcoinbsc (@Bitcoinbsctoken) September 11, 2023
Bitcoin BSC adheres to the same 21 million token supply model as Bitcoin but operates as a BEP-20 token. It leverages the Binance Smart Chain. Bitcoin BSC distinguishes itself as a more environmentally conscious alternative, boasting lower gas fees and offering stakers a substantial annual percentage yield (APY) of over 400%.
As new blocks are confirmed in the Bitcoin BSC ecosystem, tokens are periodically released and distributed to stakers every ten minutes. This unique mechanism is designed to reward cryptocurrency holders over an extended 120-year duration.
Bitcoin BSC has garnered significant recognition, having been featured in prominent media outlets such as Cointelegraph, CoinMarketCap, Yahoo Finance, and over 30 others. Since its launch on September 5th, the project has swiftly evolved into one of the market's most rapidly growing new cryptocurrency initiatives, amassing over $1.05 million in funds raised during its ongoing presale phase.
Read More
Wall Street Memes – Next Big Crypto
Early Access Presale Live Now
Established Community of Stocks & Crypto Traders
Featured on BeInCrypto, Bitcoinist, Yahoo Finance
Rated Best Crypto to Buy Now In Meme Coin Sector
Team Behind OpenSea NFT Collection – Wall St Bulls
Tweets Replied to by Elon Musk