While the Bitcoin price surged to breach the resistance at $26.2k, only to get rejected by the one at $26.8k, its fork, Bitcoin Cash (BCH), encountered a similar barrier at $220. The coin has seen primarily positive performance over the last few days. Its weekly chart shows BCH spent half the previous seven days trading sideways or dropping.
Bitcoin Cash Drops Back to $220
A week ago, on September 9, Bitcoin Cash was at $191, barely remaining above the support at $190. However, the support finally broke on September 10, causing the coin to drop another $10 and reach $180 late September 11.
This is when the situation turned, and on Tuesday, September 12, the coin started heading back up. It breached the resistance at $190, and it quickly moved further up to $200. While this level gave it minor trouble, it broke it later in the day, heading toward $210. Unfortunately, it only reached $207 before getting rejected again, dropping to $197. Over the next two days, September 13 and 14, BCH struggled against the barrier at $200, which kept rejecting its price. But, the bullish wave eventually allowed it to break it and finally reach $210.
This was another strong resistance that kept the coin from progressing for hours. Even so, the buy pressure increased enough to take it even higher, and the coin finally reached $220 on early Friday.
After spending a better part of the day trying to push forward, its price eventually corrected to $213, which is where it sits at the time of writing. This correction follows the behavior of Bitcoin itself, which dropped back to $26.2k at the time of writing. In other words, both cryptocurrencies follow the market trend as they change from bullish to bearish.
Will BCH Continue to Surge?
The buyers are hoping to see Bitcoin Cash go back up and surge to $250 — the price last seen in mid-July. Some analysts have warned that the coin represents a "delicious bait" and is in a falling trend. One such analysis says that the currency saw a fake exit from the descending channel, meaning BCH has a good chance of falling again.
If it happens, it will be a good opportunity for shorts, but the analyst does not recommend rushing to buy in hopes of a price surge.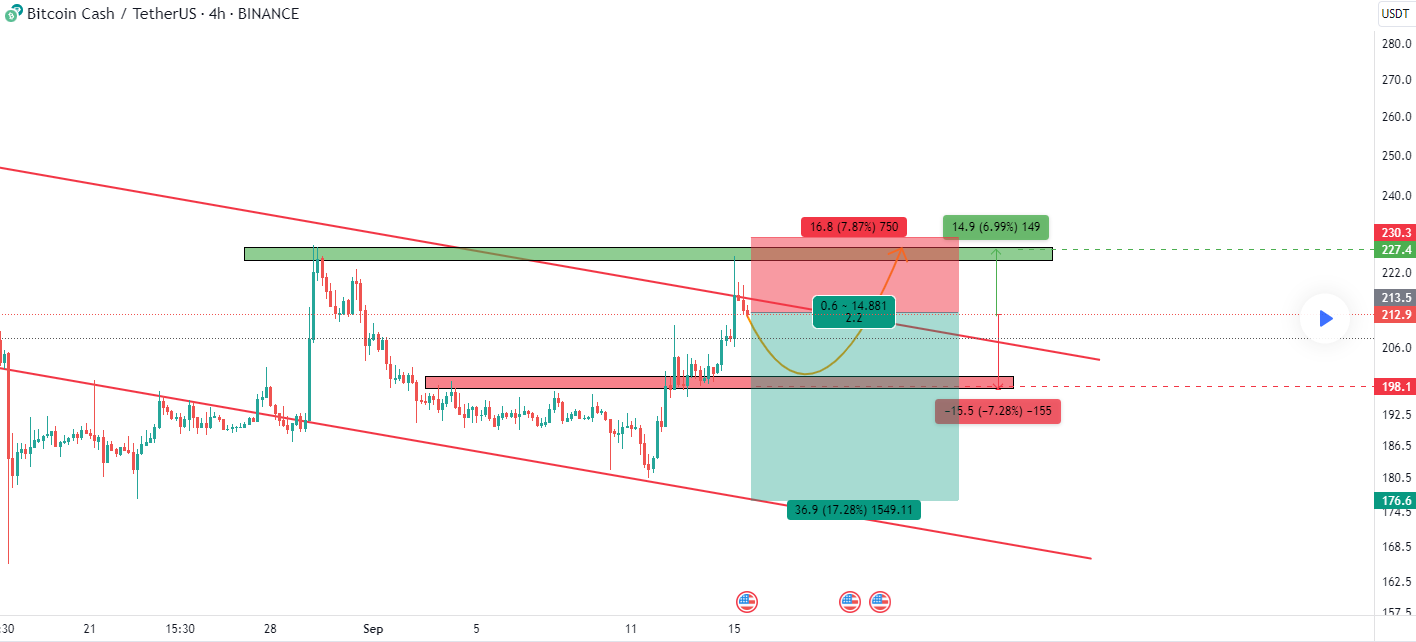 Bitcoin BSC Might be a Better Opportunity
As analysts warn that Bitcoin and Bitcoin Cash are experiencing fake gains that another drop will quickly nullify, Bitcoin BSC (BTCBSC) is a different story. This is a brand-new BEP-20 token launched on Binance Smart Chain. It is holding a presale and has already managed to raise over $2.1 million last week.
The presale will continue until the project raises $3.9 million, which is its soft cap. At this point, it will likely be over within days, leaving the buyers with a limited opportunity to join.
The project seeks to offer Bitcoin, but it differs from how it is now. Instead, it provides the one from 2011, worth only $1. Not only that, but it will also offer staking services once the token goes into circulation. The staking will work similarly to how Bitcoin mining works — releasing rewards every 10 minutes, the average time needed to mine one Bitcoin block.
Related Stories:
Ends Soon – Wall Street Memes
Early Access Presale Live Now
Established Community of Stocks & Crypto Traders
Featured on Cointelegraph, CoinMarketCap, Yahoo Finance
Rated Best Crypto to Buy Now In Meme Coin Sector
Team Behind OpenSea NFT Collection – Wall St Bulls
Tier One Exchange Listings September 27
Tweets Replied to by Elon Musk